So I've been wanting a dragon for a year. I asked for one for Christmas last year, but they're kind of expensive.  I know you're thinking, " where do you buy a dragon?" It's not that kind of a dragon. I'm talking about the talk to type computer program.  You know, the one they advertise on TV around this time of year.  Well, I found one really cheap on O.co, so I bought it for myself.
We're both still figuring each other out, so for the time being, it's not that much quicker than typing;  however, I'm sure as we get to know each other, it will get faster.  It's still tons of fun though!
Anyway, this past Sunday was the Yarrrn Club meeting at InsaniTea.  I brought along lots of sock monkeys who needed eyes and mouths. As soon as they were able to see, they fell in love with the giant InsaniTea sock monkey, and had to go sit with him. They were very sad to leave, but they are looking forward to their new homes in Texas.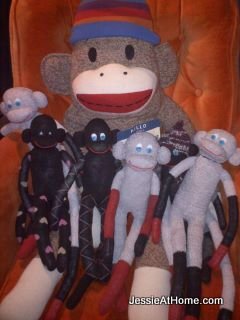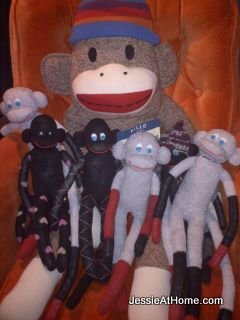 On Monday morning the girls saw the new additions to our sock monkey family and had to start the quality control. Vada just had to see how many she could hug at once.