Here are some old photos of the girls helping out neighbor garden, and making fun crafts. Lots of cuteness going on!
OK, this is about a month old, but too cute not to share. It was a morning when the weather was a bit too chilly to go for a walk, but we were in an "outing" kind of mood. So I packed up the girls and we drove over to AC Moore to find some fun $1 crafts. They each got two ~ more on those later.
When we got home, the weather was a bit nicer. Vera and Vincent, the lovely Italian couple who live next door, were in their back yard. The girls spotted them, so we HAD to go and visit. Vera was working on her flower gardens. The girls decided to help.
Once all the flowers were planted ~ at which point Mommy finally realized she had her camera with her and should start taking pictures ~ it was time for some watering. So Vada helped Vera fill the water.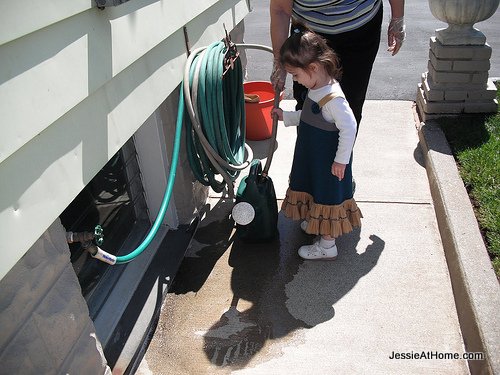 Then it was time to water away! (more…)