The Jacob's Ladder stitch is a great technique for adding texture to a pattern. Here I will show you the basics of making the Jacob's ladder. I have written out the directions, included process photos, a chart, and a video to help. Enjoy!!
This video will show you the basics of the Jacob's ladder, by showing you how to make the practice piece detailed below.
Written instructions with photos
The Jacobs ladder stitch traditionally consists of a series of dc sts interspersed with ch-7. In each following row, a dc is worked into each dc, and a ch-7 is worked above the ch-7. Before the last row, the ch-7s are looped together, and a dc is worked in each dc, and a sl st is worked into the top of the loop ladders.
Variations can be worked on this stitch as well. It can be made with other sts, such a sc or tr. When changing the st used, the ch amount will need to be 2 times the height of the st, plus one. So for sc it would be 1*2+1 or 3, and for tr it would be 4*2+1 or 9.
Here is a pattern and chart for making a sample in dc, with 5 dc between the ladders:
Abbreviations:
ch ~ chain
sl st ~ slip stitch
dc ~ double crochet
Round 1: Ch 43, dc in 4th ch from hook (last 3 ch count as a dc) and in each of next 3 dc, (ch 7, skip 7, dc in each of next 5 ch) 3 times.
Round 2 ~ 11: Turn, ch 3 (counts as first dc) dc in each of next 4 dc, (ch 7, dc in each of next 5 dc) 3 times.
Loop ladders: Twist a ch-7 from the foundation ch to form a loop, *pull the ch-7 from the row above through the loop, creating a new loop (do not twist), repeat from * until all the ch-7s have been pulled through. Repeat with each set of ch-7s.
Round 12: Turn, ch 3 (counts as first dc) dc in each of next 4 dc, (sl st in the top loop of the loop ladder, dc in each of next 5 dc) 3 times.
Clip yarn and weave in ends.
And here is a chart for the sample piece:
Ready to create more? Here are some patterns: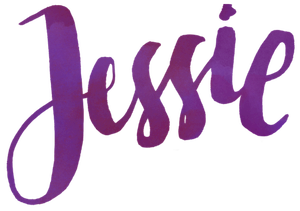 ©Copyright 2015 Jessie Rayot / Jessie At Home All my videos, patterns and posts are my own work. Do not copy them in any way. If you want to share this information with someone, share the link to this post. If you want to share on your own blog / website, then you may use the first photo in this post and link back to this post. You may not give away printed copies of this post. Thank you.
This post may contain affiliate links/ads. If you purchase something from a link in this post, I may be compensated.
Want to get the latest posts from Jessie at Home delivered straight to your email?
Subscribe to the Jessie at Home newsletter! We'll send you the latest patterns and tutorials. We will never spam you, promise to never sell your email address, and you can unsubscribe at any time.