It time for the 2017 Yarn and Wine Tasting!!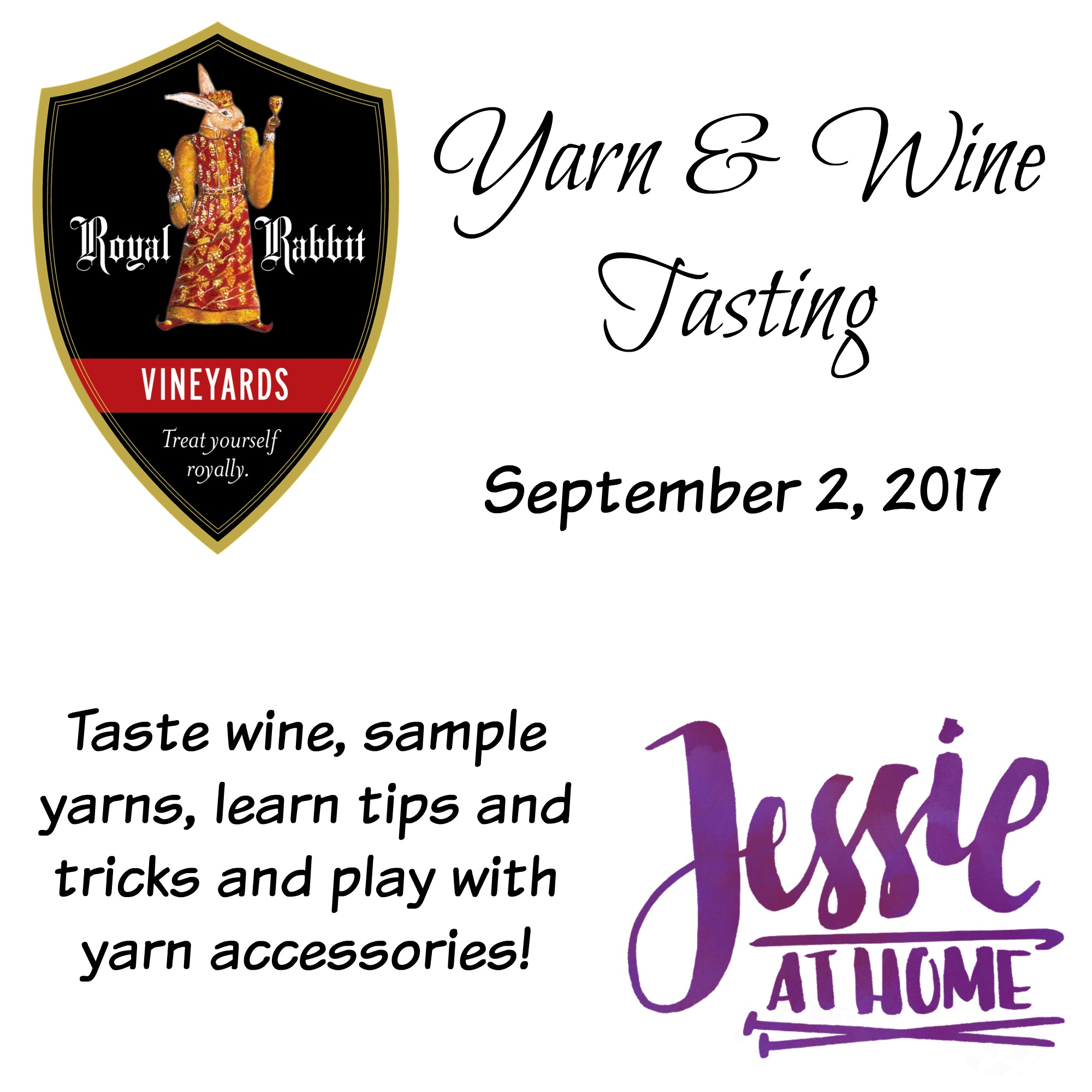 That's right: Yarn and Wine!!! Jessie At Home and Royal Rabbit Vineyards in Parkton, Maryland are teaming up to bring you the best tasting ever! Our goal is not only a fun-filled event, but an educational event as well. By the time you leave, we want to have introduced you to many different yarns and yarn notions so that your options for your next project are even larger! Of course, we also want to introduce you to some fabulous wine as well, for this reason the tasting will only be open to those 21 years of age and older, and you will need to present your ID when you redeem your ticket. We also ask that you plan accordingly and responsibly for transportation.
Here are the details, this page will be updated as more info is available, so check back often!
The 2017 Yarn and Wine tasting will be on Saturday Sept 2nd, from 12-3 and 4-7 pm local (Eastern) time – these are 2 separate events. Tickets can be purchased from Eventbright for $39 as follows:
Session 1 (12-3 pm) – CLICK HERE
Session 2 (4-7 pm) – CLICK HERE
Details (updated as more are nailed down)
Upon arrival, attendees will take seats at tables with various yarn and yarn accessories provided by our sponsors for everyone to try. Each table should have pretty much the same things at them, so attendees will not have to switch tables.
The wine tasting will occur at the start of the event and include 6 wines. Additional glasses of wine will be available for purchase throughout the event.
Cheese, meats, and crackers will be provided, along with water.
There will be door prizes provided by our sponsors throughout the event.
Throughout the event, attendees will be encouraged to ask questions and share tips about crochet and knit.
There will be goodie bags of yarn, notions and coupons provided by our sponsors given to all attendees as they leave. The value of the bags is more than the price of admission!! Attendees will also leave with a souvenir wine glass with the Royal Rabbit Vineyard motto: Treat Yourself Royally.
Goodie bags will include a spreadsheet with a reminder of the items at the event, and links to coordinating sites for the items. This way you can get your hands on the items you love the most!
Bottles of wine will be available for purchase.
Thank you to our awesome sponsors!! This list will be updated each weekend to keep it as current as possible.