Hello my friends! I love sharing patterns with you, reviewing products, chatting about things here At Home, and all things yarning. However, I really, really, really love sharing ways we can all make the world a little happier, a little healthier, a little friendlier, a little better. That's what I have to share with you today.
"Cast-Off Chemo! is a charitable program established by yarn industry professionals with the purpose of raising a $1 million ($1,000,000) dollars to fund research that will end the need for chemotherapy in breast cancer treatment and, ultimately, cure potentially all cancers. The funds will support the research work of Dr. David Krag and his team and network of researchers across the US, whose work to date has already benefitted over a million women and men world-wide. The monies raised will enable him and his team to bring this research to the clinical trials, at which point federal funding would become available." ~ Cast Off Chemo mission statement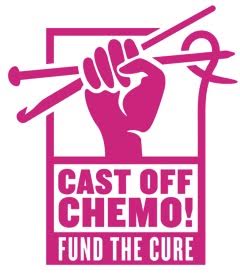 Sounds amazing, doesn't it? Would you like to know a way you can help and still get something for your donation? Well, I can tell you 2 ways!
For two weeks in October, 2015, fabulous yarn, fantastic knitting and crochet needles, patterns, books and much more will be available through an eBay auction to benefit Cast Off Chemo! Yarns from Skacel, Ancient Arts Fibre Crafts, Berroco, Tahki Stacy Charles, Mountain Colors, Trendsetter Yarns, Rowan, Prism Arts, Plymouth and others will be listed. Denise Interchangeable, HiyaHiya and others have donated knitting needle and crochet sets. Subscriptions from major yarn industry publishers will also be available. Sweater wash, totes, online classes, and other surprises are also to be included in the listing. A special, custom-dyed, sport weight Superwash merino-nylon blend yarn in a luscious hibiscus-watermelon color will be listed, with supporting patterns on Ravelry, will also be offered at a very special price.
"We are grateful to have such generous sponsors and contributors from the craft industry," said Susan Sullivan, Auction Coordinator. "All the funds raised will go to the goal of raising $1 million for a clinical trial that could make a huge difference for those with breast cancer and other cancers."
The auction will run from Oct. 2~11.
AND ~ if you would like some patterns, how about this:
Over 50 knit and crochet patterns are already available for $5 each on Cast Off Chemo's Ravelry page, with all proceeds going to the cause. New patterns are uploaded as they are donated by designers (I do plan on donating a design or two, and I will let you know when I do!) "We have some amazing designers who are supporting the cause. Now we just need to make sure knitters and crocheters know about our Ravelry page." ~ Cari Clement, Cast Off Chemo's Lead Coordinator
Cast Off Chemo! around the 'net
Website
Facebook
Ravelry
No one involved with Cast Off Chemo! accepts any funds for their work. It is an all-volunteer effort.
You may have noticed I mentioned something about a giveaway. Well, Dr Krag's son, Peter, is a pianist and composer. He has created a CD, Between the Stitches, full of music to relax you as you stitch away. When I was at the TNNA trade show last spring, Cari Clement gave me several copies of the CD to pass on to you. So here is a giveaway for a CD. Two winners will be chosen. This giveaway will run through Sunday, Oct 4th 2015, at the end of day eastern time. I will post a reminder about the auction on Monday or Tuesday the 5th or 6th, and at that point I will also post a giveaway for the rest of the CDs I have. So you will have to stop by again then for another chance.
To enter the Between the Stitches CD Giveaway, you must be 18 years of age with a valid shipping address. Giveaway is open worldwide, and ends October 4th, 2015 at end of day eastern time. Two winners will be contacted by email for shipping addresses, at which point the winners will each be sent 1 copy of the Between the Stitches CD. Winners must reply to notification email with a valid shipping address within 1 week or a new winner will be chosen.
©Copyright 2015 Jessie Rayot / Jessie At Home All my videos, patterns and posts are my own work. Do not copy them in any way. If you want to share this information with someone, share the link to this post. If you want to share on your own blog / website, then you may use the first photo in this post and link back to this post. You may not give away printed copies of this post. Thank you.
This post may contain affiliate links/ads. If you purchase something from a link in this post, I may be compensated.