Some people do spring cleaning. I am more of a fall cleaning kind of girl. Something about fall makes me want to get everything in order. Maybe it's Doug and the girls all going back to school and me actually having an empty house so I can get more done. Plus, when I am alone I seem to notice the clutter more.
So…I have been trying to get the house in order, and find a routine that works. I am enjoying the TV/laptop free afternoons from when the girls get home until after dinner. I am able to go through the mail and school papers while they do homework, and still help them when they need it. I have been doing better about staying on top of the laundry, and the house is slowly getting more presentable.
I am also going through my computer files and cleaning up. I have lots of partial patterns to finish up. My friend Kim was recently saying how de~cluttering helps her mood, and I have to agree. I need to de~clutter!
Remember when I got some pretty new yarn from Lion Brand in the mail? Well, here is the long, skinny cowl I am making with the 2 crepe yarns. This photo was taken a few days ago. I have finished it, but it still needs to be blocked. I really like the stitch pattern I came up with. I am going to have to use it in a few more items.
With the whole fall cleaning/decluttering, I am finishing up several samples for patterns and I hope to schedule a shoot with my photographer by the end of the month to get some nice photos of them. This cowl is on that list, as I would love to show it on an actual person, which is hard for me to do when I take the photos myself. The girls are still a little small to model adult items. 🙂
Last week we took the girls shopping for Halloween. They had fun in the aisle with the big foam costumes. No, this is not Kyla's costume, but she was too awesome not to photograph!!
I know I've talked about the farmer's market we have here on Sundays before. Well, a few weeks ago, the police officer who is on duty there bought these little pumpkins for the girls. So, when we got home they painted them.
On Friday, the girls went to a Campfire Sing Along with the Girl Scouts. Here they are with their blankets and flashlights, all ready to go!
And here they are, ready to sing, with Aly and her mom.
We sang for a while, then there was a s'mores break. There were a lot of girls, so we all had to take turns. The moms thought a good way to pass the time while waiting for our turn would be to take some pictures. The girls were a bit loopy at this point.
This was the best shot I could get. I love these girls. I really do hope our troop stays together and these awesome girls remain part of our lives for years to come. They are all so awesome, and so are their parents. I can't imagine a better fate then to get stuck with all of them!
The loopy little ladies thought a good way to pass the time would be to make a blanket fort.
Finally!! S'mores!!!
Oh, so the fall cleaning thing. We have removed everything from the back room of the basement. We bought some heavy~duty plastic shelving to put in there, and we are going to go through everything, reorganize it, and get it in there in a neat fashion so we can find things as we need them. We also have some plastic bins to store things that we won't need for a while in the top of the garage. I will be so happy once we have gone through everything and it is all easy to find. I am sure there will be lots of trash and donate items, but I am also sure I will find some lost treasures.
OK, I need to get more cleaning done, and the girls want me to put the Charlie Brown Halloween DVD on.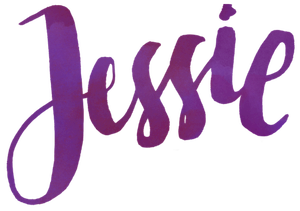 ©Copyright 2014 Jessie Rayot / Jessie At Home All my videos, patterns and posts are my own work. Do not copy them in any way. If you want to share this information with someone, share the link to this post. If you want to share on your own blog / website, then you may use the first photo in this post and link back to this post. You may not give away printed copies of this post. Thank you.
This post may contain affiliate links/ads. If you purchase something from a link in this post, I may be compensated.