Family Tree Crafts are a great addition to your home and they also make a wonderful gift for your loved ones. Make them for your family room, or to give to your kiddo as they are off to college. So collect some of your favorite pictures and a few supplies and get crafting!
Products used in this post were provided by Testors and Leisure Arts. All opinions are my own.
Supplies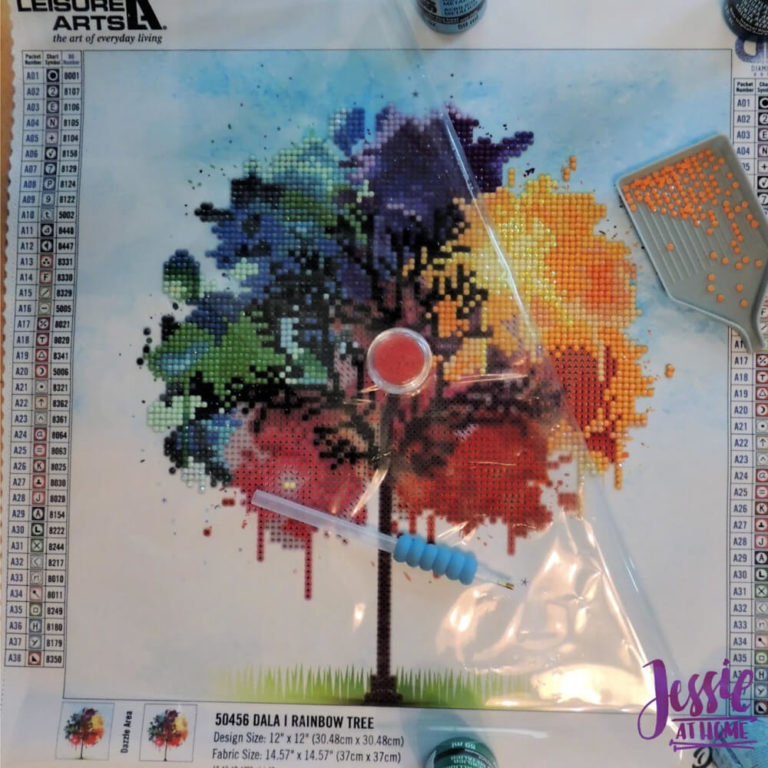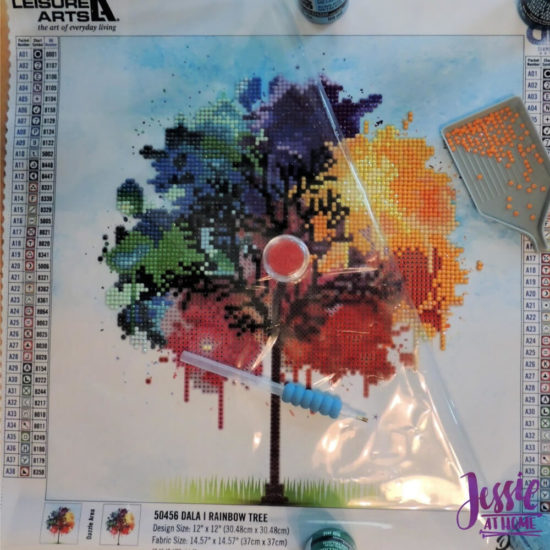 When I saw this rainbow tree Diamond Art kit, I immediately thought of a tree of life. Then I had some paper mache lids left over from other crafts and thought I could turn them both into a family tree craft with photo transfer medium.
Once I completed the Diamond Art kit I cut around it with sharp scissors. In hindsight, I think a sharp craft knife would have been a good idea as well.
To begin I sprayed the lid green. The shimmer paint is super pretty and shiny. However, after taking a look at it I worried that it would make everyone in the photos look sick, and I also thought it would be nice to have blue behind the tree.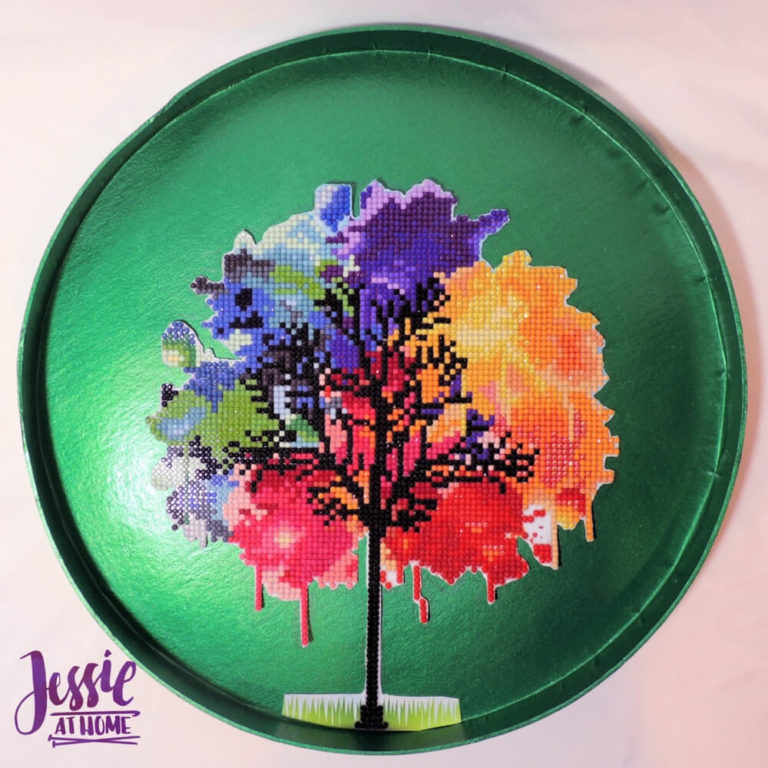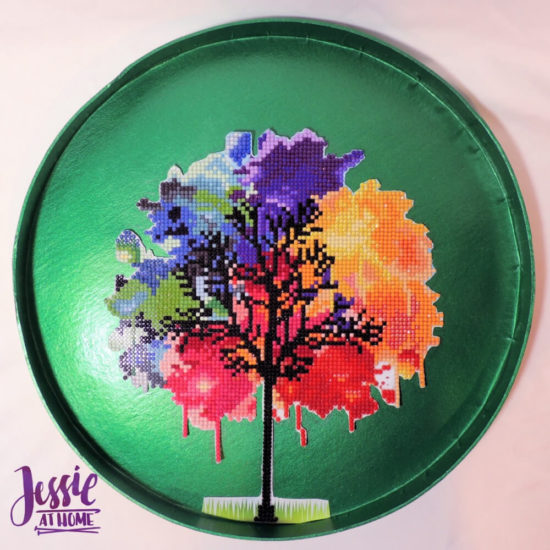 I used the sponge brush to paint the inside of the lid French Vanilla without letting it touch the edge of the lid. While it was still wet I squirted on the blue paint and mixed it in to give it a bit of an uneven look.
I chose 12 family photos and edited them in PicMonkey. I made them all into 2″ (ish) circles, and then mirror imaged them. Then I tossed them into a word doc and saved them.
Now's the part when I had to put on pants and leave the house. I have an ink jet printer and the images used with the photo transfer medium need to be printed on regular printer paper with a laser printer.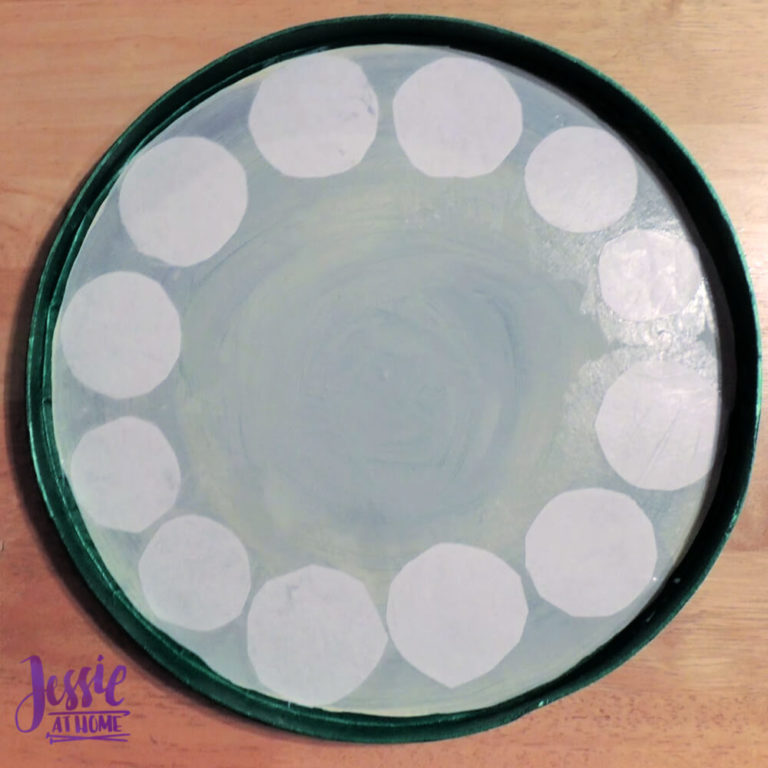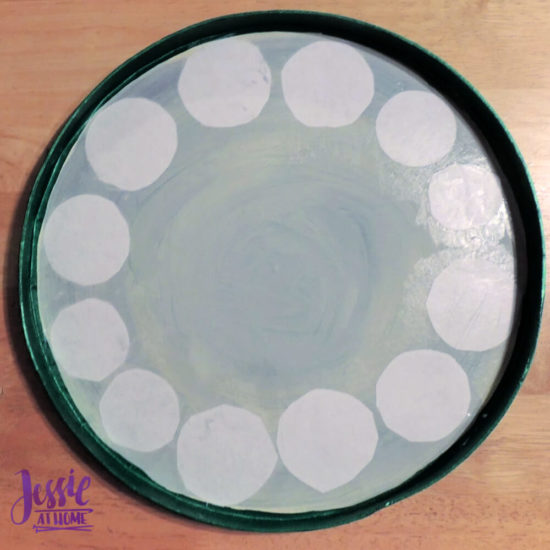 Once the photos were home, I cut around the circles. Don't worry about perfection, the plain paper around the images will whip away later. I layed the tree on the lid and decided where to place each photo on my family tree.
I then removed the tree and begun with the photo transfer. To do this, I used the sponge brush and painted one photo with the medium. Then I layed it down on the tray where I wanted the photo to transfer. I used a credit card to smooth down the photo and squeeze out any extra medium. I repeated this process with each photo.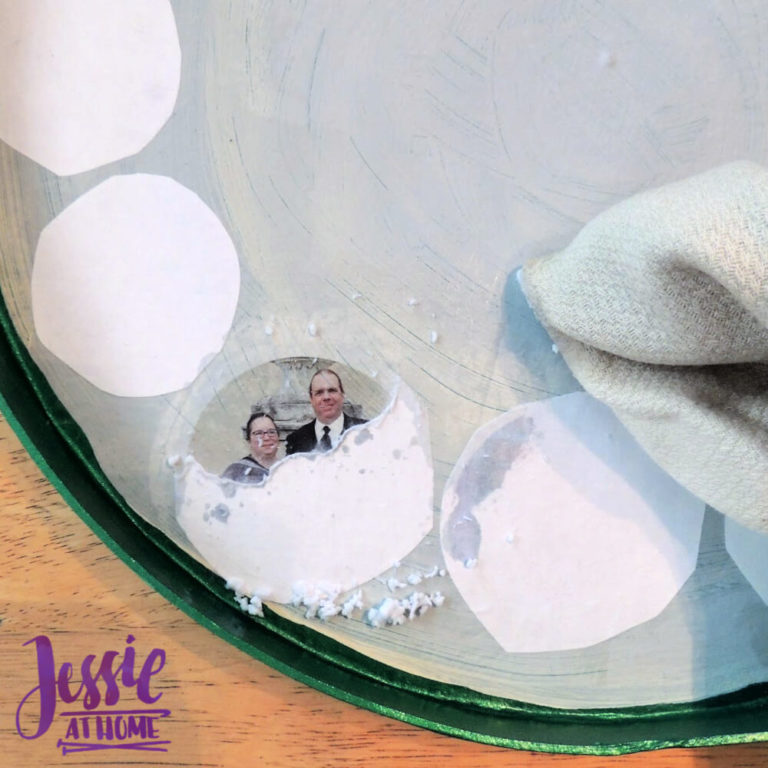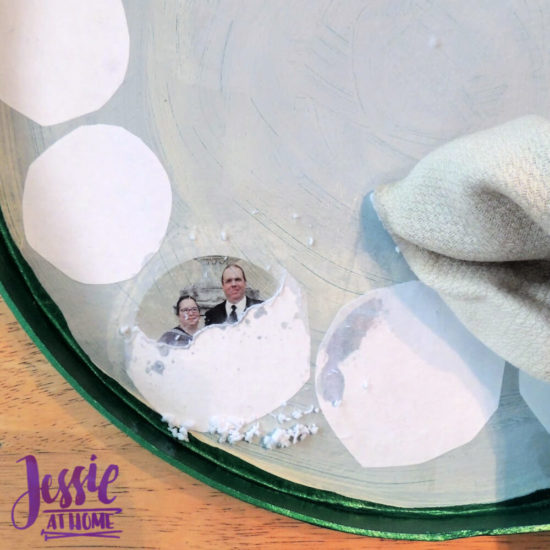 After waiting 12 hours I begin the removal process. I used a rag and wrapped it around my finger. I wet the photo and then gently rubbed in small circles. The paper came off a little at a time. It's important to rub gently and in small circles, re-wetting the rag as needed. If you rub too hard you can remove the image.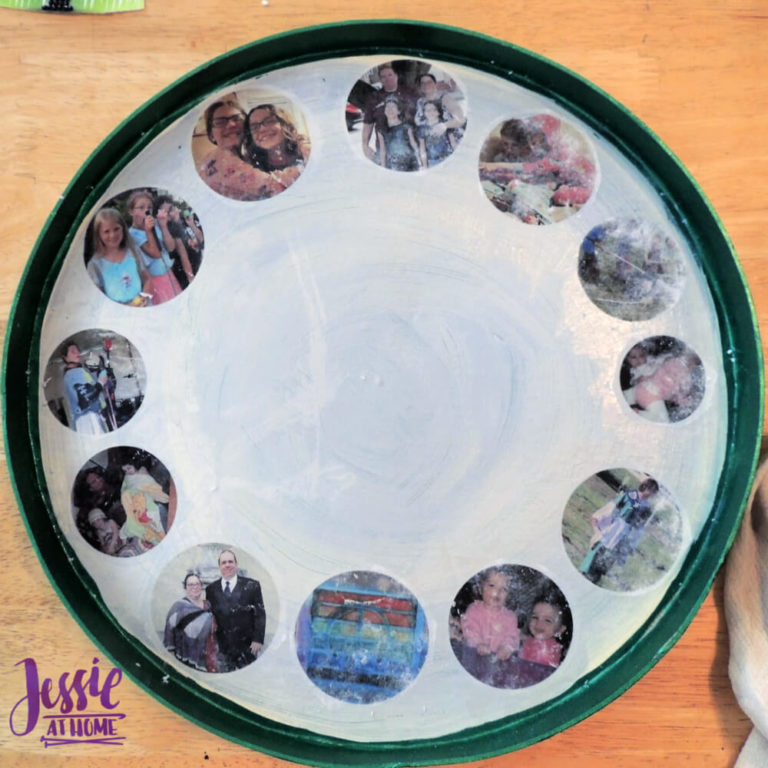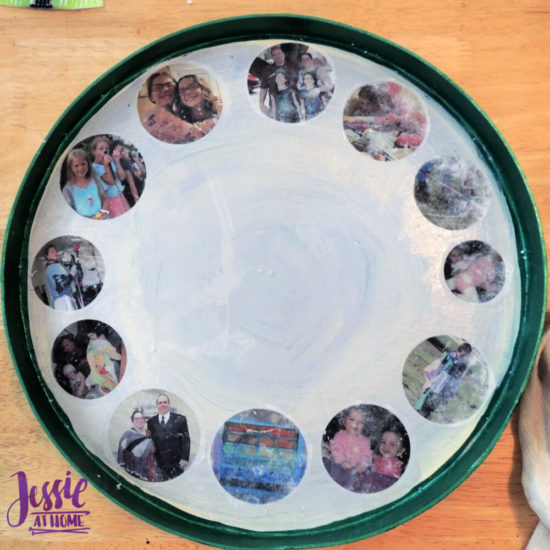 As you can see, after the first pass most of the paper was gone, but there still was a bit left. The second pass went much quicker.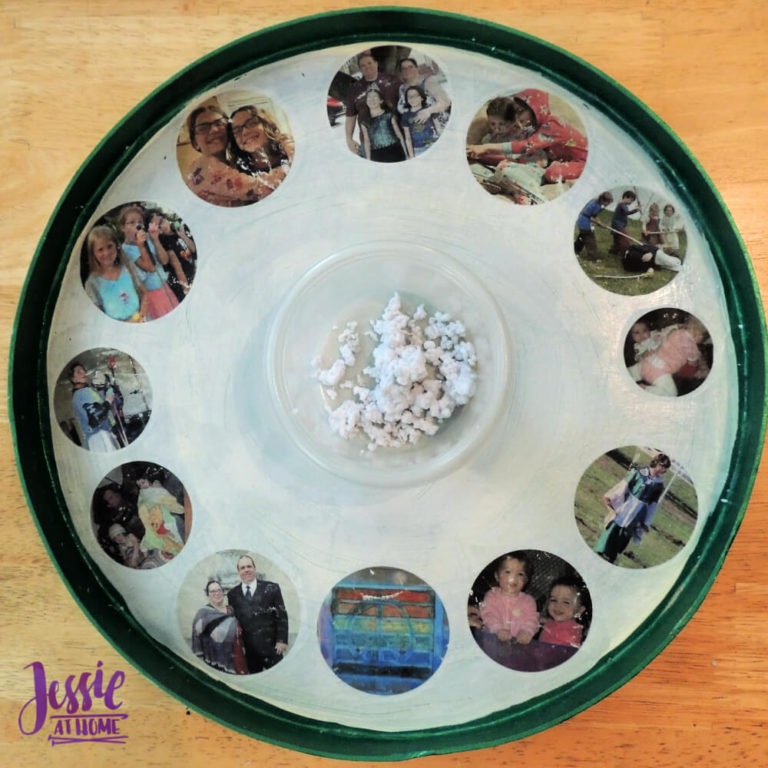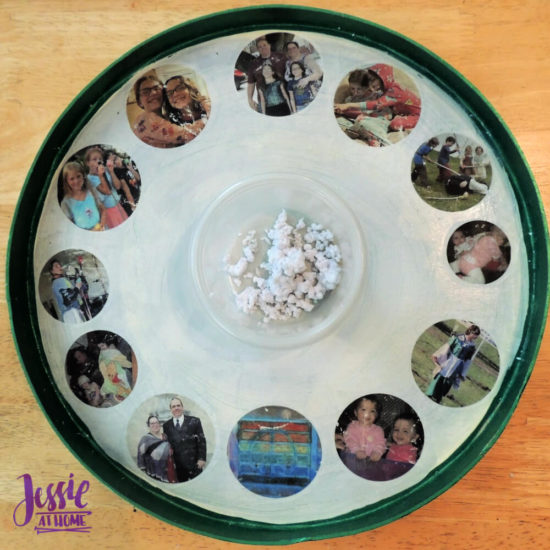 The dish in the center of this image is full of all the bits of paper I removed from the photos. As you can see, I did loose tiny bits of some of my images. I think these were spots where maybe there wasn't enough medium. You can imagine that in a larger image these small spots wouldn't make that much of a difference.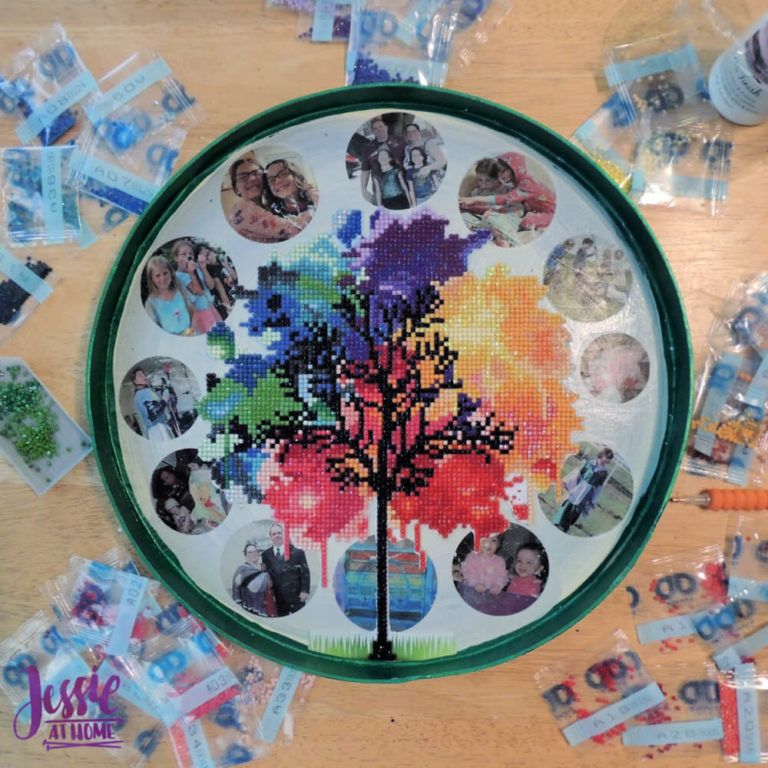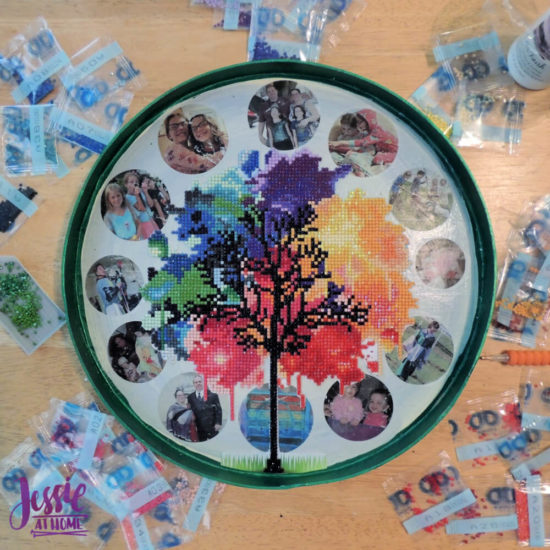 Next I used the spray adhesive to attach the tree. I looked at the family tree craft and decided it needed something. So I divided the leftover dots from the diamond art into color families. I mixed each color family together and started gluing them down using the photo medium and the small brush.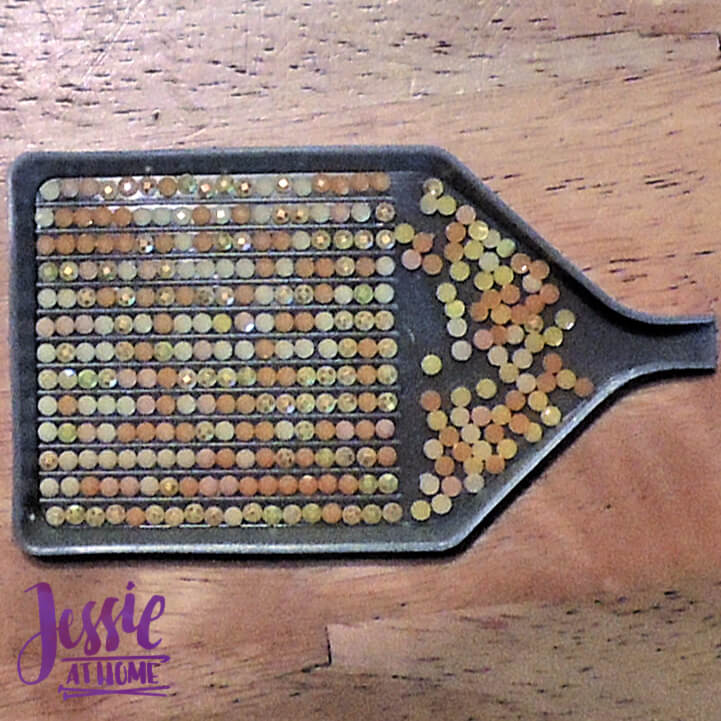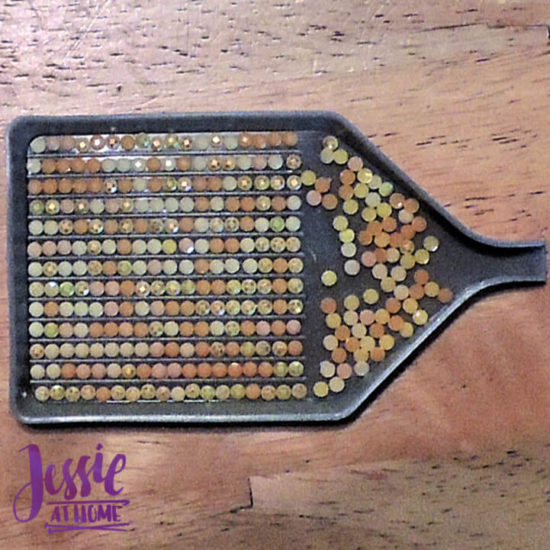 OK, I had to include this picture because it was so cute. Vada got board with whatever she had been doing and decided she wanted to help. So she mixed all the yellows and lined them up in the Diamond Art try.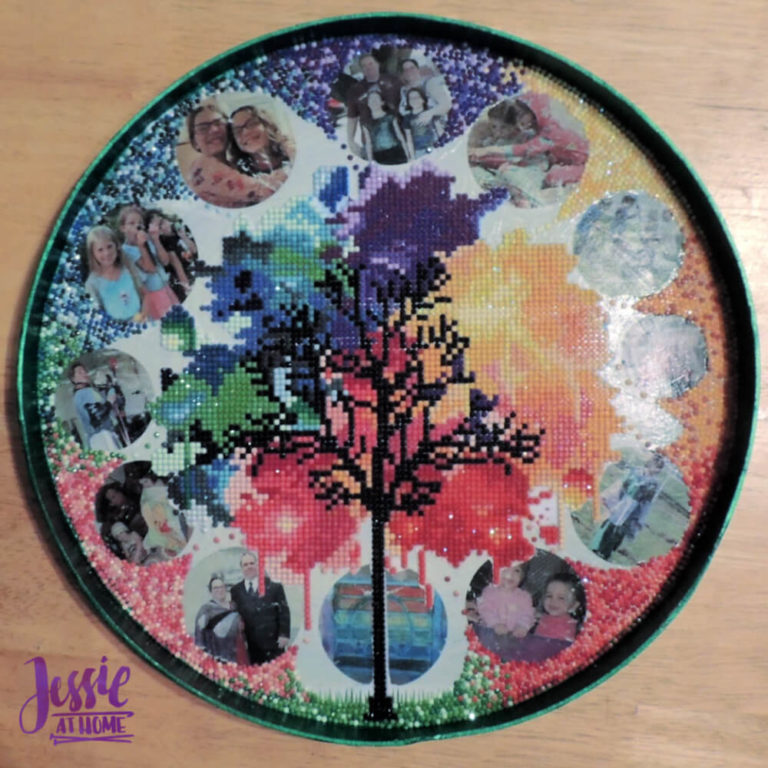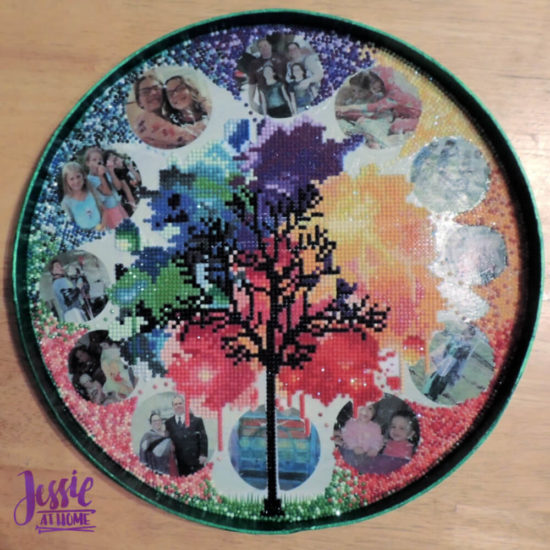 I used almost all of the leftover dots to finish the family tree craft. I was very happy with the results. It still needed one finishing touch, so I coated the whole inside of the lid with the gloss photo medium. After letting it dry overnight, this gave the piece a wonderful, uniform finish.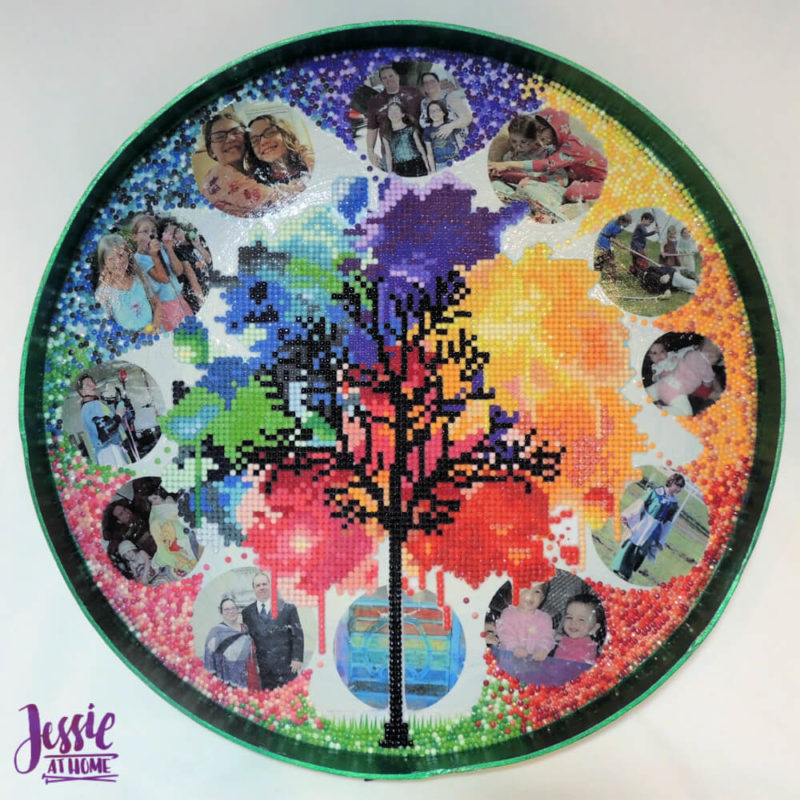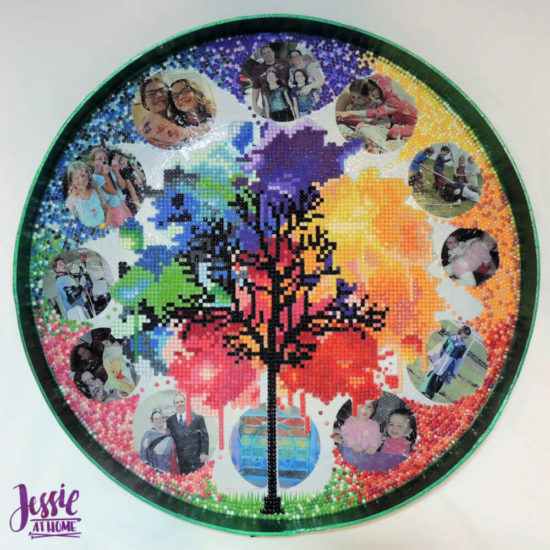 I really love my family tree craft!!
Did you enjoy what you found here at Jessie At Home? Then sign up for my newsletter and like my Facebook page, so you'll get all the updates on new tutorials, other posts, sales, and coming events.
If you have any questions, want to share pictures of your work, or just want to chat with Jessie and other crafty individuals, than join my Facebook group.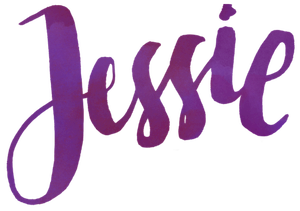 © Copyright 2019 Jessie Rayot / Jessie At Home All my videos, patterns, charts, photos and posts are my own work, so you may not copy them in any way. If you want to share this information with someone, then share the link to this post. If you want to share on your own blog / website, then you may use the first photo in this post and link back to this post. Also, you may not give away printed copies of this post.
If you liked this Family Tree Craft post, then take a look at these.