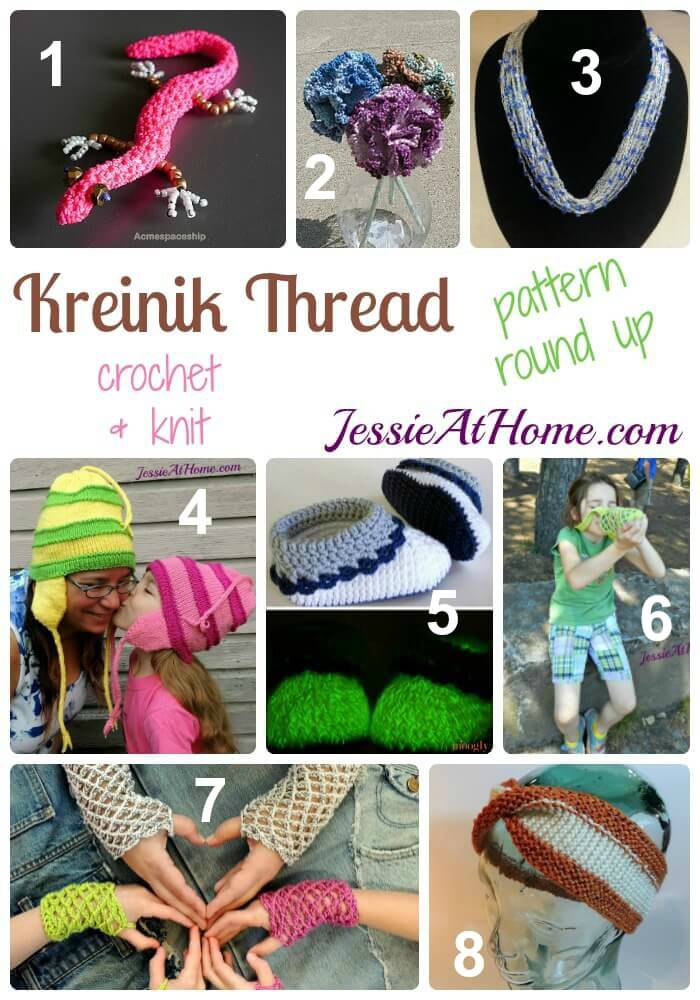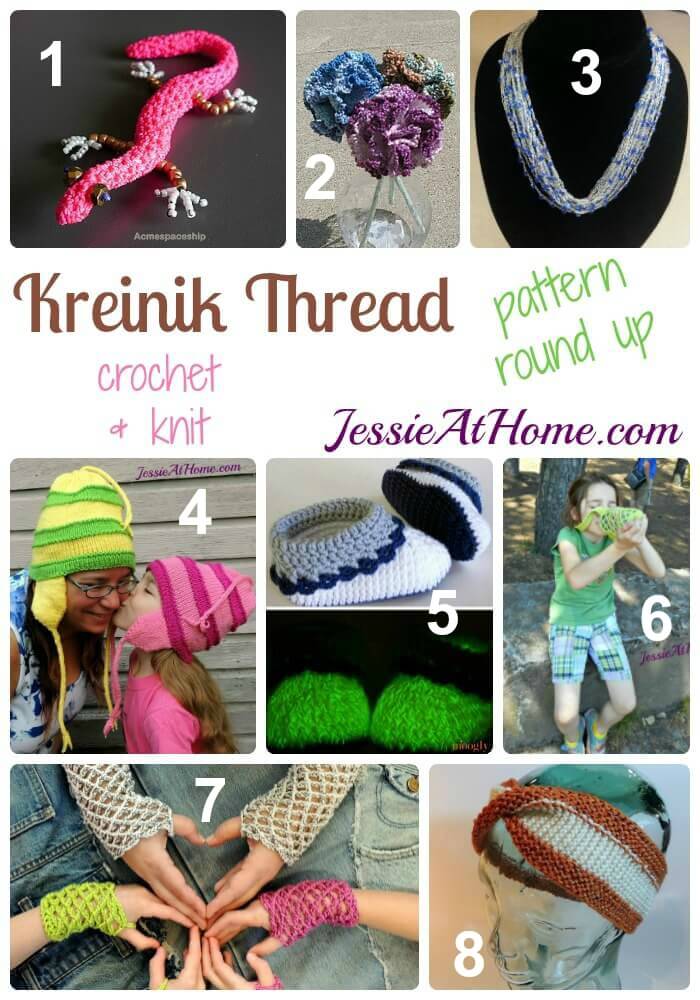 If you are a regular reader of my blog, you know I love Kreinik carry along threads. I have used them in many of my patterns, and plan on continuing to do so. The yardage on the cones is always plenty, the metallics are sparkly, the glow-in-the-darks glow bright and for a long time, the reflective really reflects well, they are all wonderful! And the color choices – SO MANY!!! They really bring your project up a notch. So, in honor of my love for these awesome carry along threads, I have put together a round up of patterns that use them, including several of mine and 2 knit patterns!
Kreinik is one of our awesome sponsors for Yarn and Wine 2016, so if you attend, you will get to play with some of these awesome carry alongs as well!!
Here are the names and links of each pattern.
1) Crocheted Gecko – by Jane Benton Butler
The Kreinik metallic threads and bead embellishments bring the creature to life. It's fun, contemporary wearable art-and quick to crochet.
2) Sparkling Carnation Pin – by Maggie Petsch Chasalow
Crochet is so trendy right now for clothing, purses, and embellishments. Make this quick and easy pin for a child, teen, or yourself to enjoy this summer season.
3) Sophisticated Simplicity – by Andee Graves
I am really happy to share my latest beaded chain pattern with all my readers. This was an idea that has been bumping around in my brain for a while. It's a very simple project to crochet, but does take a bit of coordination.
4) Elaina's Noggin Cover – KNIT- by Jessie Rayot
This hat was made as a gift for the daughter of my dear friend, Jon. Jon posted a picture of a pink hat on Facebook and mentioned that Elaina would look adorable in it. I happened to agree, so I thought I would make one for her… I decided this hat is so cute that her mom needed one in her favorite colors, so I wrote the pattern for kiddos and adults. PLUS: They glow in the dark!! Check out the notes section to see how.
5) Loopy Love Chidren's Slippers – by Tamara Kelly
You can use any combo of colors you like, all one color, it's up to you! I did add one extra touch to these – Kreinik Glow in the Dark Blending Filament! It makes these slippers do exactly what it says – glow in the dark!
6) Water Bottle Sling – by Jessie Rayot
This crochet water bottle sling is super easy and quick to make. Not only that, but it glows in the dark!! This is very important when spelunking through old castles and caves. ? The strap is made in such a way that you don't have to chain a bunch of stitches to start, and you can decide on the length as you go, so it can fit any adventurer, large of small! The water bottle holder section will adjust to various size bottles, and there are suggestions in the pattern for how to adjust the starting size as well.
7) Nettie's Super Simple Mitts – by Jessie Rayot
Increase your style with these fashionable fingerless mitts. This pattern is slightly different from the rest of the Nettie's Super Simple Stitch in the round patterns in that it starts with a row of single crochet. The net stitch is then worked off of the single crochet round. This provides a more sturdy base to the mitts so that they stay up. This pattern is also written in a way that it can be made to fit any size, and to finish to any length. Have fun with it!
8) Pick-Up Mobius Ear Warmers – KNIT – by Jessie Rayot
This pattern was so much fun to create. I've always been fascinated by mobius strips, and I prefer ear warmers that come in at the top, so mixing the two seemed only natural to me. This pattern is first worked in rows, then the long strip is joined into a mobius, and then it's finished off in rounds. This pattern can be used to create ear warmers with nearly any weight yarn. I hope you enjoy creating these ear warmers as much as I did!
Don't forget to check out some of the other great Round Ups that have happened in Blogland over the last week!
To see more Round Ups from Jessie At Home, click here.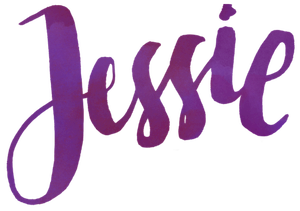 ©Copyright 2016 Jessie Rayot / Jessie At Home All my videos, patterns and posts are my own work. Do not copy them in any way. If you want to share this information with someone, share the link to this post. If you want to share on your own blog / website, then you may use the first photo in this post and link back to this post. You may not give away printed copies of this post. Thank you.
This post may contain affiliate links/ads. If you purchase something from a link in this post, I may be compensated.