Kyla has a Super Power.
This year Kyla has pull out for reading, writing and spelling. For the 2 hours that her class works on those subjects, she is in the resource room with her special teacher, Ms. S. We started calling her "Kyla's special teacher" over the summer because we did not know which resource teacher Kyla would have.
Please know that Kyla's struggles were not caused by her previous teachers not being good enough. Her teacher last year was amazing. I will never forget the day she said to me "Kyla has not failed, we have failed. We haven't figured out how she learns, and that is why she is struggling, but we will figure it out." The problem really is that Kyla doesn't learn reading, writing and spelling in the way that most kids do. It doesn't make sense to her that way. Her struggle is not something that a mainstream teacher would be trained to handle. She needs a special program that requires special training.
At the end of last school year, when we finally had everything in order for Kyla to get the help she needed this year, I told Kyla. I told her that in second grade she would have a special teacher for reading, writing and spelling. Kyla knew she was struggling, she knew she wasn't at the same level as her classmates. I told her when her class was having reading, writing and spelling, she would have class with her special teacher and just a few other kids. I explained that her special teacher would know better ways to help her learn. I told her what I've always told her: It was not her fault that she wasn't learning reading, writing and spelling as fast as the other kids. We knew she was trying so hard, and doing the best she could. I told her that her father and I were so, so, very proud of her for how hard she worked, and for never giving up, even though it was so hard for her. I told her that she was doing everything right, she just learns things differently than a lot of the other kids, and her special teacher would be able to teach her in the way she learns. By the time I was done, Kyla was nearly in tears and was shaking with joy. She was so excited that she was going to have a special teacher who would help her learn.
She has learned. So. Much. She is progressing so fast. At the beginning of the school year she had spelling words that were a bit easier than her other classmates, but within a few weeks, she was bringing home the same spelling words as Vada. We had our parent teacher conferences just over a week ago. Kyla earned an "A" in spelling. This was not because the teacher was giving her hints as she took her test, it was because her teacher had figured out how Kyla learns. I know, because I quiz her with her spelling words the day before a test, and she can spell them. With no help. It is amazing. Ms. S has figure out how Kyla learns, and now Kyla learns!! Eventually Kyla will be back in class with her classmates. It may be several years, but eventually she will get to the point where she can learn with the rest of her peers. For now, she has her oh~so~very~special teacher, Ms. S. (and a report card with all "A"s and "B"s!)
At the conference, Ms. S asked us if Kyla was really as happy as she appears to be, and if she ever gets discouraged. We told her she has her moments, like any 7 year old, but she really is that happy most of the time. She just loves life. I told Ms. S that she is aware that she is not at the same level as most of her classmates. Sometimes she does say things like "I learn slower than the other kids", "I can't read the same books as the other kids", or "It's just harder for me." I told Ms. S that when she says that I remind her that she has her special teacher. Whenever I say that, Kyla just lights up! I remind her that her special teacher is helping her and she is learning so much. I looked at Ms. S and said, "You are her super power."
She is. She is Kyla's super power. Before Ms. S, it didn't matter that Kyla was the hardest working 2nd grader you have ever met, she just wasn't getting it. It's like DareDevil. He is blind. No matter how hard he tried, he will never see with his eyes. But he does see. He sees with his ears. His echolocation is his super power. It allows him to see, even if he does not see the same way as most us. Ms. S is Kyla's super power. She allows Kyla to learn, even if she does not learn the same way as most of us.
Thank you is not enough, but it is all I have. Thank you Ms. S. Thank you for being Kyla's super power.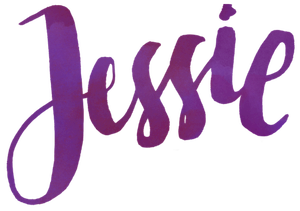 ©Copyright 2014 Jessie Rayot / Jessie At Home All my videos, patterns and posts are my own work. Do not copy them in any way. If you want to share this information with someone, share the link to this post. If you want to share on your own blog / website, then you may use the first photo in this post and link back to this post. You may not give away printed copies of this post. Thank you.
This post may contain affiliate links/ads. If you purchase something from a link in this post, I may be compensated.