The girls and I had a great time going through all our Heat Transfer Vinyl from Happy Crafters to make night shirts with our Cricut. We started off with some large blank tees. We search Cricut Design Space for some images the girls liked. Vada chose a party monkey, and Kyla chose a sleepy pig.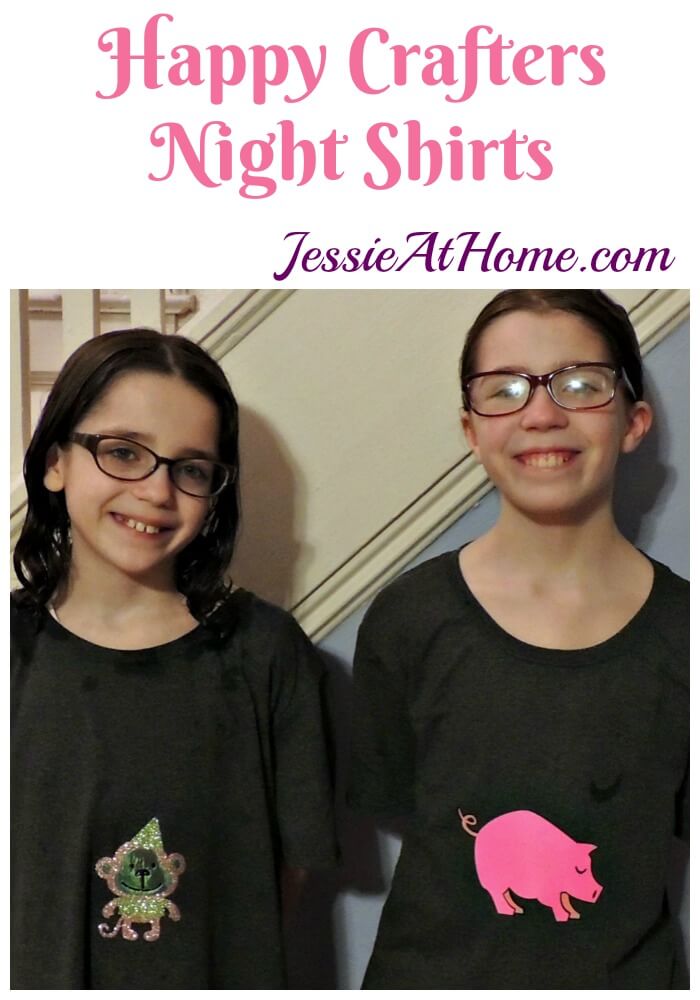 Products used in this post were provided by Happy Crafters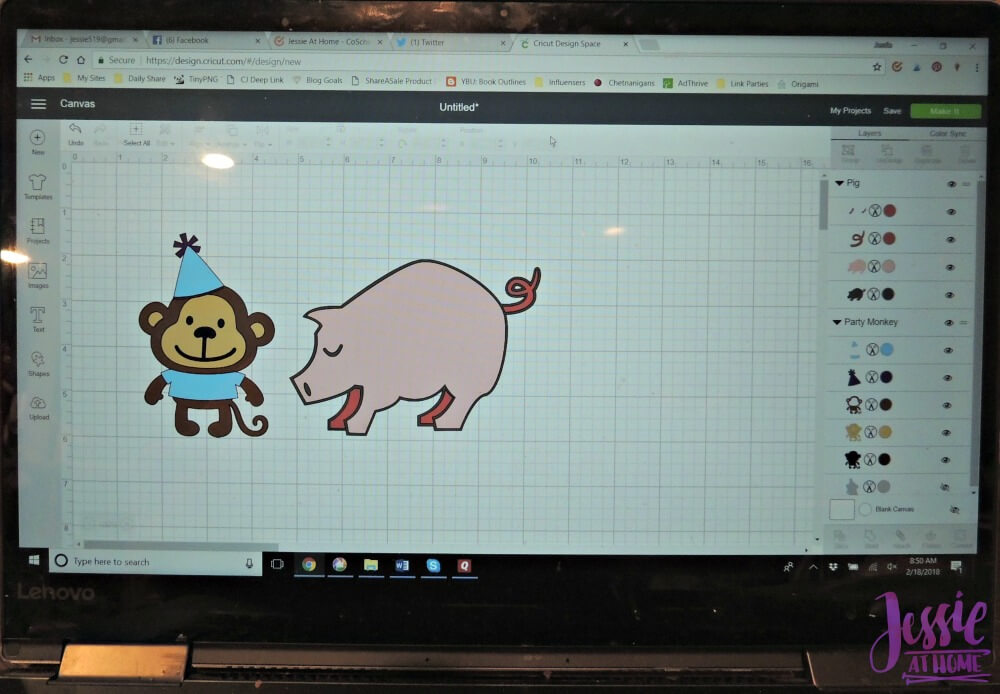 Next the girls looked through all the vinyl and chose what they wanted for each layer. They chose a bit of everything, some glitter, some foil, and some standard. They also chose some great colors!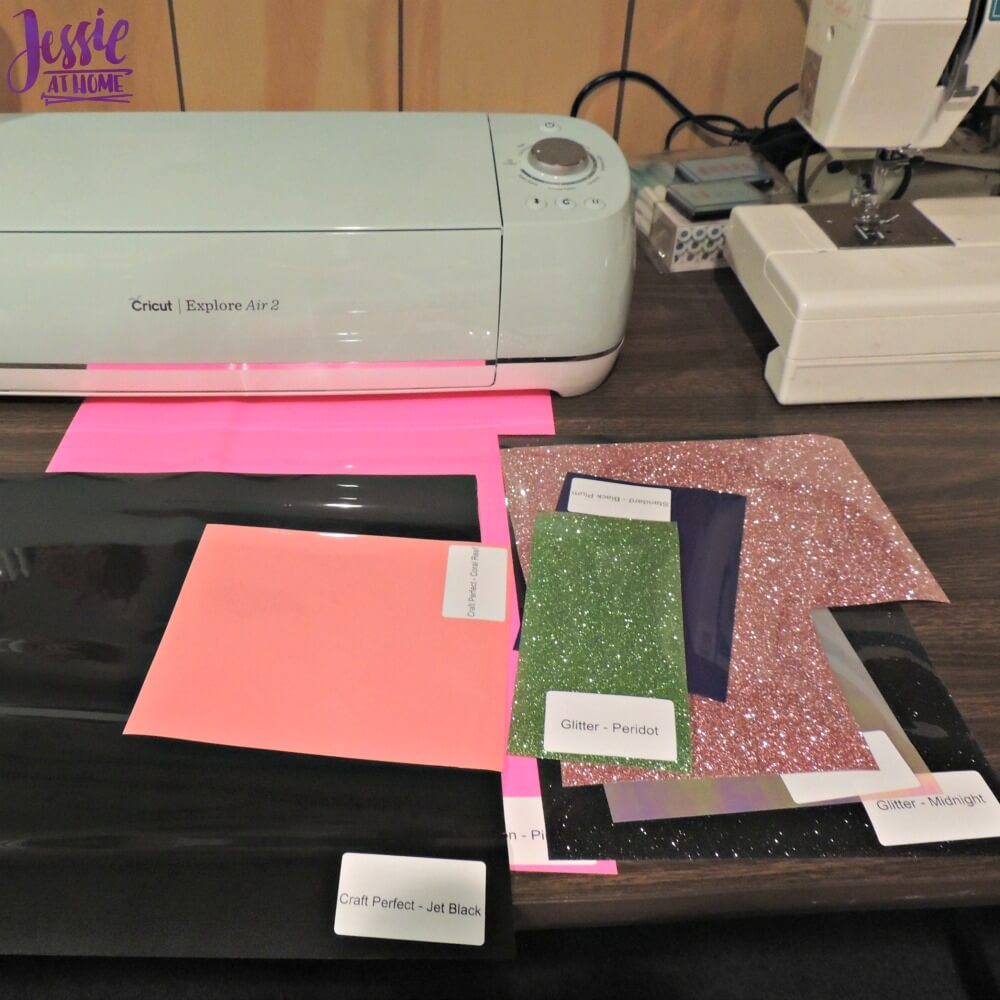 After adding our images to our Design Space project, we resized them according to the sizes of the vinyl the girls picked. Then we clicked on "make it" and started going through the cuts one at a time. We remembered to put our vinyl down upside down so that we cut the vinyl and not the top film. We didn't choose to mirror our images, because there were no words, so it didn't really matter if they cut backwards.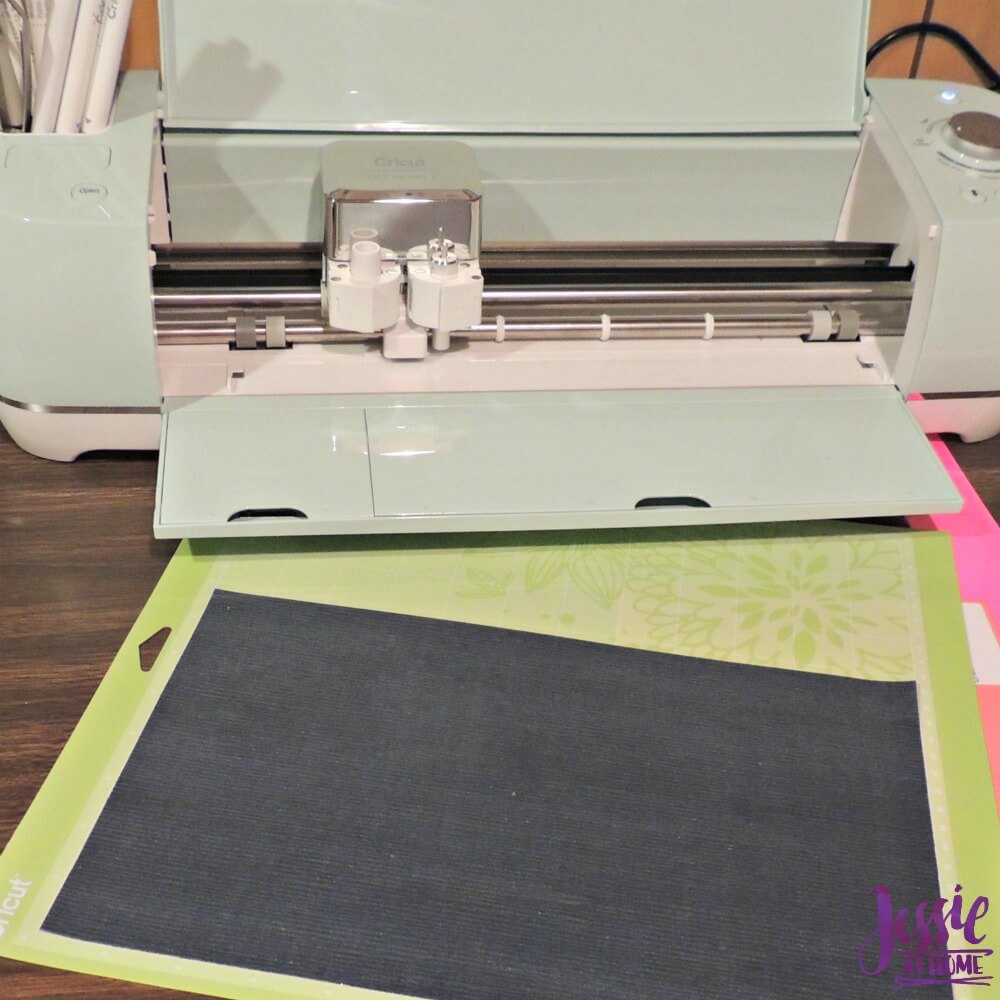 Once everything was cut, we started ironing on with Kyla's shirt. The first layer we were able to just place and iron. I used a home iron, because that what I have.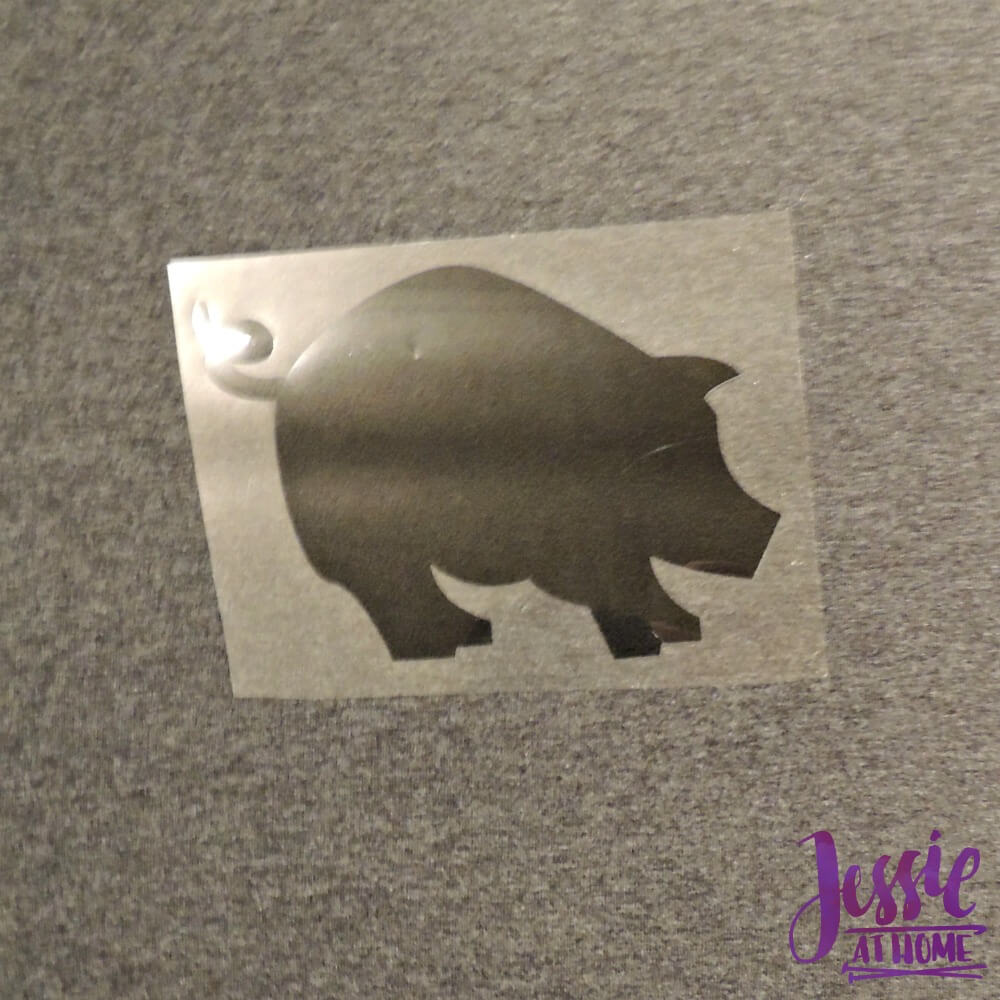 After ironing we removed the film and the pig shadow was all good.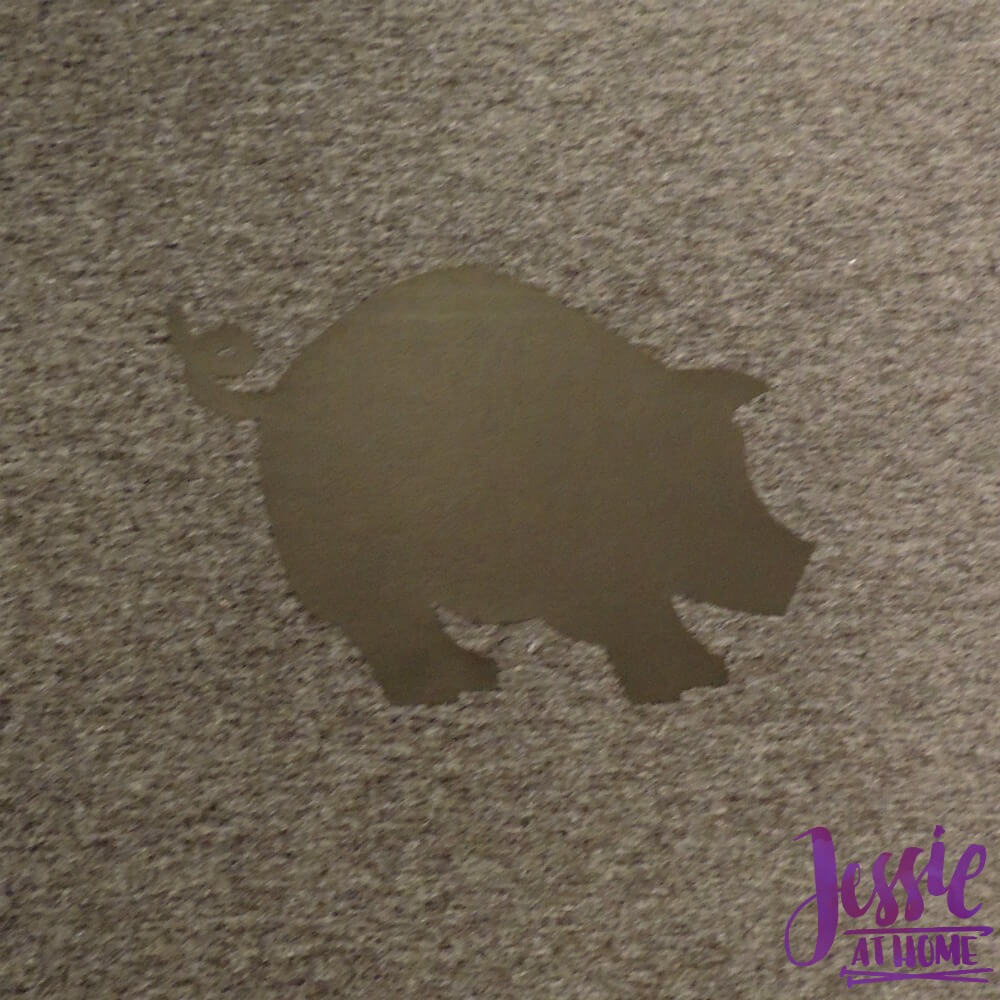 Then we placed the second layer, and covered it with a pressing cloth. We had to do this because the second layer didn't completely cover the first, so some of the vinyl from the first layer was exposed. It's not a good idea to put the iron directly on the vinyl without the film between them. So, pressing cloth.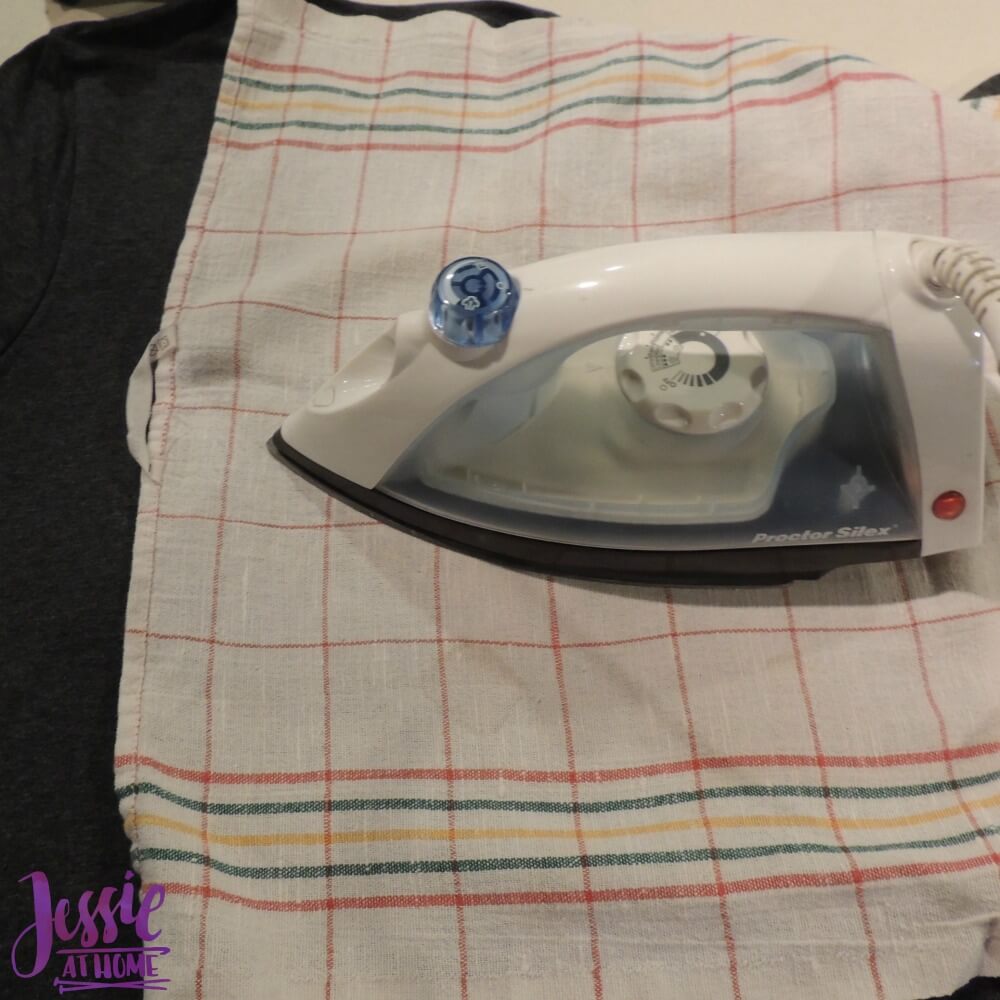 The second layer came out wonderfully.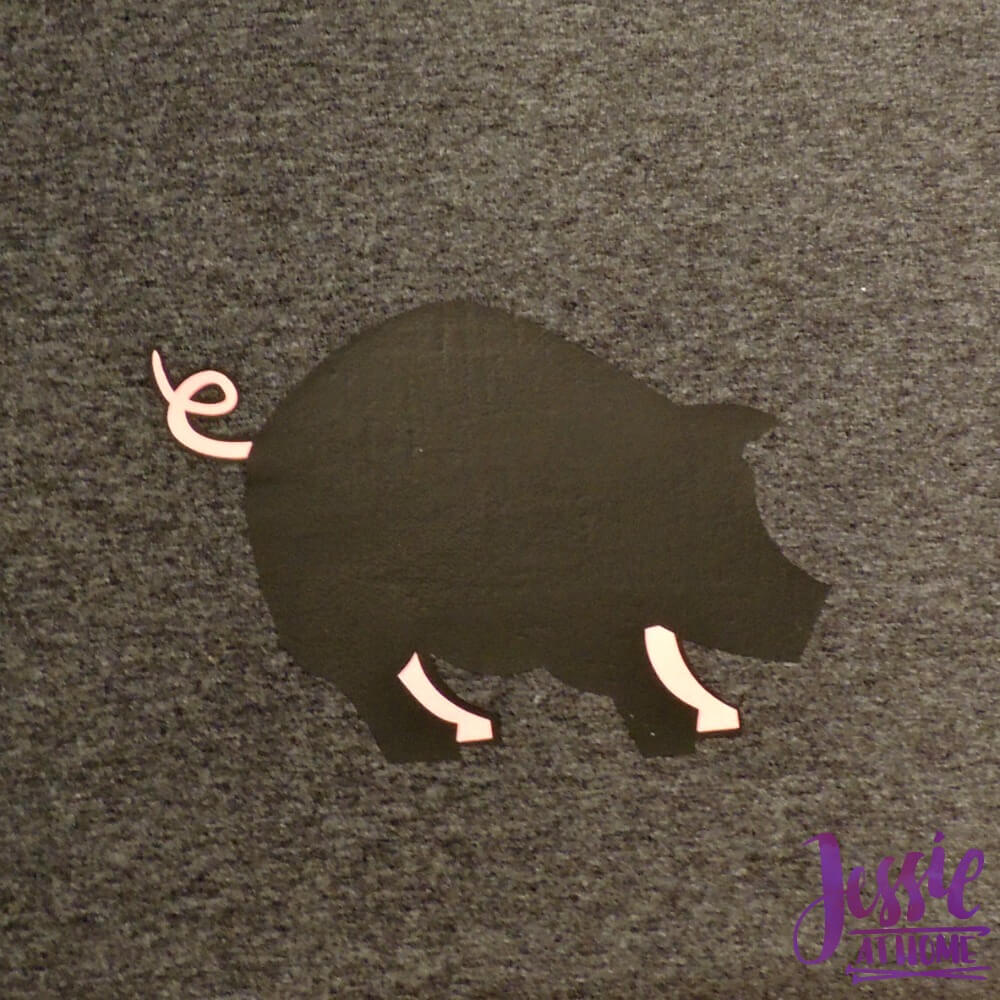 Then we placed the top layer, covered it with a pressing cloth, and ironed.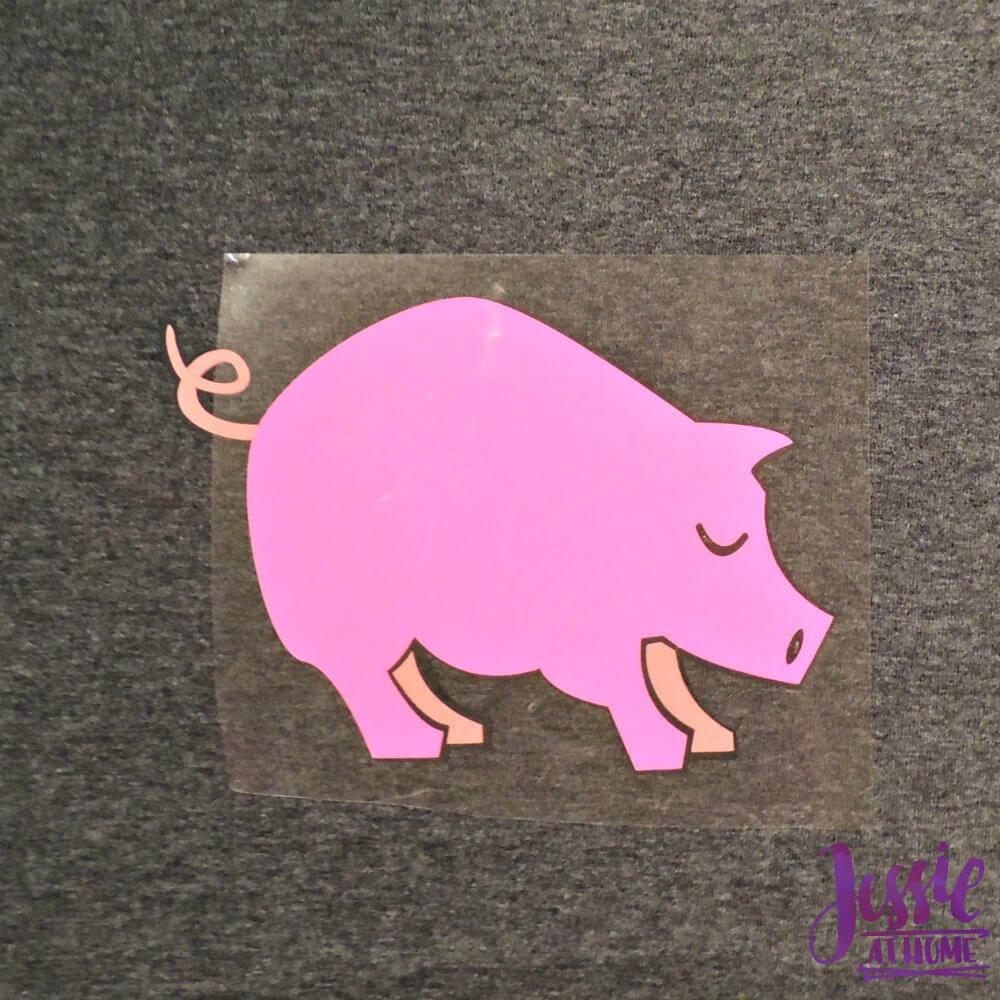 Isn't the finished piggy cute? Kyla was quite happy.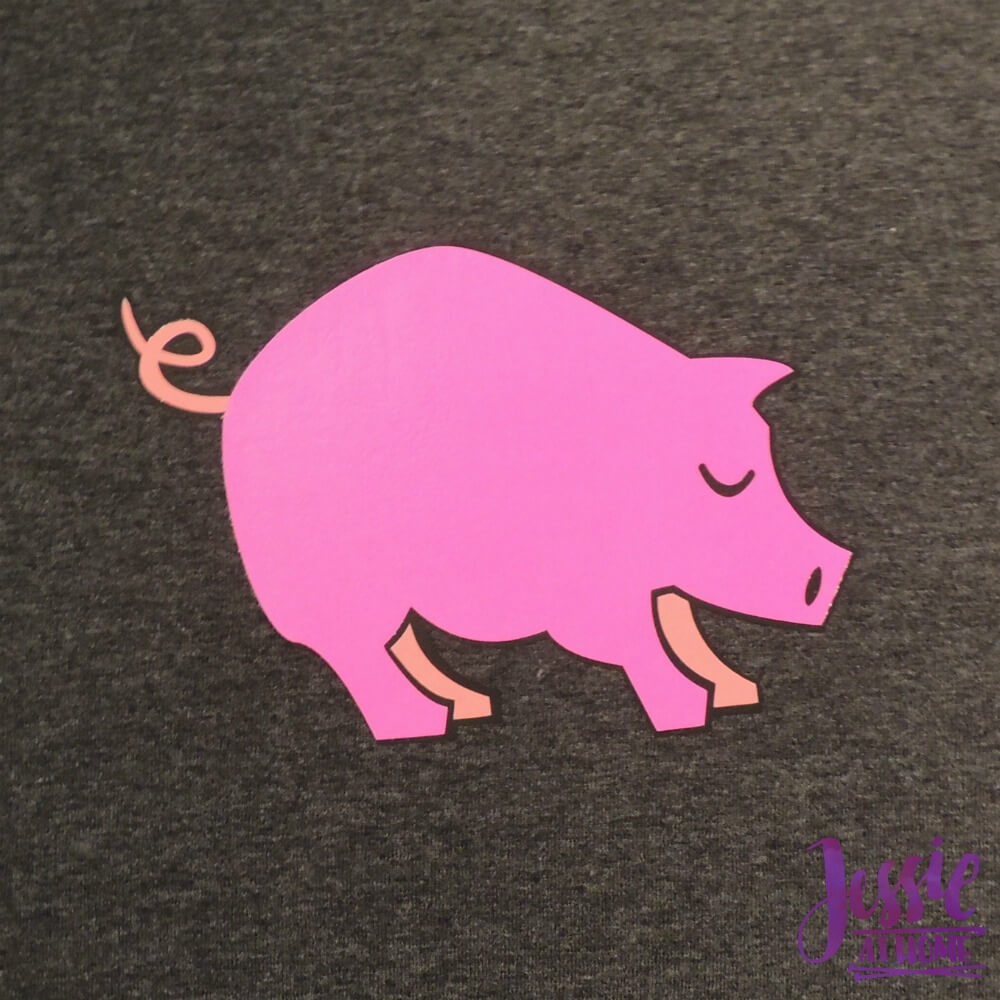 Next we started layering Vada's monkey together in the same manner.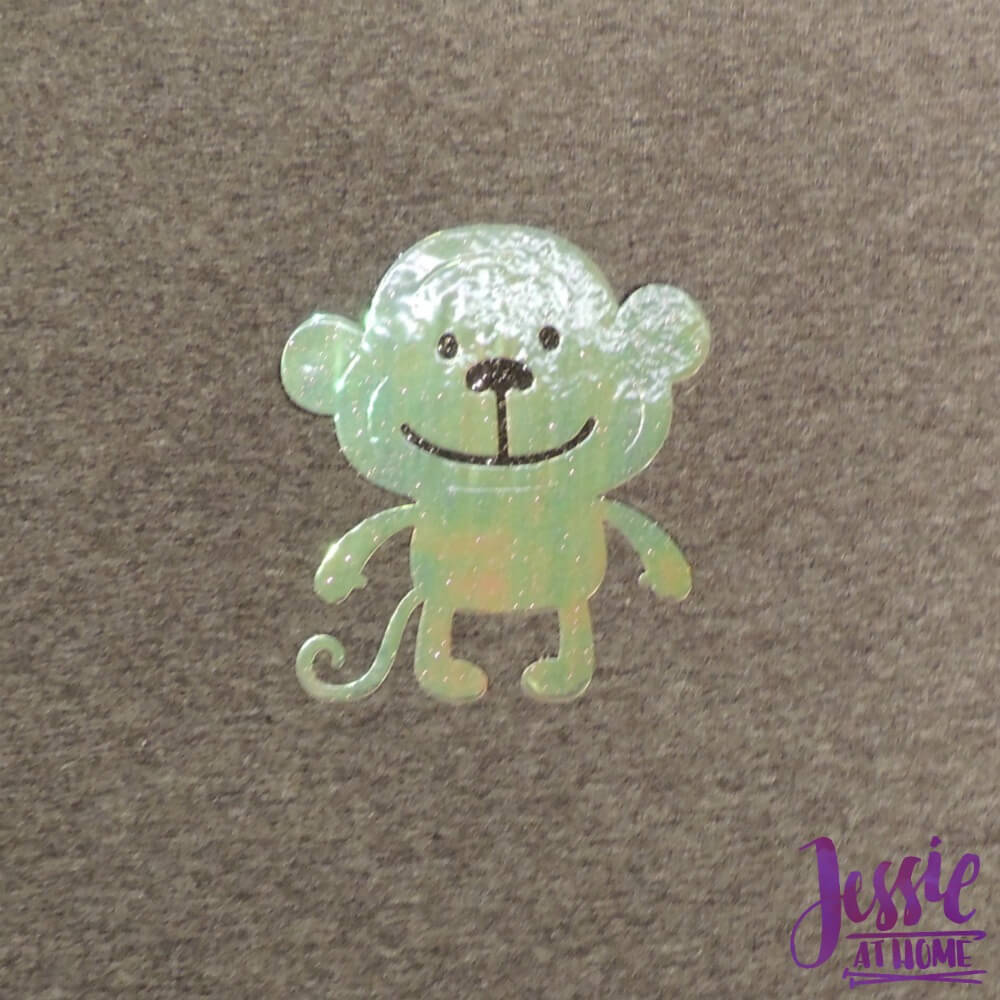 She was also happy with the finished product.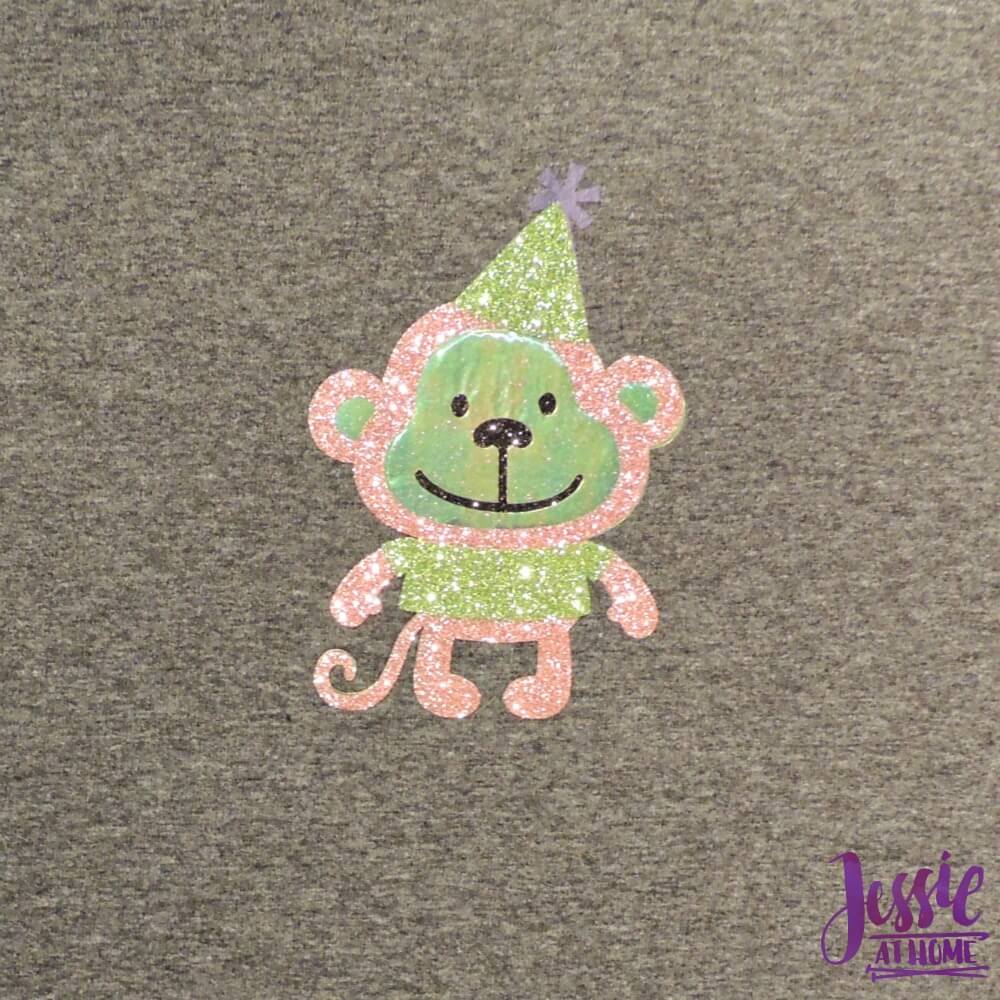 I was very pleased with the Happy Crafter Heat Transfer Vinyl. As I mentioned, we used a variety of styles, and they all worked beautifully. I ironed each according to the suggested times, and used a pressing cloth for the layers. When I was done with each shirt, I ironed them from the back as well. We will wash these shirts inside out. I like that the finished images still move with the shirts, they are not stiff. I will certainly use more of this vinyl in the future.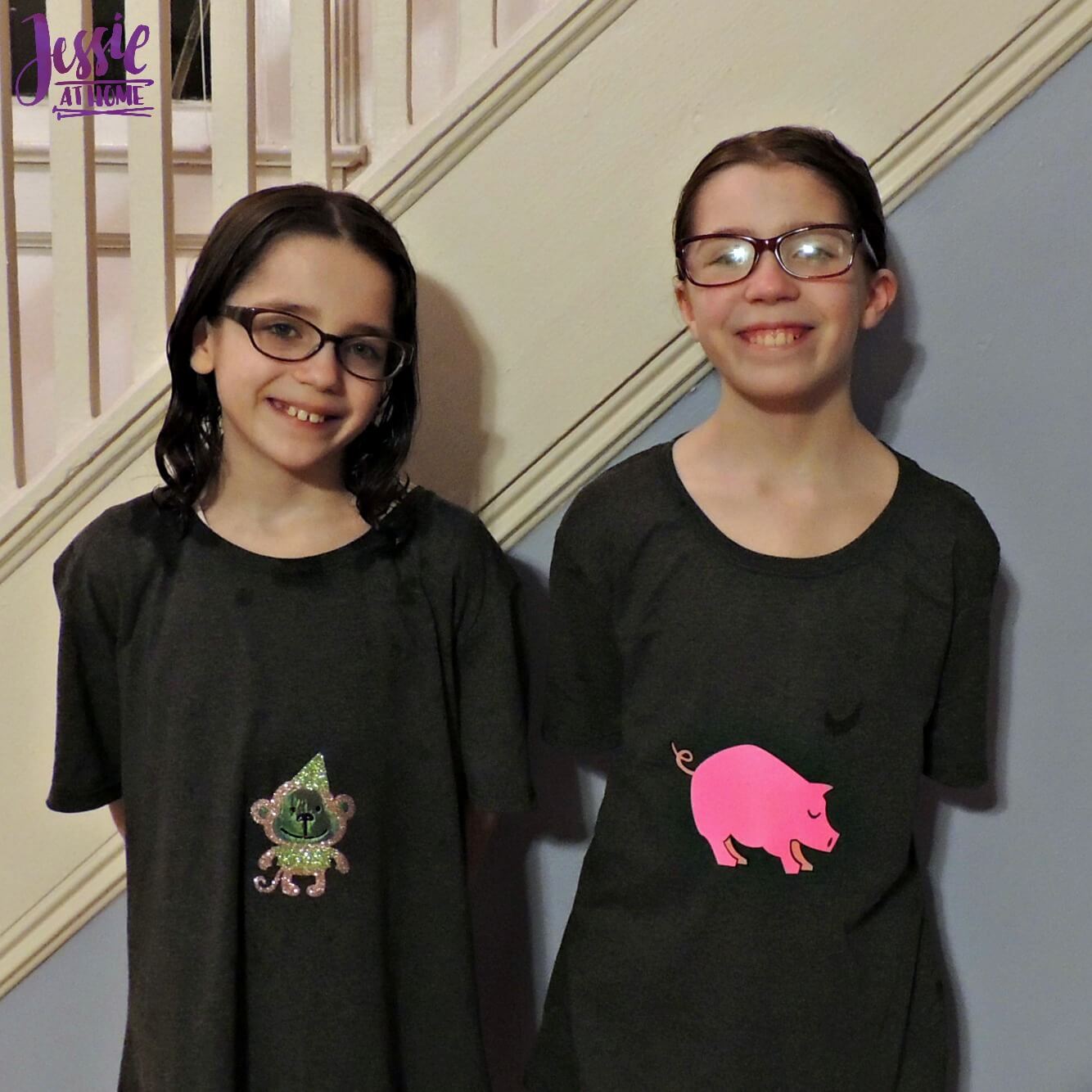 Did you enjoy what you found here at Jessie At Home? Then sign up for my newsletter and like my Facebook page, so you'll get all the updates on new tutorials, other posts, sales, and coming events.
If you have any questions, want to share pictures of your work, or just want to chat with Jessie and other crafty individuals, than join my Facebook group.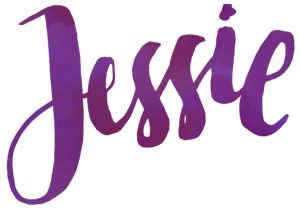 © Copyright 2018 Jessie Rayot / Jessie At Home All my videos, patterns, charts, photos and posts are my own work, so you may not copy them in any way. If you want to share this information with someone, then share the link to this post. If you want to share on your own blog / website, then you may use the first photo in this post and link back to this post. Also, you may not give away printed copies of this post.
Want to get the latest posts from Jessie at Home delivered straight to your email?
Subscribe to the Jessie at Home newsletter! We'll send you the latest patterns and tutorials. We will never spam you, promise to never sell your email address, and you can unsubscribe at any time.