I had a plan for the morning. After dropping the girls at school, I was going to drive over to another Girl Scout Mom's house to drop off a check for an event some of our girls are going to next month. Then I was going to drive over to Pete's (my grumpy but lovable mechanic) to drop off Thor for an oil change, and walk the 1 block back home.
You know what they say about Mice and Men…
We loaded ourselves into Thor, and I pulled out of the driveway. That didn't feel right. I pulled over and parked Thor in front of the house across the street. I got out to look at the tires and heard a voice: "You have a flat on this side." I looked up and my neighbor was loading her little one in the car. "Get in, I'll drop you at school."
I had met several of the people who lived in that house before ~ it is a large house, and I think there may be a few units ~ but I had not met this lady yet. The girls and I piled in and met Tracey and her daughter. They dropped us at school and Tracey said she would come back to pick me up after she dropped her daughter at daycare. I told her not to worry, I would be fine walking the 1/3 mile back to Pete's, the weather was actually pretty nice.
So, I dropped the kids at school and walked to Petes. I told him what happened, and explained that the tire was totally flat, as in ruin~the~rim~if~I~even~drive~the~one~block~to~his~shop flat. I told him I could call GEICO to put on the spare. He said to give him 15 minutes and he would come over with the portable air compressor and fill up the tire so I could drive it over. Even with a leak it should hold long enough to drive a block.
I walked home and called the Girl Scout Mom. I told her what happened. She had an appointment she was going to in about 15 minutes, but she said she could leave right then and stop at my place to pick up the check. After she picked up the check, I made some coffee and looked out the window. My tire was no longer flat. I grabbed my keys and drove Thor over to Pete's. He grumbled about wanting to retire, and I left him my card with a note reminding him that Thor needed and oil change as well as the tire fix.  I thanked him and he tried not to smile.
I walked back home. Things could have been a lot more difficult this morning. The girls could have been late because we didn't leave early enough to walk. I could still be waiting for GEICO to come over to fill the tire or put on the spare. I could be scrambling to figure out how to get the money to the other Girl Scout Mom so the girls could go to the event. But everything worked out, because people are good.
"Despite everything, I believe that people are really good at heart." ~ Anne Frank
ETA: I just got Thor back. When I walked into the shop Pete said "I figured out why your tire was flat. There was a drill bit in it." He then handed me the culprit. I looked at it and said, "Pete, what am I supposed to do with this, it's only HALF a drill bit!"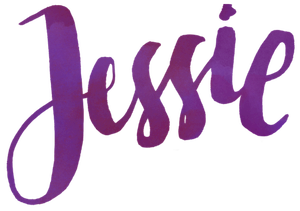 ©Copyright 2014 Jessie Rayot / Jessie At Home All my videos, patterns and posts are my own work. Do not copy them in any way. If you want to share this information with someone, share the link to this post. If you want to share on your own blog / website, then you may use the first photo in this post and link back to this post. You may not give away printed copies of this post. Thank you.
This post may contain affiliate links/ads. If you purchase something from a link in this post, I may be compensated.