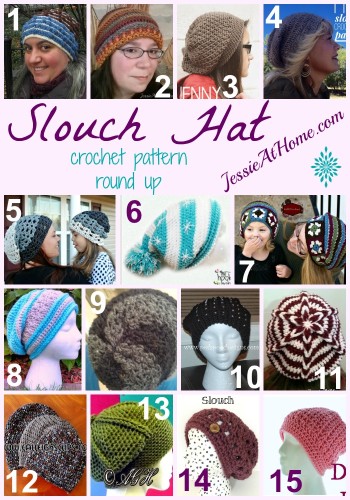 Slouch hats!! Slouch hats have become wildly popular over the past few years. So, I thought you may like a little round up of crochet slouch hat patterns.
Here are the names and links of each pattern, along with a little something that each designer has to say about them.
1) Chevrons and Stripes Slouchy Hat ~ by Underground Crafter
The Chevrons and Stripes Slouchy Hat is a great stash buster pattern. I used three partial skeins of the lovely Imperial Yarns Erin, a medium weight, sustainable wool yarn made in America.
2) Emily's Super Slouchy Crochet Hat ~ by Jessie At Home
This playful hat can be worn with the brim folded up or left down. It is super slouchy, so even with the brim folded up, there is still some slouch left, and your ears will be toasty warm. I'm a big fan of warm ears!
3) The Jenny Slouch Hat ~ by Little Monkeys Crochet
I originally created this slouchy hat for my little sis. I also took a dozen of them to a college artisan fair in November. They sold out! Now, you can have one of your own.
4) Slouchy Beanie Hat ~ by Kristin Omdahl
5) Grayscale Ombre Slouch ~ by Cre8tion Crochet
The Grayscale Ombre Slouch is fun and stylish. This crochet slouch hat works up quickly and uses very little yarn. Pattern comes in 3 sizes, toddler, child and adult.
6) Snowlicious Slouchy Hat ~ by The Hooked Haberdasher
This pattern is a fun one and has a few "new" to me techniques, and uses three of my favorite stitches – the half double crochet, the Herringbone half double crochet, and the reverse single crochet. Oh, and let's not forget about the POM POM – I do so love me some pom poms!
7) Granny and the Stars ~ by KatiDCreations
I Love this hat! Don't get me wrong I love other hats but this is one hat I actually look good in.
8) Amazing Grace Blissful Slouchy ~ by Beatrice Ryan Designs
This hat pattern is a variation of the Amazing Grace Blissful Beanie,,, It is the same great style, with a fashionable slouch effect!
9) Chiq Slouchy spiral ~ by Crochet Chiq
here is my brand new slouchy pattern!!! I will release variation later this week and month and I have been making this hat non stop here is the basic version
10) Beaded Slouchy Hat ~ by Posh Pooch Designs
Several people sent me pictures of a similar hat Worn by Savannah Guthrie From the Today Show, asking if I knew were they could find a crochet pattern or were they could buy one. After much investigation I could find neither. So I wrote my own.
11) Delia Slouch Hat ~ by Jessie At Home
The Delia Slouch Hat is the sister hat to the Delia (beanie) hat. They both feature a Jacob's Ladder detail running up the hat, which creates a little starburst pattern at the top. With sizes from child small to adult large, you can switch up the colors and sizes with both the Delia hats and make a set for the whole family, or maybe the whole band.
12) SUNSET SLOUCHY HAT ~ by Calleigh's Clips & Crochet Creations
I hope you enjoy this pattern. It's really simple and I think it has the perfect amount of slouch. If you want super slouchy just add a few more rows of the dc. This hat is perfect for guys and gals.
13) Button-Top Slouch/Beanie ~ by AG Handmades
A very easy and quick-to-make button-top slouchy/beanie hat. With a simple half double crochet base, 6 double ribs, a wide single crochet band, and a crocheted button sewn on the crown.
14) Fiona Button Slouch ~ by Fiber Flux
The Fiona Button Slouch is an easy peasy slouch hat specially designed to match the Fiona Button Scarf
15) Desert Hope Slouch Beanie ~ by Simply Collectable
This beautiful slouch beanie works up quickly and you may choose from two different ways to finish it for two different looks.
Don't forget to check out some of the other great Round Ups that have happened in Blogland over the last week!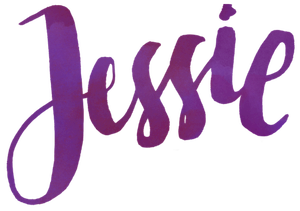 ©Copyright 2015 Jessie Rayot / Jessie At Home All my videos, patterns and posts are my own work. Do not copy them in any way. If you want to share this information with someone, share the link to this post. If you want to share on your own blog / website, then you may use the first photo in this post and link back to this post. You may not give away printed copies of this post. Thank you.
This post may contain affiliate links/ads. If you purchase something from a link in this post, I may be compensated.