Yellow represents sunlight and happiness. It is such a happy color, yet it is so often ignored. I have searched around and found some lovely free crochet patterns that feature the color yellow! Of course, you can make any pattern in yellow, just as you can make these patterns in any color. So bring some sunshine into your life and get creating!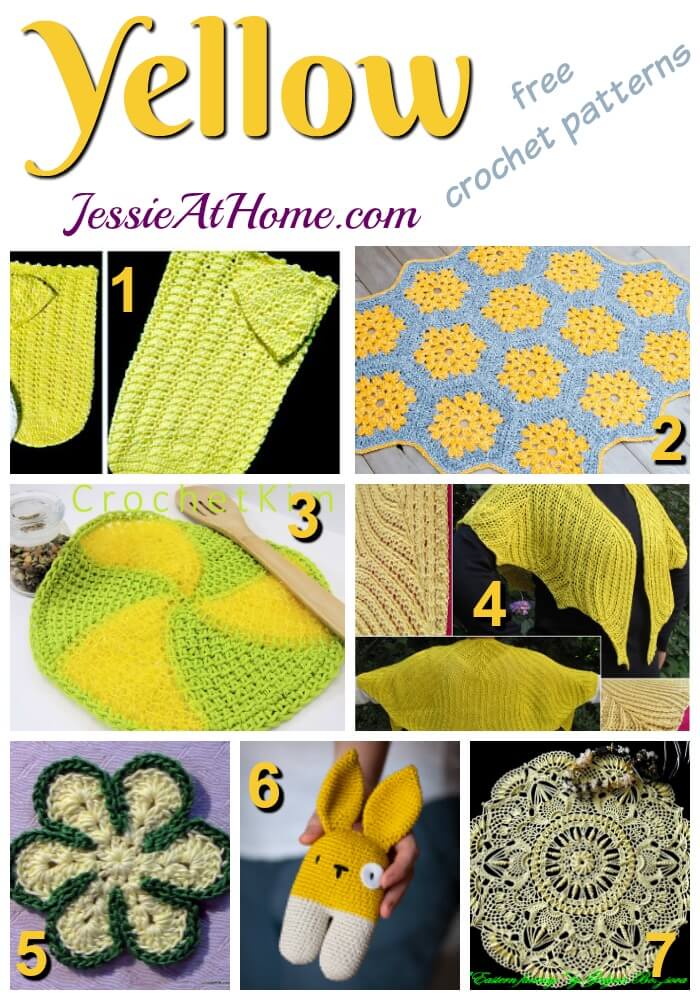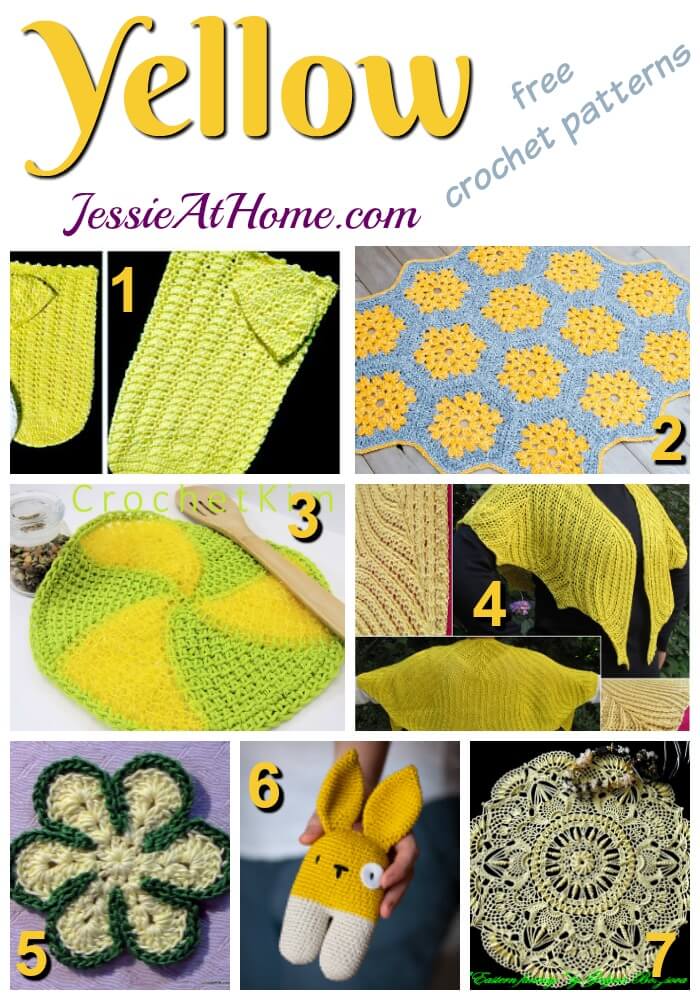 Here are the names and links of each pattern.
1) Sunshine and Shells Baby Cocoon & Hat Set-Free Pattern by Elena Hunt
"Super sweet and soft, these baby cocoons will swaddle a baby perfectly! I hope you enjoy this pattern!"
2) Bee's Knees Rug by Tamara Kelly
"This free crochet area rug pattern is the bee's knees! The Bee's Knees Crochet Rug features granny hexagons all put together with a pretty edging, in super cushy yarn for that bold, boho chic look that's always hot!"
3) Radioactive Scrubs by Kim Guzman
These yellow and green scrubs will clean your dishes and never get lost!
4) Leaflines Shawlette by Aparna Rolfe
"The Leaflines Shawlette features a cable pattern reminiscent of the veins on leaves and leaf-like shapes. The shawlette is worked outwards from the center of the top edge and finished with a beaded edging."
5) That 70's Flower by Jessie Rayot
"This funky flower is reminiscent of those great 70's posters! Use this flower as an applique on a hat, purse, jacket or other item. Attach it to a pin or hair clip or headband. There are so many possibilities!"
6) Rattle bunny two-legged by Lucia Lanukas
"Here you have the pattern of a rattle bunny two-legged in English. Happy crocheting!" – scroll down for English version
7) Eastern Fantasies by Galyna Borysova
"This doily was designed for a doily contest at Osinka published in 2012 and later republished in Duplet magazine."
Don't forget to check out some of the other great Round Ups that have happened in Blogland recently!
To see more Round Ups from Jessie At Home, click here.
OR ~ If you would like a pattern and yarn all together in a kit, try one of these (Click the images to go to the kits):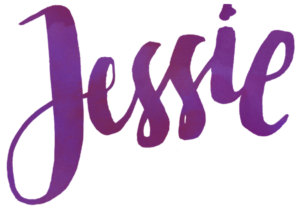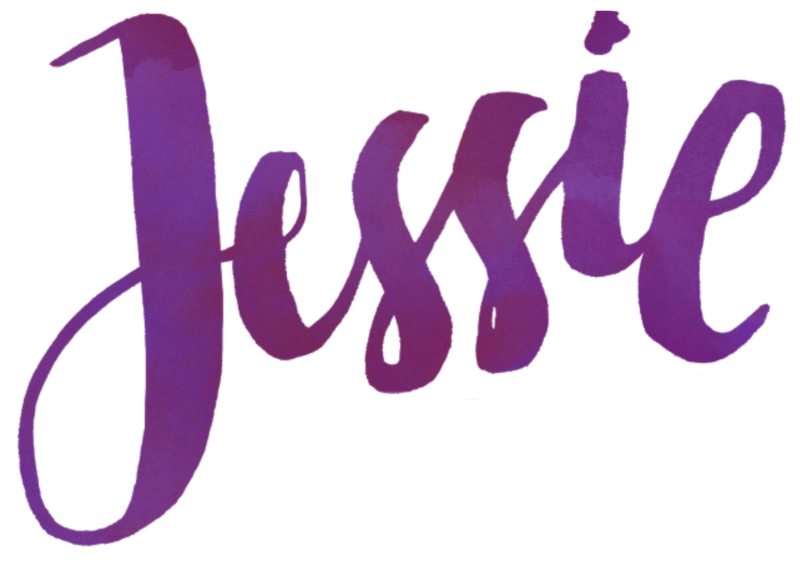 ©Copyright 2017 Jessie Rayot / Jessie At Home All my videos, patterns, charts, photos and posts are my own work. Do not copy them in any way. If you want to share this information with someone, share the link to this post. If you want to share on your own blog / website, then you may use the first photo in this post and link back to this post. You may not give away printed copies of this post. Thank you.

Want to get the latest posts from Jessie at Home delivered straight to your email?
Subscribe to the Jessie at Home newsletter! We'll send you the latest patterns and tutorials. We will never spam you, promise to never sell your email address, and you can unsubscribe at any time.