This week's round up features Andee Graves of Two Hands Healing and Creative Arts. If you have been following my blog over the last few years, you have read about Andee befor. Andee was my CGOA mentor until a few weeks ago when my CGOA status was switched to Professional. Even though she is no longer my official mentor, I know she will always be there for me, just as her mentor is still there for her. I can't imagine where I would be without her to push me, give me advice, and knock some sense into me when I needed it most.
Andee has 100 patterns listed on Ravelry at the time that I am writing this. Most of her patterns are published by yarn companies, magazines and other sources, but there are several that Andee sells on Ravelry, along with many that are free on her blog and from some other source (such as Red Heart).
Andee has been generous enough to provide a 10% off coupon for all her Ravelry sale patterns. This is a one time use per customer code, so make sure to toss everything you want in your cart before using it. The code is
JAH0729
and it will be valid July 29 – August 15th.
Now would you like to see some of Andee's patterns?
Here are the names and links of each pattern seen above, along with a little something Andee has to say about them.
1) Twisted Garden Cowl ~ This textured moebius cowl is fun to crochet up especially when using a yarn with graduated long runs of color.
2) Simple Sweetheart ~ This fun little heart takes just a bit of yarn and a few minutes to stitch up.
3) Glittery Beaded Cuff ~ As is known by many of my stitchy friends and my dear readers of the blog, I have a slight addiction to novelty yarns and crocheting with unusual materials (spaghetti anyone?). So the first time I heard of Jelly Yarn I had to investigate.
4) Springtime Headband ~ Hats are one of my favorite projects to work on but with this recent spring like weather I'm looking at transitional pieces. Headband/Headwrap/Earwarmers (I'm never 100% sure what to call them) are a great choice.
5) Sparkly Jar Cover ~ I came up with a jar cover. Once all the jam or jelly is gone you still have a pretty jar that can be used to send out your own home-made goodies, or you can remove the little cover and use it as a bag.
6) Annetta Square ~ Today I experimented a bit more with the square pattern I had come up with last night and made these 2 versions. The difference between the 2 is in where I decided to make the color change.
7) Hot Spot Square ~ With this design the center circle is a little bit bigger and it can be stiffer. So you may want to try a few using different sized hooks with your yarn of choice to get the amount of movement and drape you want in your fabric.
8) The Humble Granny Square ~ I am a big fan of letting the yarn do the heavy lifting, in this case I got the effect of a granny square worked in multiple colors without the tedium of having to weave in lots of yarn ends.
9) Spiraling Crosses Gauntlets
Don't forget to check out some of the other great Round Ups that have happened in Blogland over the last week!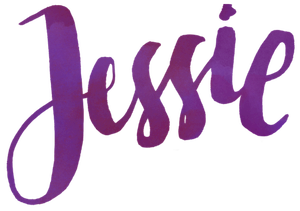 ©Copyright 2015 Jessie Rayot / Jessie At Home All my videos, patterns and posts are my own work. Do not copy them in any way. If you want to share this information with someone, share the link to this post. If you want to share on your own blog / website, then you may use the first photo in this post and link back to this post. You may not give away printed copies of this post. Thank you.
This post may contain affiliate links/ads. If you purchase something from a link in this post, I may be compensated.

Want to get the latest posts from Jessie at Home delivered straight to your email?
Subscribe to the Jessie at Home newsletter! We'll send you the latest patterns and tutorials. We will never spam you, promise to never sell your email address, and you can unsubscribe at any time.