This weekend was the Girl Scout Camporee for our Service Unit. The girls had a blast. I could go on for quite some time about it, but in an attempt to not write the longest post in blogging history, I will just share some snaps and tell you a bit about each. Please pardon some of the fuzzy photos. I was too paranoid to bring my good camera, so all these snaps were taken with my phone.
The girls and I were the first in our troop to arrive.
Our troop had a cabin all to ourselves. It was pretty big.
When we packed, I had the girls put their teddy bears in their pillows. This is what was in my pillow: an Erin Lane bag with my current work in progress, my Yarn It with some Mode Knit Yarn tucked safe inside while it was being turned into something pretty on my Clover interchangeable needles, and a Susan Bates ring row counter (I'll tell you more about all of these fun items I brought home from TNNA in future posts). I may have a bit of a problem…
Eventually more of the girls arrived. Friday night there was a rousing game of toss the teddy.
Saturday morning we all got up early and got ready for some treasure hunting fun! The morning started with the girls finding some new friends. This is Kyla's new friend: Clover.
Before leaving, we took a photo op. Here are all the girls, ready to go. For some reason we are actually missing one of the girls in this photo, I thought I had them all in there.
Here are the girls taking photos of all the moms.
Here are all the moms. Kyla managed to cut off a few heads, but she did pretty good for a 7 year old.
Our first adventure was on the ropes course. Here is my Ninja Warrior Vada. Gotta love the great catch made by Alexa in the top right photo.
And here is my Ninja Warrior Kyla.
Here are both my little Ninja Warriors swinging over the crocodile!
At one of our stops, we ended up finishing things a bit early, and we happened to be in a gym, so we may have gotten a little crazy. Tons of fun was had!!
The girls all got to try out some archery as well. How cool!
Saturday night we took some bunk bed photos.
Then there was another game of toss the teddy.
The girls really did have a great time. Kyla, Vada, and I were wiped out by the time we got home just after 10 am on Sunday morning. Thankfully the drive was only a bit over an hour, I don't know that I could have made it much longer! We did have Joan Jett and Pat Benatar to keep company on the drive.
There you have it, our first Girl Scout camping trip. Talk to you later!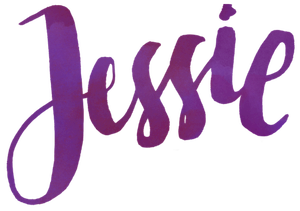 ©Copyright 2015 Jessie Rayot / Jessie At Home All my videos, patterns and posts are my own work. Do not copy them in any way. If you want to share this information with someone, share the link to this post. If you want to share on your own blog / website, then you may use the first photo in this post and link back to this post. You may not give away printed copies of this post. Thank you.
This post may contain affiliate links/ads. If you purchase something from a link in this post, I may be compensated.