I'm in LOVE!!!
Don't tell my husband…
OK, you can tell him, I'm pretty sure he won't be jealous of a set of interchangeable knitting needles.
I hope…
When I attended the TNNA Summer 2015 Needlearts Trade Show last month, I had the pleasure of meeting Steve Butler, the national sales manager for Clover Needlecraft, Inc. We talked a bit, and he asked if I would review some of their new products, including their new bamboo interchangeable Takumi knitting needles. I agreed.
Now, I love to do reviews, but they also cause me a fair amount of stress. I feel an obligation to be honest to my readers. Not only is it in my nature, but it's the ethical way to be. When I have to review an item, I always hope it will be great. I hate having to find tactful ways of pointing out flaws. And when the item is something as big as a new set of interchangeable knitting needles? Oh, my, do I worry!!
Worrying was awfully silly. These things are AMAZING!!! I have tried several kinds of interchangeable needles in the past. I already owned a full set of one brand, and bits and pieces of a few other brands; so I have an idea of what makes them good and bad. Let's look at the various parts, and common worries.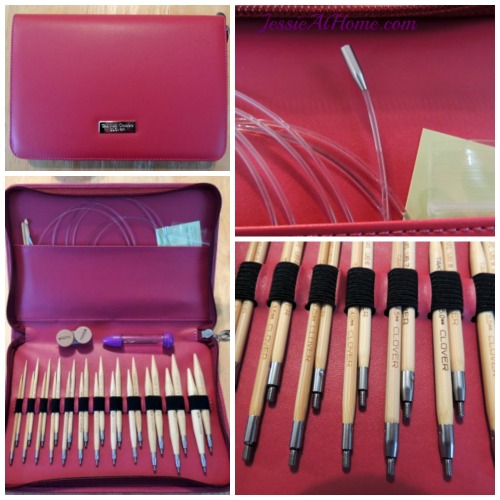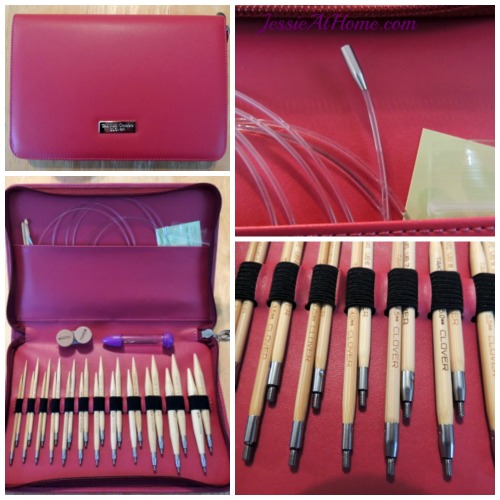 Pin
First, the needles themselves. They are Takumi bamboo needles, if you have tried the brand before, you know they are great to work with and of high quality. When talking about interchangeable tips, we often worry that the needles will start to work themselves off of the metal base. I have used several sizes over the past month, but I have truly put the size 3s to the test. They have gotten a lot of use and they have no intention of loosening from the base. If you look, you will see a little divet in the metal base. I'm guessing the pinches onto the bamboo, giving it the extra sturdy hold it has!
Once you put the needles onto the cords, there are several different reasons you will fall in love. The cords themselves are…softer?…more flowing?…I'm not sure what the right word is, but they just move nicer than the others I have tried. After using these my others seem downright stiff. Also, they STAY! I don't know what I do when I knit that unscrews most interchangeable needles, but those little keys that you use to help tighten them up are always right next to me. When I didn't see one of those keys and the corresponding hole in the interchangeables to run the key through for torque, I panicked. Then I noticed a tiny rubber washer on each tip and I wondered. Would that really work? YES!!! It does. I can tighten these together without needing a special tool. I am always mindful to hold the metal tip of the cord and the metal base of the needle tip when I tighten, just to be safe, and I can tighten them just fine. Add to that the fact that the metal tip on the cord SPINS on the cord, and it is perfect. That's right, it spins. So if you happen to be one of those people who is always twisting your cord somehow, the cord will just spin away without unscrewing itself from the base, because the plastic cord spins independently of the metal tip. So cool!!!
Clover was brilliant with this design. They saw all the things that were good and bad about interchangeables and came up with a set that is pure joy and easy to use.
Like I said, I'm in love.
You can find Clover's interchangeable Takumi knitting needles at Amazon USA, Amazon UK, Amazon Canada, and Amazon Germany, along with many other on~and~off~line sources. You may want to check out your LYS, if they don't have them, you may want to give them a suggestion. You can buy individual pieces, including the pretty pink faux leather case I have, or you can buy the complete kit in a black case.
So…are you still reading?
Congratulations! You get to enter a giveaway! While at the trade show, I attended the Marly Bird Designer Dinner. At the dinner, I recieved 2 sets of Clover Takumi 9″ straight bamboo knitting needles in size US 8/5.00 mm. As it turns out, I had the exact pair at home already. So, rather than hoarding, I am passing them onto you.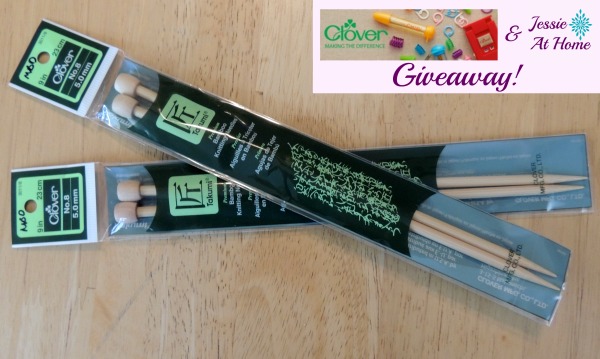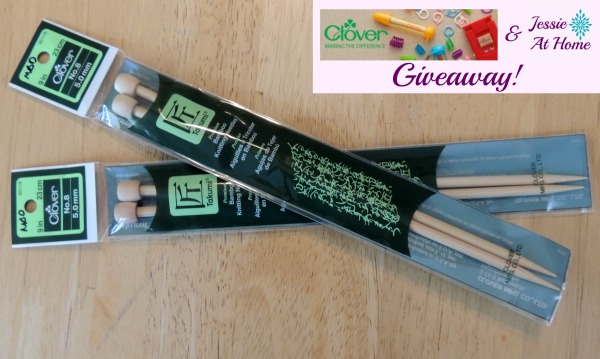 Pin
To enter the Clover Takumi Knitting Needles Giveaway, you must be 18 years of age with a valid shipping address. Giveaway is open worldwide, and ends July 21st at end of day eastern time. Two winners will be contacted by email for shipping addresses, at which point the winners will each be sent 1 set of Clover Takumi 9″ straight bamboo knitting needles in size US 8/5.00 mm. Winner must reply to notification email with a valid shipping address within 1 week or a new winner will be chosen
If you enjoy this site and all it offers, please consider buying some of your supplies from one of these affiliate links. Just click the images to get to the items. Thank you.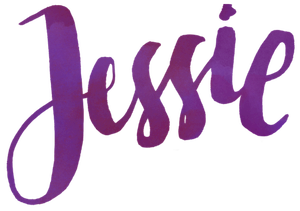 ©Copyright 2015 Jessie Rayot / Jessie At Home All my videos, patterns and posts are my own work. Do not copy them in any way. If you want to share this information with someone, share the link to this post. If you want to share on your own blog / website, then you may use the first photo in this post and link back to this post. You may not give away printed copies of this post. Thank you.
This post may contain affiliate links/ads. If you purchase something from a link in this post, I may be compensated.