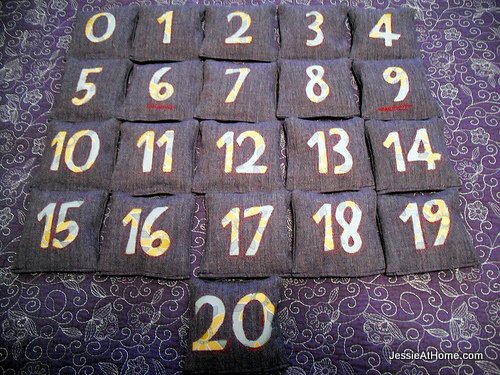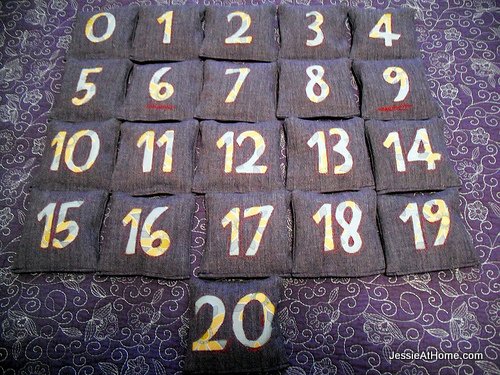 I just finished the latest Craft Hope project. Teaching aid bean bags. I chose to make the number set ~ with the help of my Cricut, I actually have the original that only cuts 6×12, but I didn't see any links to that one. I don't think they make them anymore.
So here is a tutorial. No worries if you don't have a Cricut, I'll tell you what to do for that, also. As with all my tutorials, feel free to share the link. I just ask that if you share, you do share the link to this post, not take the credit yourself. Thank you.
To start, tear some 6″ strips from your outer fabric. You can see my strips aren't very long. That's because I was using scrap fabric. If your strips are 45″ or longer, that's just fine! You'll need the equivalent of two 6″ squares per bean bag. Then give your strips a press and pull off any hanging threads.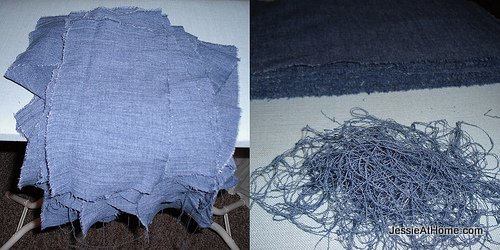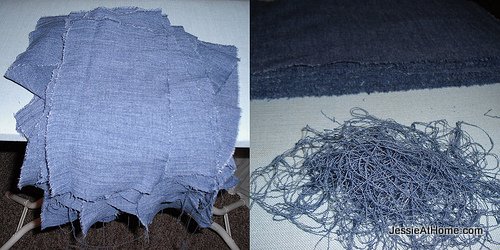 Now you will need to tear 5″ squares from your inset fabric ~ the fabric that will be the actual numbers. You will need one for each bag. Give them a press and clean~up also.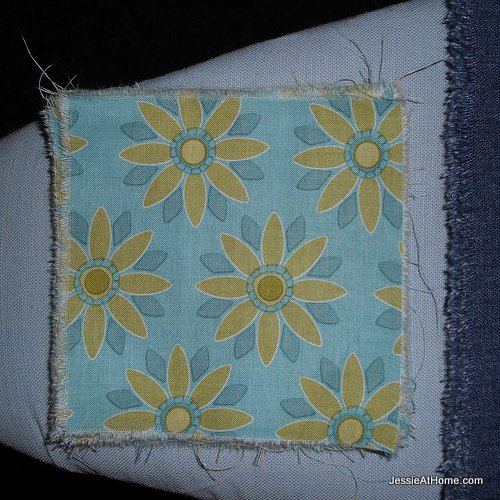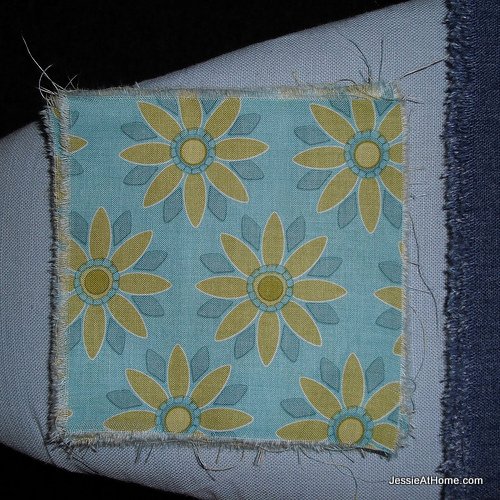 Now you will need some Heat~N~Bond. The kind with the paper backing. I used the strong hold because it was what I had, but the light hold will do just fine. Everything is going to be reinforced with stitching anyway. Cut (10) 3×2 1/2″ pieces for the numbers 0-9, and (11) 3×4″ pieces for the numbers 10-20. Iron your first piece on the top of one of your 6″ strips. Center the 3″ part of the HnB in the 6″ strip, placing it 1 1/2″ down from the top of the strip. Give it a press to glue it down. Leave the paper ON.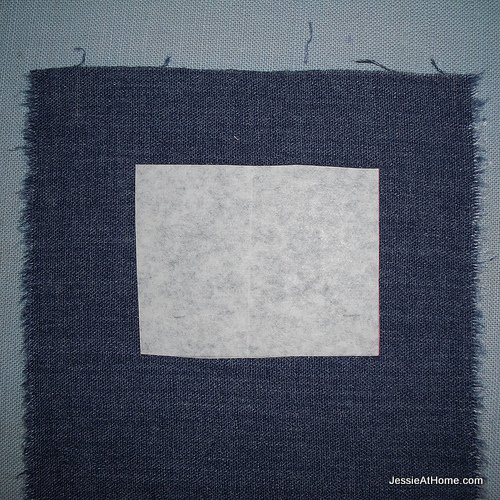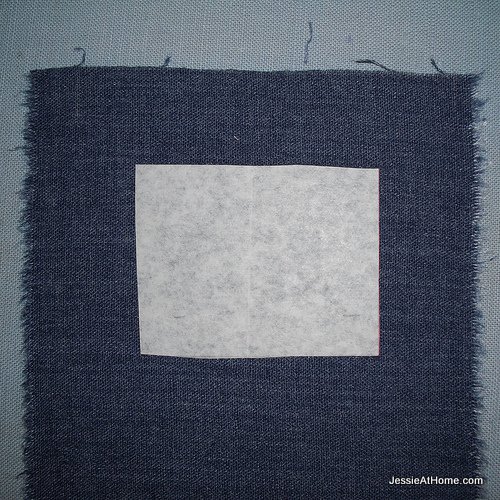 OK, Cricut time. Flip the strip over and press it onto your Cricut mat. Regardless of which size Cricut you have you should just be able to line it up with the top right corner of your mat and follow along the same from here. No worries if there is a big 'ol tail hanging down off the bottom of your mat.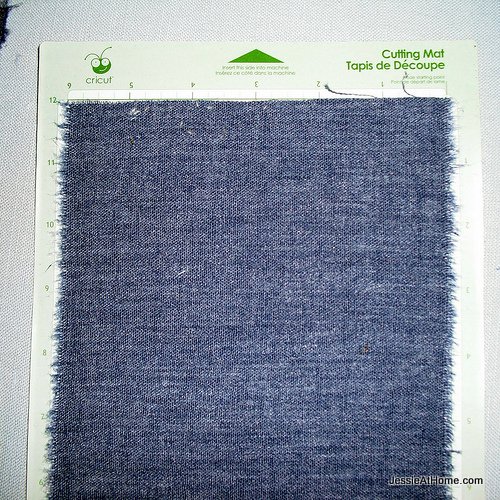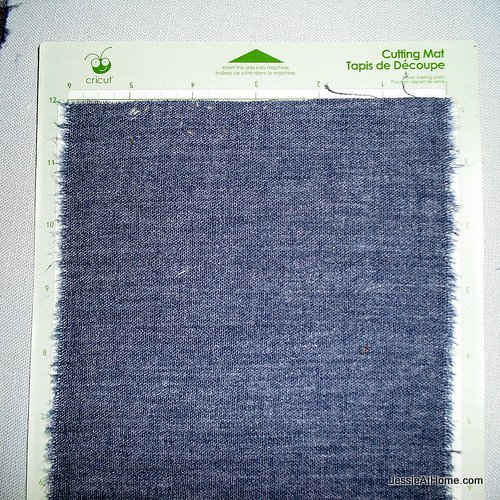 Now load your "paper". Move the blade down 3 clicks (1 1/2″) and to the left 4 clicks (2″). I set my Cricut to slowest spead, highest pressure, and lowered the blade all the way. Depending on your fabric, you may not need to lower the blade as much. The goal is to cut through the fabric and glue, cutting through the paper is not so important. Set the size to 2″. I used the "George" font for the numbers, so I chose to push the shadow button ~ like bold. If your font is thicker, you may not want to shadow it. type in your number and hit cut.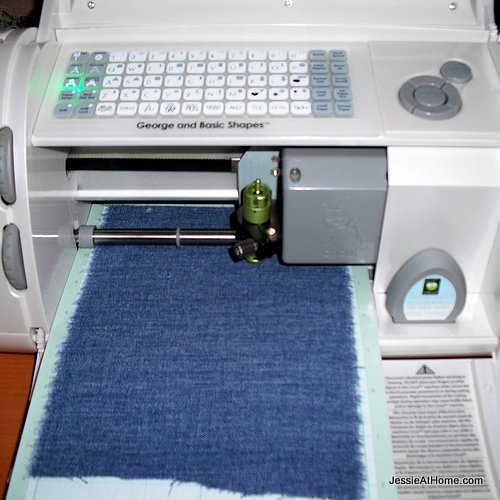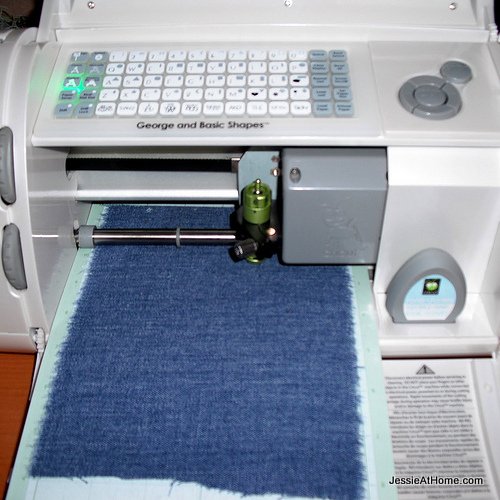 If you do not have a Cricut, hand draw or print out your numbers 2″ high. Trace your number onto the paper backing of the HnB. Make sure you trace it on backwards. Cut our your number with a pair of small, sharp scissors.
Now peal off the paper backing and pop out your number. You may have a few stubborn threads still hanging one, just give them a snip. If you have any inside pieces ~ as with my "0" you see hear, just put them to the side for now. Lay your strip right side down and find the center of your number.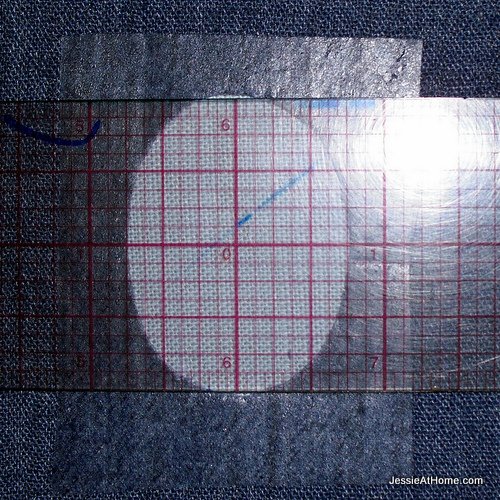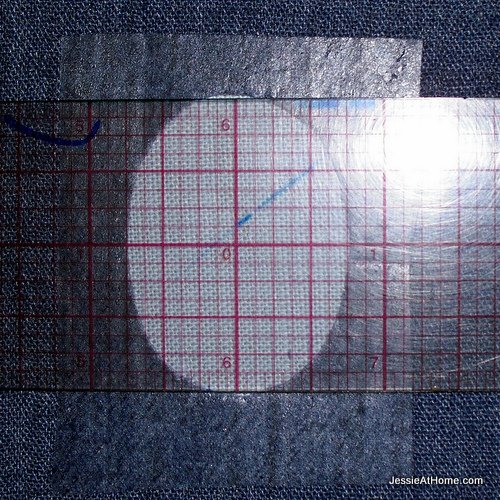 Place your inset square centered on top of your number, and press. Don't forget to get that ruler out of the way first!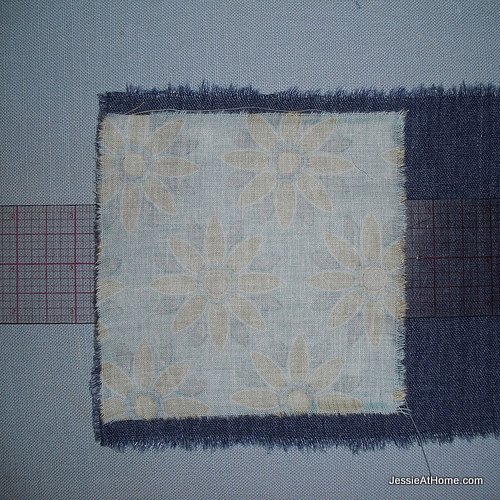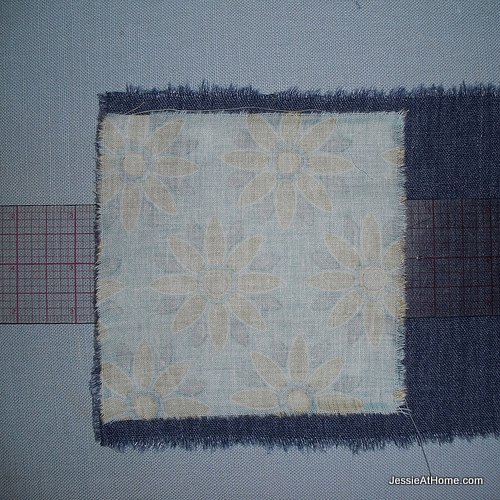 Flip it on over and admire. Place any inside pieces in and press them down, also. Draw a 4 1/2″ square centered around your number. Cut it out and place it to the side. Repeat for all your numbers. Remember to use the longer pieces of HnB for the double~digit numbers. You could also do letters, shapes, or whatever makes you happy.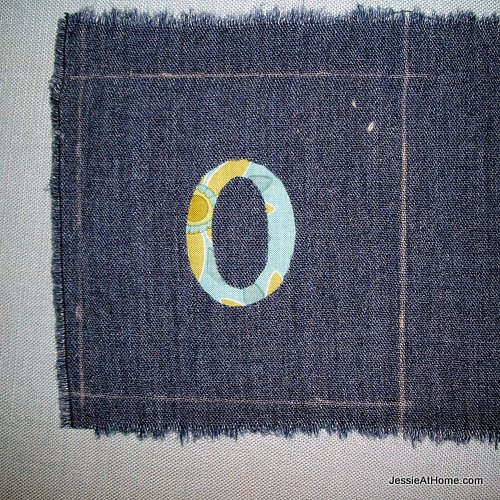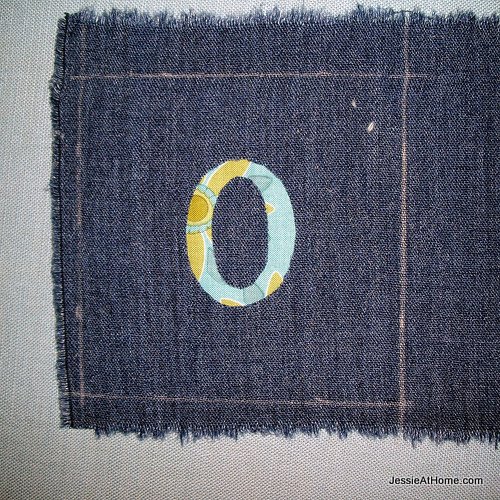 I found that I did not like the "3" or the "9" in the "George" font. So I drew my own "3" and used the "6" for the "9" this meant when it came to "13" and "19" I just cut out the "1" with the Cricut and had to trace on the "3" and "9" I had already done and cut them out by hand.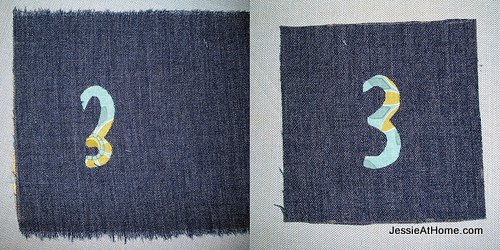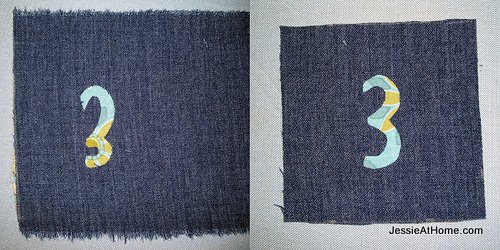 Now that you have a pretty little pile of numbers, which we will get back to, it's time to make the interior bags. Use a nice sturdy fabric, I had some scrap canvas. Not too heavy, but sturdy. Tear one 4×7″ piece for each bag.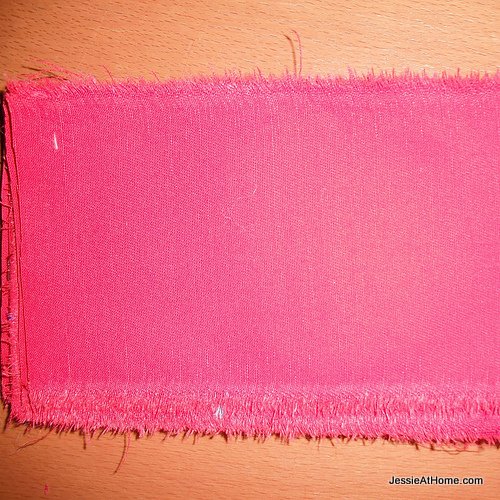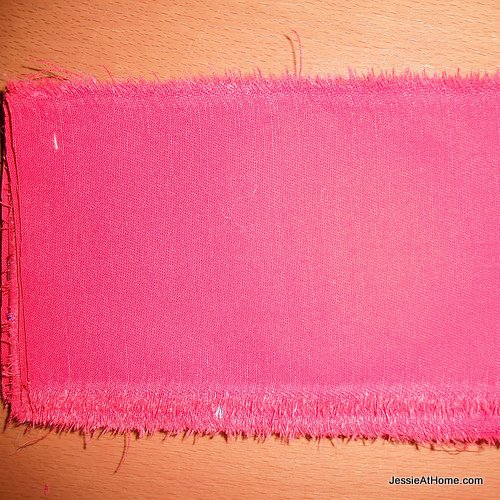 Fold them in half and stitch the sides together with a 1/2″ seam allowance. Make sure to backstitch at the top and bottom of each seam.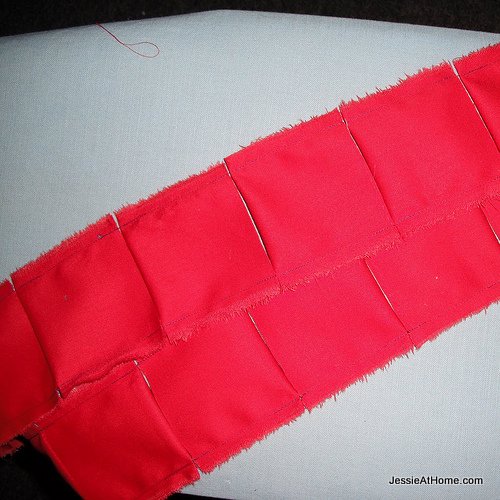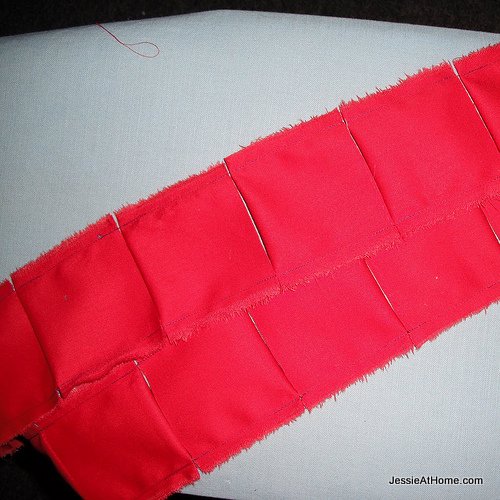 Now fill 'em all up. I used aquarium gravel. It was suggested we use that or pony beads for this project, as the bags will be exposed to lots of humidity, and using food for anything other then eating is considered wasteful where these bags will be going. I actually really like the finished product, and it is washable. I found using a 1/3 cup measure was perfect for filling the bags. As was a muffin tin for holding them, 12 at a time.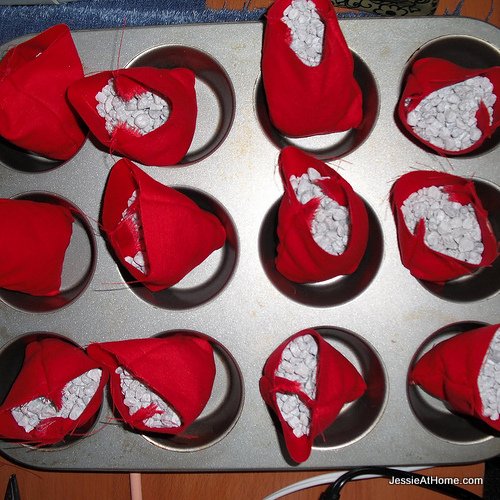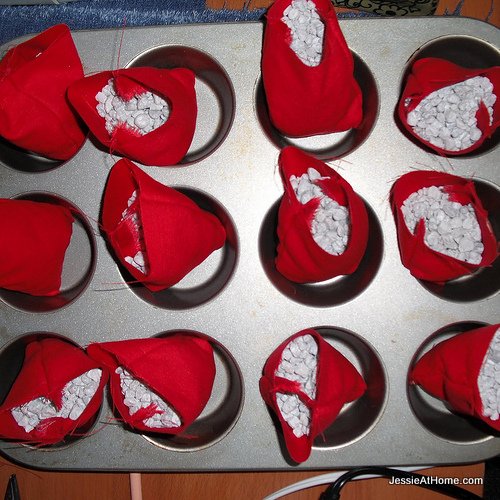 This is a good time to enlist some little helpers.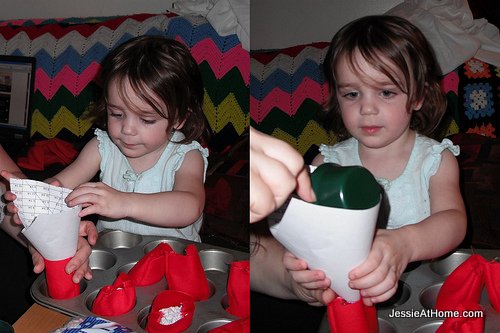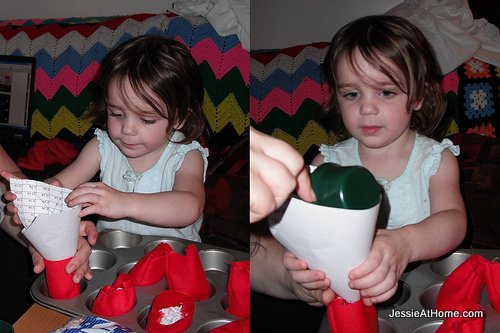 Now pinch them closed and topstitch them together with a 1/2″ seam allowance. I also stitched them again just above the first line of stitching for safety's sake.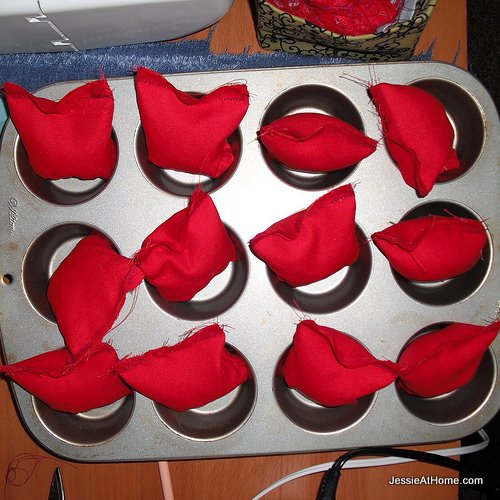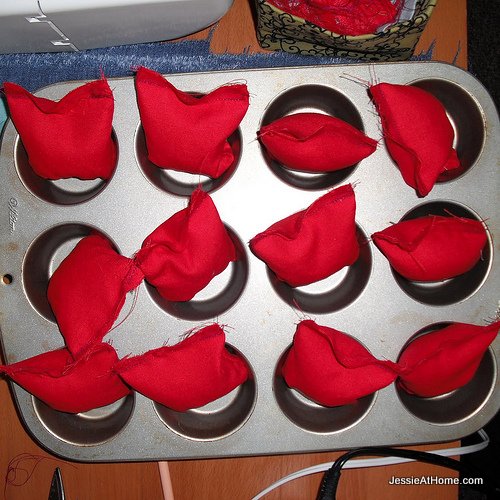 Now it's time to outline the letters. Thread up your sewing machine with a contrasting color that makes you happy.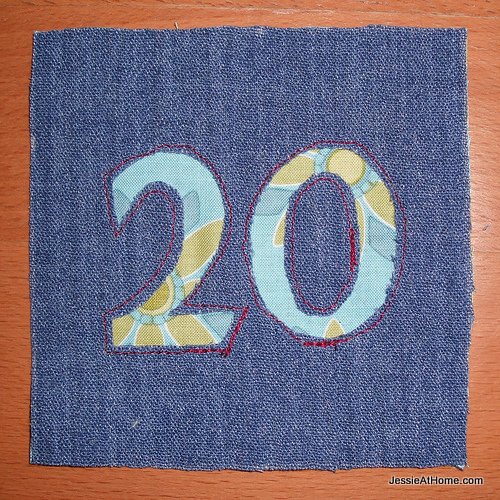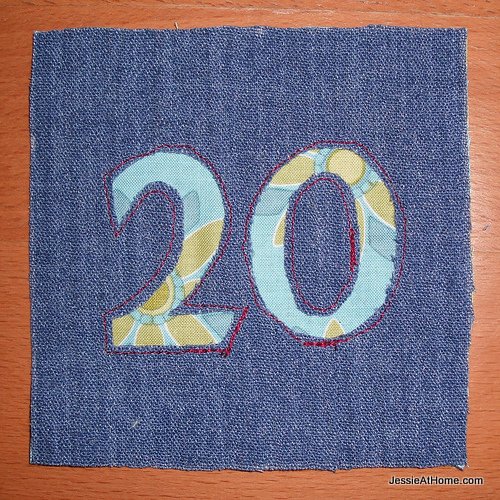 Stitch around your numbers, close to the edge. I like mine a bit imperfect, but feel free to be a perfectionist, if that makes you smile. Overlap your sewing by at least 1/2″. Leave long thread tails. Don't forget the inside pieces, too.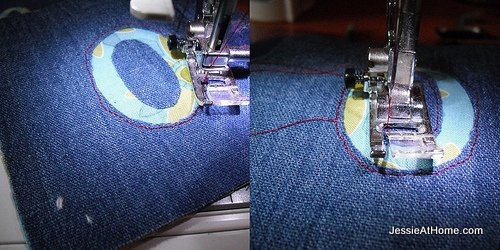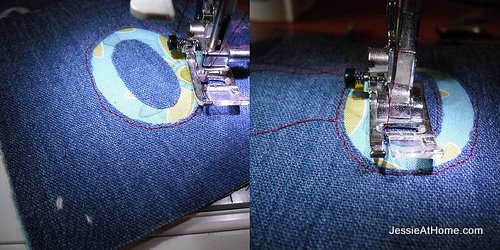 Clip all the treads on the right side to about 1/2 ~ 3/4″. Flip your number on over and pull the threads on through to the back side. Clip the remaining threads to the same length. I know it looks messy on the back, but it will help insure that the stitching stays in without having to tie tons of knots.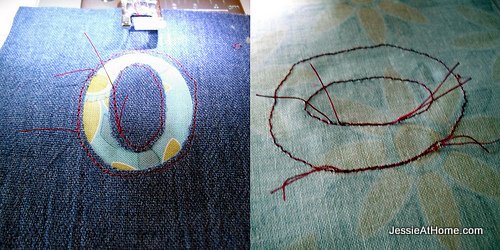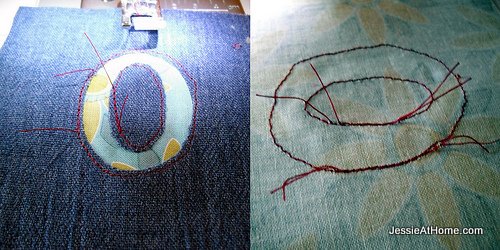 Don't forget to underline your 6 and 9.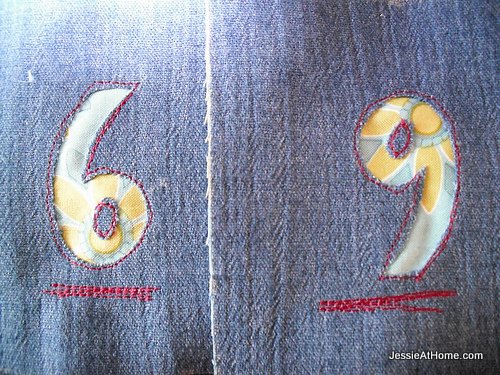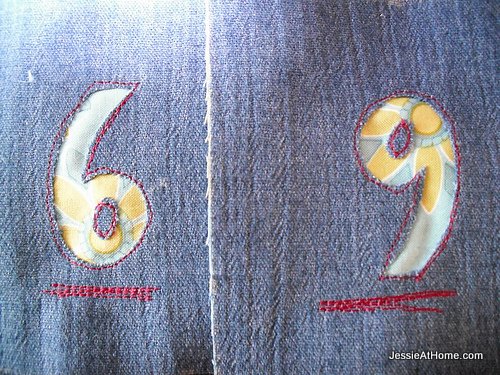 Now to make the outer bags. Line up the bottom of your number square with the bottom of one of your 6″ strips, right sides together. Stitch along the sides and top of your square, with a 1/2″ seam allowance. Cut the back piece to line up with the front piece.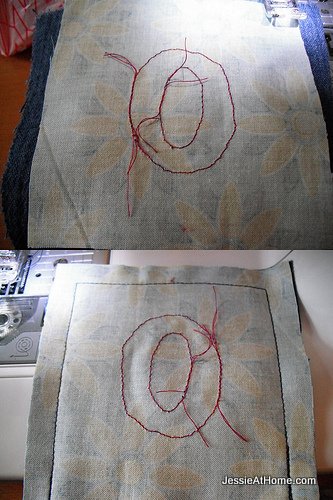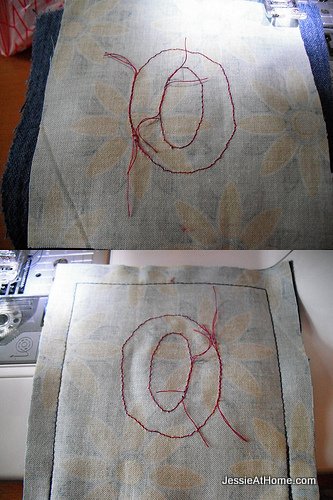 Turn your bag right side out. Now drop the stuffed bag into the outer bag. Put the topstiched side in first.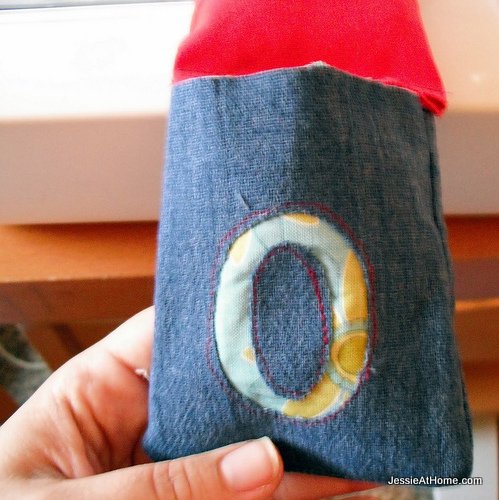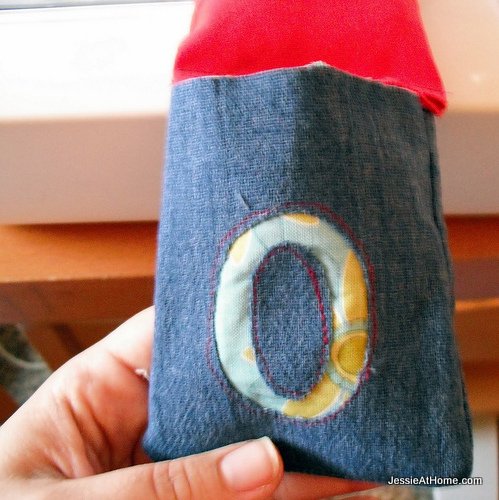 Fold the open edges in 1/2″ and topstich close to the edge. Don't forget to backstitch.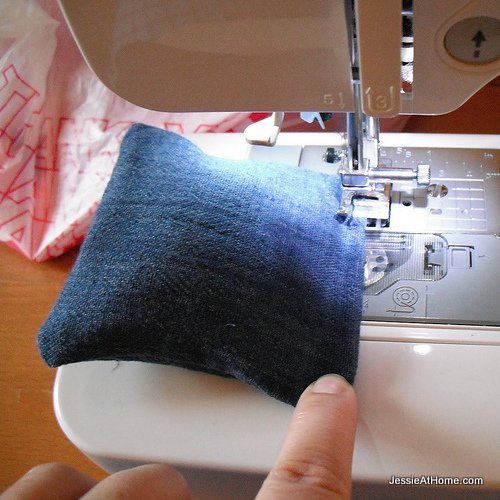 Ta~Da!! "Bean" Bag!!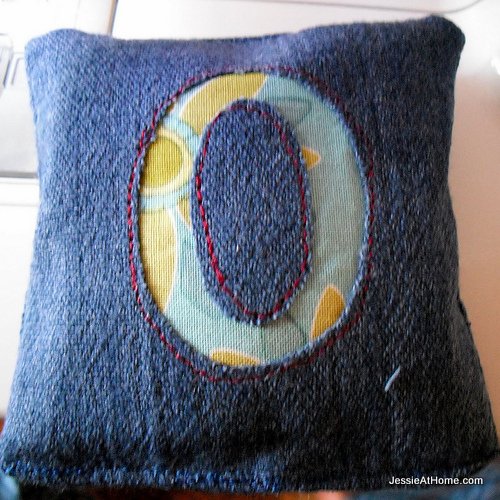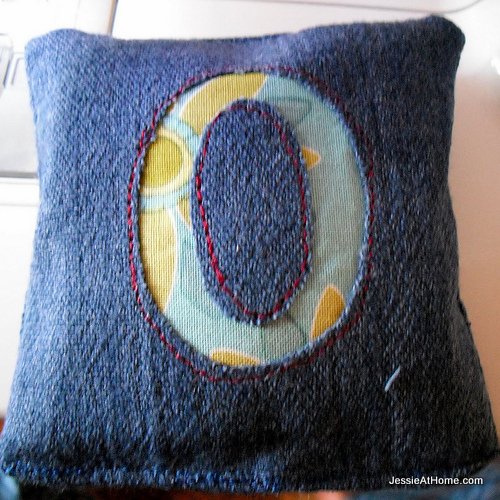 Now would you like a bag to put them in? I made mine from an 11×28″ piece of fabric, but you may want it a bit bigger. Maybe 12×30″. Mine works, it's just a bit tight. Give your fabric a press. Press the 11″ ends to the inside 2″. Then turn the cut end in so it is now only 1″.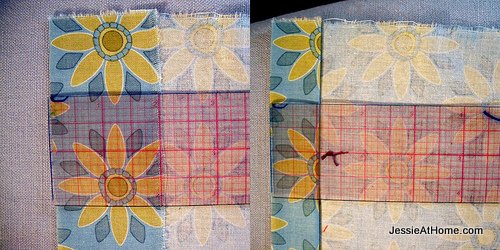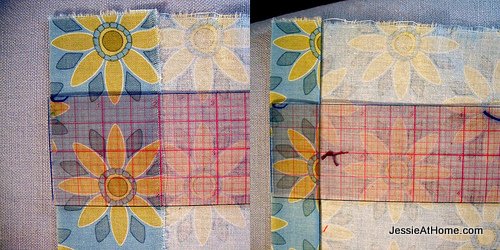 Clip in 1/2″ at the bottom of one side of both of the fold overs. Make sure you are doing this on the same side, so when it is folded in half the clips will line up.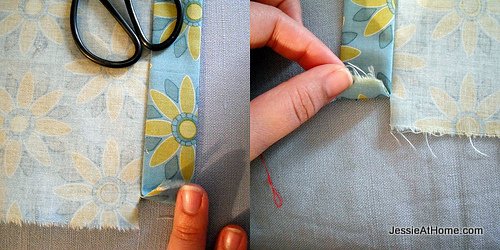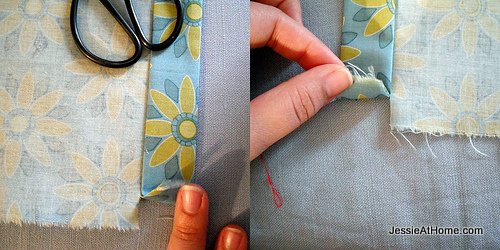 Now open the fold over and fold the bag in half, wrong sides together. It seems wrong, but it is not. Stitch together with a 1/4″ seam allowance. On the side with the clip, stitch just from the clip to the fold.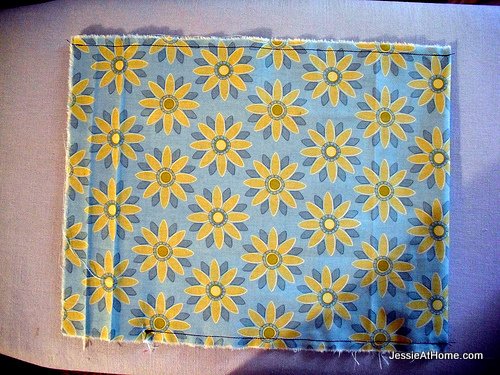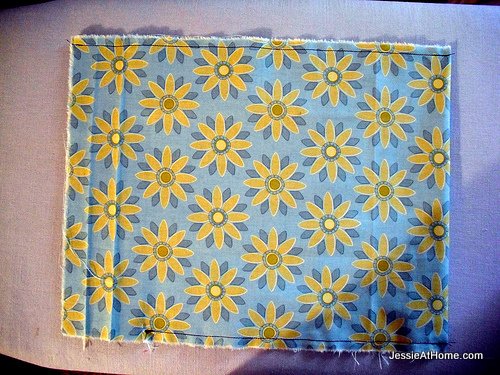 Clip your seam allowance to 1/8″ and flip your bag inside out. Press the seams. Stitch again at 1/4″. Now I do have a serger and I do know that would work in place of this encased seam. However, with little hands going in and out of the bag many, many times, I feel this seam is better. Double fold the two parts above the slit towards the inside of the bag.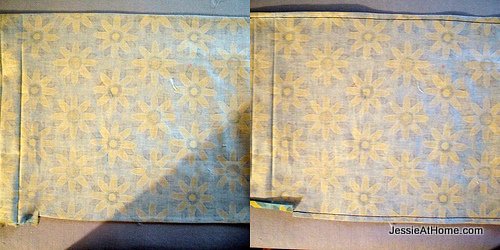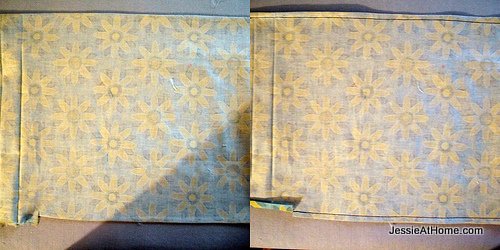 Flip your bag right side out.Press. Redo the double fold around the top of the bag. Topstich close to the bottom of the fold over. You may want to reinforce just below the stitch.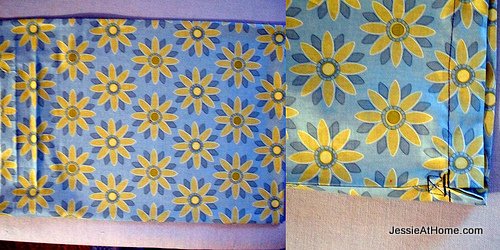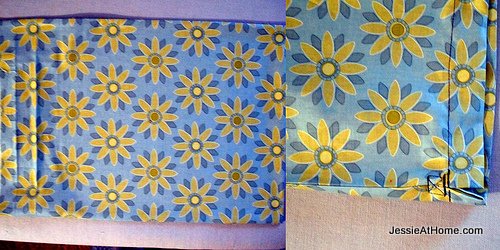 Now toss all the bags into your large bag and smile.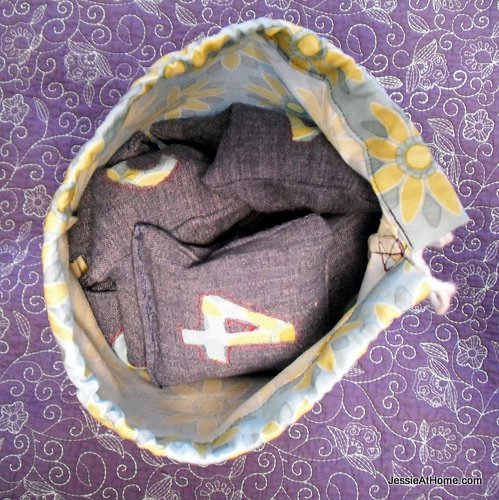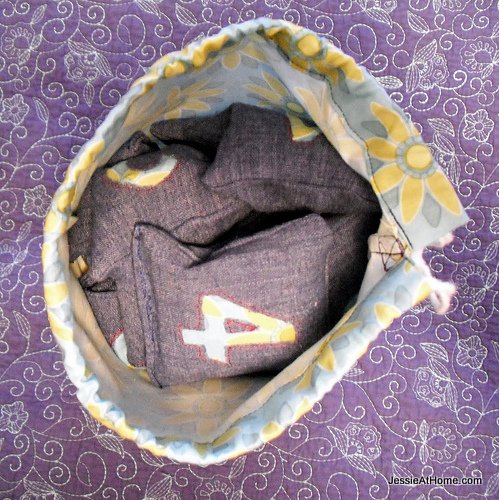 Lots o' happy counting kids on the way!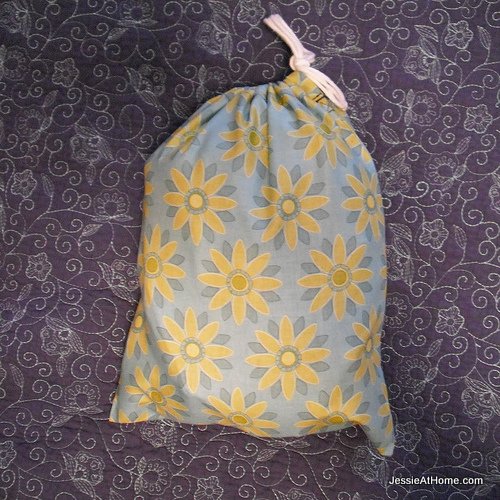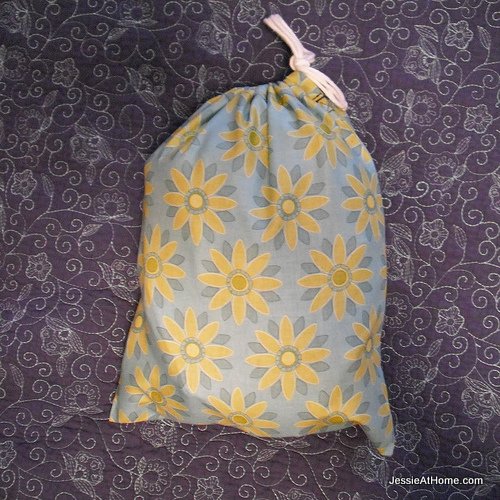 You can make any kind of set you want, just remember to adjust the size of the carrying bag depending on how many bean bags need to fit inside!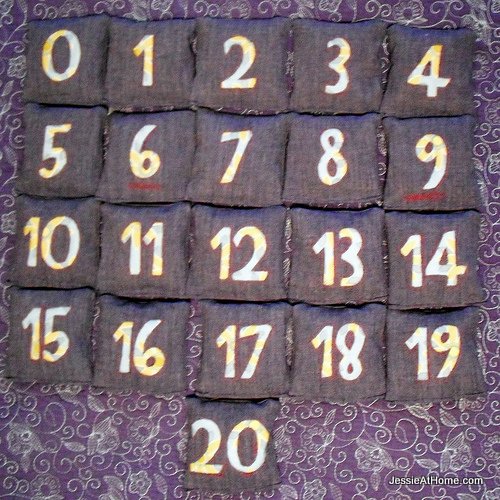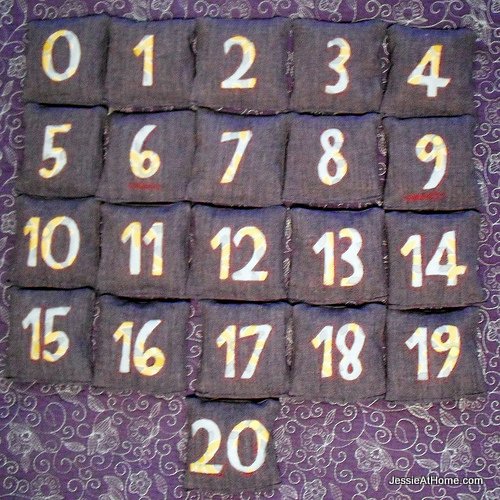 Enjoy!
If you enjoy this free craft tutorial, please consider buying some of your supplies from one of these affiliate links. Thank you.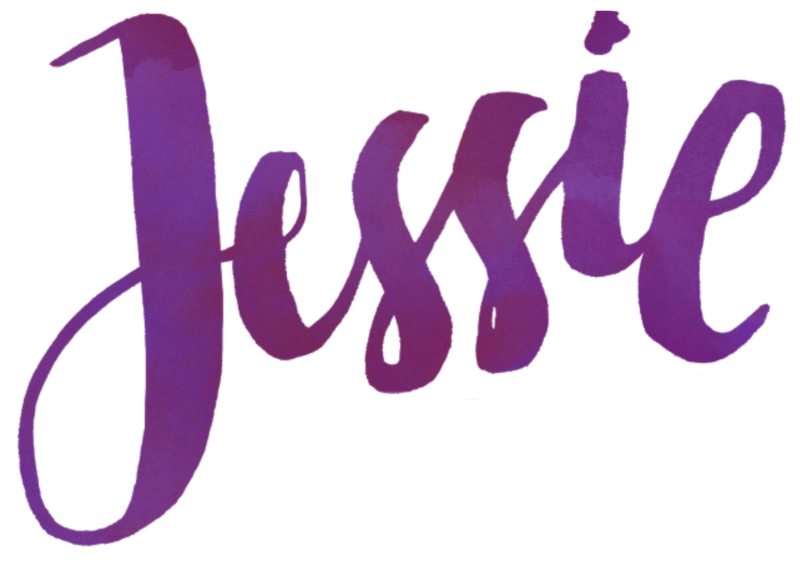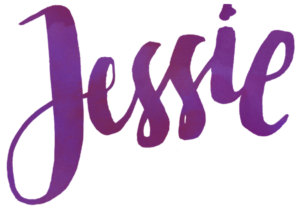 ©Copyright 2010 Jessie Rayot / Jessie At Home All my videos, patterns, charts, photos and posts are my own work. Do not copy them in any way. If you want to share this information with someone, share the link to this post. If you want to share on your own blog / website, then you may use the first photo in this post and link back to this post. You may not give away printed copies of this post. Thank you.