By now you all know how much I love my Cricut Explore Air (you can read all about it and what it does HERE). Well, I am now the proud owner of a Cricut Explore Air 2!! It's so awesome, and a very pretty mint green and silver.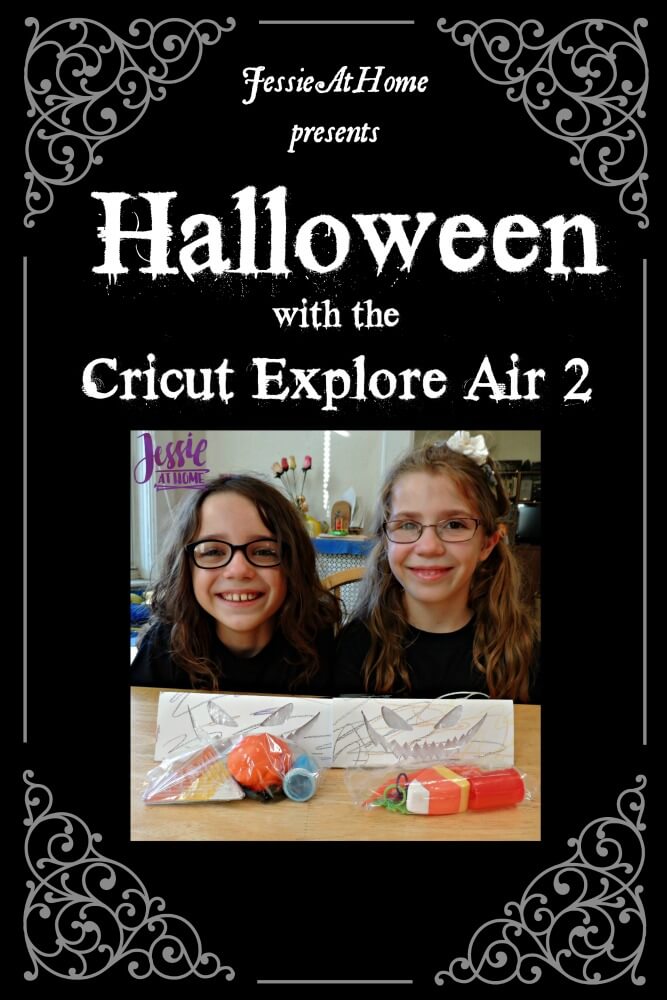 The Cricut products used in this post were provided by Cricut. The opinions are those of Jessie Rayot.
You can see me unpacking all the goodies on Facebook, HERE.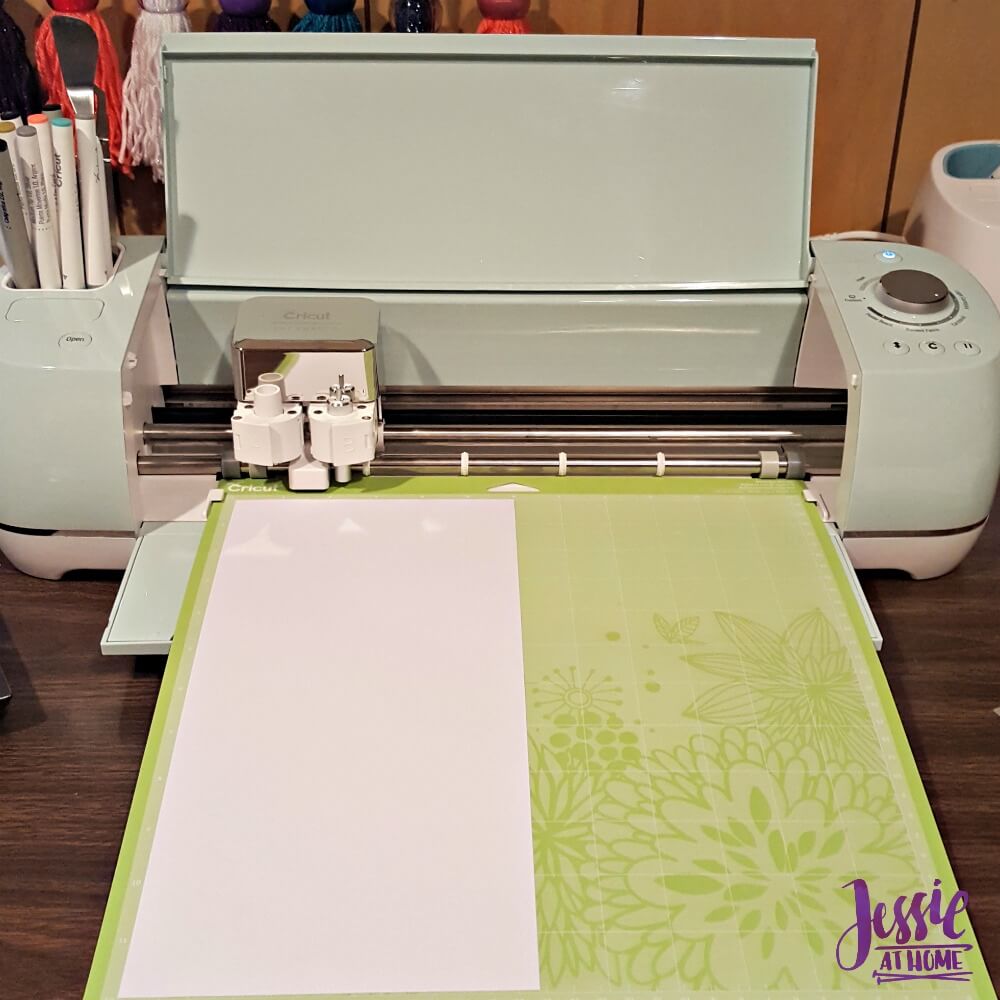 Once everything was unpacked and set up, I made the getting started project.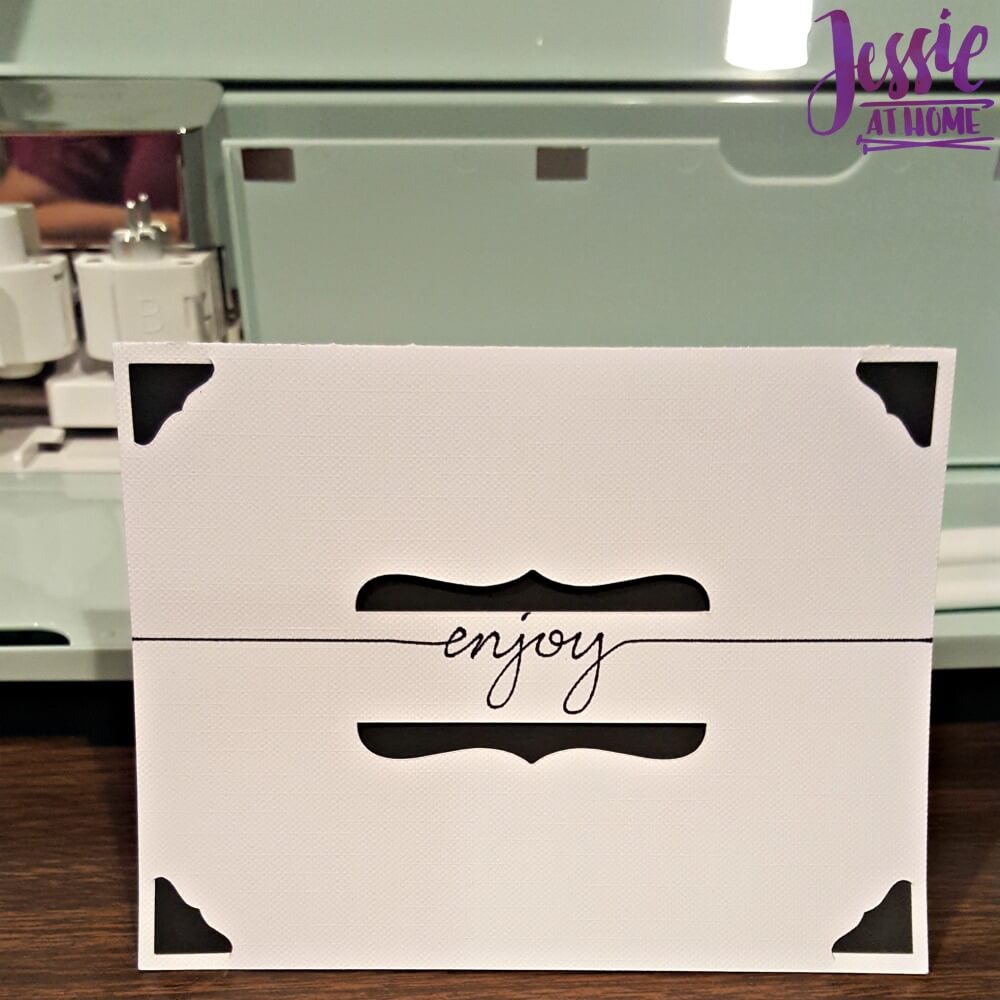 Everything works the same way as the Cricut Explore Air, so it was pretty easy to make. Of course, compared to my very first Cricut (which was the very first Cricut made, I got the first one on the shelf at my ACMoore), it's like night and day! Even without using the fast speed option it's so much faster, and just as with the original Explore Air, I love that it holds the knife and an accessory at the same time! So the Cricut cut and wrote this card without me having to change anything!
The Cricut Explore Air 2 uses the same Design Space as the Cricut Explore Air, so everything I've learned so far still applies. It was nice not to have to learn a new program. The girls and I decided to make some Halloween crafts with my new Cricut. First the girls colored a bunch of white cardstock, then we used them to make our project.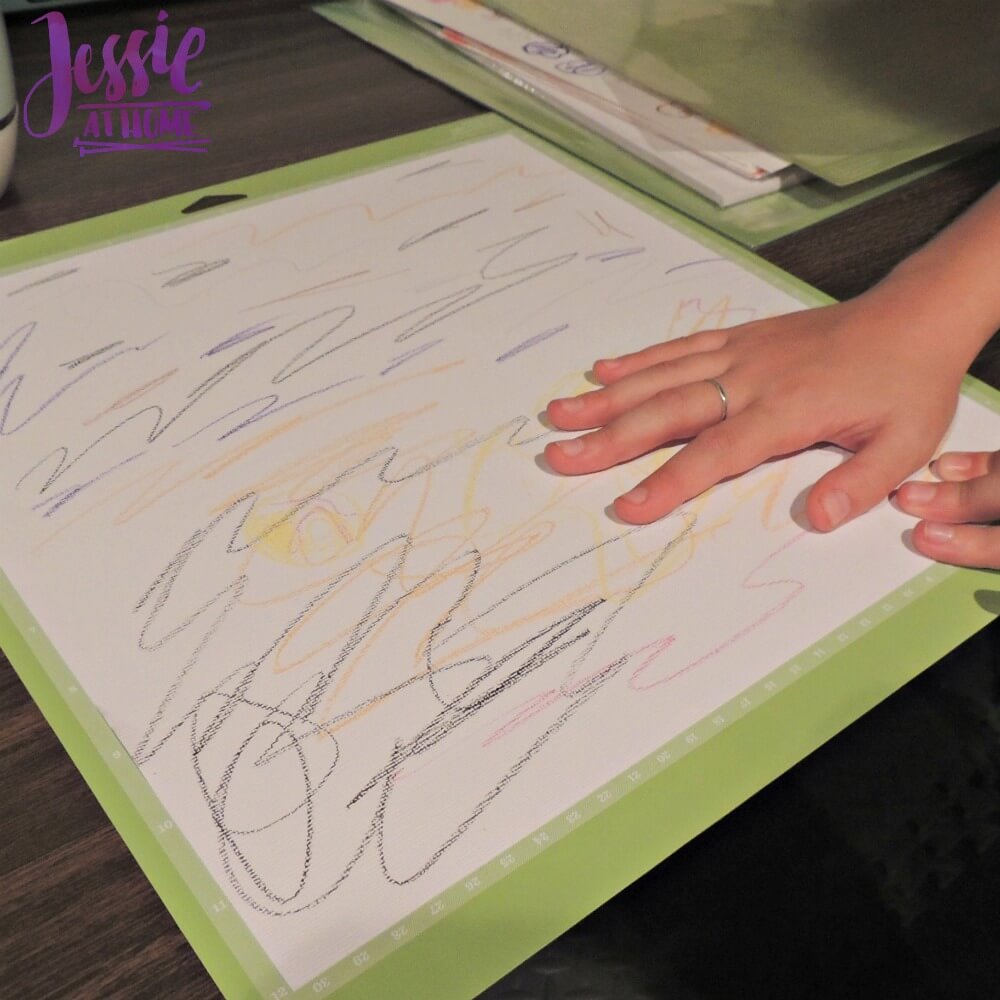 The girls are learning how to use the Cricuts, and they can do a lot on their own. They are really good at lining up the paper on the mats.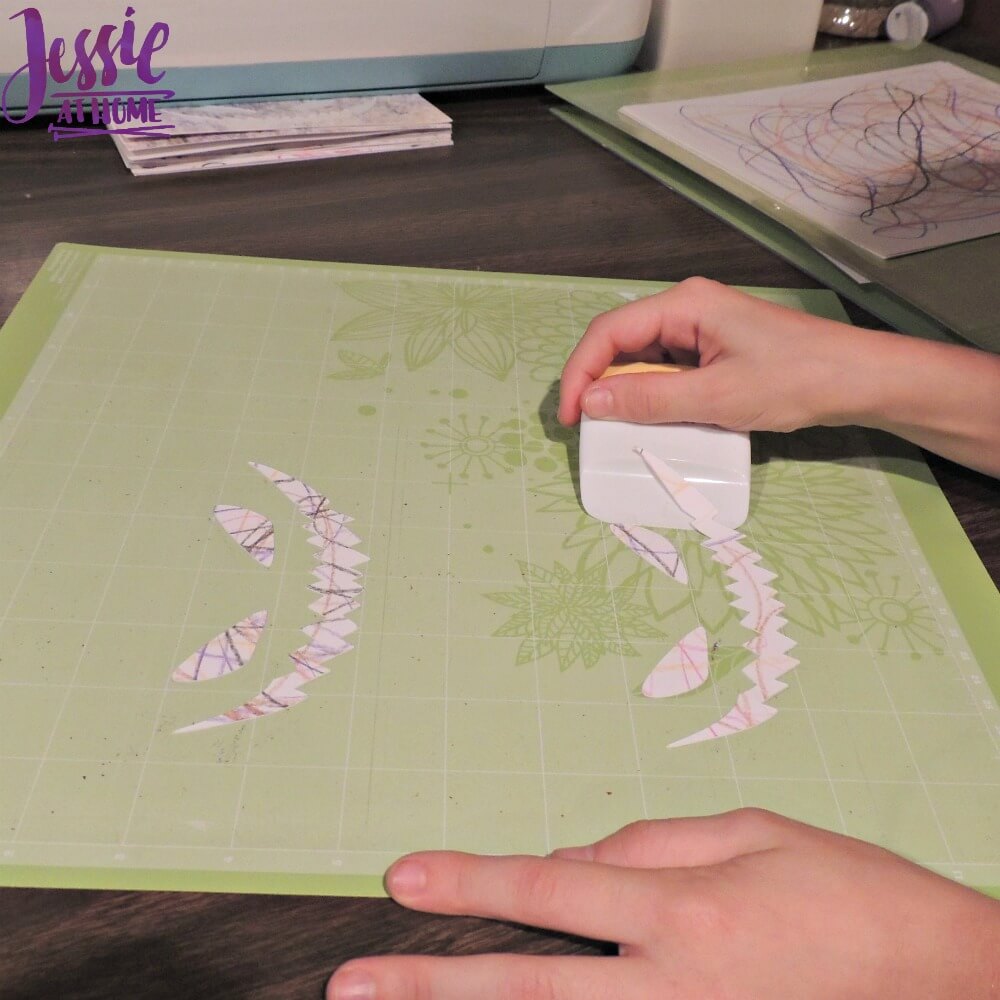 They can scrape the extra bits off the mats as well. They really enjoy helping out.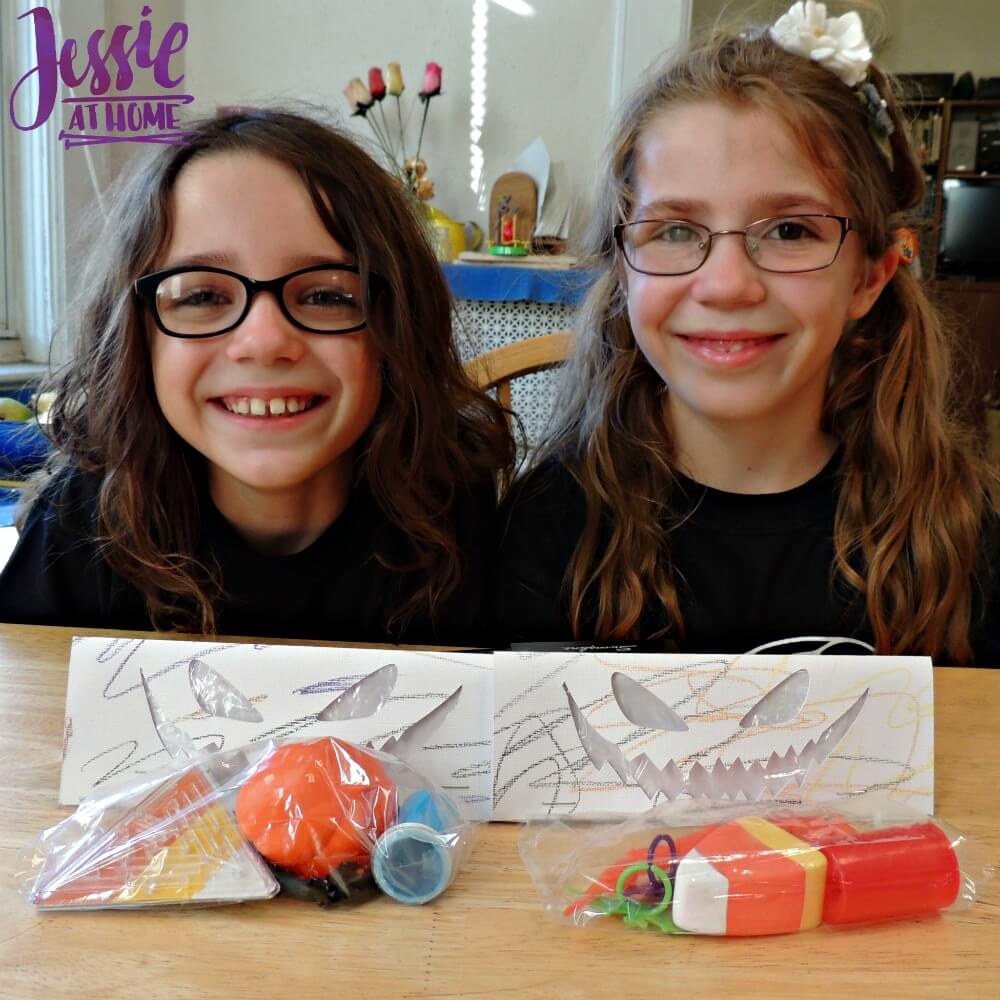 So what did we make? Bag toppers for goodie bags for their classmates. Aren't they fun? I designed them in the Cricut Design Space in no time at all.
You know what, it was SOO fast! We cut the first 2 at regular speed, then we hit the fast button, and boy was it fast! I was worried that the cuts might tear or not work so well at that speed, but it was all good. When you have to make 56 bag toppers, working twice as fast is pretty darn cool!
I really love my new Cricut, it does everything the old one does, only up to twice as fast. For someone like me, that's pretty important. You can order your own Cricut Explore Air 2 RIGHT HERE.
Did you enjoy what you found here at Jessie At Home? Then sign up for my newsletter and like my Facebook page, so you'll get all the updates on new tutorials, other posts, sales, and coming events.
If you have any questions, want to share pictures of your work, or just want to chat with Jessie and other crafty individuals, than join my Facebook group.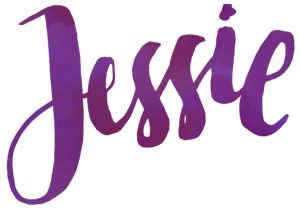 © Copyright 2016 Jessie Rayot / Jessie At Home All my videos, patterns, charts, photos and posts are my own work, so you may not copy them in any way. If you want to share this information with someone, then share the link to this post. If you want to share on your own blog / website, then you may use the first photo in this post and link back to this post. Also, you may not give away printed copies of this post.
Want to get the latest posts from Jessie at Home delivered straight to your email?
Subscribe to the Jessie at Home newsletter! We'll send you the latest patterns and tutorials. We will never spam you, promise to never sell your email address, and you can unsubscribe at any time.