This DIY Wooden Bead Necklace is fun to make and will add some flair to any outfit. Pair it with jeans and a tee, or a little black dress. You can make it in whatever colors make you happy.
Products used in this tutorial were provided by Woodpeckers Crafts, Plaid, and Red Heart. All opinions are my own.
I've been having so much fun coming up with fun crafts to make with the various Woodpeckers wood pieces I have. I made this necklace Saturday morning and wore it to a birthday party Saturday afternoon, that's how quick and easy it is!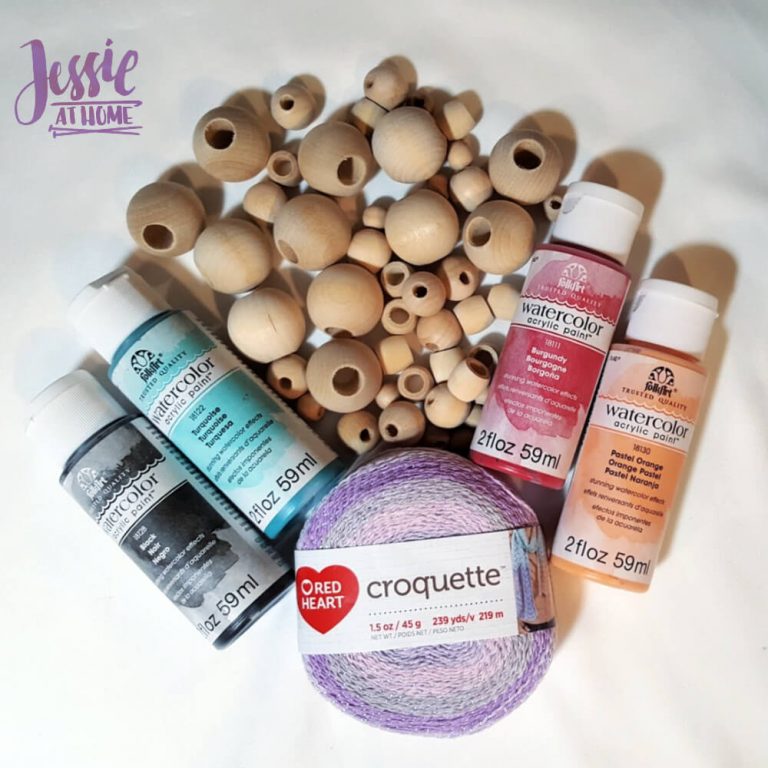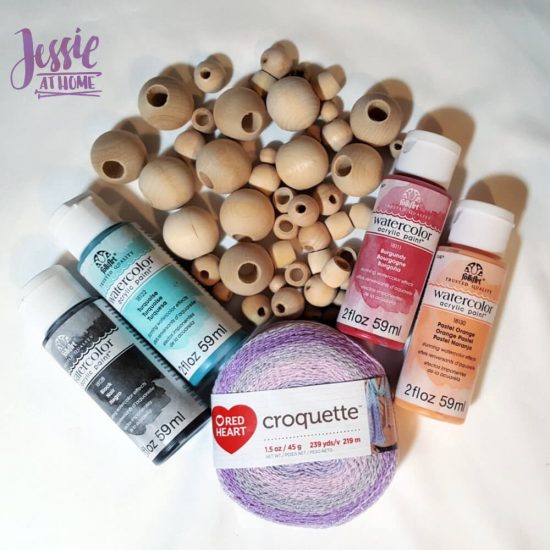 Supplies – click to buy from Amazon
Sponsor Links
Directions
The first step to make your DIY wooden bead necklace is to paint your beads. I wanted a rustic look which is why I choose diluted watercolor paints. To mix my paints I used 1 part paint to 3 parts water. Next I put the beads on a thin wood skewer and painted the beads then I rested the ends of the skewers on two books to let the beads dry. I didn't worry if there were spots of more or less paint, because that just adds to the rustic look.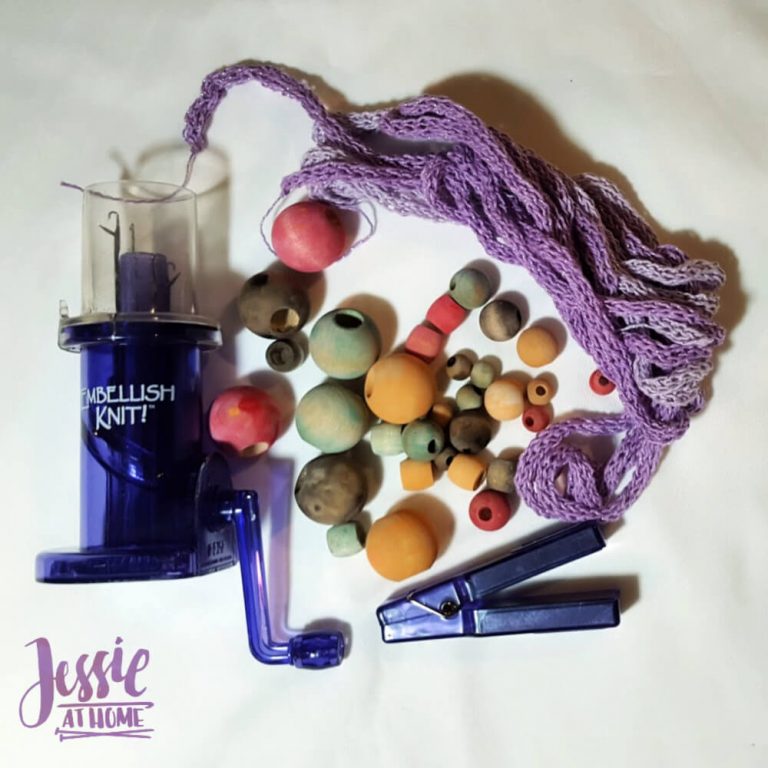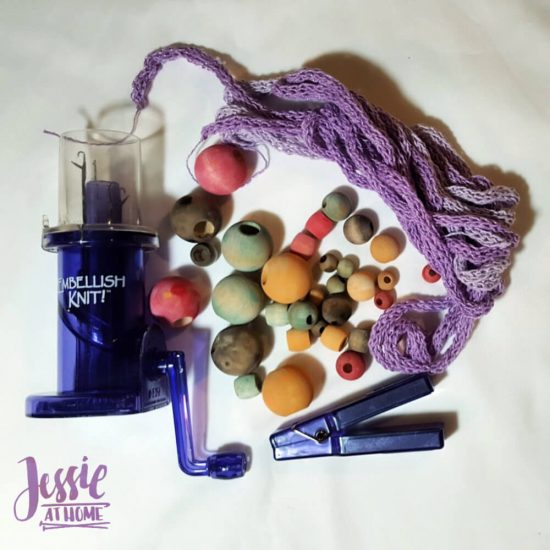 You'll want your string to be able to go through the smallest bead hole, but not too thin. I love the look of thin yarn run through a hand knitter, so that's what I did. You'll want 1 piece that is 6′ long and another that is 8′ long. If they are two different colors that will make the knotting easier.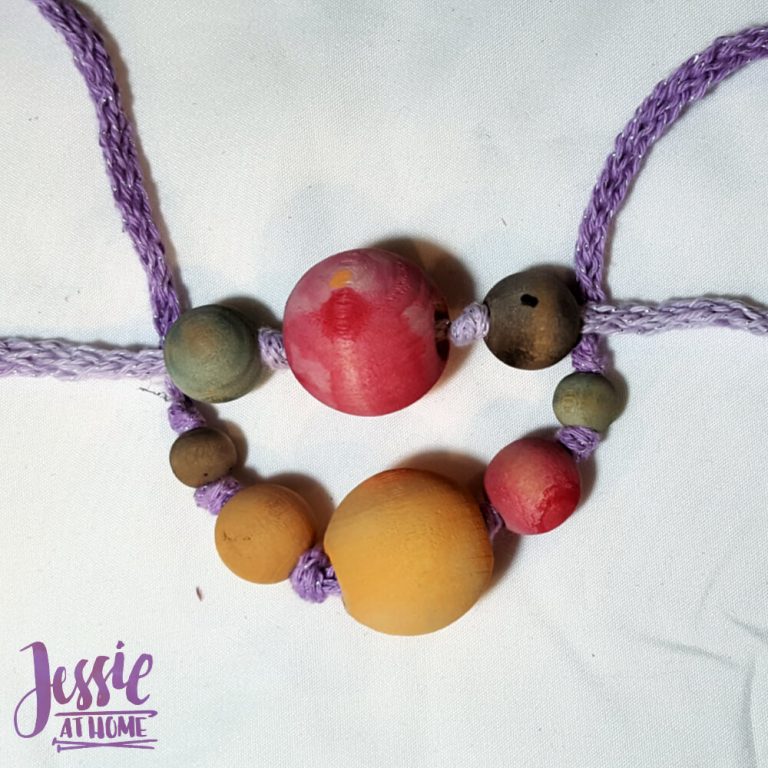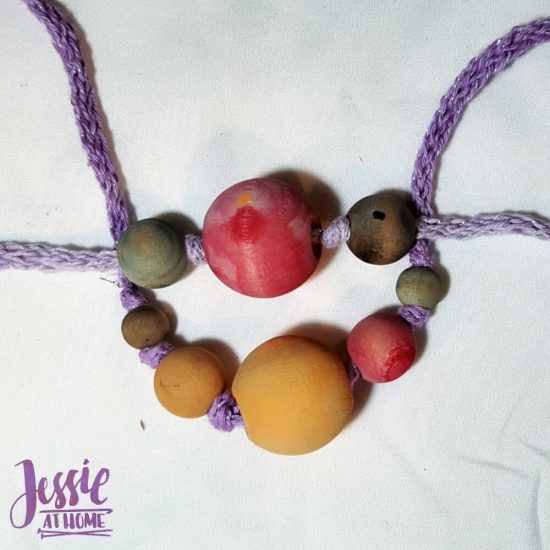 To begin the necklace, string on the short cord: 5/8″ bead, overhand knot, 1″ bead, overhand knot, 5/8″ bead. On the long cord, string: overhand knot, 3/8″ bead, overhand knot, 5/8″ bead, overhand knot, 1″ bead, overhand knot, 5/8″ bead, overhand knot, 3/8″ bead, overhand knot.
An overhand knot is made by making a loop in the cord and then pulling the end through the loop.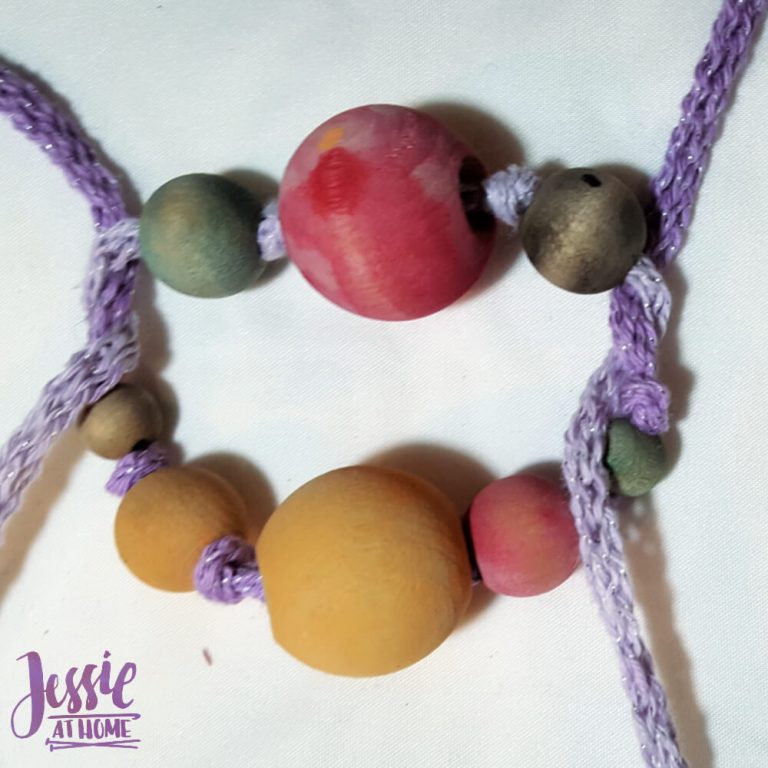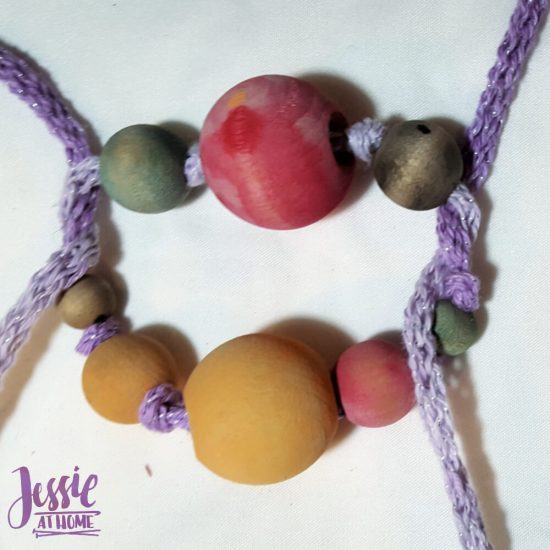 From this point forward all directions are repeated on both sides of your necklace.
Next make a square knot to join the two cords. To make a square knot first wrap the top cord over and back up around the bottom cord. 1/2 of square knot is made.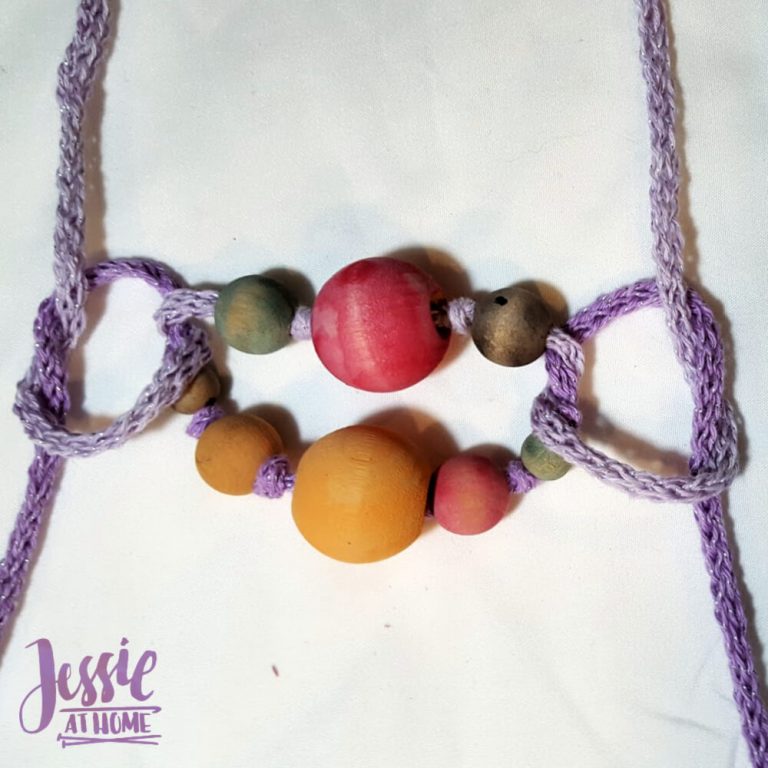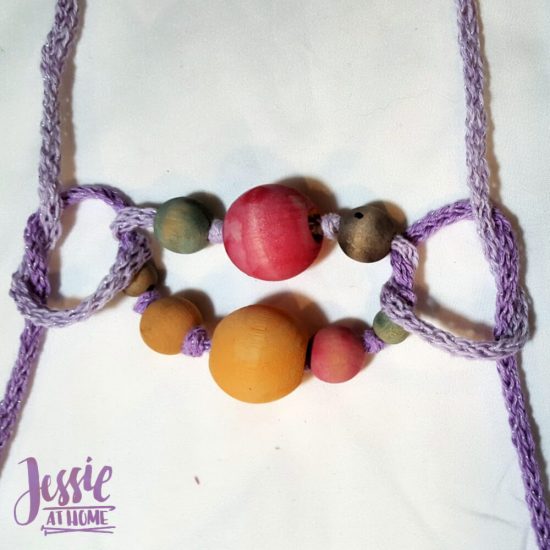 Next wrap the bottom cord over and then back up around the top cord. Square knot is complete. If you are using 2 different color cords then the same color (the shorter cord) will always be the cord that is wrapped over and around the other.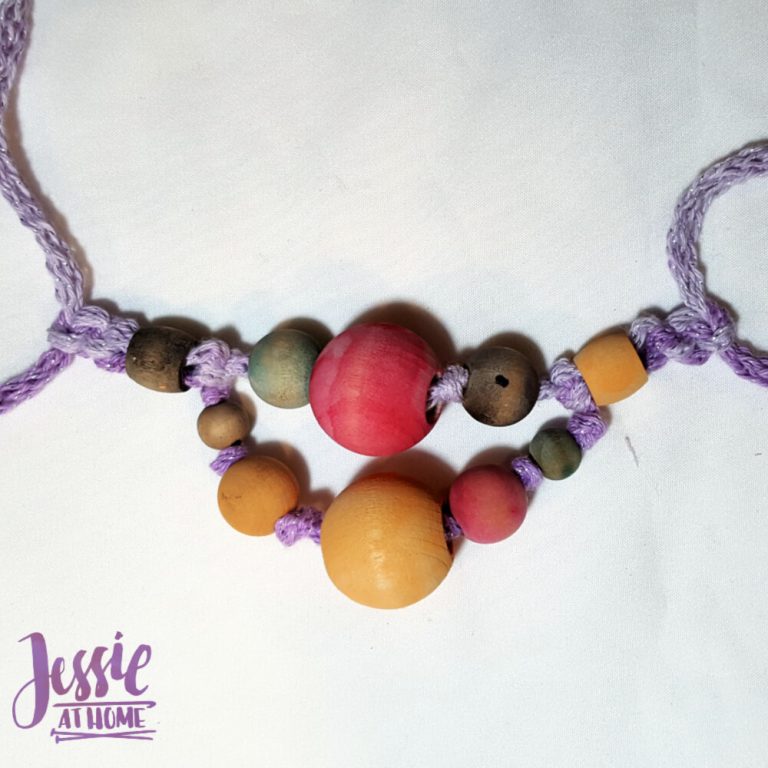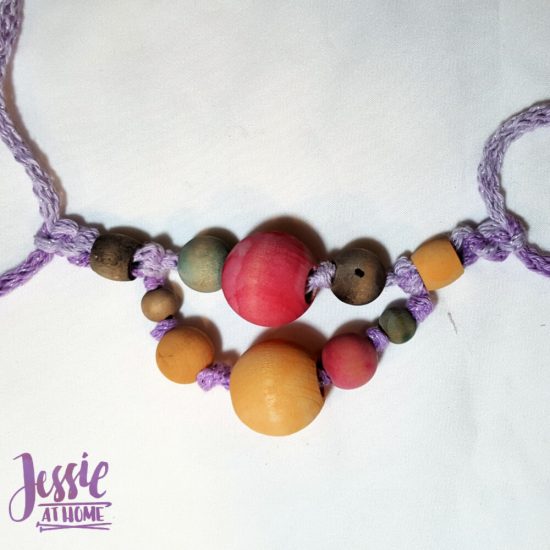 String a 1/2″ barrel onto both cords, then make 2 square knots.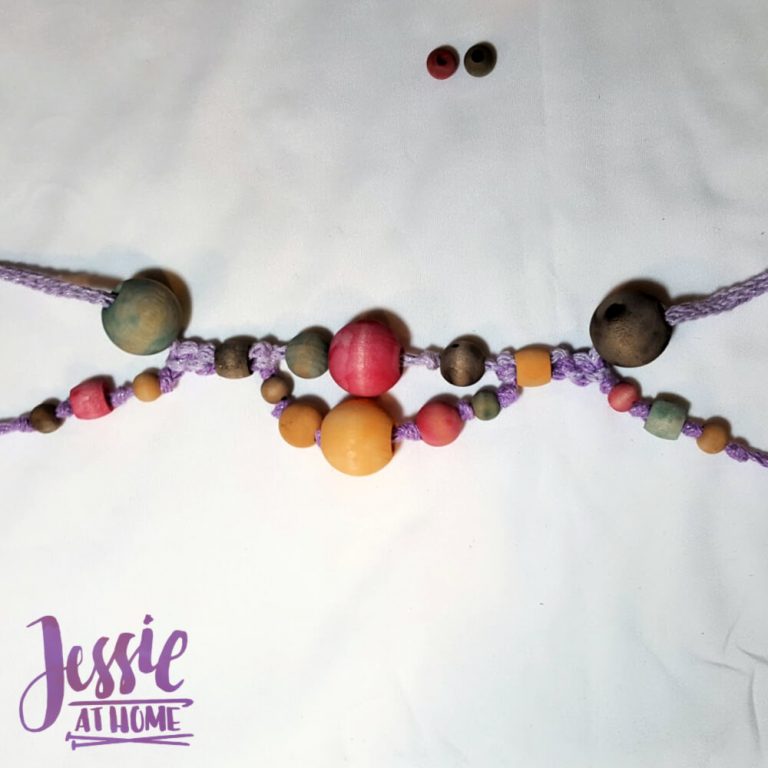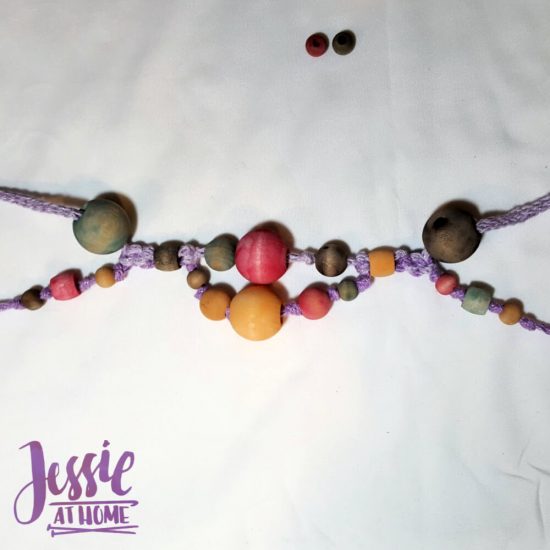 String a 1″ bead on the top cord. On the bottom cord tie an overhand knot, string a 3/8″ bead, tie an overhand know, string a 1/2″ barrel, tie an overhand knot, string a 3/8″ bead, tie an overhand knot.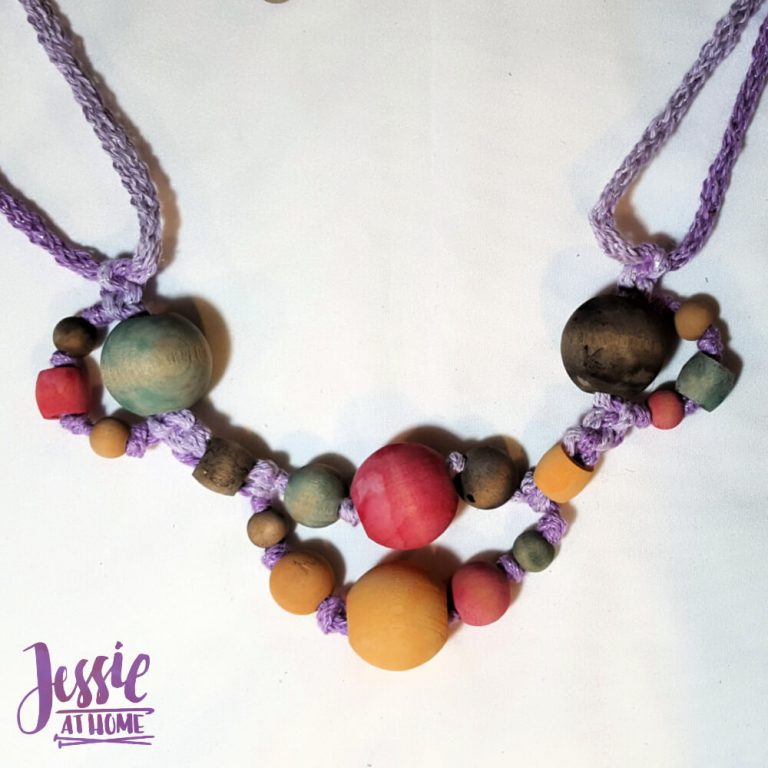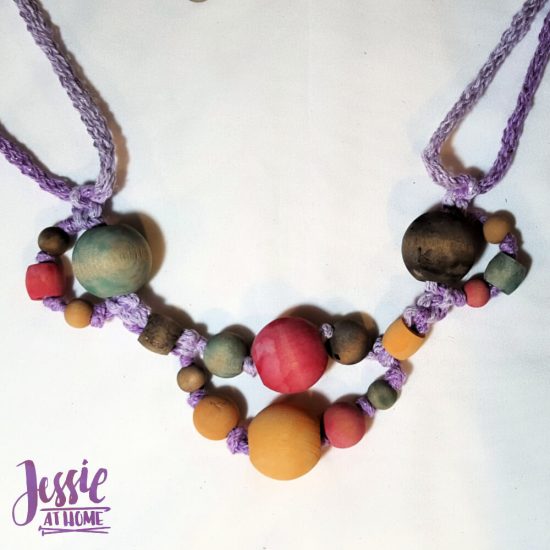 Next tie 2 square knots.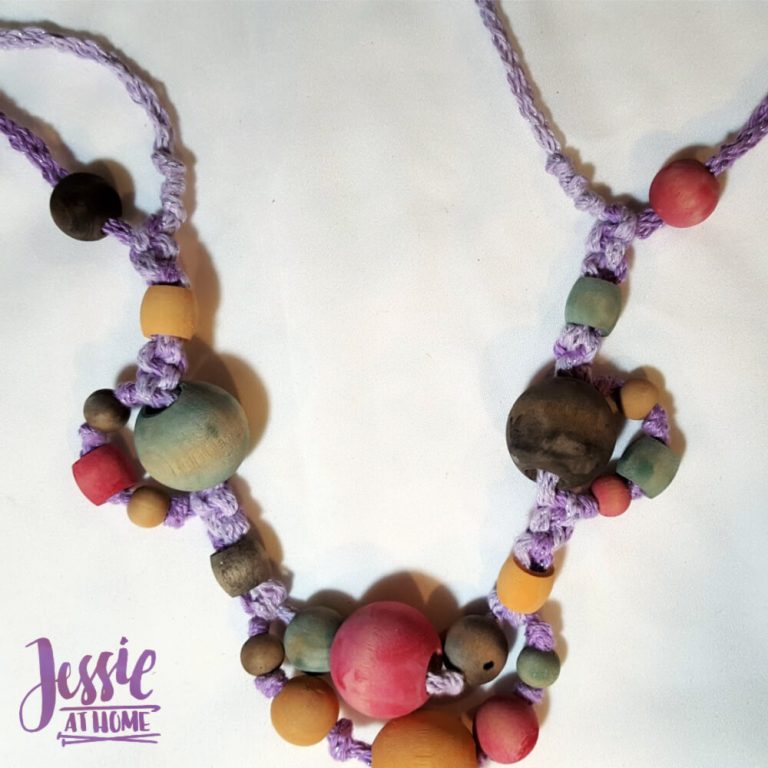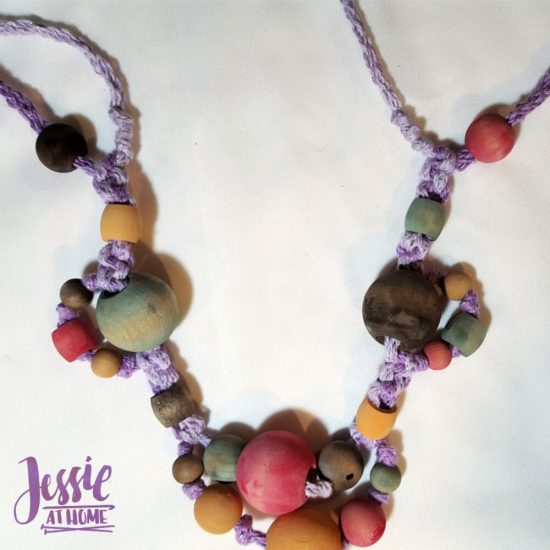 String a 1/2″ barrel over both cords then tie 2 square knots. String a 1/2″ bead on the bottom cord, then tie 3 overhand knots on the top cord.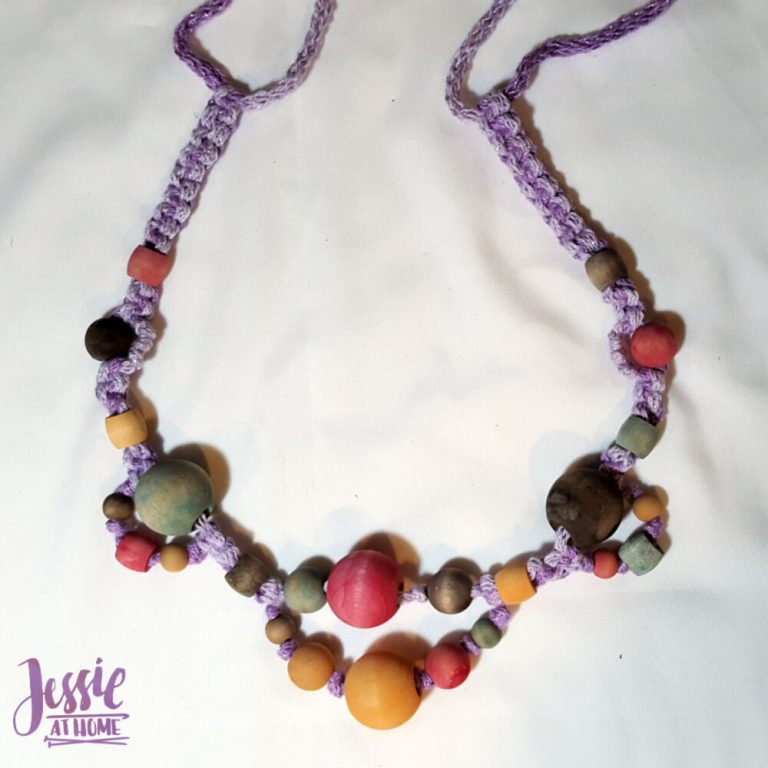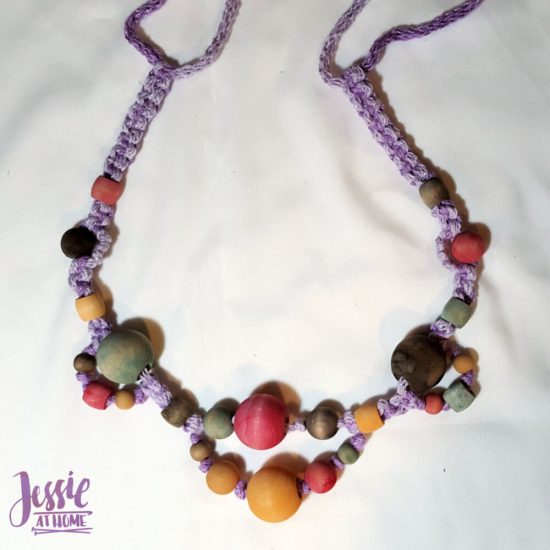 Tie 2 square knots then string a 1/2″ barrel over both cords. Tie 8-10 square knots.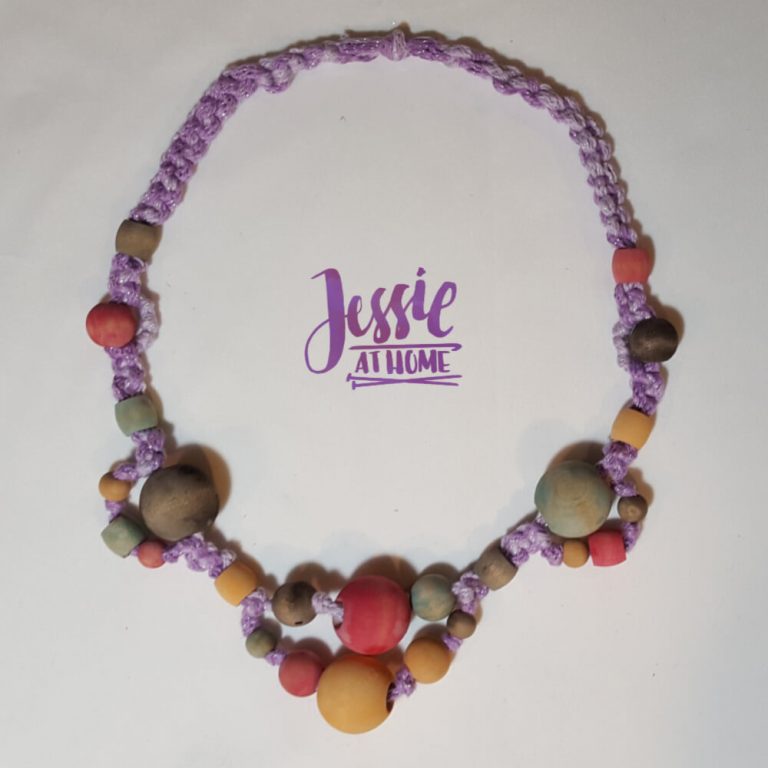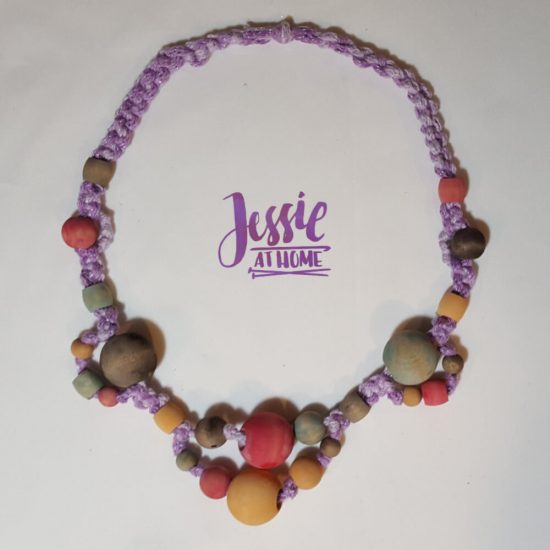 Lastly, join the two sides by tying a square knot holding both cords of each side together as one. Pull tight and cut ends to 1/2″. Paint knot and ends with Mod Podge to seal it all tight. Let it dry and you're all done.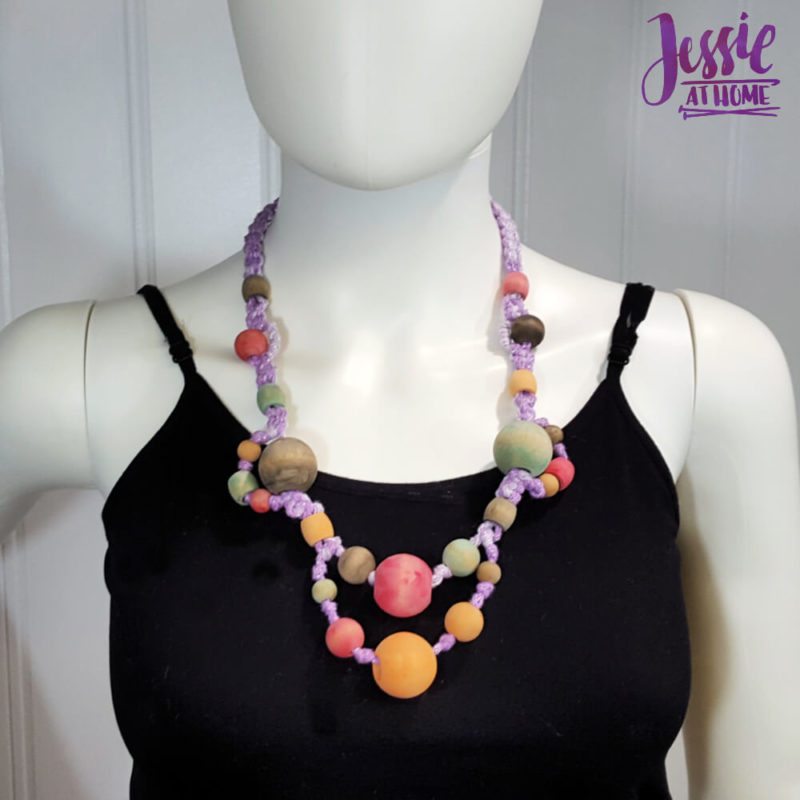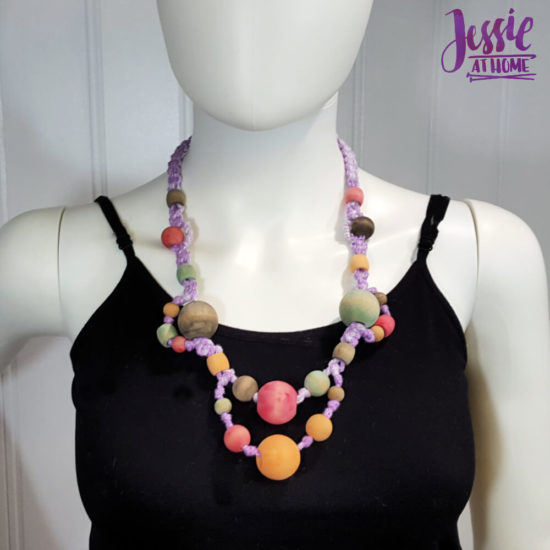 Now put on your new DIY wooden bead necklace and go have some fun!
Did you enjoy what you found here at Jessie At Home? Then sign up for my newsletter and like my Facebook page, so you'll get all the updates on new tutorials, other posts, sales, and coming events.
If you have any questions, want to share pictures of your work, or just want to chat with Jessie and other crafty individuals, than join my Facebook group.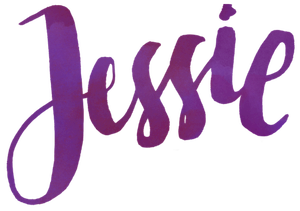 © Copyright 2019 Jessie Rayot / Jessie At Home All my videos, patterns, charts, photos and posts are my own work, so you may not copy them in any way. If you want to share this information with someone, then share the link to this post. If you want to share on your own blog / website, then you may use the first photo in this post and link back to this post. Also, you may not give away printed copies of this post.
If you liked this Wooden Bead Necklace, then take a look at these.