Kyla and Vada learned to crochet with Crochet Kits provided by Leisure Arts. Plus a coupon and a giveaway.
A while back Leisure Arts sent us 2 Learn to Crochet Kits so the girls could finally learn to crochet. I know, many of you will say I didn't need a kit to teach them, but to be honest, I really wanted the guide and all the pictures to help me. And the Learn to Crochet Kit had all of that, and more!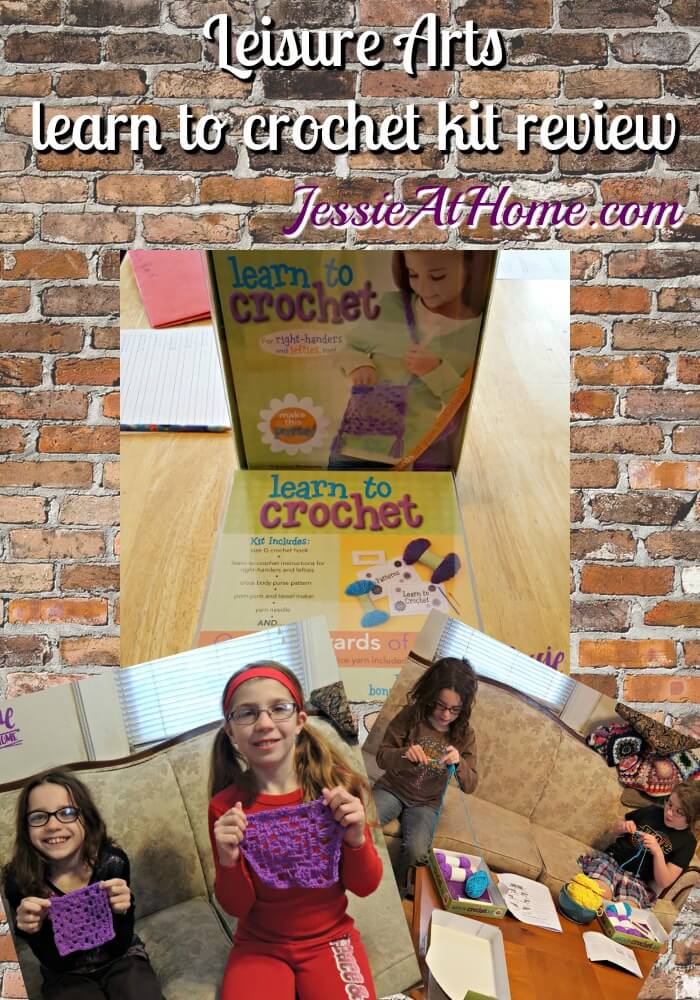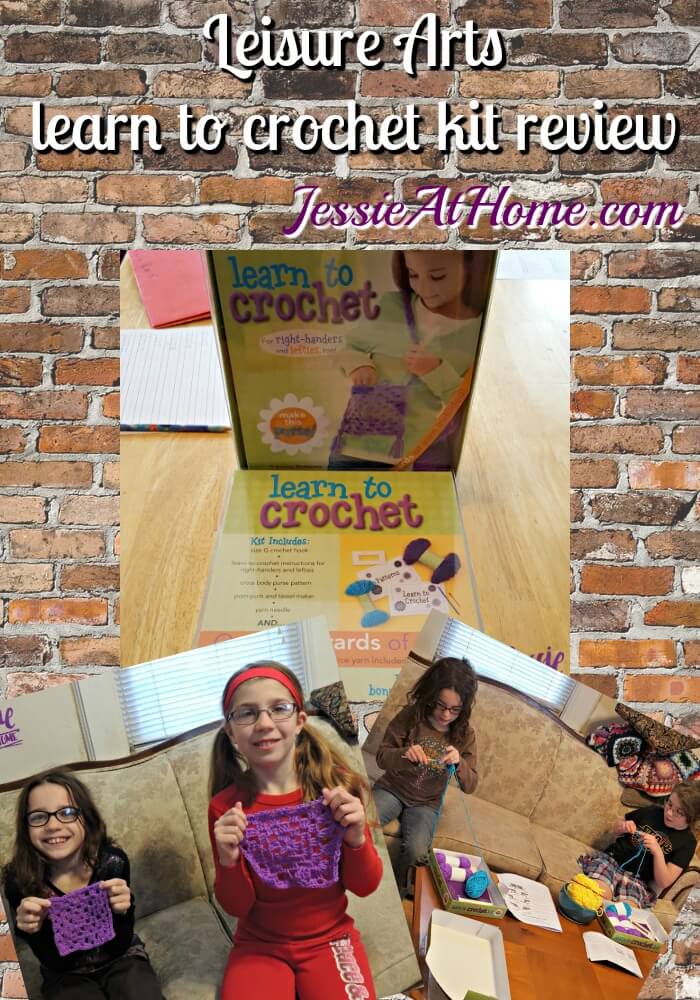 You can purchase your own kits HERE, and you can use the code
Art15
for 15% off your entire order!
The kit starts out by teaching the basic stitches. First Chain, then Single Crochet, Half Double Crochet, Double Crochet, and Slip Stitch. Really, that will get you through most patterns out there once you master those stitches. We spent out entire first lesson on chain.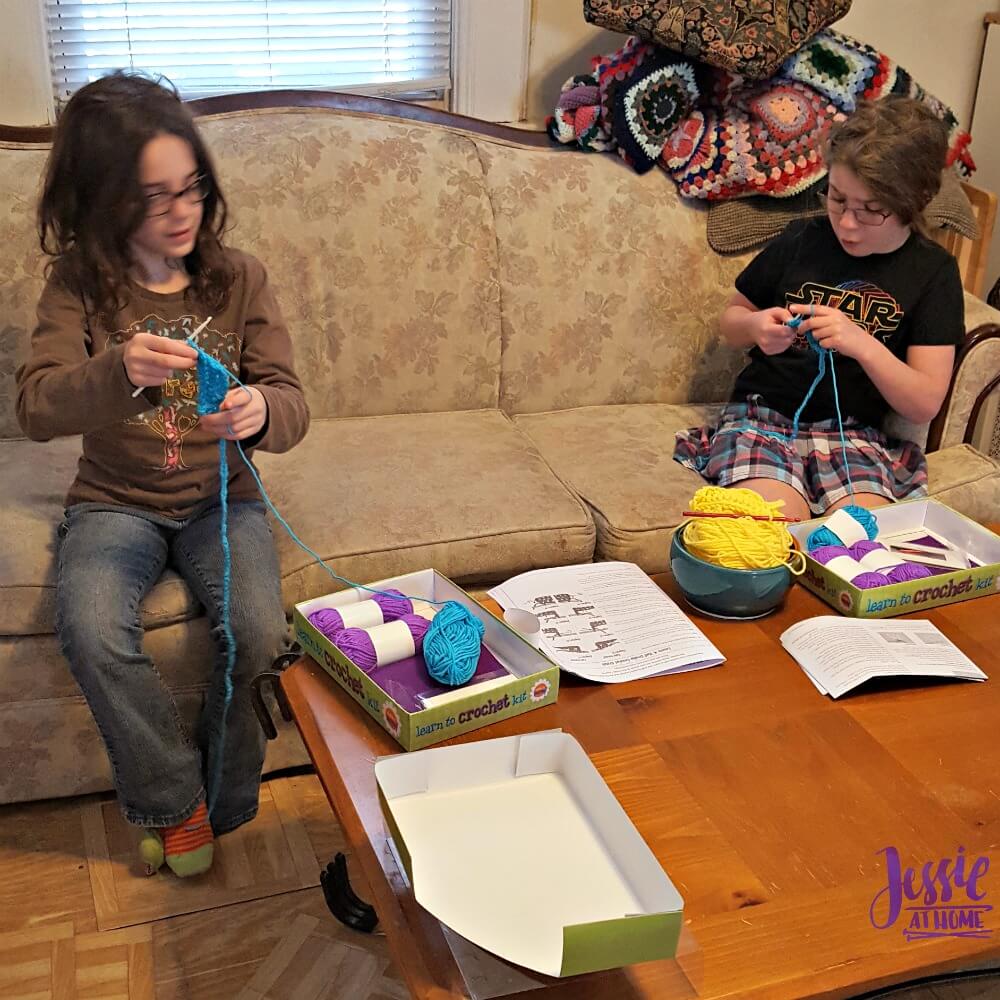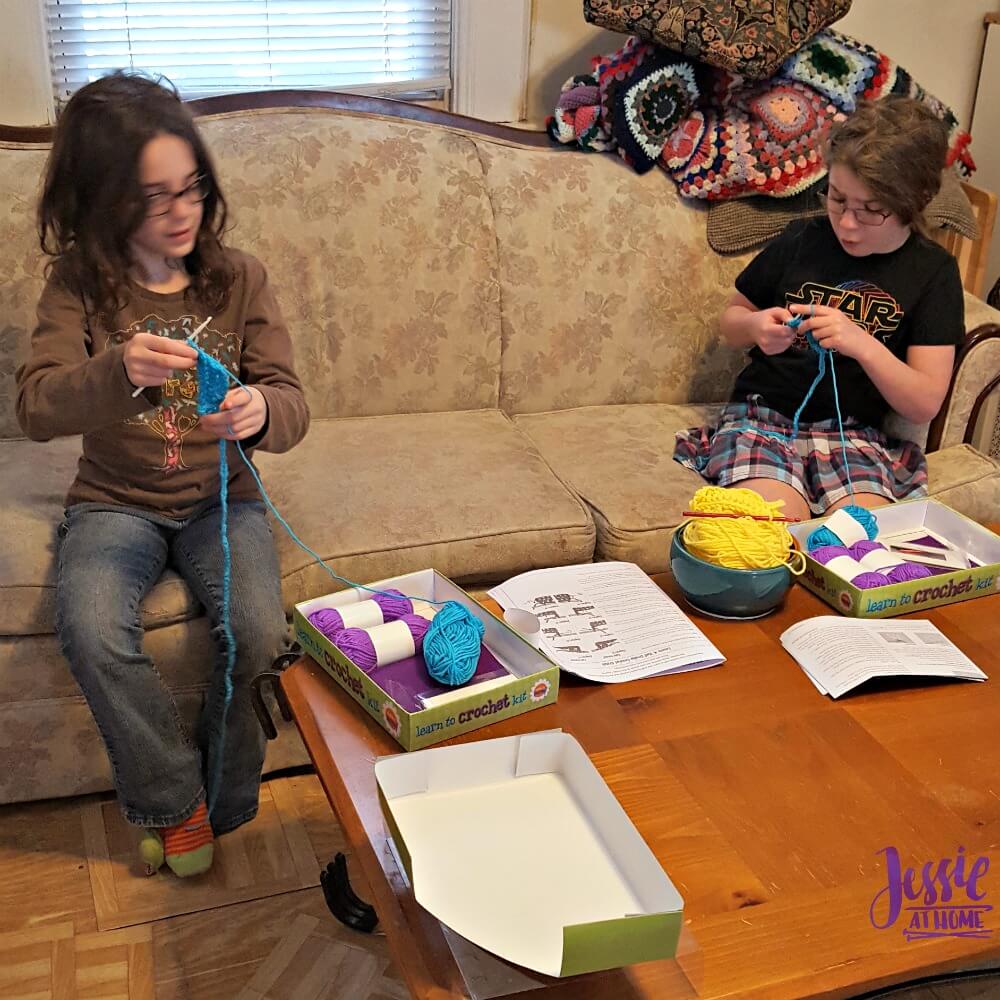 We used the blue yarn for practice. Our second lesson was entirely Single Crochet. Our third Lesson we learned Half Double and Double Crochet. The instructions in the booklet were very clear, and the illustrations were extremely helpful!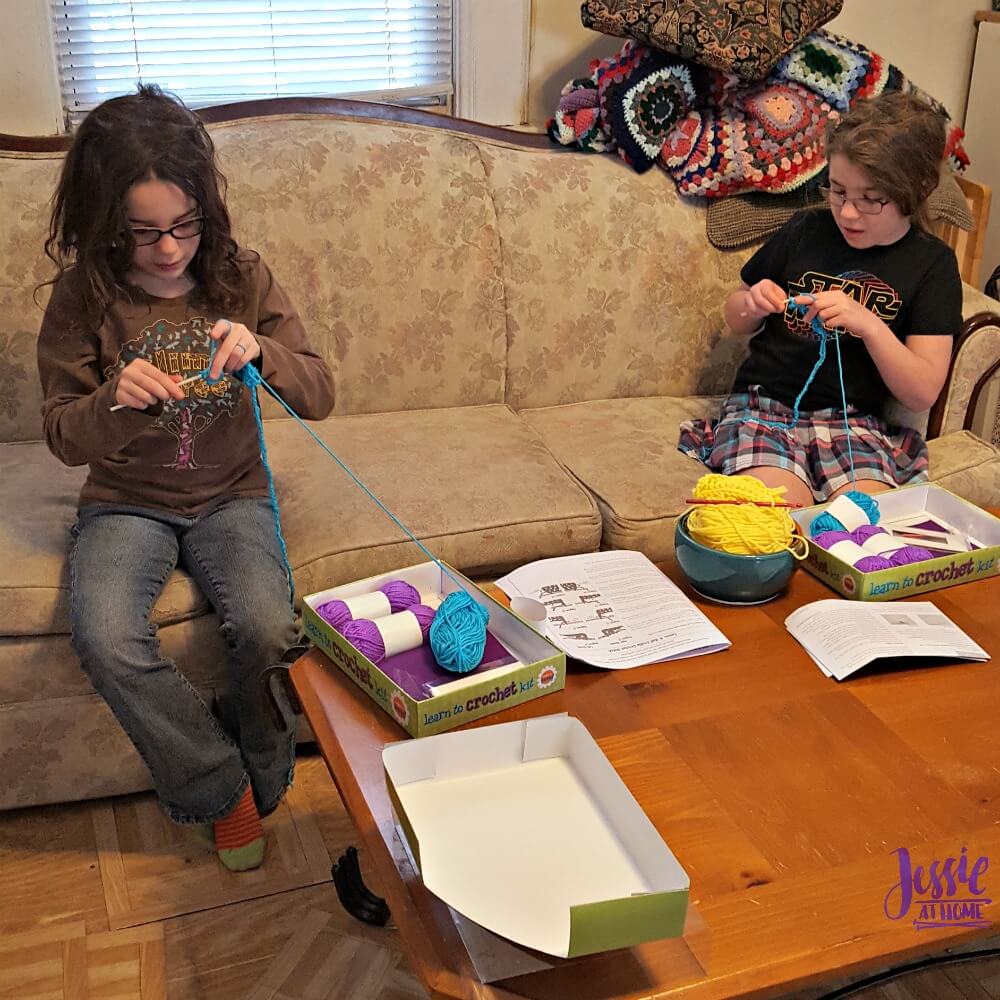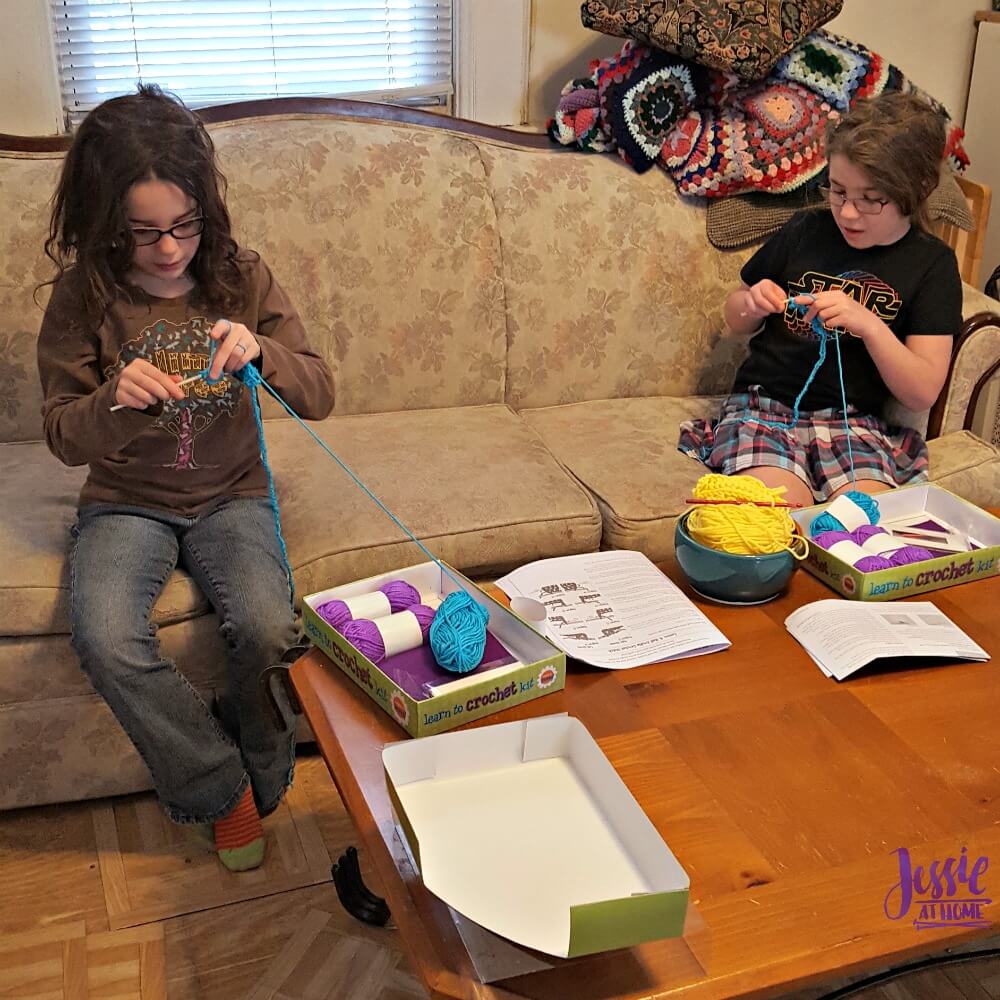 It wasn't for a week or so before we got to the purple yarn. We certainly didn't have as much time to practice as I would have liked, but the girls have school, art classes, sports, play dates…you get the idea. It's not easy being 9.
Once we had a good grasp on Double Crochet, it was finally time to move onto the purple yarn and start the Granny Square Purse Pattern. I really liked how the pattern was written, it was easy to follow, and made a neat square without the seam going up on side that always bugs me. The girls started to see the pattern after a few rounds, but they could really only do one round per sitting. I forgot how slow they would be as beginners.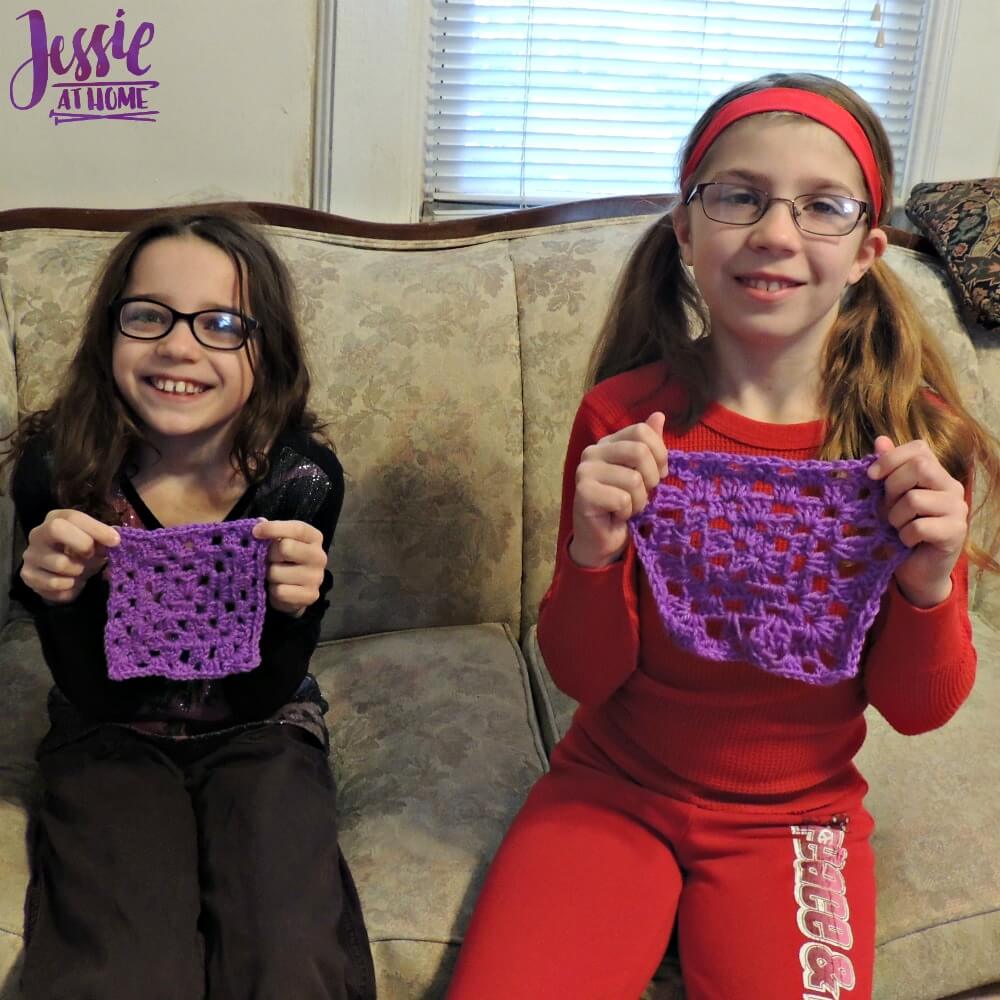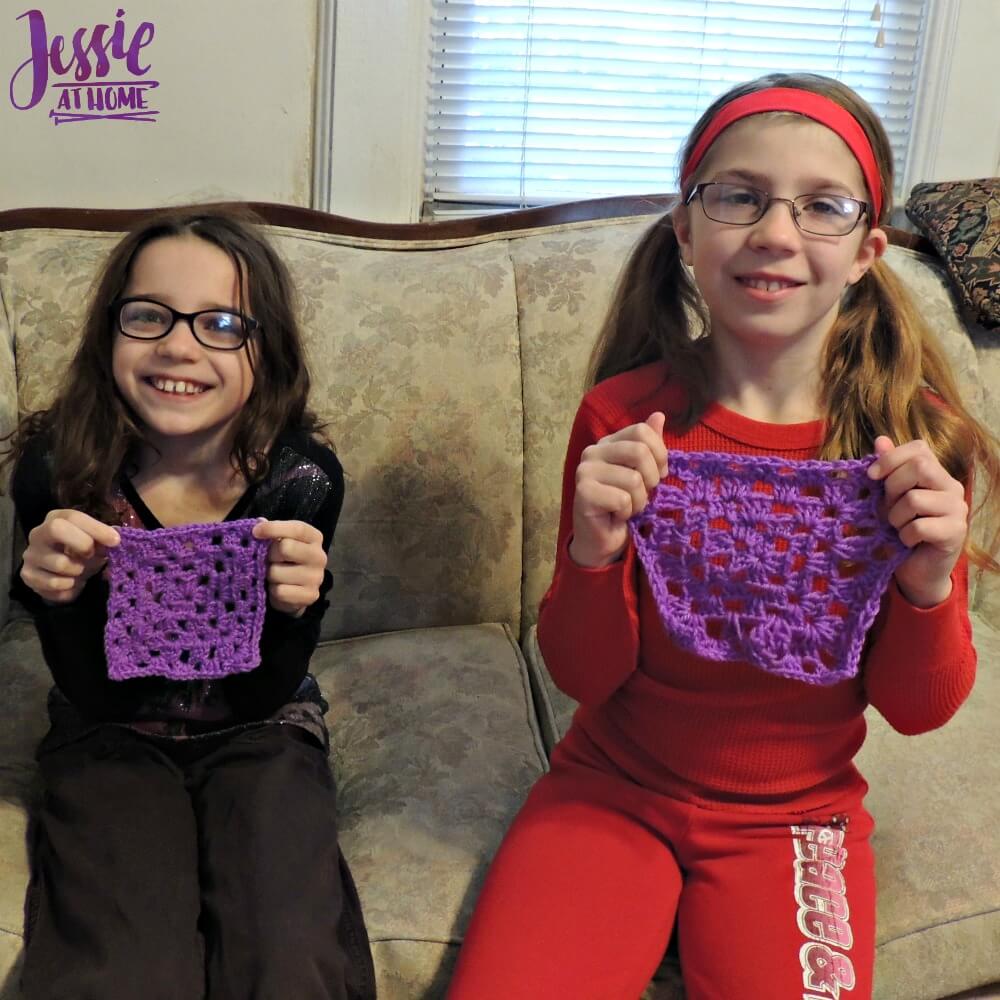 At this point, they have each made one Granny Square for the purse. They are a lesson in gauge! Look at the different sizes, yet they used the same yarn and hook. Next time someone asks me if they really need to check gauge, I'm sending them this picture! We will make the second square and finish the purse soon. I'll have to share pictures again when we do! I love that the kit comes with a lining for the purse as well.
We had a great time learning to crochet! This is what the girls have to say about it all:
Kyla: They were really hard but really fun at the same time. Even though it might be a struggle at first, it gets more fun as you get better and I hope more kids decide to learn to crochet too!
Vada: I think that crocheting is rally fun and once you start getting used to it, it's really easy. And you can do it in any color which is really cool, and making purses is really fun! I can't wait to be done with them.
Now, would you like a chance to win a kit of your own? To enter the Learn to Crochet Kit giveaway you must be at least 18 years of age and have a valid USA shipping address. Giveaway will end on May 29, 2017 at the end of day Eastern time. Winner will be contacted by email and will have one week to reply with a valid shipping address or another winner will be chosen.
a Rafflecopter giveaway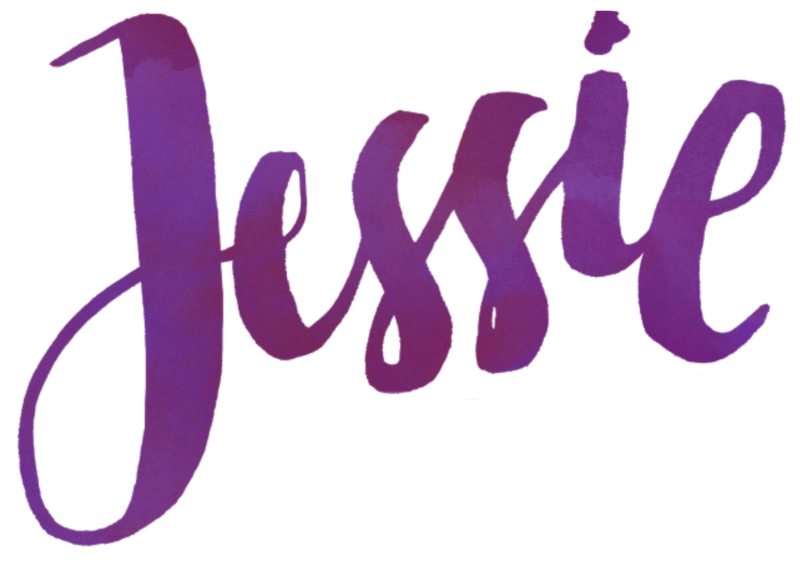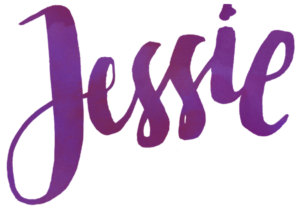 ©Copyright 2017 Jessie Rayot / Jessie At Home All my videos, patterns, charts, photos and posts are my own work. Do not copy them in any way. If you want to share this information with someone, share the link to this post. If you want to share on your own blog / website, then you may use the first photo in this post and link back to this post. You may not give away printed copies of this post. Thank you.