The subject of my last two posts, that is. This is only the fourth basket I have made, all of them have been similar to this one, but this is the first that actually ended up the shape I intended. The others have round or rectangular bottoms, and oval tops.
*~* I have listed this under my tutorials, but it is really not a step-by-step for beginners type of tutorial. It is more of a visual aid and reminders for someone who has the base knowledge and is just looking for a bit of a nudge along. *~*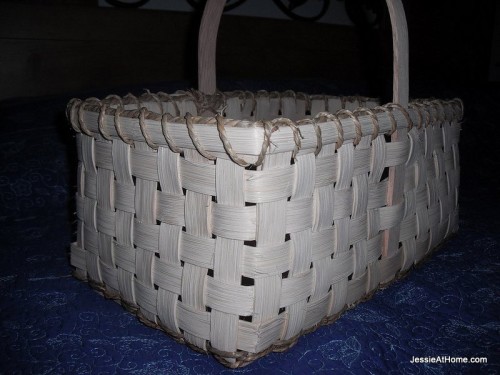 The boxes were full of reeds and other basketry supplies. All from a wonderful shop in Pennsylvania.
After a bit of a soak in the tub, I transferred some of the reed to a bin in the living room, next to my towel-covered coffee table. Not really sure why I tossed the handle in there, it doesn't get shaped. There isn't always a good reason for many of the things I do…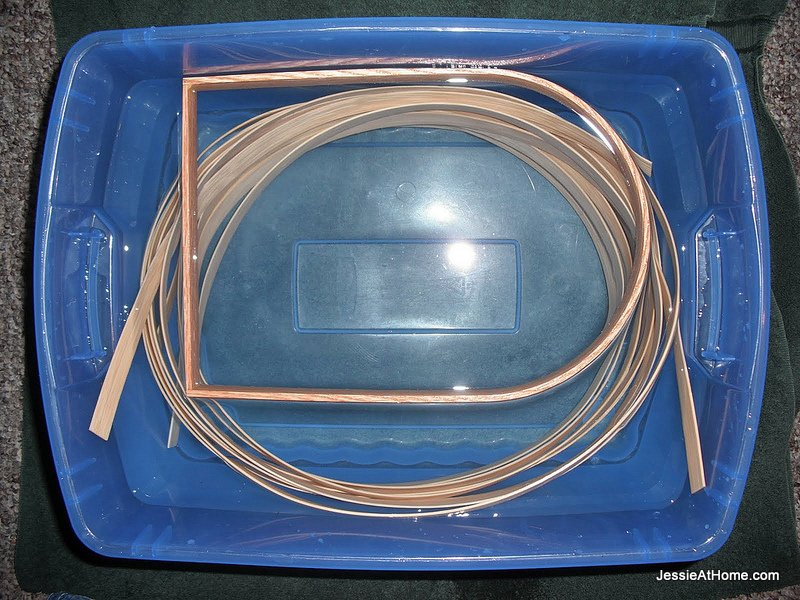 I started out placing 8 34″ reeds across the bottom of my 8×12 D handle.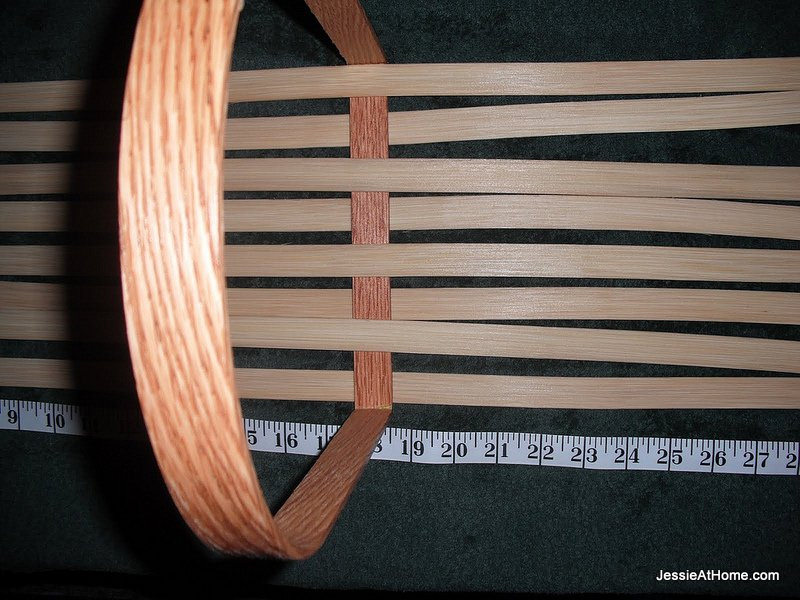 Then I started weaving in 30″ reeds.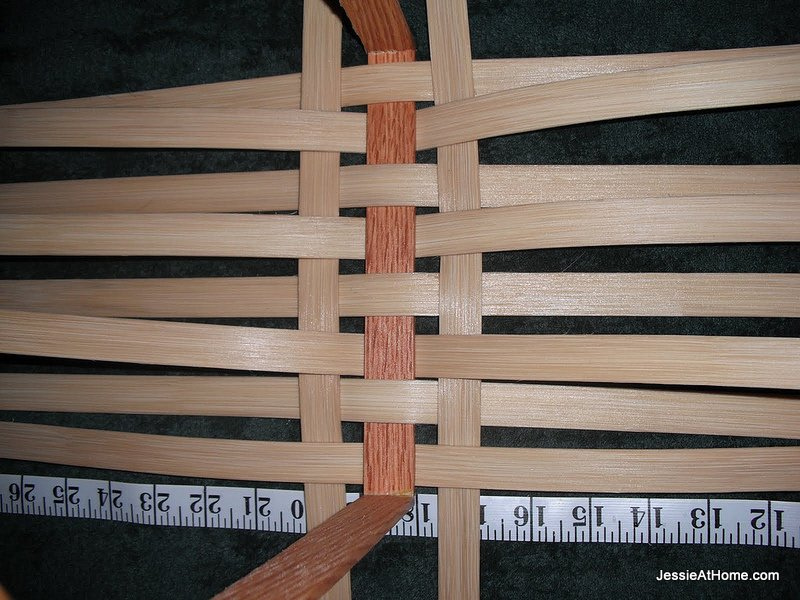 Six per side.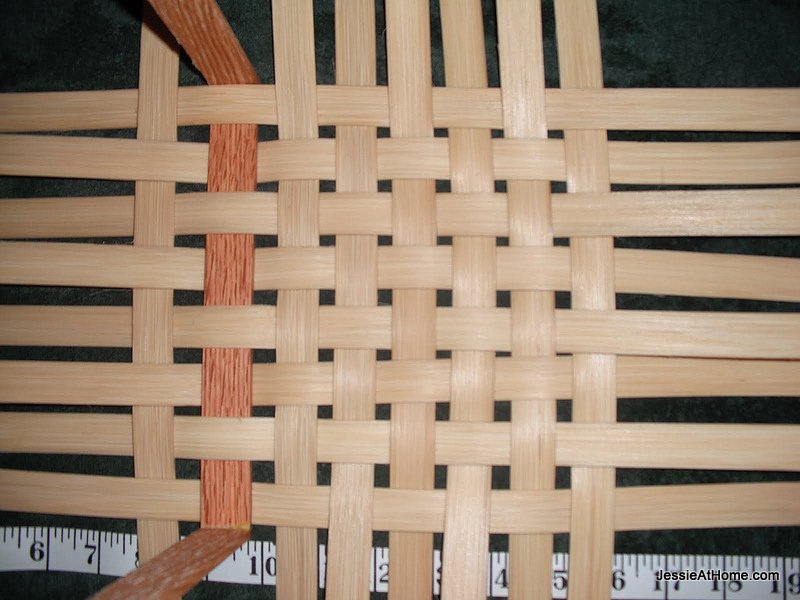 I was rather happy with the bottom. I learned from the first basket that I made that the spaces between the reeds on the bottom are rather important. The finished basket ends up all wonky if you don't have some space between the vertical reeds ~ which is what all the bottom reeds turn into.
After finishing the bottom, I wove 3 rows of 1/8″ twisted seagrass to help with shaping and folding.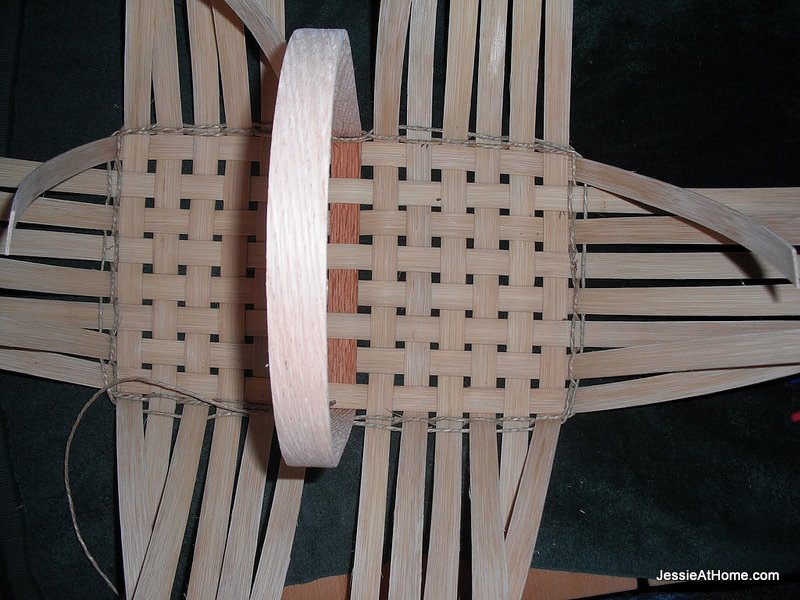 Then it was time to weave sides. I tucked the overlaps around the handle, alternating sides with each round I wove.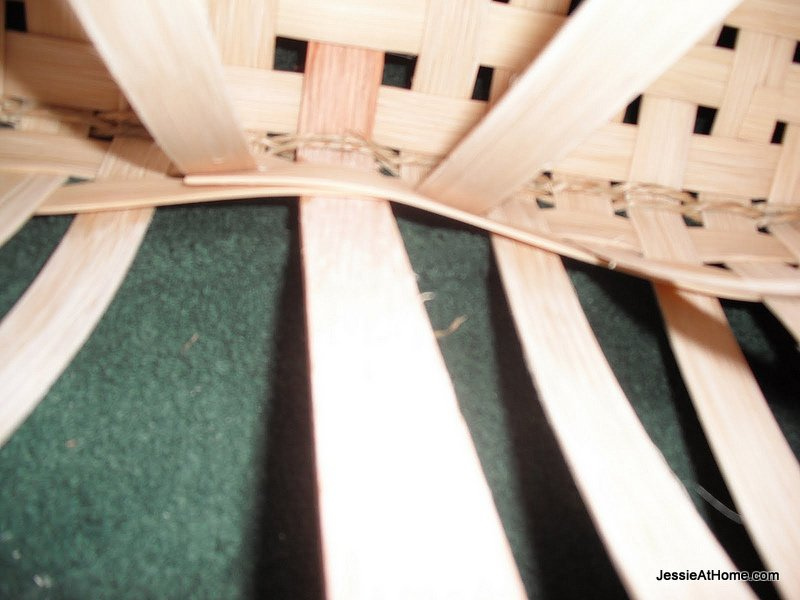 This is a rather dark picture of the basket two side rows in.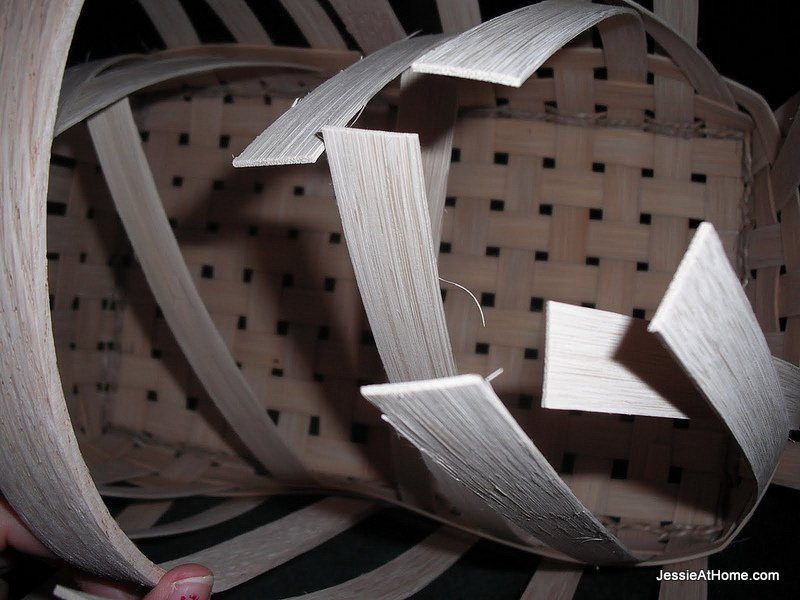 Occasionally it was necessary to give the basket a wee soak to get it all limber again. If it is too dry, it will not shape well, or may even break. If it is too wet, however, it gets rather soft and smushes when you try to push it down.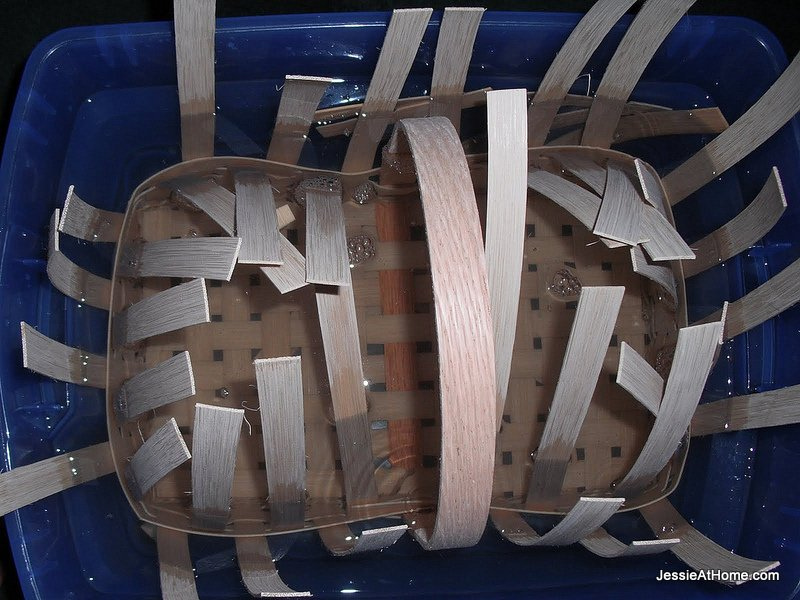 Once my basket reached a good height, I ran a round of 1/2 reed. The previous reed was 3/4″. I ran the 1/2″ because that was the size of split round reed I was using for the rim.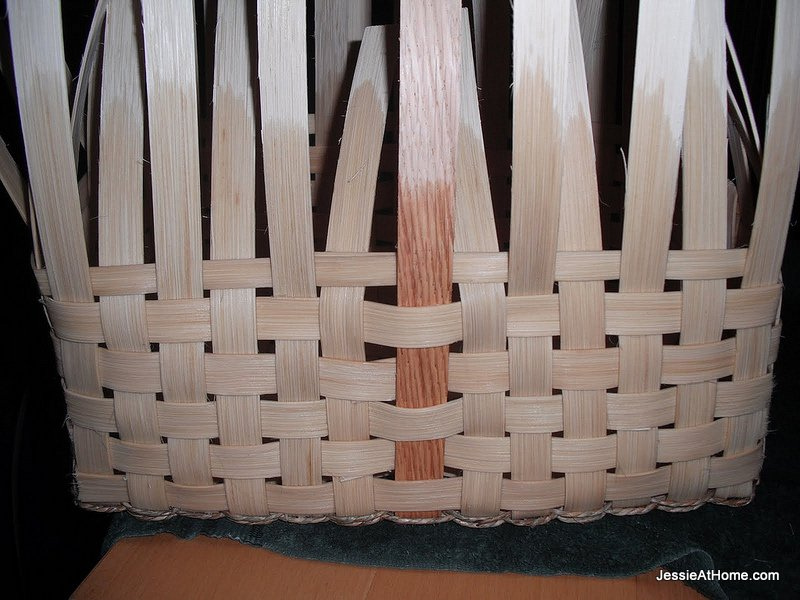 Then I folded, tucked and trimmed every vertical reed that ended on the outside of the basket, and trimmed the verticals that ended on the inside.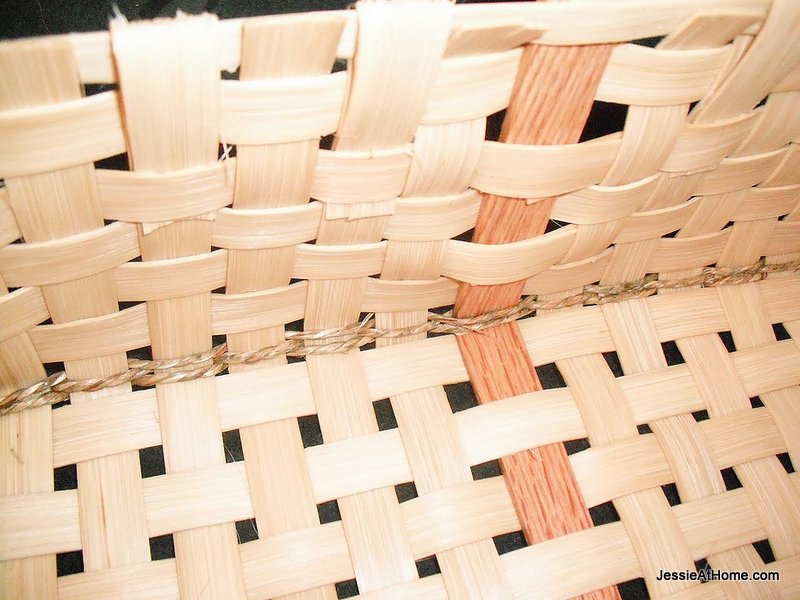 Now it was time for the rim. I used split round reed for the outside, 1/4″ twisted seagrass for the top, and 1/8″
twisted seagrass to lash.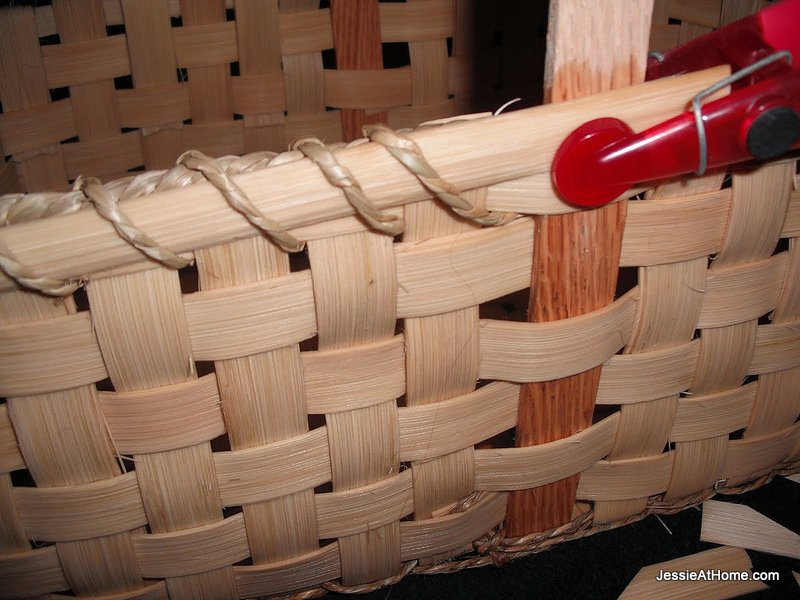 More lashing. This takes a while.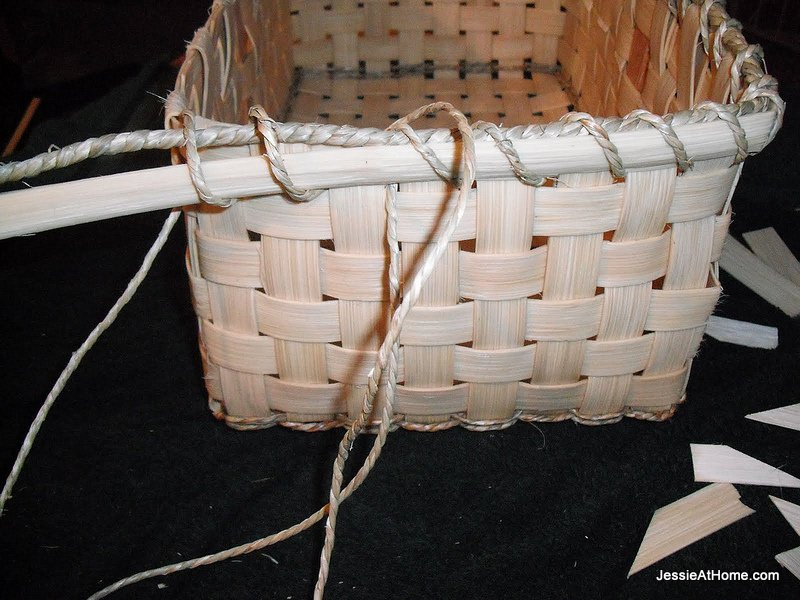 In hindsight, I wish I had used another piece of 1/2″ flat reed on the inside when I lashed the rim, to sandwich in all the folded verticals.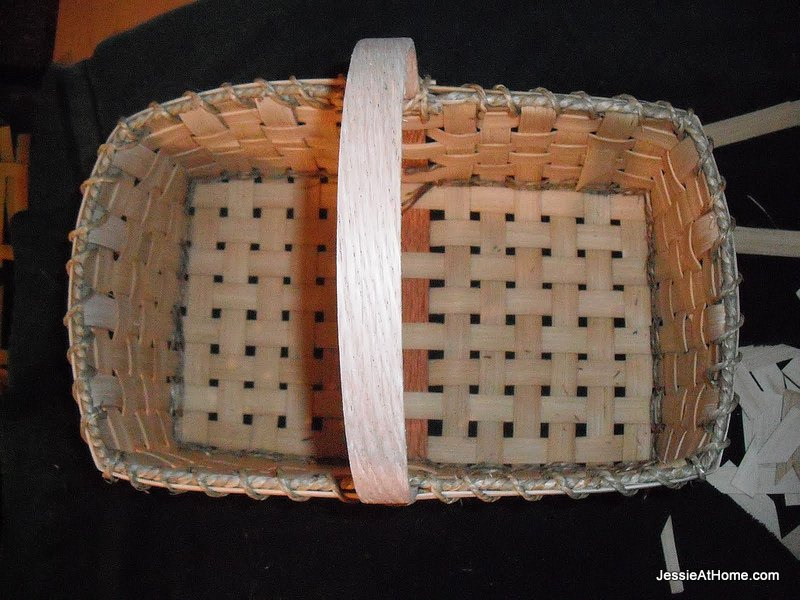 Here you have it, the finished basket.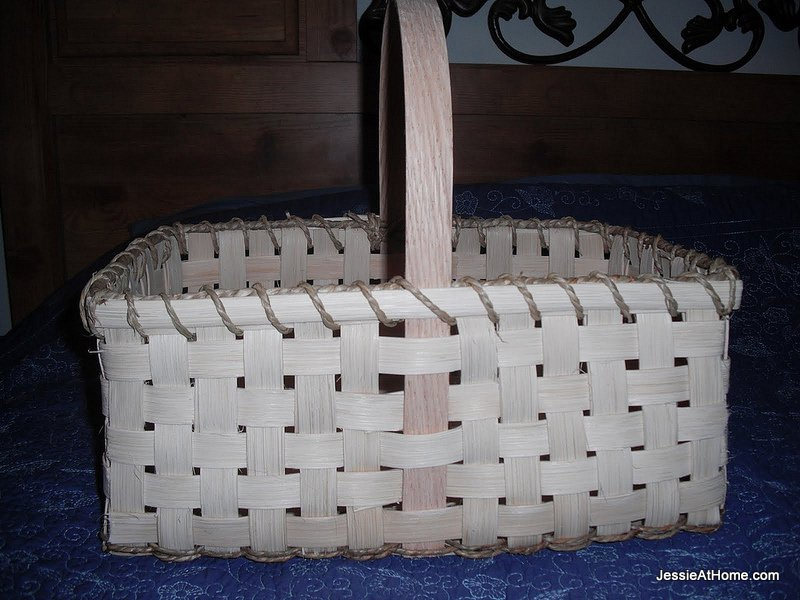 You can see a bit better here why I wish I had used another piece of 1/2″ flat on the inside under the lashing. Oh well, next time.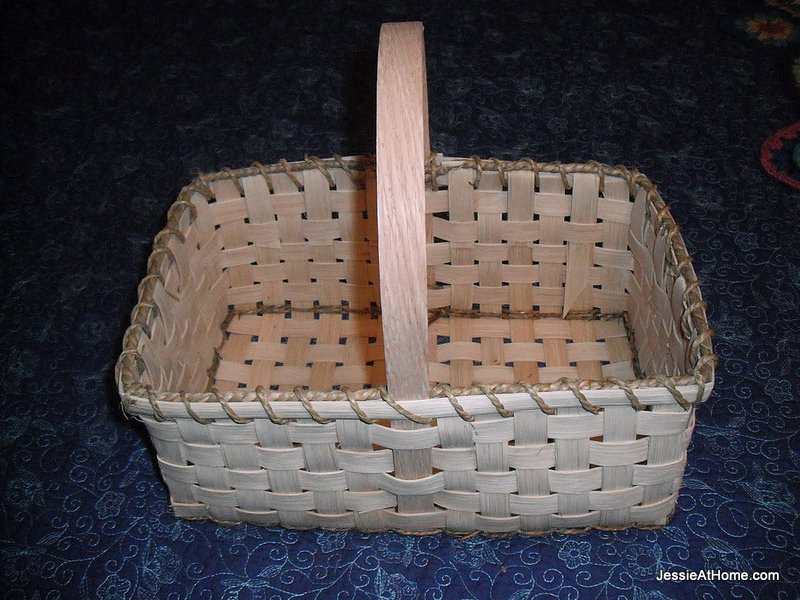 Now in a week and a half I get to teach a few friends how to do this. I hope they all have fun!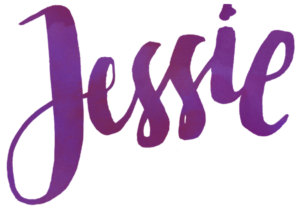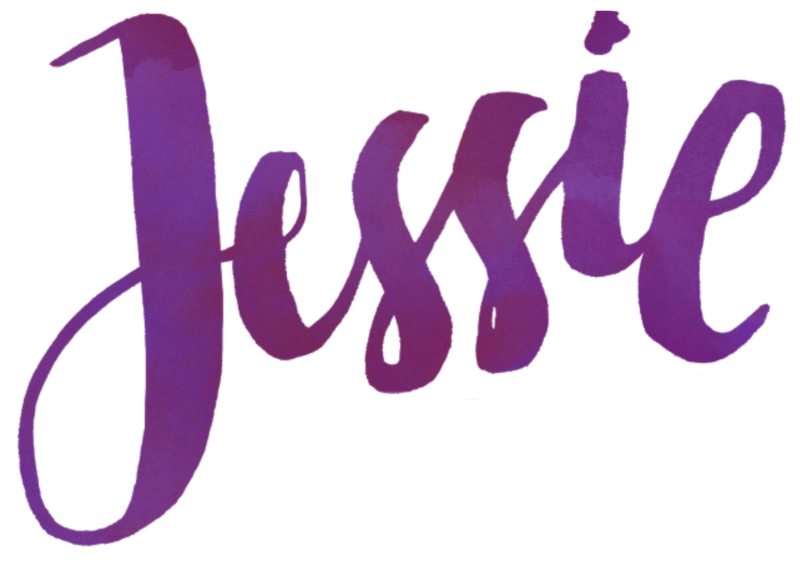 ©Copyright 2010 Jessie Rayot / Jessie At Home All my videos, patterns, charts, photos and posts are my own work. Do not copy them in any way. If you want to share this information with someone, share the link to this post. If you want to share on your own blog / website, then you may use the first photo in this post and link back to this post. You may not give away printed copies of this post. Thank you.
Want to get the latest posts from Jessie at Home delivered straight to your email?
Subscribe to the Jessie at Home newsletter! We'll send you the latest patterns and tutorials. We will never spam you, promise to never sell your email address, and you can unsubscribe at any time.