I finally cleaned my table and got to work on my first Cricut project; it was so much FUN!!
I laid everything out and patiently opened the "start here" packet.
Thankfully, you start by making a card. It was so fun to watch the Cricut draw and cut. My old one could draw OR cut, but not both without me changing from blade to pen!! This is the mat after I took off the first piece of my first project.
Isn't it nifty? It was mesmerizing to watch.
Then I folded the insert. I love the little creaser that came with my tools. (I know that it goes in the machine to make a score, but it works to crease as well)
There we go, a card!! It was so easy. I need to try more "make it now" projects. Then I can start making my own projects. Won't that be neat?!
The Cricut told me I could upload my old cartridges. So THAT's what that giant port on the left of the machine is for!
So I pulled out the Cricut 1.0 in it's pretty great rolly case.
Then I started pulling out the old cartridges and loading them into my Cricut design space. It was nice to know all the money I had spent was still going to use. I've made so many fun things with my old Cricut, I didn't want to say goodbye to the cartridges. I LOVE that they thought of that.
This week I'm going to try some more "Make it now" projects and watch some instructional videos. I'll be sure to share my favorites with you next week! If you are a Cricut owner and have any suggestions for me, PLEASE feel free to comment away. I LOVE learning from others.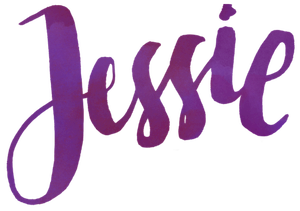 ©Copyright 2016 Jessie Rayot / Jessie At Home All my videos, patterns and posts are my own work. Do not copy them in any way. If you want to share this information with someone, share the link to this post. If you want to share on your own blog / website, then you may use the first photo in this post and link back to this post. You may not give away printed copies of this post. Thank you.
This post may contain affiliate links/ads. If you purchase something from a link in this post, I may be compensated.
Want to get the latest posts from Jessie at Home delivered straight to your email?
Subscribe to the Jessie at Home newsletter! We'll send you the latest patterns and tutorials. We will never spam you, promise to never sell your email address, and you can unsubscribe at any time.