Orange is such a wonderful fall color. It makes me think of changing leaves, pumpkins, and warm fires. Let's celebrate this autumnal color with a round up of 7 free crochet patterns in shades of orange!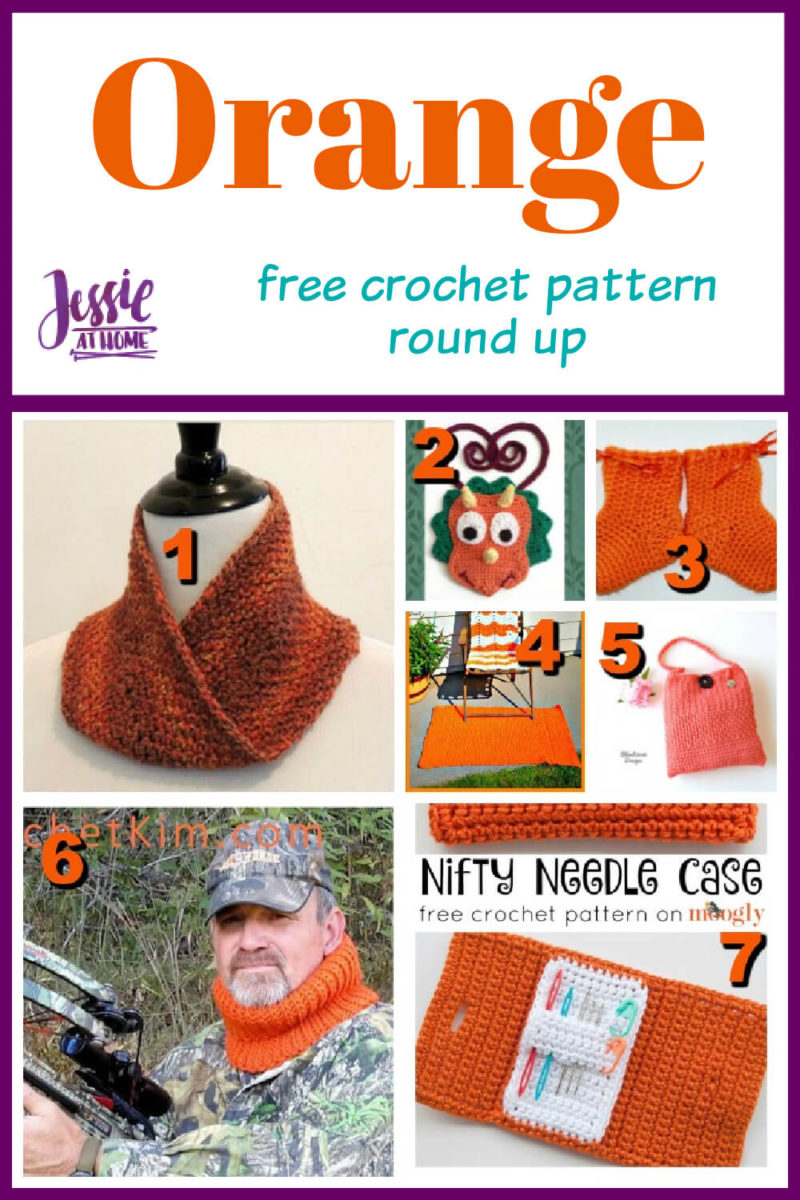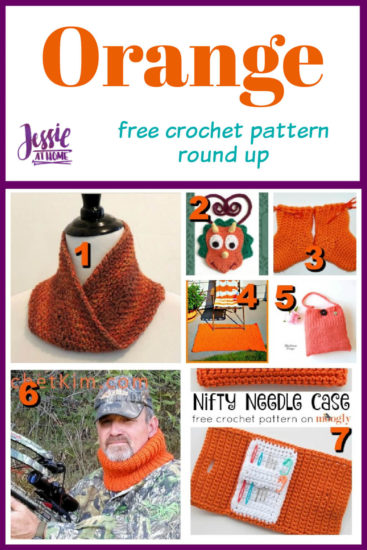 Here are the names and links of each pattern.
1) Linen Stitch Mobius Cowl by Jessie At Home
"This fashionable cowl works up quickly with just 1 ball of Willow Yarns Dappled. It is crocheted using the linen stitch in the round with a mobius join; this puts the starting chain through the center of the cowl, and makes each round add stitches to both the top and the bottom of the cowl."
2) Cera the Triceratops Bib by Stitches 'N' Scraps
"Meet Cera, the friendly triceratops bib, who is much more than just cute! With 3 soft layers of brightly colored, cotton / acrylic yarn, she's sure to add some fun to mealtimes, while helping to keep baby's clothes clean."
3) Little Baby Socks by Oombawka Designs
These cute little socks can be made in sizes 0-12 months and are sure to keep your favorite little one toasty warm.
4) Orange Squeeze Indoor/Outdoor Crochet Rug by Beatrice Ryan Designs
"Fun, easy to make and very versatile… This Orange Squeeze Indoor-Outdoor Rug is made using Bernat Maker Outdoor Yarn and the Moss Stitch."
5) Tunisian Sampler Bag by Blackstone Designs
"With this project, I wanted to make something beginner friendly, that would allow for several
repeats of each stitch, so I could practice. I figured a long strip could easily be
folded in half to make a purse, so that's what I decided on."
6) Hunter's Cowl Neck Gaiter by Crochet Kim
"Although I've designed this for my favorite outdoor hunters, it's really for anyone who wants to keep their neck warm and have the option of being able to pull it up over their mouth and nose without having to constantly adjust it like you would with a scarf."
7) Nifty Needle Case by Moogly
"The Nifty Needle Case keeps your yarn and tapestry needles in one place – that isn't the carpet! Easy enough for beginners, and handy for all, this free crochet pattern can even store a small pair of scissors – making it the perfect grab and go item for your crochet bag!"
To see more Round Ups from Jessie At Home, click HERE.
[signature]