Blanket edgings are a great way to make a piece of fleece into a keepsake blanket! With just 1 yard of fleece, a sewing machine, some yarn, and a crochet hook, and this blanket edging tutorial you can make this quick and easy baby blanket!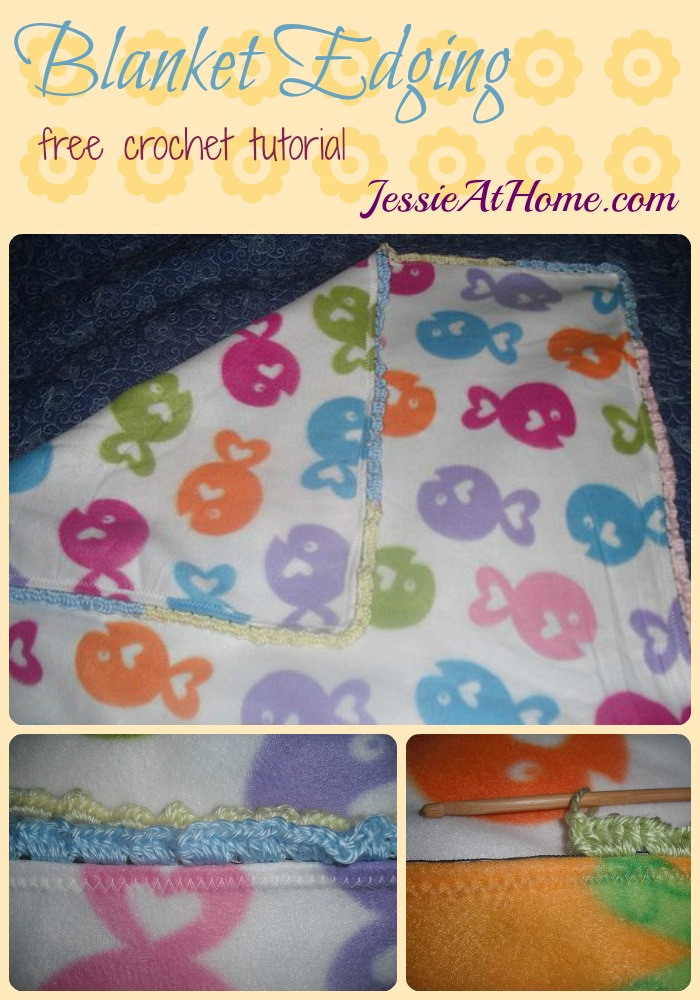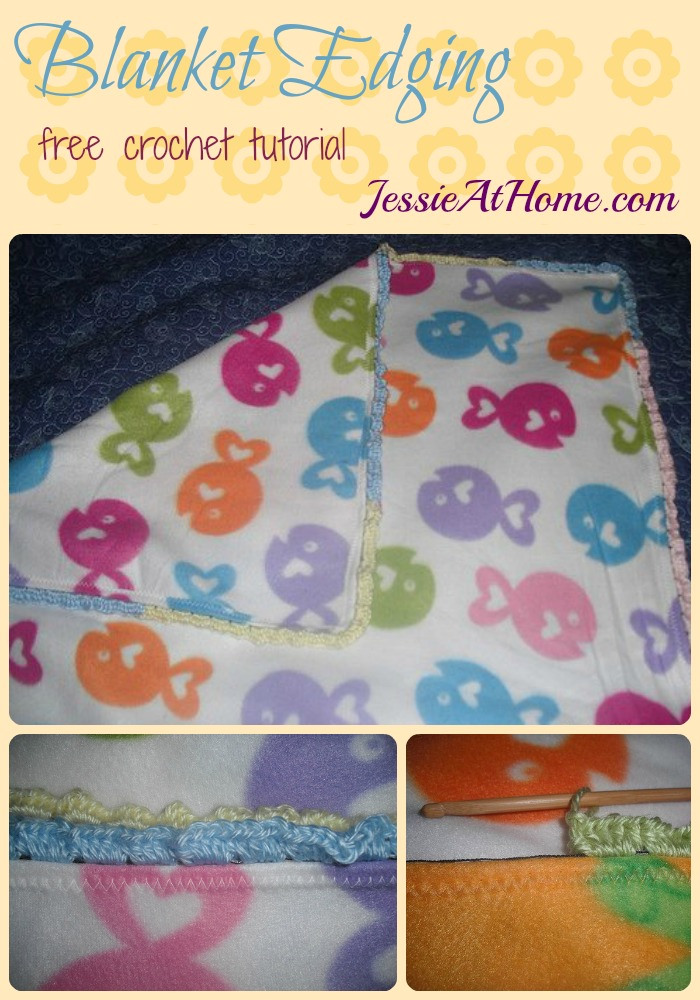 I wanted to be able to make as many safe birthing kits as possible for Craft Hope's Project #11, and I wanted to include the optional bag, blanket and stuffed toy. As usual, money is tight. As usual, I'm not letting that stop me. So off I drove over snow and ice to the fabric warehouse. Boy was I happy that Thor (my trailblazer) is equipped with 4wd when I got to that parking lot. So on went the 4wd and bumpity~bump went Thor and I singing loudly along with the classic rock station.
After much searching through the store, I walked up to the cutting table with $2 a yard bag fabric I was happy with and some $4 a yard flannel I was just OK with. I told the lovely ladies behind the table what I was doing, and they had an even better idea. It seems I missed the table of fleece tucked away in the corner for only $3 a yard!! I took a look and found some adorable prints. There was even a lightweight, yet still sturdy, fleece; which is of course great for the warm climate of Haiti. I walked out of the store with enough fabric for 8 kits, and only spent $20!
I thought I would give you a bit of a tutorial on the blankets I am creating by adding a blanket edging to the fabric.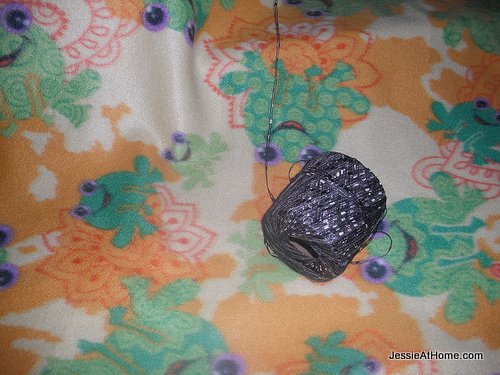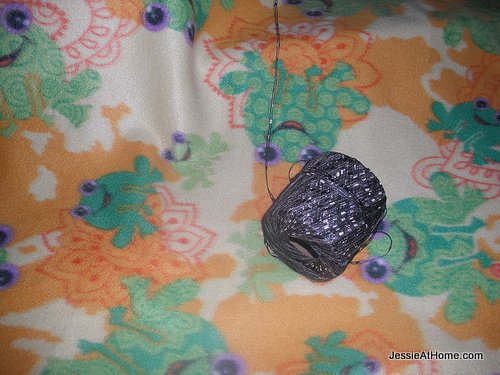 I started out with a 31″ square of fleece. I came about 31″ because the fleece was 62″ wide, so that meant I could get two 31″ squares out of each yard with enough left for a soft little toy. The yarn you see in the picture is a ladder yarn. You can also find it easily at craft or yarn shops.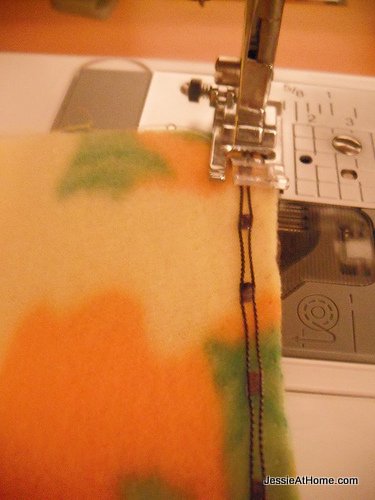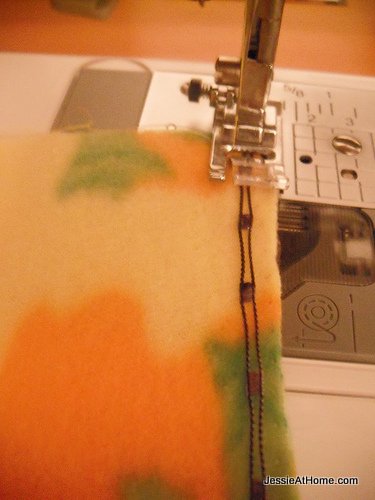 After cutting your fleece square, sew the yarn along the edge in at least 1/4″. Sew it on very carefully making sure to sew down the middle only catching the "rungs" of the ladder, not the sides. Do your best not to pull the fleece, as you don't want it to pucker. This is really much easier then I just made it sound. I promise!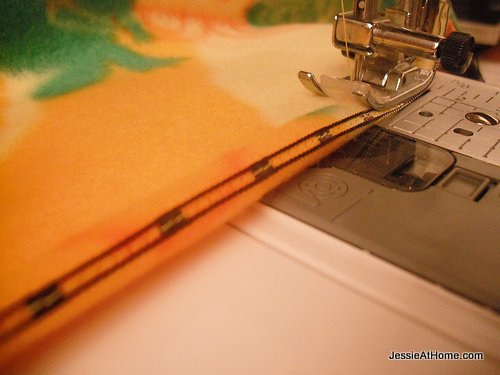 Now to hem your blanket. Fold the hem over so the yarn is right on the edge, use your stitching line as your fold line and it is super easy. All you do from here is just zig~zag over the edge you folded over. This seals the cut edge down quite nicely and still allows you fleece to stretch and return as it does naturally.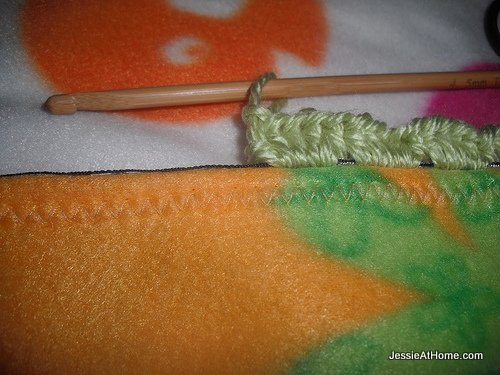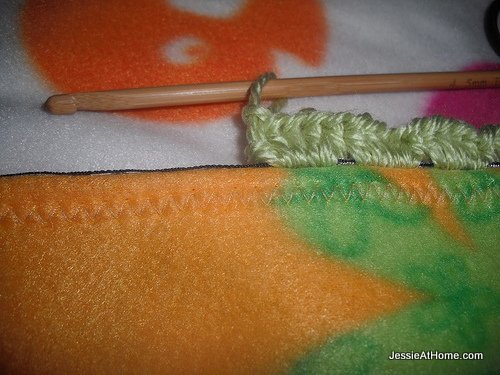 How about a pretty little edging? The one I chose is fast and simple and oh~so~cute~and~cuddly! You crochet into the yarn you stitched on the edge of the blanket. You remember how we only stitched over the rungs? Well that left the sides sticking up loose along the edge. You crochet through those sides, making sure to go under both sides every time for stability. I crocheted 5 half doubles (that would be 5 doubles for our English friends across the pond) between each rung. I used a soft baby yarn, and a hook one size bigger then recommended to make sure the stitches were very loose. I find this makes it even softer. You may want to make more or less stitches, depending on your ladder yarn, baby yarn, and tension. I choose 5 because it was a bit more then fit flat, therefor creating a slight ruffle, as you see below.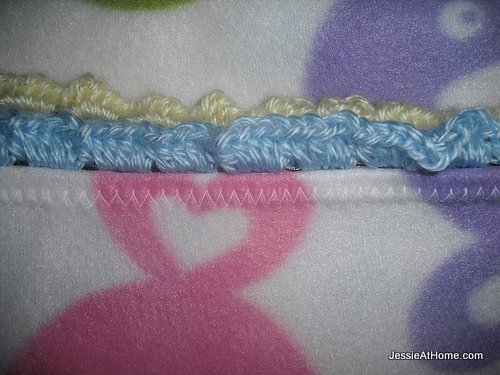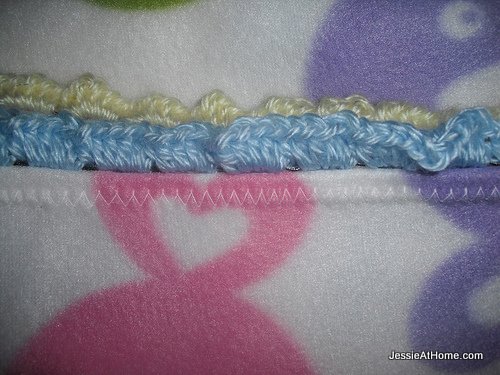 Four was too flat for my liking, and 6 was too ruffly so 5 it was. You choose what makes you happy. I happened to have a few colors of Softee Baby yarn left over from another creation, so I switched colors every foot or so, creating a pretty variegated look. You could go solid, or just buy a variegated yarn; but as I said, this is what I already had on hand.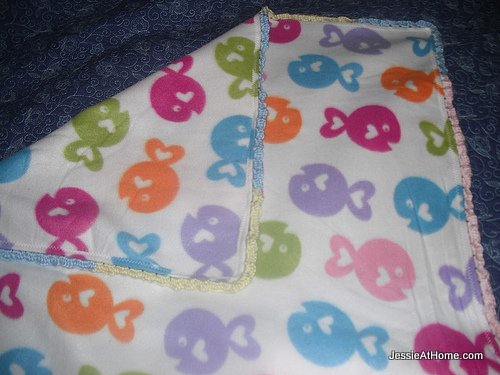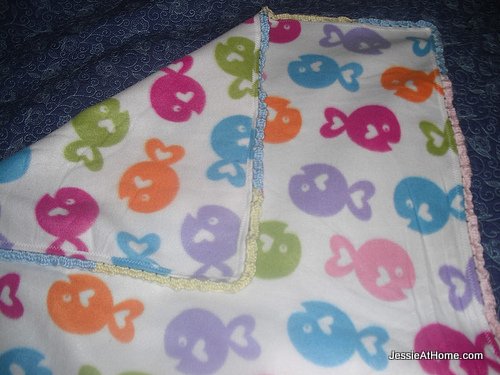 I have quite a few other things on my plate as a mommy and wife, so I wanted something quick for the stuffed toy. A quick internet search lead me to this wonderful FREE pattern! I am a big fan of elephants. Many cultures view them as symbols of luck and/or prosperity. I also view them as symbols of family, and I just think they are so very beautiful and majestic. I cut the back of each from a piece of unbelievably soft terry/fleece I had just been gifted from a kind and lovely friend who is attempting to clean out her stash. The fronts were cut from the blanket fabrics, so the toy matched the blanket. The ears were from some solid yellow fleece, and the hearts were cut from a heart~print fleece, both from the same friend's stash~busting. The cuties in this picture are not done yet, but I wanted to get this tutorial up now so others who need an idea for project 11 can use it right away. I stitched them together in 1/4″ leaving a bit open to stuff. If you look at the bottom fellow, you can see I started a blanket stitch around the stuffed elephant with the same baby yarn as used on the blanket. I will also stitch and eye on, most likely one of these guys ==> * <==.
I haven't made the bags yet, but I did start the first one, so here is a snap of that for your curiosity.
The girls and I have to go shopping tomorrow, so I will get the rest of the supplies for the kits at that time. Once everything is done I will update this post with a few more snaps at the end.
If you enjoy this free crochet pattern, please consider buying some of your supplies from one of these affiliate links. Thank you.
[signature]