Look, we have a new family photo!! Maybe I'll actually send Holiday cards this year. 🙂
Would you like the story?
We live in a school district that has a February break. That means the girls have Presidents day and the entire week following off. Doug only had Monday and Tuesday off. I had told the girls that I still had to work, but I promised we would have a special High Tea Party Day on Wednesday.
Well, not long after that, I found out that Liberty Science Center was having a Star Wars weekend for Presidents Day weekend (Sat-Mon). I told Doug about it, and we thought about going on Monday. On Sunday night we talked about it again. I said something like this:
"I already have to take all day Wednesday off because I can't break my promise to the girls, but I can't afford to take 2 days off. I want you and the girls to go, but then I'll be jealous. I won't get anything done because I'll be sad that you went without me. You and the girls will love this. I will love this. &*($ it!! What's the point of working as hard as we do if we can't do things like this. We're all going and we're going to have a blast, and the girls and I are having an awesome girls day on Wednesday!"
Doug, being used to my brand of crazy, said: "OK" and checked on the price and hours.
Off we went the next (very cold, yes that says 18° out) morning. At least my bottom was warm, Doug's new-to-us car has heated seats! On the right you can see the Freedom Tower. It's sad and beautiful and amazing all at once.
We all wore Star Wars attire, as it was fun and it got us each $5 off. There was quite a line, but there was a lot of fun happening while we waited. We got chased by a cute little BB8, and some odd little robot dude with a phone. The girls made new friends in line.
Doug stayed in line the whole time, but the girls and I popped out to see the first floor exhibit which they had open to everyone so that families could just leave one person in line and keep the kids entertained. Smart. Major points for that. The first floor exhibit was on skyscrapers. The girls both built their own. That mangled metal on the leftt is a beam from one of the Twin Towers. 15 years later, and my heart still jumps when I see these.
Once we had our tickets, we went off to send the girls through the Jedi Academy. It was basically a fun little area of make-and-takes and experiments that pertained to Star Wars. The girls "floated" on a teeter totter. I didn't get a photo because I was too busy trying to help them balance their weight.
The line for the main attraction was way to long, but it was open until 6 and the Jedi Academy closed at 2, so we figured the other line would die down later when people left early. So we went up to the 3rd floor. The girls got to climb through this giant leafy-plant-structure-thing-a-ma-bob. It was hanging over the 2nd floor, so they were floating again. Next time we need to go when it's not so busy so Doug and I can play in that thing as well!
Of course, we had to see the monkeys, and then the girls had to be monkeys too!
Throughout the day we ran into photo ops. Darth and Kylo were not part of the event, they were just event goers in costume, but the rest were people hired for the day for photo ops. Vada really has her Jedi pose down!
The girls needed to show off their monkey prowess, so we let them climb the revolving wall. Vada was very brave and tried the rock section. Seriously, don't mess with that girl, she may be tiny, but she is mighty. Kyla is going to bring peace and love into the world, and Vada is going to enforce it. 🙂
Eventually the line for the main event died down a bit and we finally got our photo op with R2D2. As much as I love the family pic, this one is just about the most awesome thing I have ever seen in my life. No amount of money I could have made staying home and working would have been worth missing this.
Eventually it was time to go home. I worked hard on Tuesday, and on Wednesday we had our High Tea girls day. We had lemon cucumber water, lemon and ginger tea, yummy berry tea, cucumber and dill sandwiches with no crusts, tuna sandwiches, and veggies with hummus. The girls wanted to watch Psych all day, and thanks to Netflix, we did. They love trying to find the pineapple in every episode. We had it on in the background all day as we colored, played Parcheesi, and cuddled.
We also had an afternoon snack of angel food cake with berries and whip cream, and for dessert we had ice cream sundaes. Dinner was more of the high tea food and some chicken nuggets (at the girls' request). It was a wonderful day!
There you have it, our fun little February break. I wouldn't trade those 2 days for any amount of work I could have gotten done. I'm glad I spent time with my family.
Here are some fun Star Wars items from Amazon you might like. By purchasing something after you click one of these affiliate links, you're showing some love for Jessie At Home and making adventures like this possible. Thank you.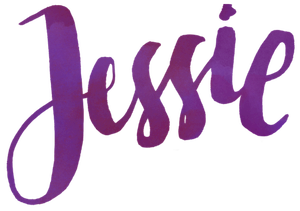 ©Copyright 2016 Jessie Rayot / Jessie At Home All my videos, patterns and posts are my own work. Do not copy them in any way. If you want to share this information with someone, share the link to this post. If you want to share on your own blog / website, then you may use the first photo in this post and link back to this post. You may not give away printed copies of this post. Thank you.
This post may contain affiliate links/ads. If you purchase something from a link in this post, I may be compensated.