I have a few things to share with you this weekend. The big news is that with the cold weather here, there are more and more days when I can not work in my basement work room; it's just too cold down there. So…I have fixed up my little area in the living room where I will have to work on the days when it is too cold to work in the basement. I'll share more about that in a moment, but first, here are some other fun snaps for you!
When we went to the Lego store over the winter break, we bought the girls a tub o' Legos. They have been creating awesomeness. Here is Vada's racecar.
I have been creating awesomeness as well. Just with yarn instead of Legos.
OK, maybe a little bit with Legos.
Here are some of the pretty yarnie goodies I have been working on.
I have a knit pattern I have been working on for a couple months now that is almost ready to share. It is really nifty! I really am quite happy with it. There is a little bit of optional finishing at the end that is crocheted on, but it is just optional, so don't fret if you are a knitter and have an aversion to a crochet hook! However, I happen to think that knit and crochet make great friends!
Yesterday was rather chilly when I picked up the littles from school. So we had hot cocoa in fun mugs!! I really need to remember to get that tea pot lid replaced. It's Lenox, so that should not be a problem…
OK, like I said, my work area in the basement gets a little too cold in the winter. Some days it is OK, but on the really cold days, it is just not useable for the whole 6 hours the girls are in school. There are no radiators down there. The boiler is there, so that heats it up enough to make it OK for short amounts of time. I can still go down there for an hour or so to make a video, block a project, wind yarn, or whatever else really needs to be done there because that is where all my goodies are. However, for the bulk of the day, I really need to be a bit warmer.
So, that means I have to work on the first floor. I have a corner in the living room that is basically mine. I do work there after school, when the girls are home, and in the evenings. When Doug is home in the evenings, he likes to watch TV. I can't watch TV without doing something else, so I usually knit or crochet. This is the corner as it was this morning. The loveseat came with the house. I have no idea how old it is, but it is short (even for me) and it has seen better days. My work tables are a TV tray and an old TV table from IKEA. I think the table is about 14 or 15 years old.
Last week I ordered a new table from Amazon. It arrived yesterday. The loveseat was just too short to work with the table. So this morning we all piled into Thor and went on an adventure. First we stopped at Tick Tock Diner for brunch, then we went off to Bob's to find a new loveseat for my corner. I looked all around the main floor for the perfect seat, while Doug and the girls feed the giant fish in the pond at the front of the store. I was having serious Goldielocks issues!! I got Doug and the girls and we decided to check The Pit (the part of the store where they have the damaged items and the old floor models at a discount). Sure enough, I found the loveseat that was "just right"!!
So, we paid for it, Doug dropped us at home, and then he went back to pick it up. It wasn't going to fit into Thor without folding down the back seats, and we kind of needed those for the girls. While he was picking up my new seat, I cleaned the my corner.
Everything fit so perfectly!! Look at that pretty loveseat. There is no damage to it, it was just a floor model they didn't need anymore. The back cushions are sewn on. I have issues with back cushions that are not attached. They never seem to stay put!
Look at what my table does!! Isn't that nifty? It was really affordable too. You can get one of your own from Amazon. The shipping is free, and the only assembly required is attaching the legs. All the bits and pieces you need to attach the legs are included, even the allen wrench. It was super simple to put together, and it is nice and sturdy.
I am very happy. When I am working on my computer I can lift the table to save my back, and the rest of the time I can have it closed. All my bits and baubles and WiPs can be stored inside, so things stay neat. And the whole little corner makeover cost us less than $400. Happy me!!
When we were at brunch the girls fell in love with some of the desserts, so we brought a couple home for an afternoon snack. Vada got a mouse mousse cake.
Kyla got a Minion cupcake. It got a little smushed in transit, but she was still happy.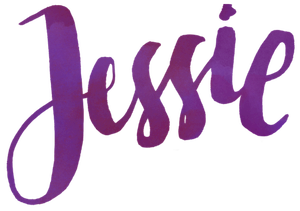 ©Copyright 2015 Jessie Rayot / Jessie At Home All my videos, patterns and posts are my own work. Do not copy them in any way. If you want to share this information with someone, share the link to this post. If you want to share on your own blog / website, then you may use the first photo in this post and link back to this post. You may not give away printed copies of this post. Thank you.
This post may contain affiliate links/ads. If you purchase something from a link in this post, I may be compensated.