After seeing some Skittles paintings on the internet, Vada wanted to give it a go in a more creative way then just painting with the Skittles colored water. All the tutorials we found had the Skittles in a bowl of water, and then you used the colored water as paint, but we wanted to try actually using the Skittles on the paper.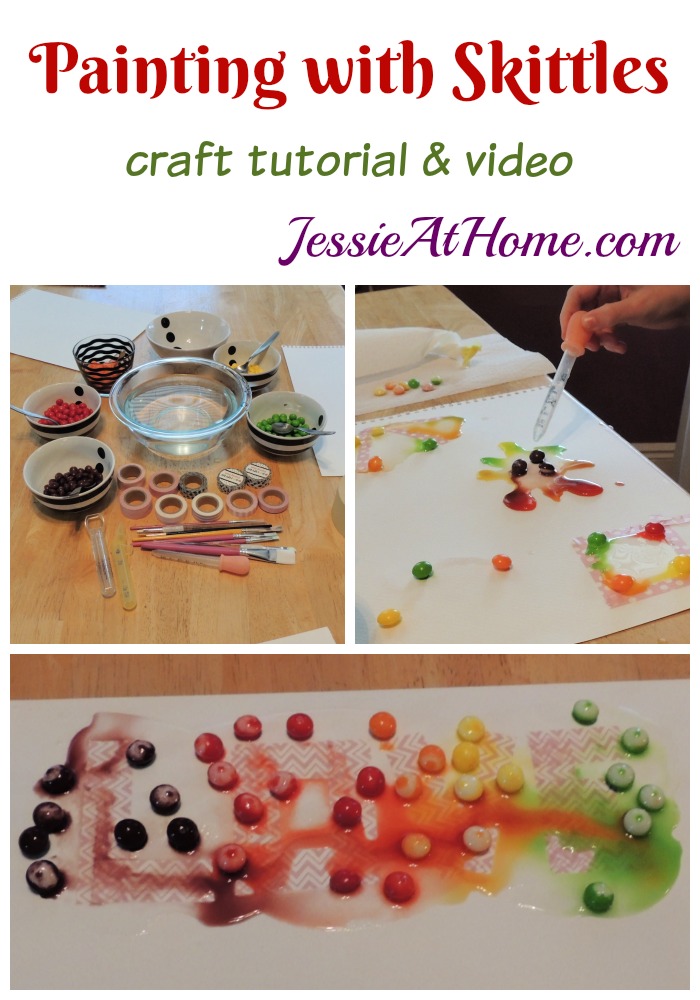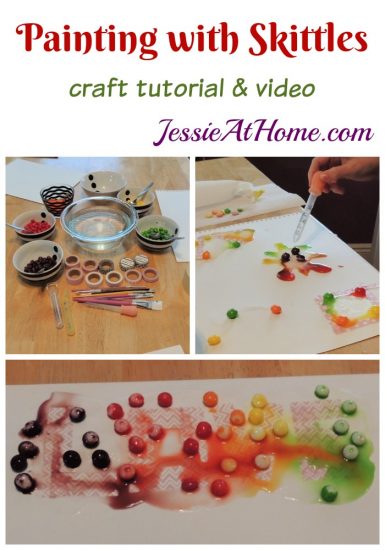 We started off by collecting supplies. All the Skittles were separated by color in bowls with spoons to help us keep wet hands from making them sticky. I found some watercolor paper in my art supply stash – it really is a good idea to use watercolor paper as the paper will get very wet and regular paper or even card stock will most likely not stand up to it.
We also grabbed various paint brushes, spoons, water droppers, masking tape, and washi tape (this was used as a stand-in for thinner masking tape, either will work). Oh, and lots of paper towels.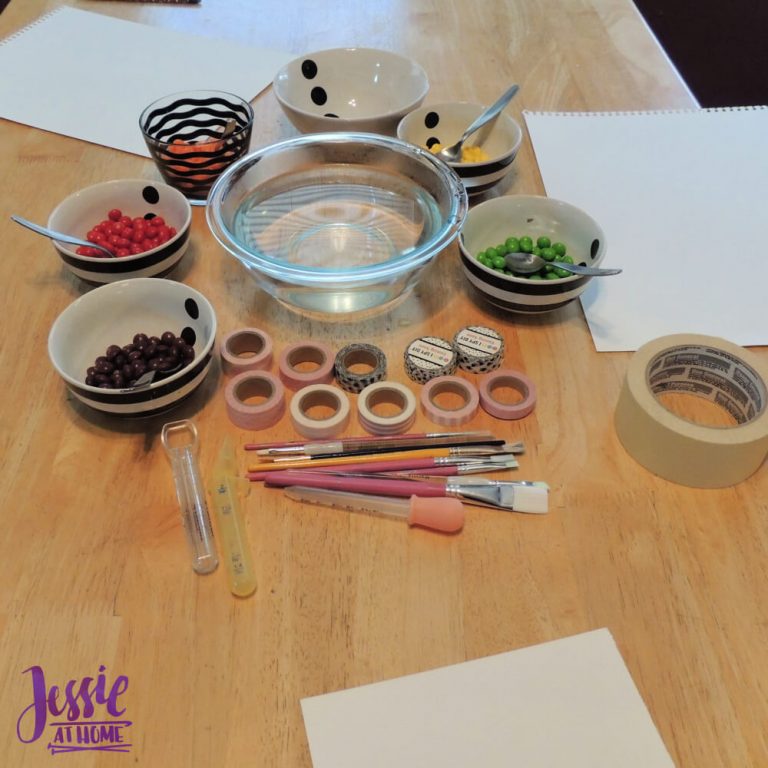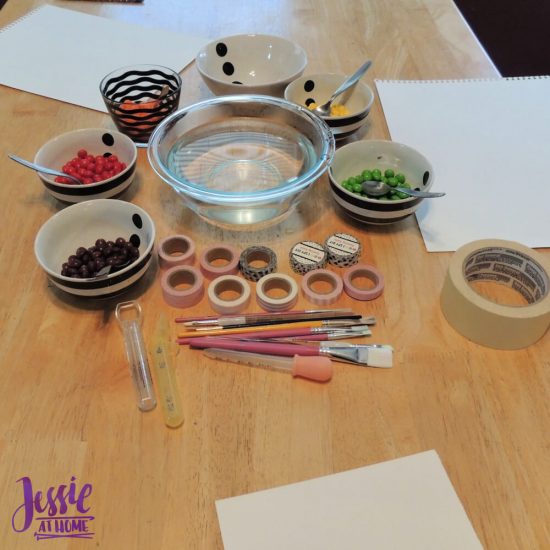 Next we stared experimenting. We each made a test page. We found that if we first painted a shape with water on a brush, we could then place Skittles on the paper and drop more water on top of the Skittles to help the color spread. The watercolor paper held the water in just the area we had wet, so we were able to control the shapes. If the paper is tilted or too much water is used then it will run.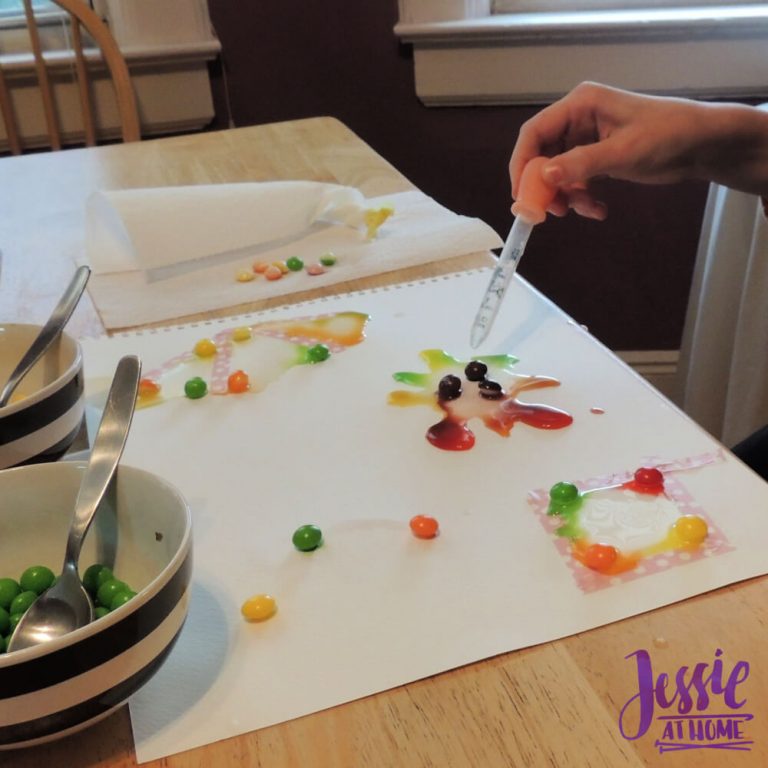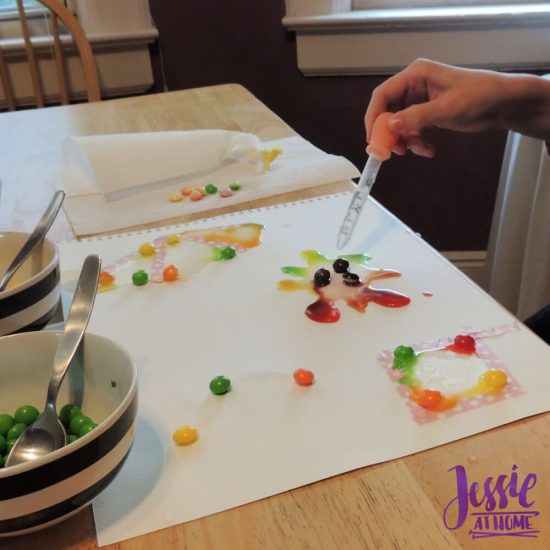 Sometimes we used too much water or didn't like the color we had. We twisted up a paper towel and used that to suck up the extra water. This also worked as a pretty good way to "erase" a mistake.
I also found that it pulls everything towards the paper towel, so if you want a certain color to go a certain way, you can use the paper towel to attract it.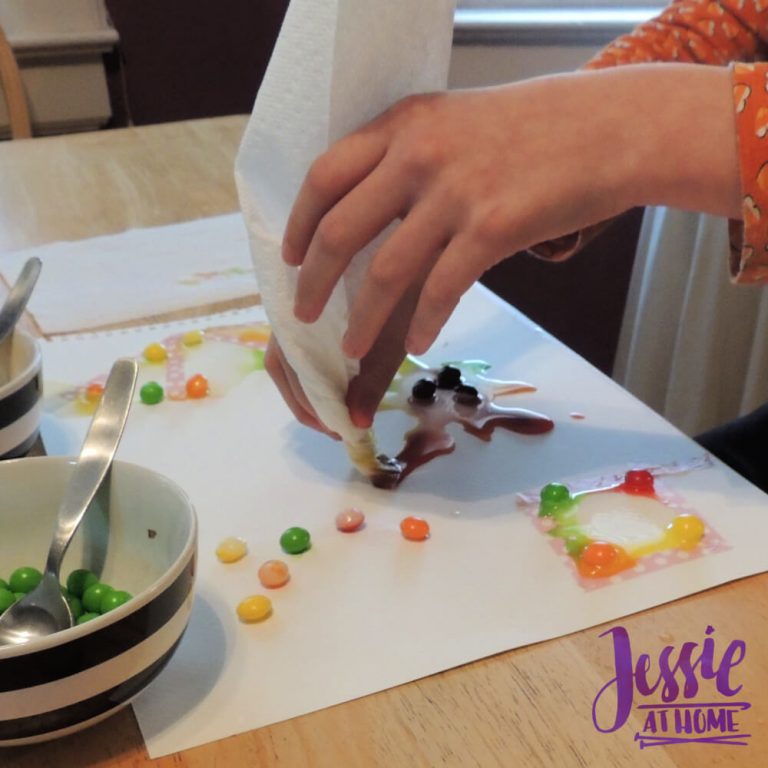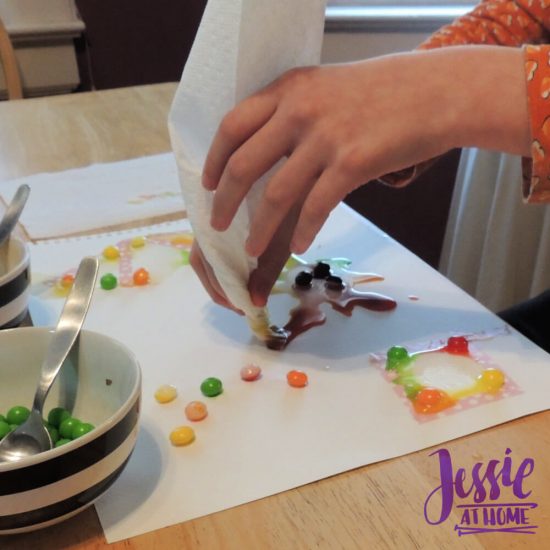 Another fun trick we used was making shapes with masking tape. We taped out the shape we wanted and painted within it. In the photo above you can see the square with water in it and Skittles in the corner. The color was moved around a bit with a paint brush and once it dried the masking tape was removed.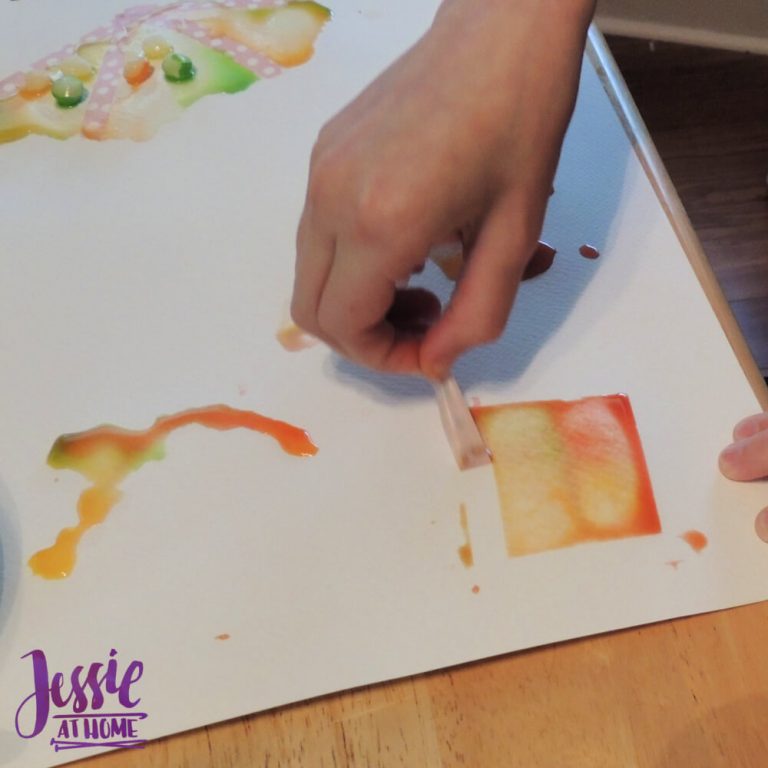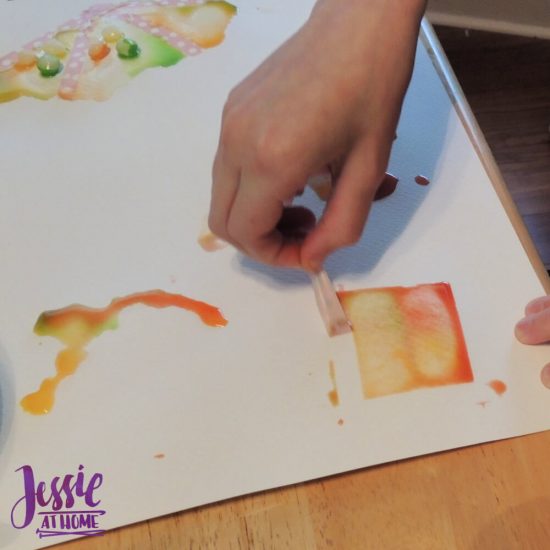 Here is another tester page. You can see the star taped out with different color Skittles leaking into each point. The swirl on the right of the paper was painted with water and the Skittle was then put on one end. The color slowly pulled into the swirl.
The bottom left test was a puddle with Skittle placed in it, and then a brush was used to pull out the points.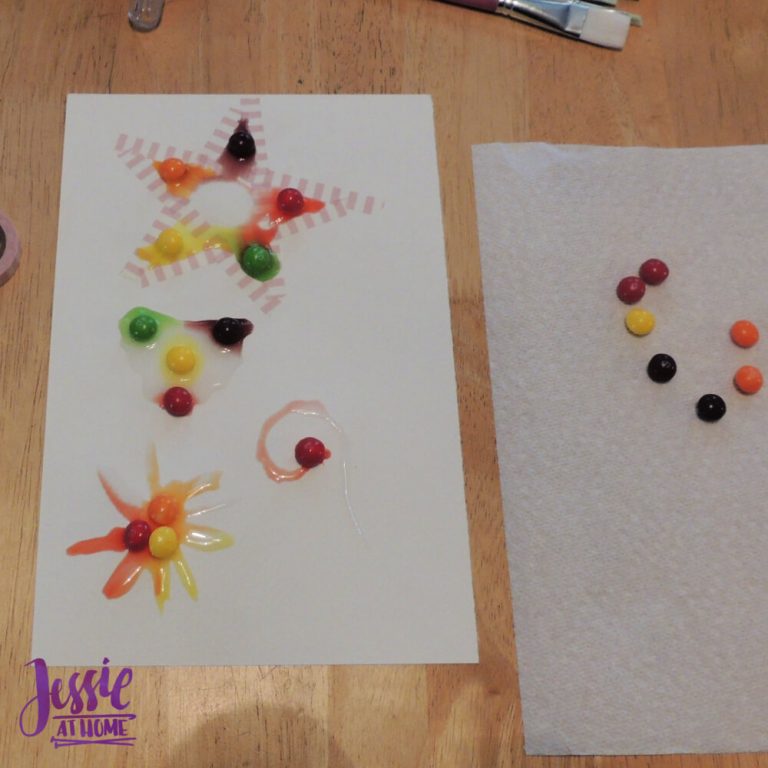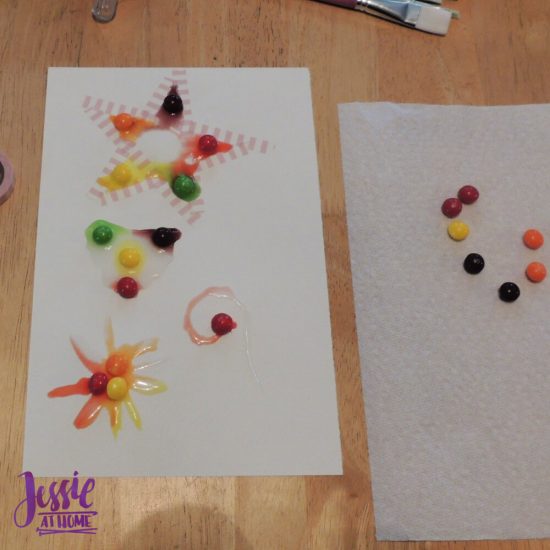 Once we played for a bit, we started our masterpieces! Vada taped out her name so that she could paint around it and then remove the tape when it was dry. She basically wet the whole page after it was taped out and made sections of different colors.
Next she added red Skittles on the letters and dropped water on top of them to make the color radiate out from the letters.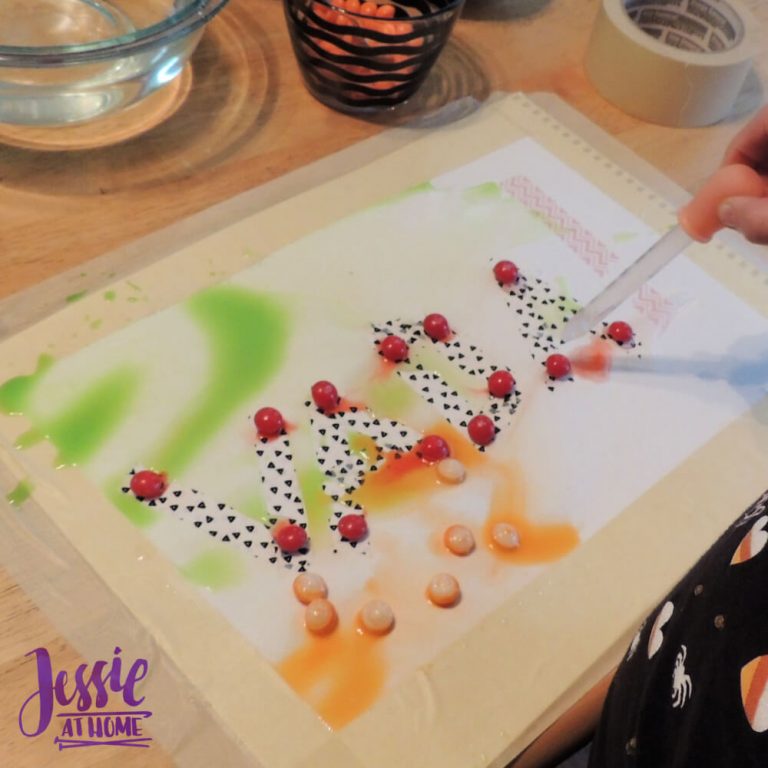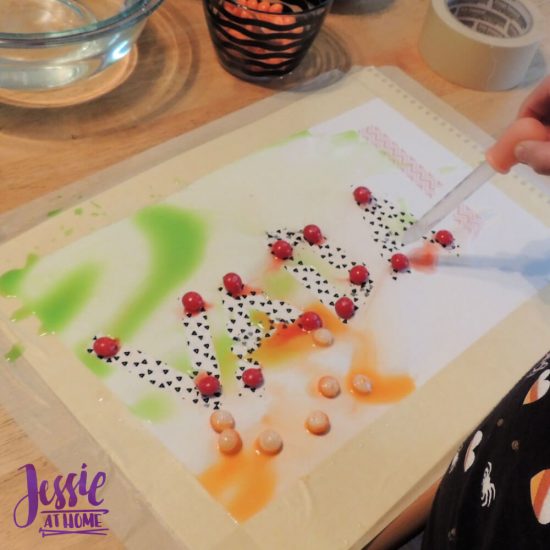 Vada made a few layers of colors, and in the end came up with a really neat painting.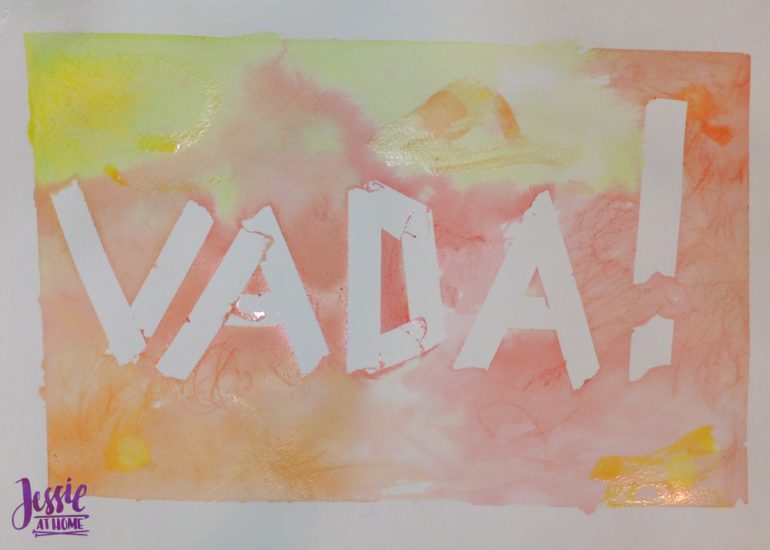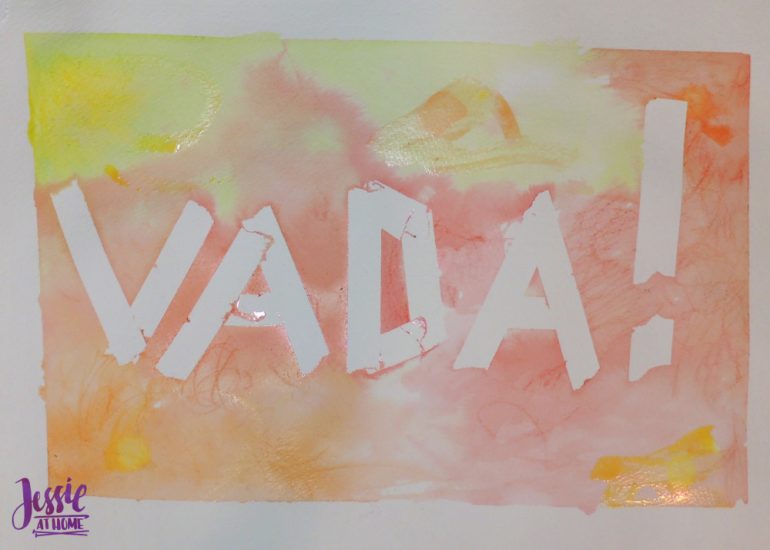 Kyla made a magic wand. She used tape in various widths to make the wand with a burst coming off the end. She then painted water over the wand and added Skittles to it to get the colors she wanted.
Kyla made swirls with a wet paint brush and then placed Skittles on them to color them.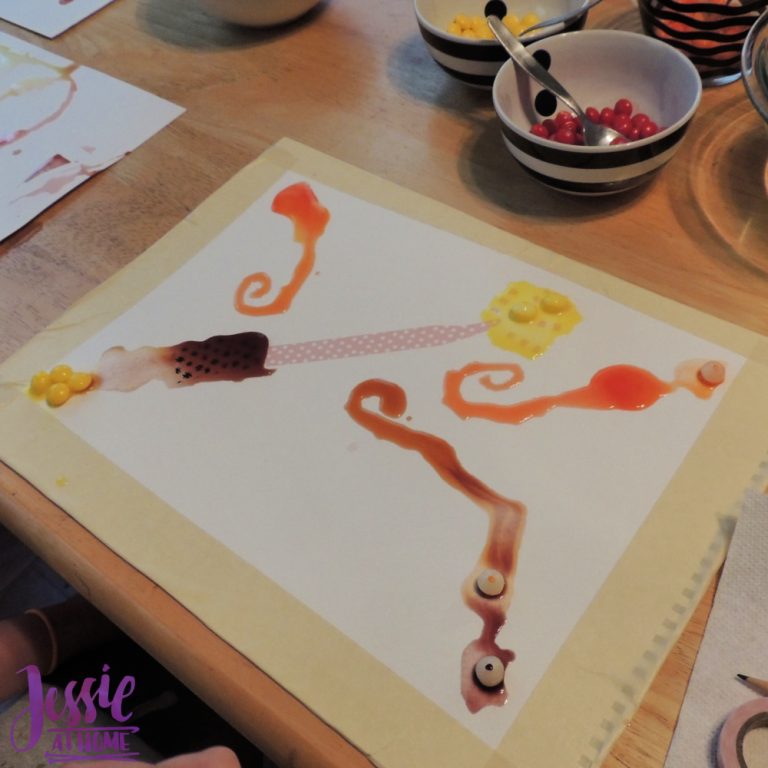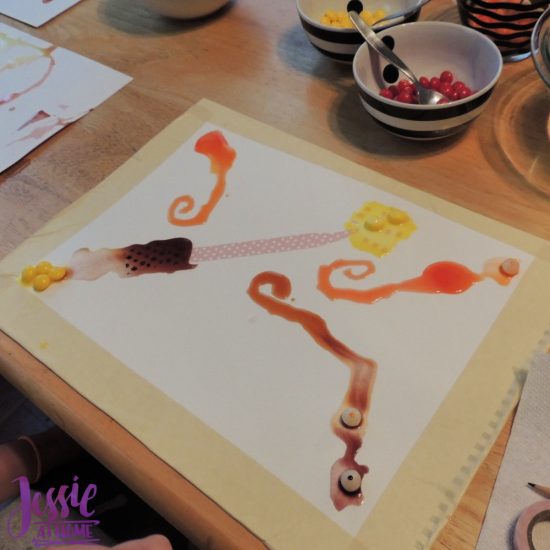 Kyla's finished painting is a really cool wand with swirls. It's very Kyla!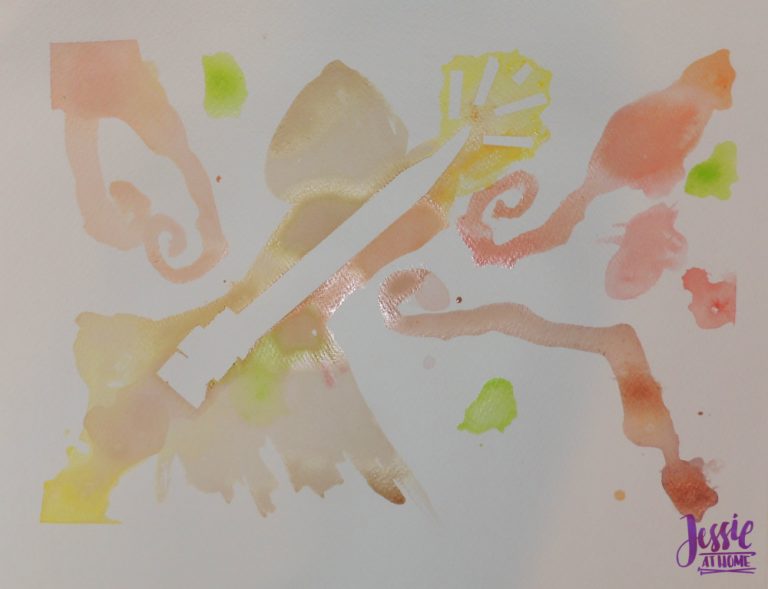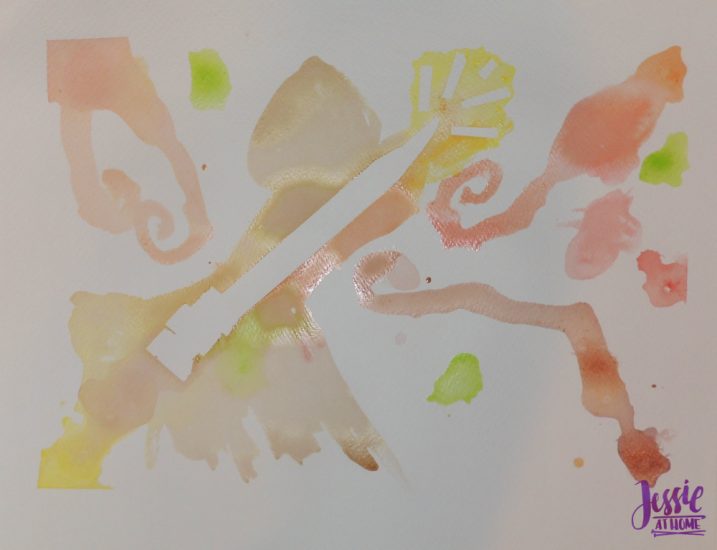 I wasn't really sure what to do. I started by taping out the word "love" and painting over the whole thing with lots of water. I then laid out the Skittles in color order and let them seep out.
I flipped the Skittles over to let the other side release its color and added some more water. After removing the Skittles there was some paper towel water removal needed.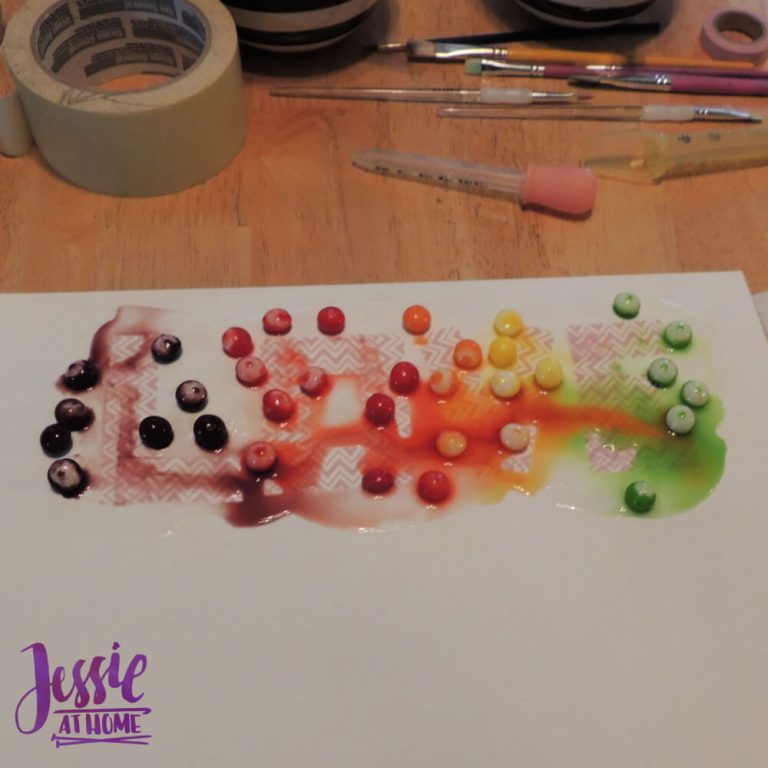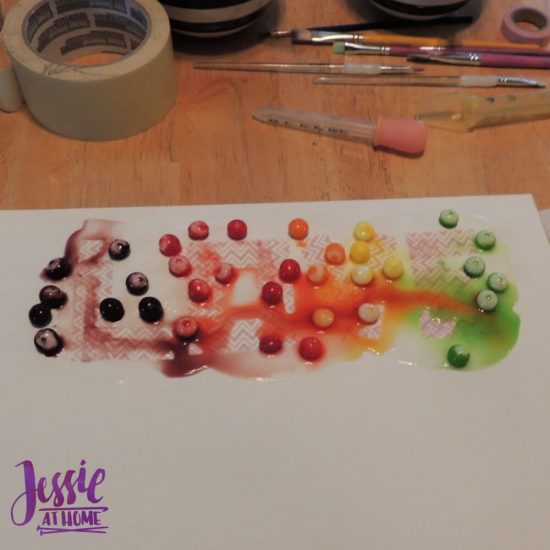 Next I made another word below. This time I used a thick, flat brush to paint out a letter. I placed several Skittles of the same color on the letter and carefully dropped water on them so that the water didn't spread out of the painted area.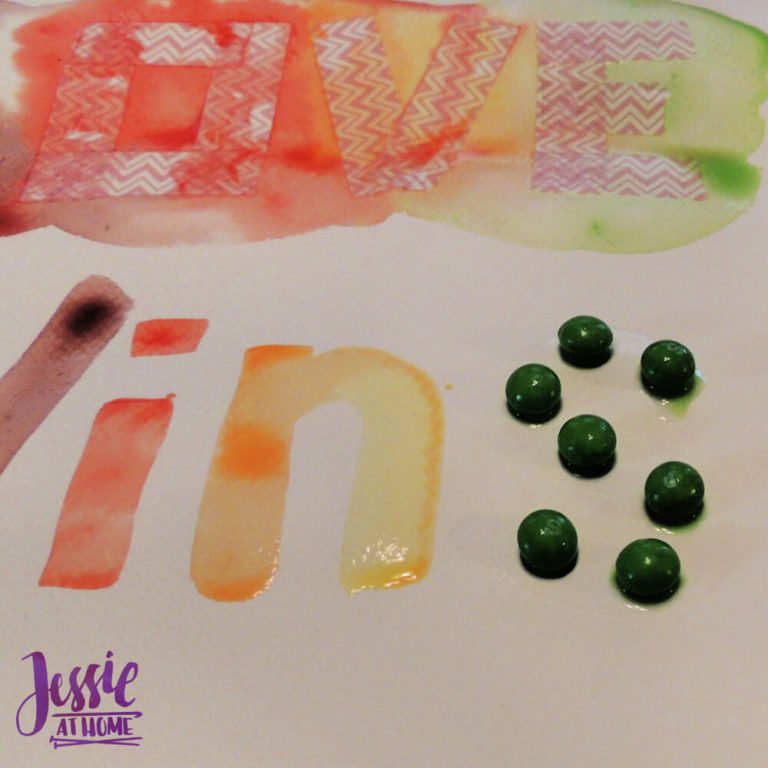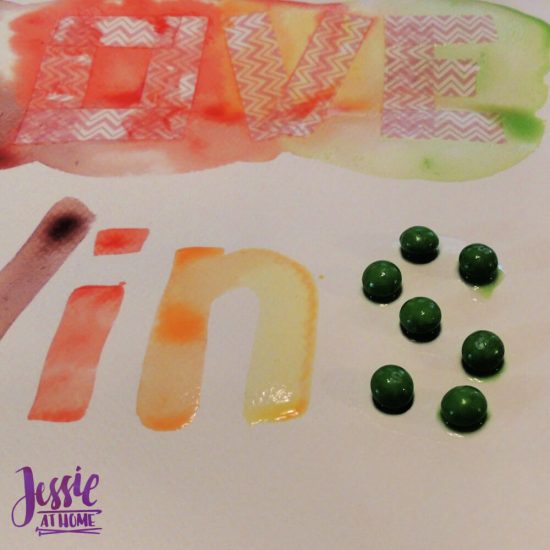 I made a few little drops of water and placed one Skittle in each drop to makes dots. I was quite pleased with the finished painting.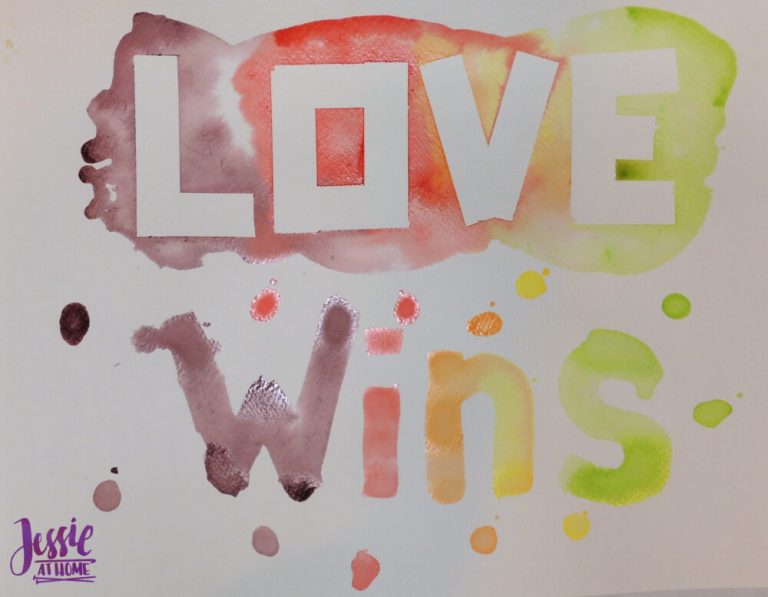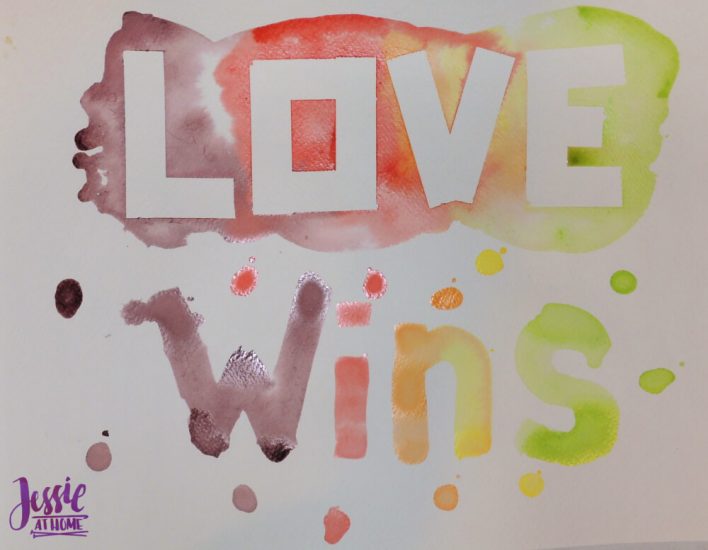 We had so much fun making these painting. Really, run on out to grab some watercolor paper and a big 'ol bag of Skittles! This is a great way to spend some quality family time over the winter break.
The girls and I made a little video to help out as well. They are so excited to share it with you!
We hope you enjoyed our paintings and that you have tons of fun making your own.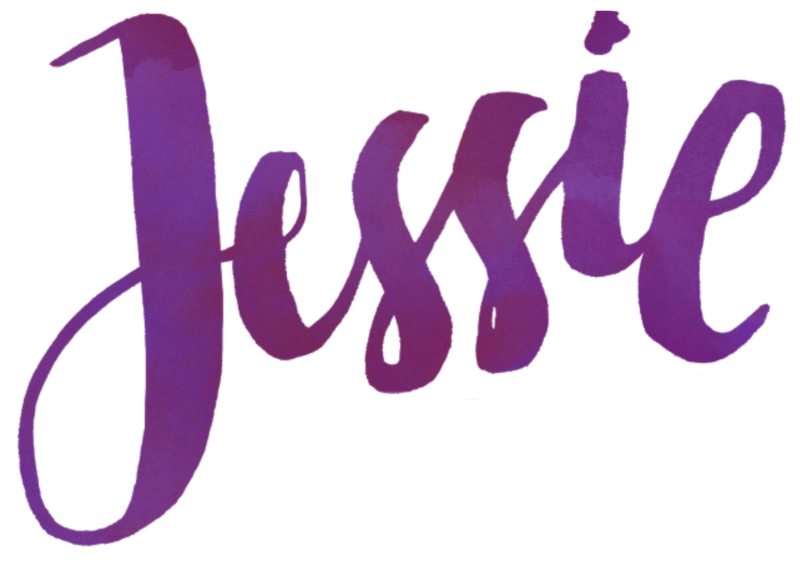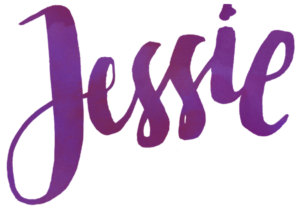 ©Copyright 2018 Jessie Rayot / Jessie At Home All my videos, patterns, charts, photos and posts are my own work. Do not copy them in any way. If you want to share this information with someone, share the link to this post. If you want to share on your own blog / website, then you may use the first photo in this post and link back to this post. You may not give away printed copies of this post. Thank you.
If you liked this post, try one of these: