Today I am thankful for Doug's Grandmother, Gertrude ~ Gertie to her friends.
The first time I met Doug's family was for his Grandfather's 89th birthday. Doug was very close to his grandfather, and he said he didn't think his grandfather was going to be around for 90, so he wanted me to meet him. We had only been dating for about a month, and I met the whole family all at once. It was a little scary, but I had a nice time, and I really liked both his grandparents.
Doug was right, his grandfather didn't see 90. Gertie came to most of the family functions with her son, Tom. I remember the first Easter I spent with them. Doug and I had been dating for almost a year at that point. Someone mentioned peeps, and I said the only thing they were good for was blowing up in the microwave. This intrigued Gertie. I told her that they expand in the microwave, and if you are careful you can stop the microwave before they explode and make a giant peep. This REALLY intrigued her. Alyson (Doug's sister) and I went to the Wawa (like 7-11) and bought some peeps.
That was the year I taught Doug's Grandmom how to inflate peeps in the microwave.
The years have gone on, and, as you know, Doug and I married, had kids, bought a house, and have built a nice life together. Gertie has been a part of all of that. I'm so glad the girls got to know her.
Last week Gertie passed on at 99 years of age. She had a long and wonderful life. She was a kind, loving, generous woman, and has left the world a better place than she found it. I am so very, very thankful that I have been blessed enough to be part of her family.
Here are some of my favorite memories of Gertie that I have shared with you over the years.
Thanksgiving 2009 ~ Kyla having a chat with Great~Grandmom
Christmas 2012 ~ 3 generations!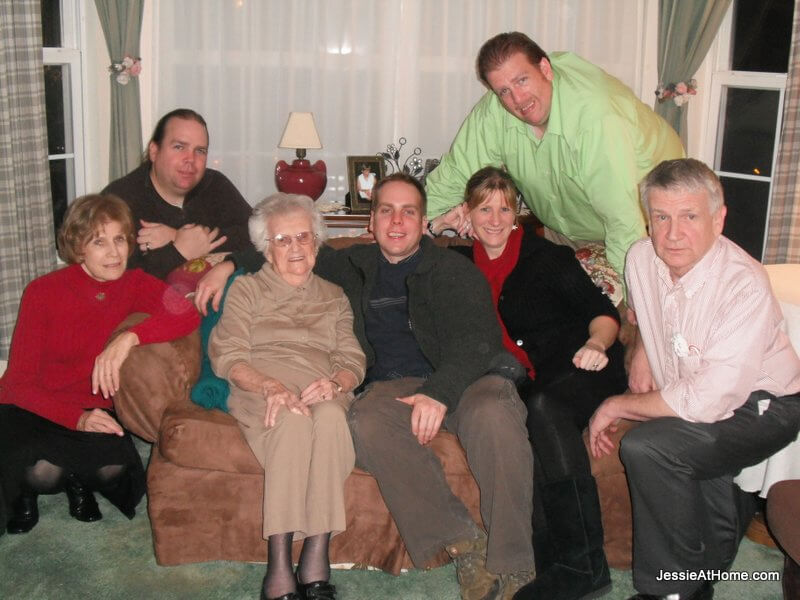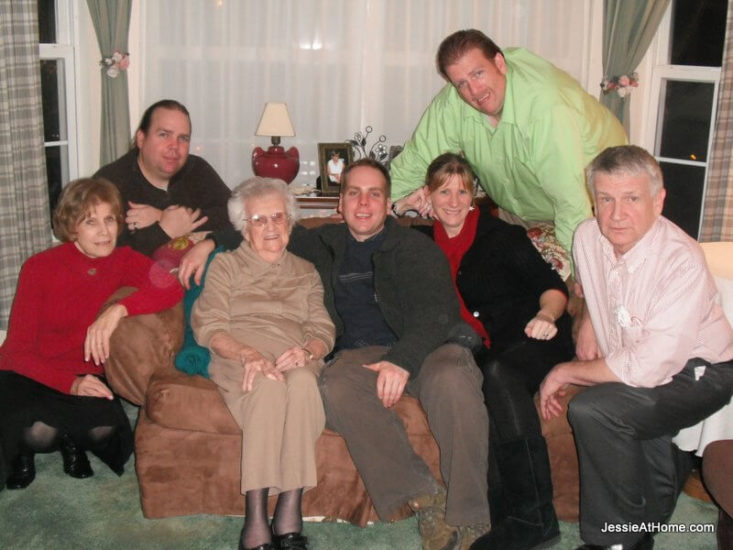 Same day ~ Tim (Doug's little brother) giving Grandmom some love!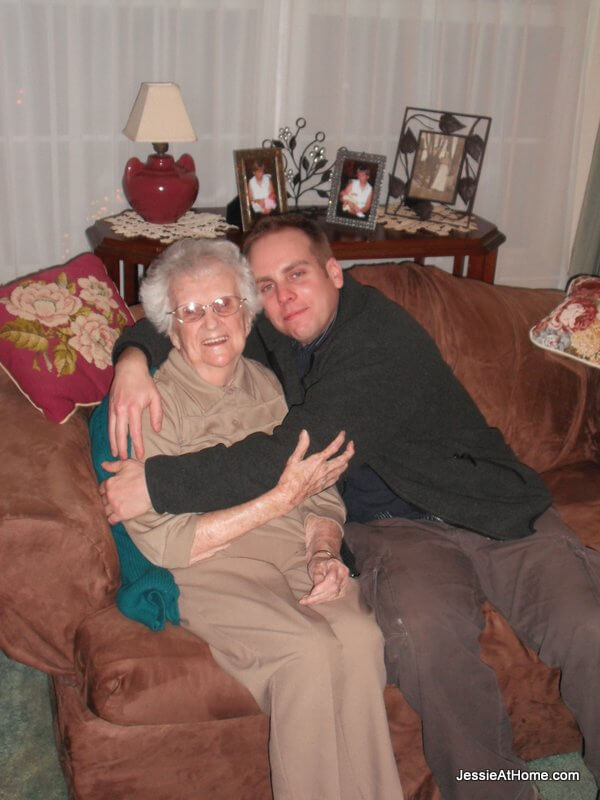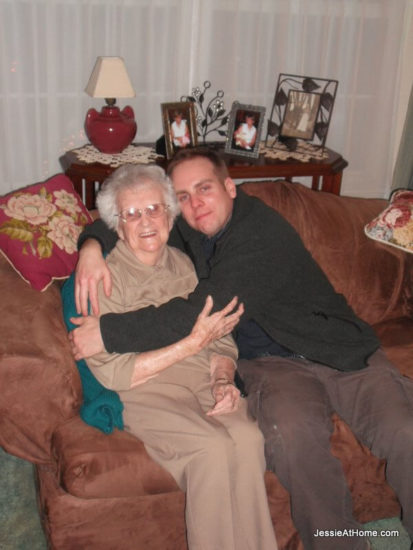 Easter 2013 ~ The girls made these hand print flowers for Grandmom.
The wake for Gerty was Wednesday night. I loved the picture of her husband and her right next to the coffin.
Both the girls were able to take some time to say goodbye to Great~Grandmom. Just a couple weeks earlier they had gotten to see her, but it was still nice for them to have a chance to say goodbye.
The funeral was on Thursday. The girls really wanted to be able to give Great~Grandmom a flower.
Tim was quite sweet saying goodbye.
And here we have Tim's wife Christina, Alyson, Alyson's daughter Madison, and Alyson's boyfriend Steve.

Here is the headstone where Gertie's husband was waiting.
After the funeral and cemetery, we went to lunch. The girls drew pictures of Super Pigeon. The Pigeon is a character from some Mo Willems books. The girls are BIG Mo Willems fans.
At the restaurant Tim made me a napkin flower. Somehow, over the past 12 years, I had forgotten about the first napkin flower Tim made for me. It was at the same restaurant, after his Grandfather's funeral. There was something so very special about both those flowers.
That's all for now, my friends. Be thankful for your loved ones, and let them know they are loved. Some will have a century or more on this earth, and some won't. You never know when goodbye will be your last goodbye, so make sure to always leave them with love.
[signature]