This morning was muffins for moms at the school. From 8:15 to 8:45 the K-3 children and their moms are invited into the cafeteria for muffins, bagels, fruit, juice, and coffee. I wasn't feeling great this morning when I woke up, so I decided to drive; normally we walk when it's not too cold or raining out. The girls and I remembered to snap a picture on the way out the door. It's not the greatest picture, like I said, I wasn't feeling well.
My neighbor Claudine also drove with her kids. About a block from the school, my car rolled out in front of her and stopped in the intersection. At first she thought that I saw her and had stopped to wave, but that seemed odd. Then she noticed no one was driving. She got out to see what was going on, and 2 other mothers were out there. One told her she was parking behind my car and her car wouldn't stop and she hit mine.
So Claudine found me just as I was about to go into the cafeteria with the girls. She told me my Trailblazer was in the middle of Spring Street because someone hit it. I asked her if the girls could go in with her and I ran out to my car. Sure enough, there was Thor, in the middle of Spring Street, surrounded by police cars and a very stressed out mother with her daughter.
After hugging the poor mom who hit my car, because she nearly cried when she saw me, we took a good look at my car and saw that the only damage to the back bumper were some chips to the paint that had been there for years. The front of her car was dented in a bit, but it looked like it was all cosmetic. The officer said that it looked like she hit my car square on the tow hitch, which is very sturdy. So that caused damage to her brand new car, and just pushed mine. Yet another reason why I love Thor so much, he is one tough car.
I got my car out of the intersection and the officer took all our info. Obviously she is at fault, as I was parked legally and not in my car. I can pick up the police report in 5 business days.
So, that is how my morning started. How was yours?
If you are wondering about the mother/daughter ponchos we are wearing, they are made from one of my designs that can be found as part of your subscription to MainlyCrochet.com.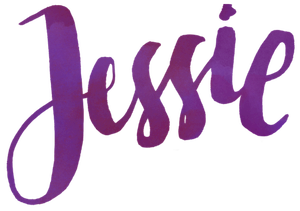 ©Copyright 2015 Jessie Rayot / Jessie At Home All my videos, patterns and posts are my own work. Do not copy them in any way. If you want to share this information with someone, share the link to this post. If you want to share on your own blog / website, then you may use the first photo in this post and link back to this post. You may not give away printed copies of this post. Thank you.
This post may contain affiliate links/ads. If you purchase something from a link in this post, I may be compensated.