Well hello there!! I know I have been all business~ie lately. I was going to wait to put up any non~business~type posts until next month, but a few of you seemed to miss the what~I'm~up~to~type posts, so I thought I would share a bit of a winter wrap up with you. Besides, I seem to have an overflow of pictures that I want to share.
My goal for National Crochet Month is still to be all caught up with the back~updates to the blog that have been piling up since I changed things a while back. I only have 10 days left!!! I also have a bit of a change to the posting schedule, which I will share with you soon, most likely on Tuesday. There are still some really fun things to on the horizon!!
Speaking of fun things, don't forget about the coupon code for Frabjous Fibers yarn!! They made the code just for my awesome readers, and it is only good this month, so take a look here for the details. If you are making the Juliette Shawl or Skylark in Wonderland, don't miss this chance to get the yarn those patterns were designer with at a discount!
Anyway, would you like to see a bit of what our winter has been like?
Last month we kept hearing crashing outside, and we had to investigate.It turned out it was the ice falling off the roof. It fell into the snow leaving little craters everywhere.
This was just one weekend when the girls decided to curl up and watch some TV. Aren't they cuties?
This fun set of pictures is from last month. I realized it had been a while since we had seen our awesome friend Michele, so I called her to see if she wanted to come over for a visit. We had a nice evening with her, playing R2D2 in Trouble, eating pizza, and getting lots of hugs!!
Here is a collection of snaps that make me smile. The top right is a rose that Kyla made for me. Next to that is a fun rainbow project I am working on with Red Heart with Love yarn, and inspired by my Nana. I can't wait to share this one with you all. ♥ Beneath that is a picture of some new hooks I bought that are better for my hands, and pretty! And last is an adorable snap of the girls watching Frozen and acting out the parts with their Anna, Elsa, and Olaf dolls.
A few weeks ago I realized I had best clean up the mess that was my workspace in the basement. It gets too cold to work down there in the winter, and I had just kept making it messier and messier every time I ran down to find something. So I piled up everything that was not put away onto the cutting/blocking table and the couch and started sorting.
Ahhh….much better. This week I was even able to work down there during the school days. It is so much more convenient to work down there, where all my supplies are, and where I can leave my camera set up to make videos without having to worry about children tripping on the tripod.
Here are a few things that have made me happy recently. Top left is a new set of Jamberries. No, I do not sell these, I just like them for videos and photo tutorials because once I put them on I usually can make videos or photo tutorials for a good week without having to do anything to my nails. When I paint them I constantly have to touch up, even with the expensive polish, so this is just way easier!! If you do want to get some and don't know a consultant, I made a file with a few consultants I know of over in my Facebook group. I get nothing if you buy from them, I just like to share!
Next to that is one of my favorite mugs. Below that are 2 special issue magazines I found on my coffee table when I got up the other morning. My husband is so awesome. And of course, 80's music!! Because working is much more fun with 80's music!
Pi Day!!! We just HAD to make pie on pi day. So we made a banana and chocolate pudding pie with a graham cracker crust. Quick and easy, with ingredients we already had, and the girls got to help. They had a blast smushing the graham crackers.
The bottom right picture is some homemade chicken soup that we had for dinner on pi day. Vada was feeling a little under the weather, so it seemed like a good idea for dinner!
Doug got a new toy for the girls at a garage sale a while back, and they only recently opened it. They are now madly in love with the "Brite Lite".
And now here we are, the first day of spring (I am pretending like it is NOT snowing out). I hope you all had a fun, safe, and warm winter.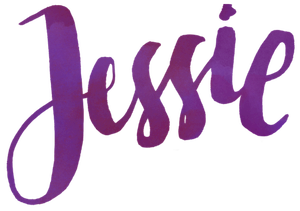 ©Copyright 2015 Jessie Rayot / Jessie At Home All my videos, patterns and posts are my own work. Do not copy them in any way. If you want to share this information with someone, share the link to this post. If you want to share on your own blog / website, then you may use the first photo in this post and link back to this post. You may not give away printed copies of this post. Thank you.
This post may contain affiliate links/ads. If you purchase something from a link in this post, I may be compensated.