Woodland kids crafts are perfect for this time of year. Fall colors and fuzzy critters fill the November woodland Orange Art Box and bring out the creativity in your little ones. Kyla and Vada would like to show you all the goodies in this month's box and what they have created with them.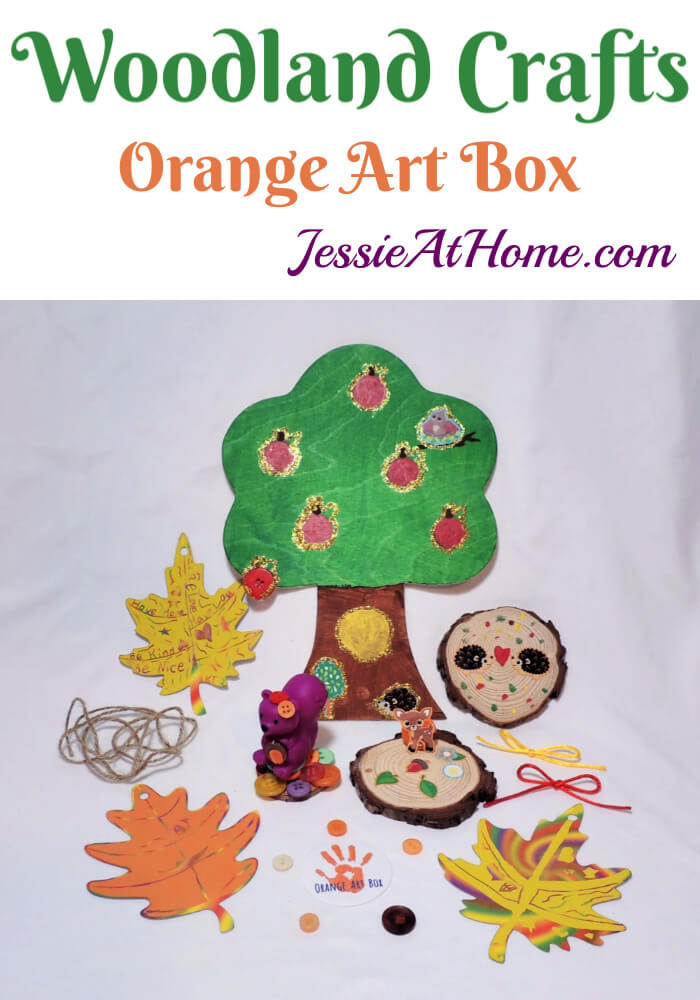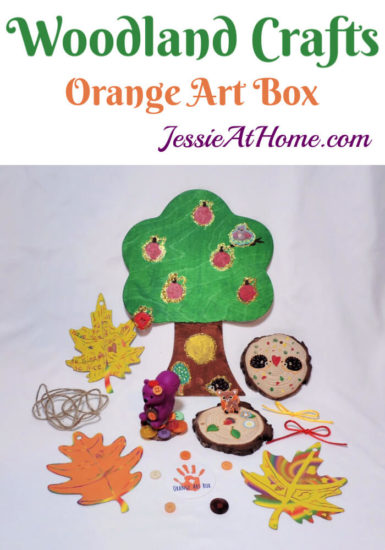 This post is sponsored by Orange Art Box, all opinions are my own (and those of Vada and Kyla).
Last weekend the girls opened up the November Orange Art Box live on the Jessie At Home Facebook page. Here's a copy of the video.
Kyla and Vada are very into nature, so this was a super fun box for them. I had a good time getting them to guess that the leaves were scratch off. I adore the faces they make while they are trying to figure everything out!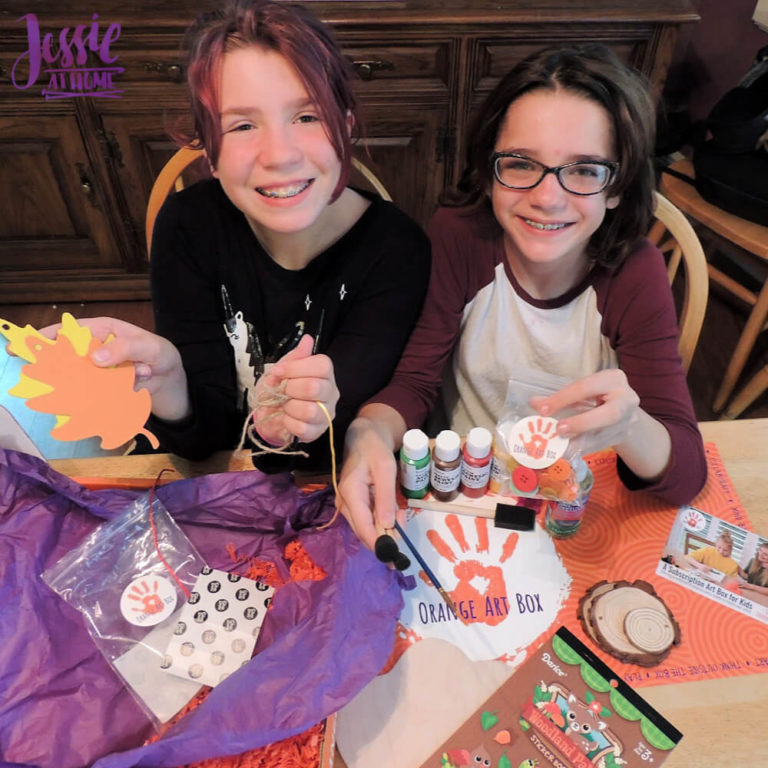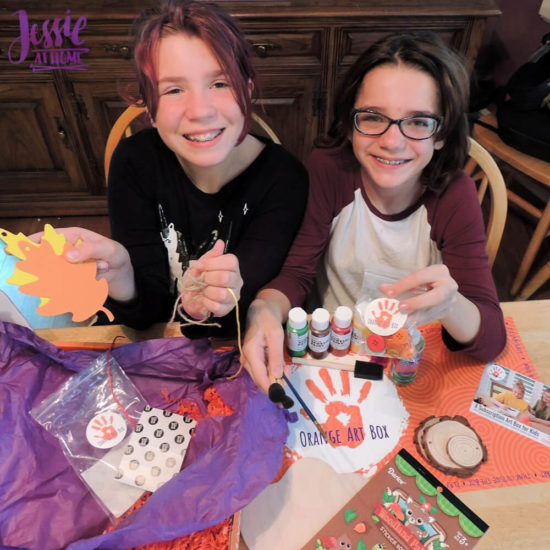 The wood slices all have holes, and there was twine included to hang them, however, Kyla wanted to use them flat. Isn't that what art is all about, creating how YOU want to? I think it's great when artists step away from the expected.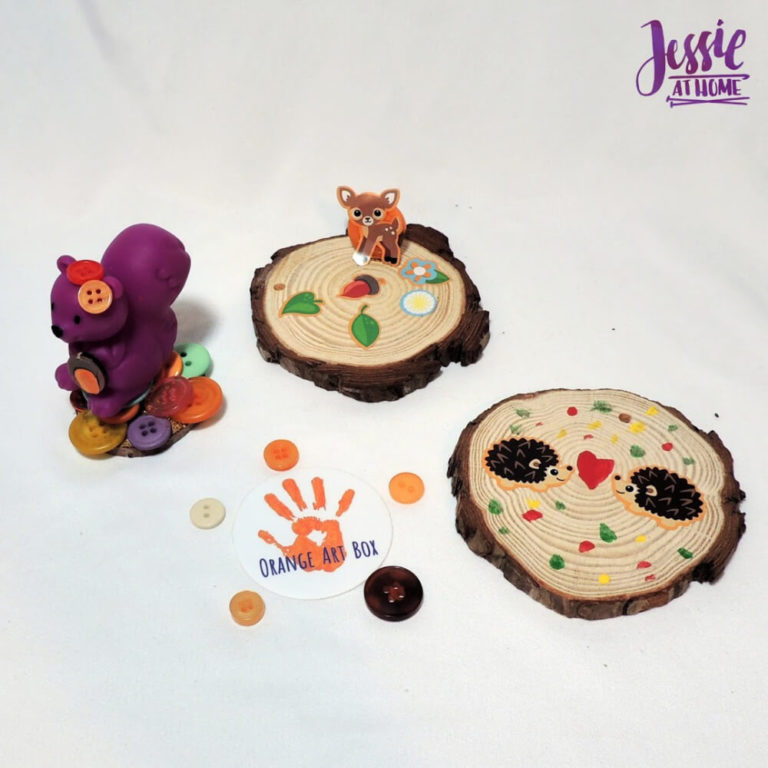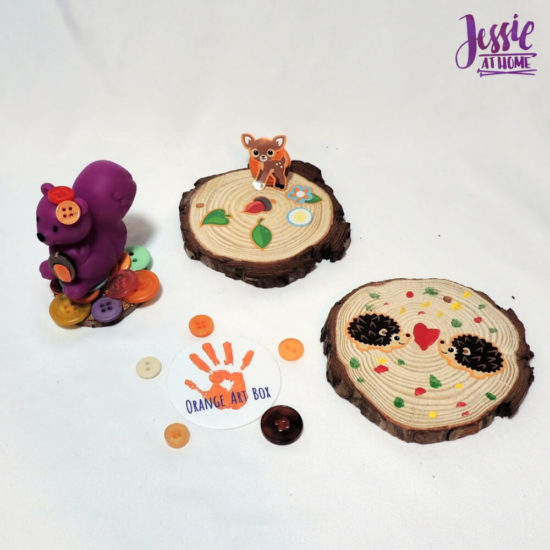 The kiddos noted that every box so far has included one finished toy in the theme. This time they used the toy in a creation. Look at the little button bow and button acorn on the squirrel!
Email (Send a picture of your creations): [email protected]
Tag them on social media: #kidsofoab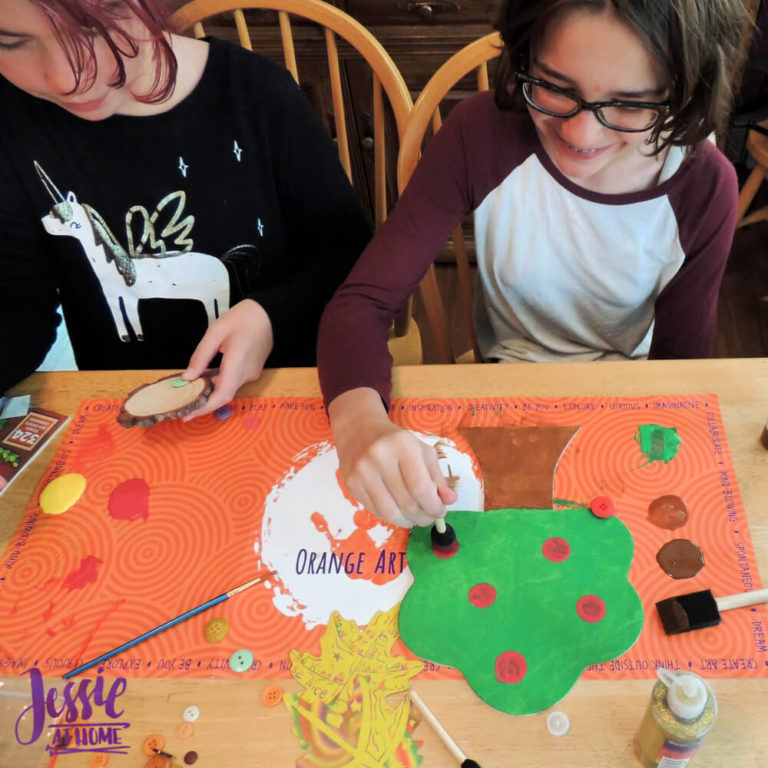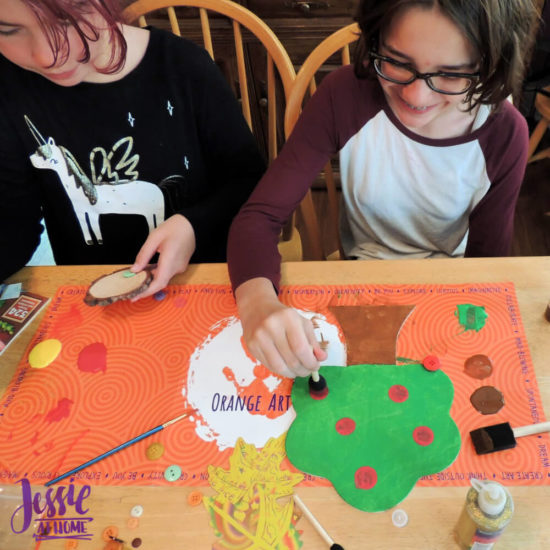 It's always so nice to just watch my kids sit together and enjoy some creative time with no electronic. Just the two of them having a good time. There have been studies that show that kids who spend more time making art and music also do better in math and science. What's not to love about craft time?!!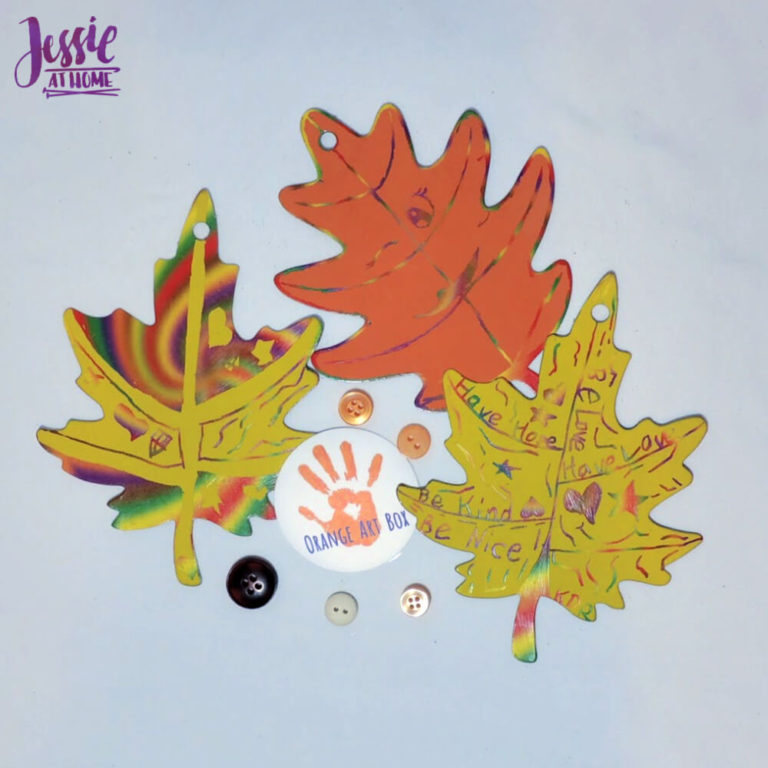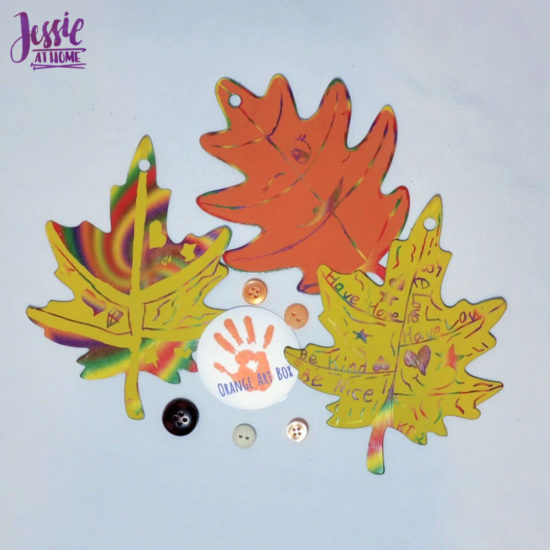 We found a packing error!! There was a second yellow leaf stuck to the first one, so we got 3 leave instead of 2. Oh no!!! Do you think I should complain? 🙂 🙂 🙂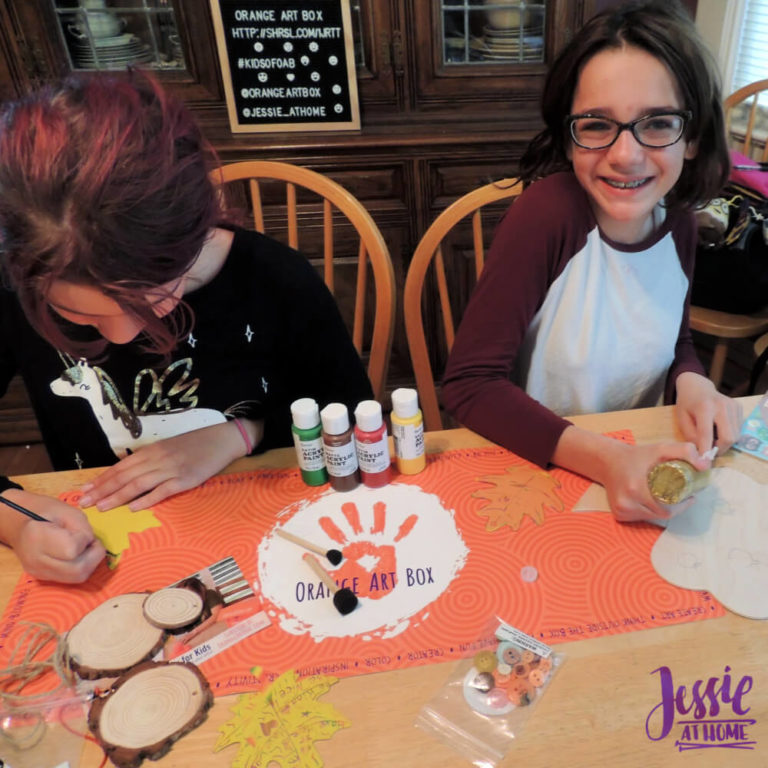 As always, we ended up with some left over supplies for Vada and Kyla's craft stock. We did pull out some Mod Podge from a previous box (it's actually been in several) to glue down the pile of buttons under the squirrel and to glue down the squirrel.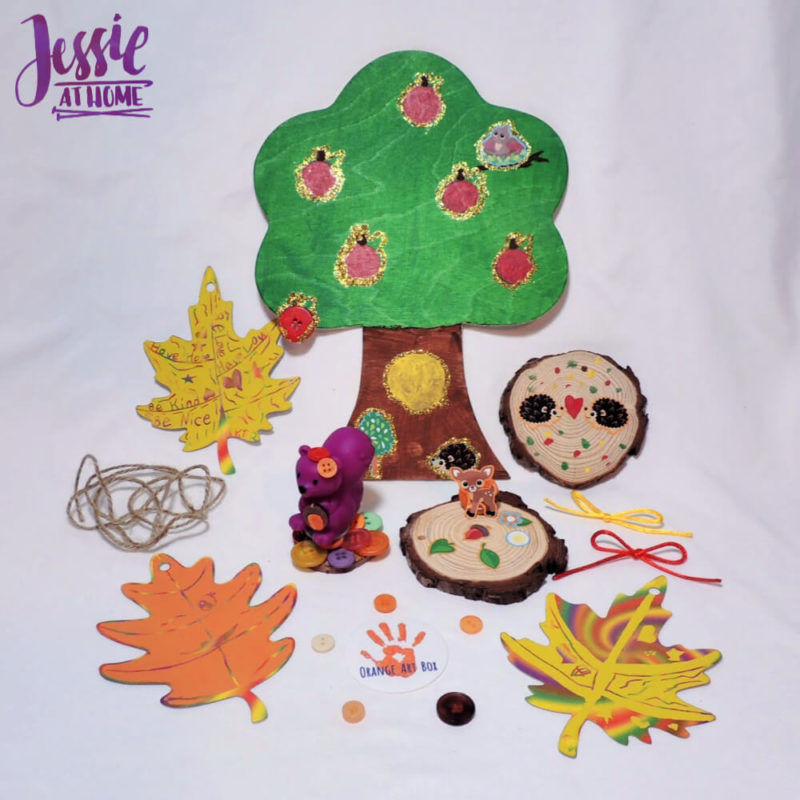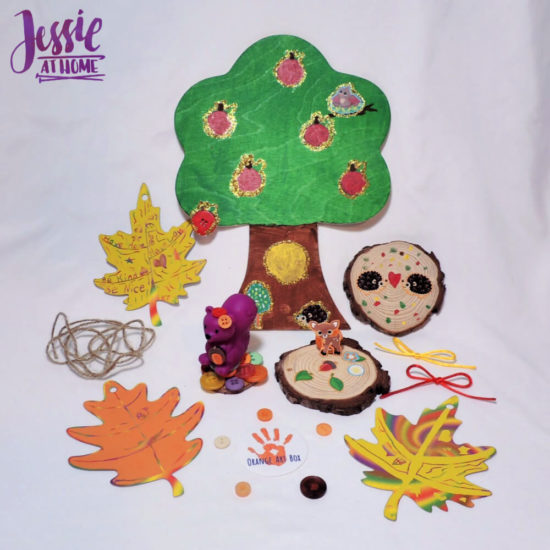 Enjoy your November and craft on my friends!!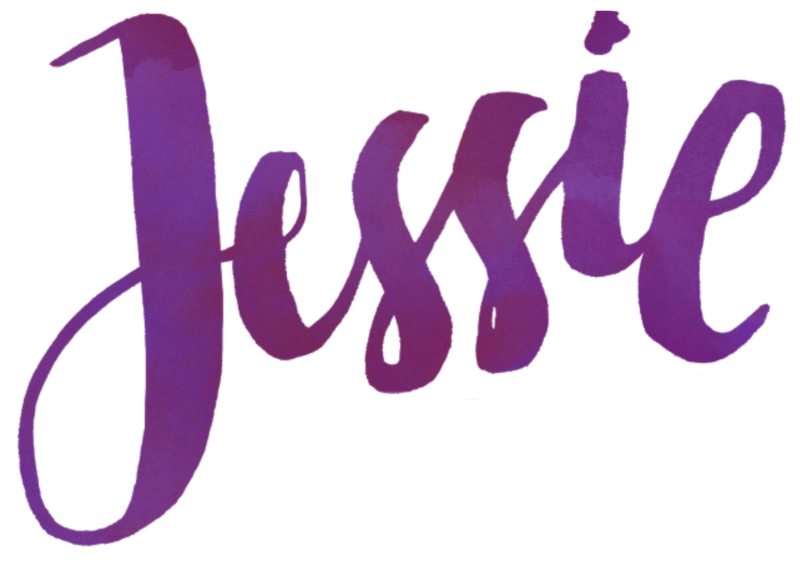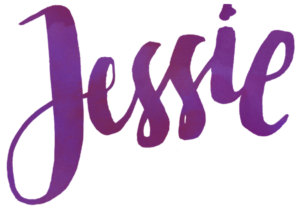 ©Copyright 2019 Jessie Rayot / Jessie At Home All my videos, patterns, charts, photos and posts are my own work, so you may not copy them in any way. If you want to share this information with someone, then share the link to this post. If you want to share on your own blog / website, then you may use the first photo in this post and link back to this post. Also, you may not give away printed copies of this post.
If you liked this woodland kids craft, then take a look at these.