The Claudia Crossover bag is a small fringed purse that is great for your phone, wallet, and a few essentials. As it is a crossover bag, it stays on and is easily worn under or over a coat or jacket. It makes a great little bag for a day out. The flap keeps the contents concealed, and if you want a bit more security you could add a snap or button to the flap. The Claudia Crossover is right on trend with its tassel, fringe, and braided strap. It takes just one skein of King Cole Drifter Chunky in whatever colorway brings you joy to make this cute little purse.


The yarn used in this pattern was provided by King Cole.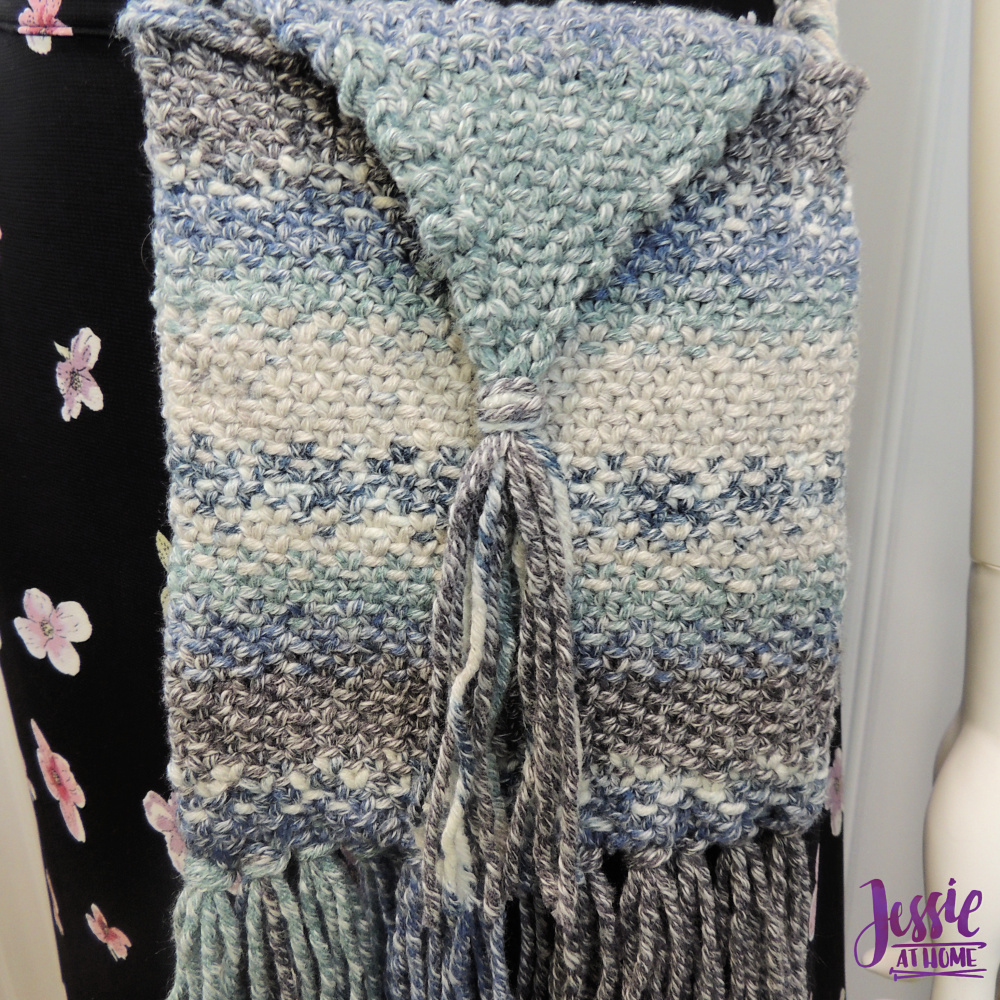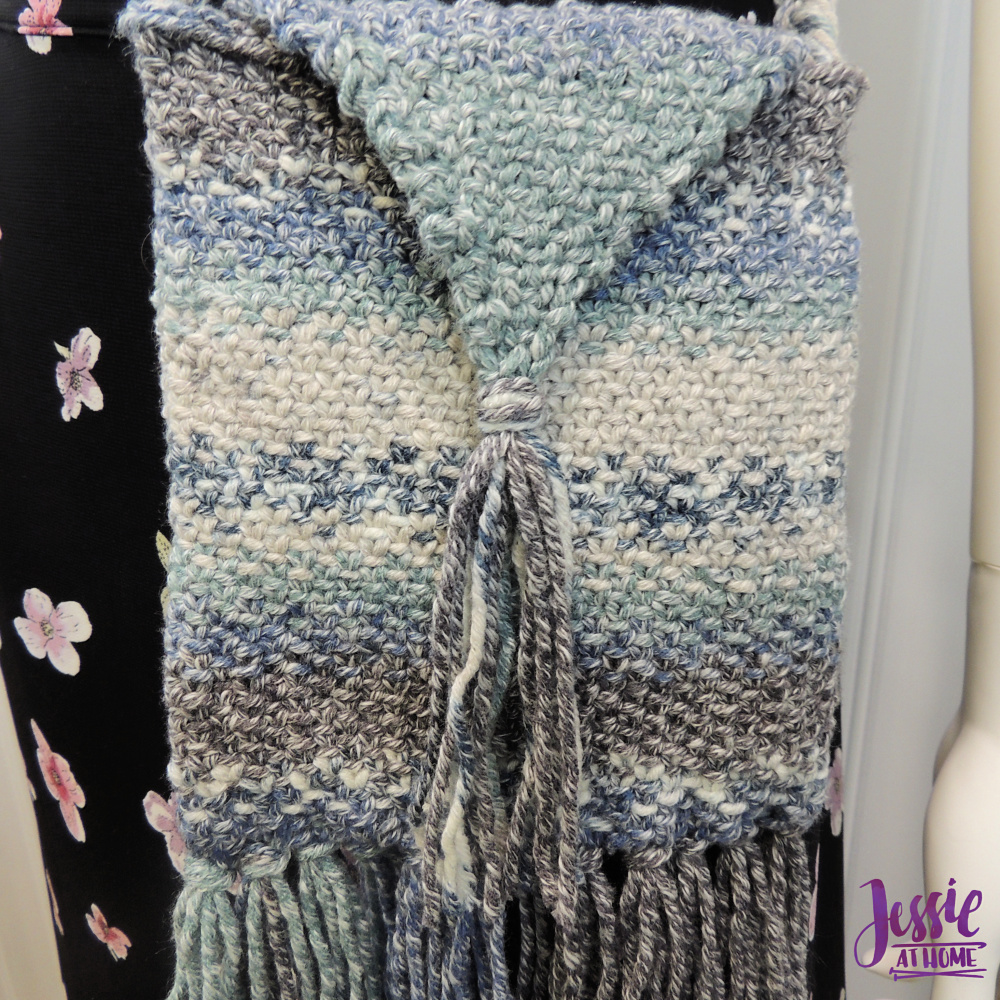 Claudia Crossover
Knit Pattern
Easy Skill Level
Designed by Jessie Rayot
Size:
6″ x 7″
Yarn:
King Cole Drifter Chunky; 25% cotton, 6% wool, 69% premium acrylic, 100 g/170 yd
Dublin 2153: 1 skein
Needles:
US-10 1/2, 6.5mm long circular needles for magic loop method or 5 double point needles
Gauge:
20 sts x 34 rows = 4" [10 cm] in linen stitch
Other supplies:
yarn needle
Stitches and Abbreviations:
k – knit
p – purl
st(s) – stitch(es)
wyif – with yarn in front
wyib – with yarn in back
Getting Started:
This pattern used almost the entire skein of Drifter Chunky, with just a bit left over, so if you want to make yours much bigger, you will need more yarn.
To make the bag wider, cast on more, being sure to cast on an odd number. To make the bag taller, just make it to the height you would prefer.
Pattern:
CO 61
Rnd 1: K1, (slip 1 wyif, k1) around, place marker.
Repeat Rnd 1, slipping marker at end of each Rnd, until piece measures 7″ tall.
Move onto flap.
Flap:
Row 1: Bind off 33 sts, k1, (slip 1 wyif, k1) to end. (28 sts)
Row 2: P2, (slip 1 wyib, p1) to end.
Row 3: K2tog, (slip 1 wyif, k1) until 2 sts remain, k2tog. (26 sts)
Row 4: P1, (slip 1 wyib, p1) until 1 st remains, p1.
Row 5: K2tog, (k1, slip 1 wyif) until 2 sts remain, k2tog. (24 sts)
Rows 6-25: Repeat Rows 2-5 five times. (4 sts)
Row 26: P2, slip 1 wyib, p1.
Row 17: K2tog twice. (2 sts)
Bind off.
Weave in all ends.
Strap:
Cut 18 pieces of each color that are 60″ long. Braid yarn in bundles of 6, sewing or clipping ends together so it does not unbraid. Sew ends of the braid inside the bag at the sides, taking care not to twist the braid.
Tassel:
Cut 6 pieces of yarn 16″ long. Lay them evenly on top of each other and fold the bundle in half. Use a crochet hook to pull the center of the bundle through the point of the flap from the front to the back. Pull the loop through just 1-2″ and then pull the ends of the bundle through the loop and tug it tight. Trim the tassel so it is 5″ long.
Fringe:
Cut 3 pieces of yarn 12″ long. Stack in a small bundle and fold in half. Use a crochet hook to attach the bundle to the bottom of bag in the same manner as tassel. Repeat as many times as desired to make fringe at bottom of bag. Trim the fringe so it is 4″ long.
Use or give and enjoy!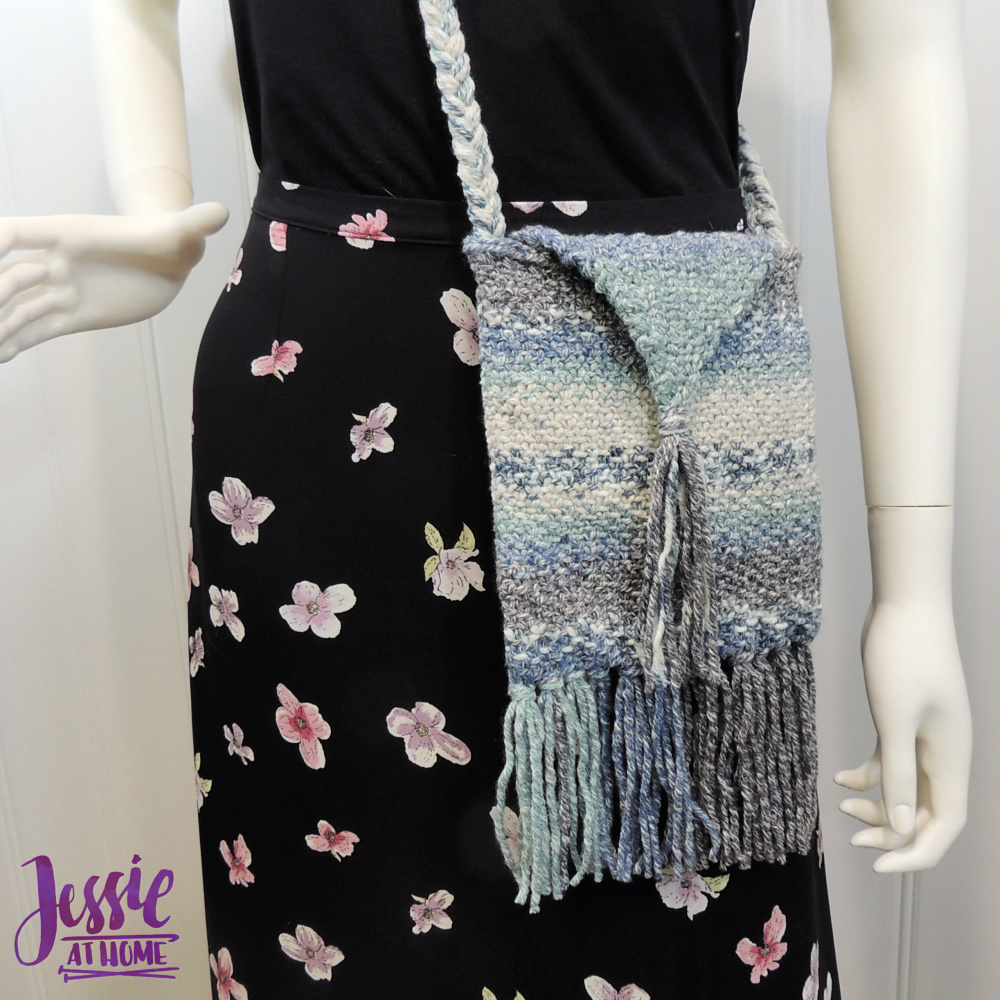 If you enjoy this free knit pattern, please consider buying some of your supplies from one of these affiliate links. Thank you.