Embroidered Country Gardens is packed full of beautiful botanical stitched creations. Furthermore, Lorna Bateman packed the first half of the book with a bevy of embroidery stitches, tips and techniques. This book should be on the shelf of every embroiderer!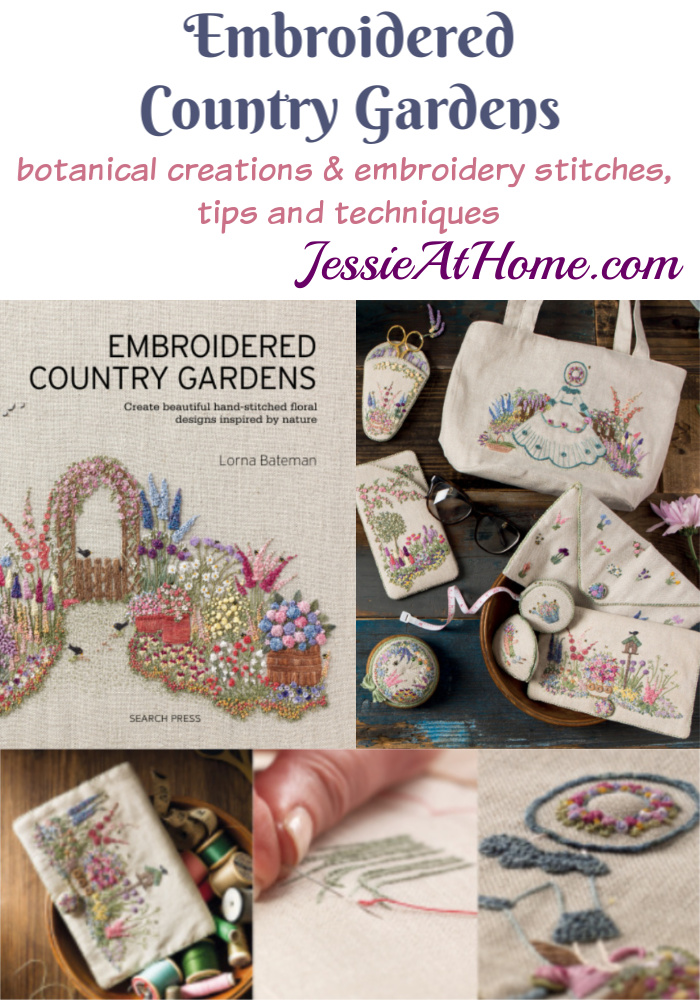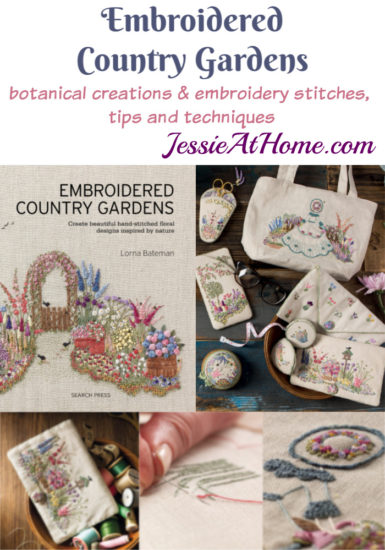 The book reviewed in this post was provided by Search Press. All opinions are my own.
Lorna Bateman is an excellent teacher, as she should be due to her many years of experience. A beginner embroiderer to an experienced enthusiast will find great use in this book. You can purchase Embroidered Country Gardens from Amazon HERE.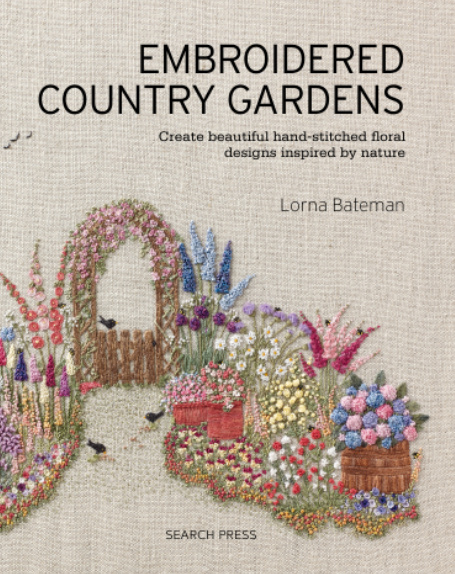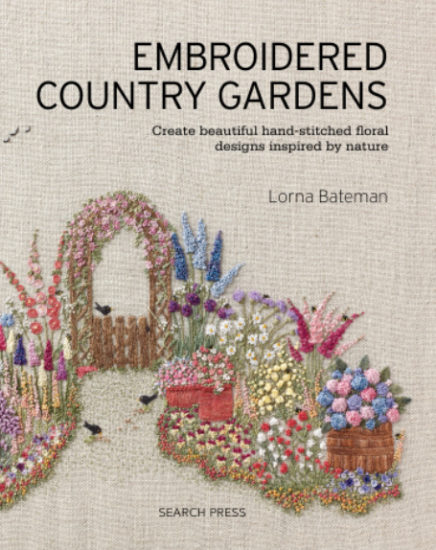 The first half of Embroidered Country Gardens contains a ton of education. First you will find a section on tools and materials. The hoop section is two pages, as Lorna not only tells you that you need hoops, but talks about padding them (and why), stretching your fabric in them, and even where to place the screw.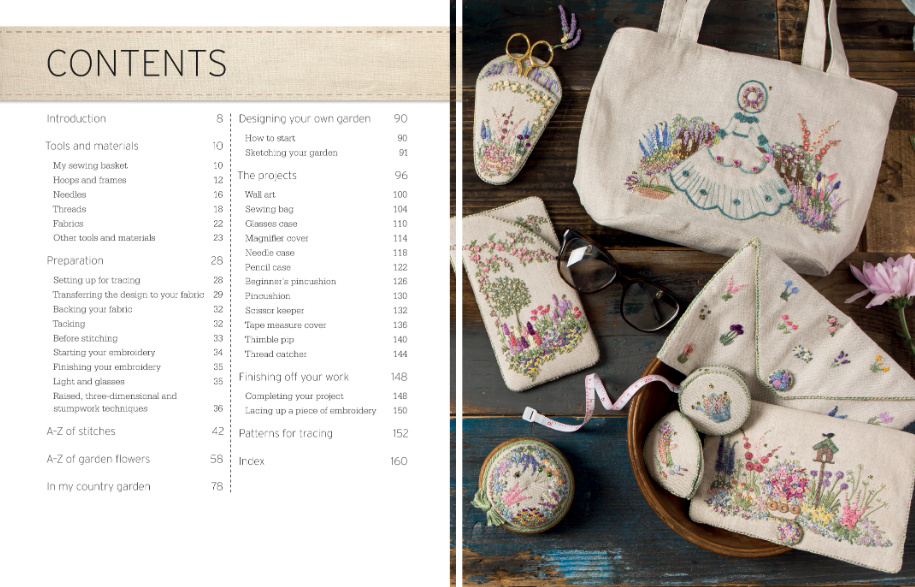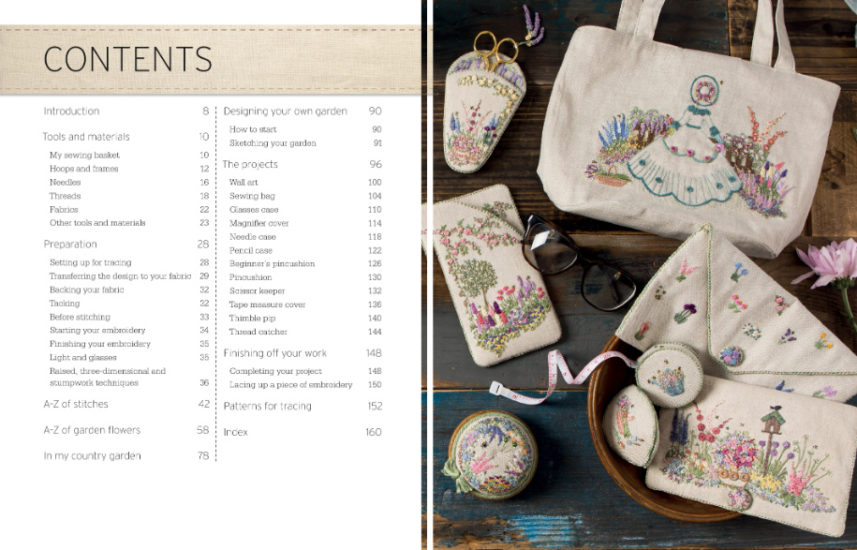 You will continue to learn about the other embroidery tools and materials needed over the next several pages. Everything is explained so you can then make your own decisions on what products are best for you.
Next Embroidered Country Gardens talks about how to get started with your creation. Lorna includes things like backing your fabric, transferring your design, and starting your stitching.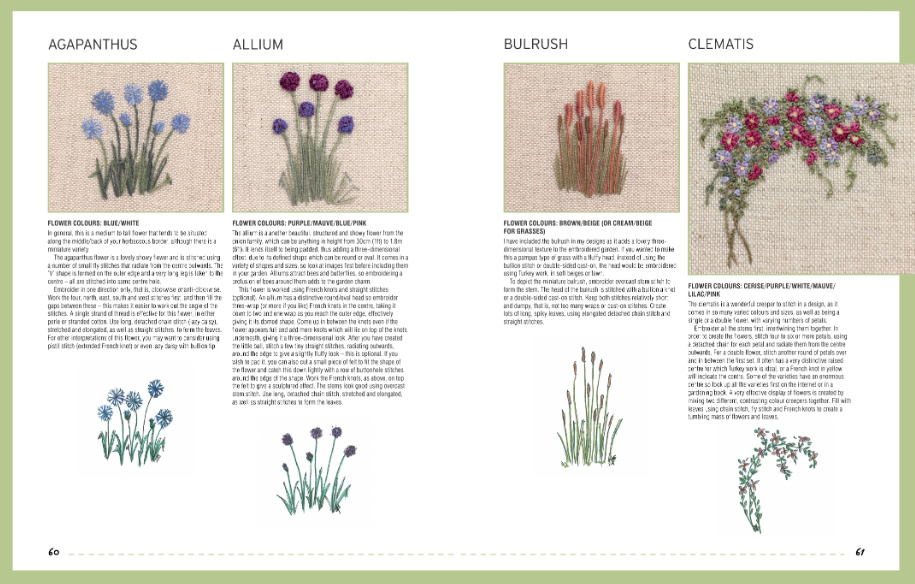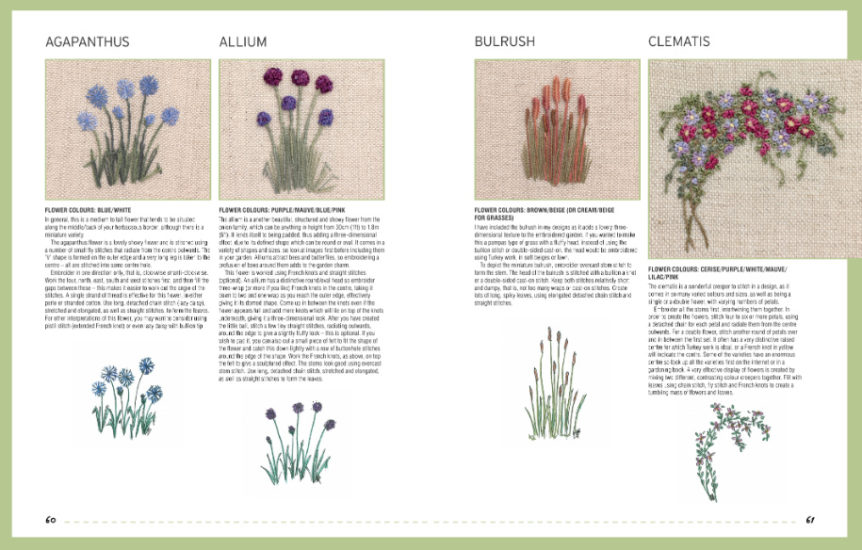 Now we get into stitches!! I thought I knew some awesome embroidery stitches, yet Lorna has taught me more. Not only are there quite a few awesome stitches to learn, but they are taught well with hints, tips, needle suggestions and more.
Along with the stitches Embroidered Country Gardens teaches some techniques such as stumpwork and embroidering over items to create dimension.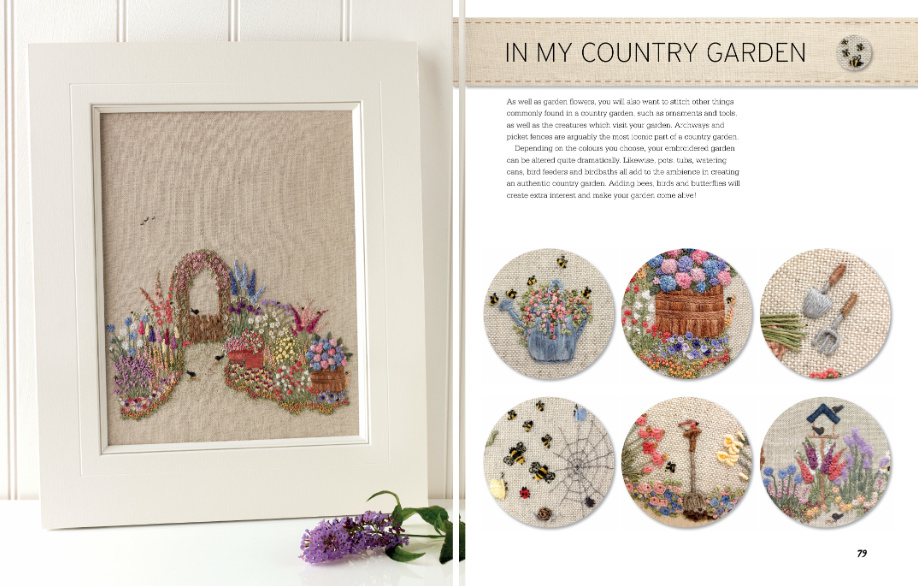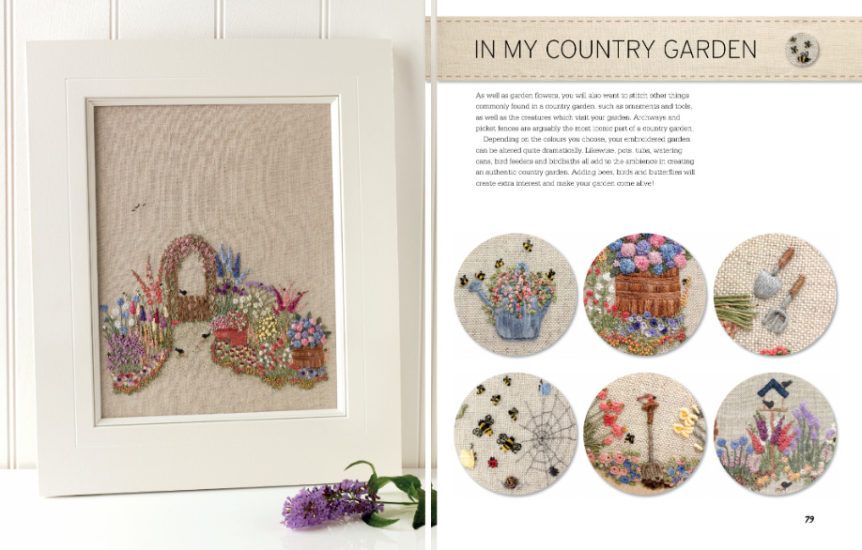 After the stitches section, you will find a section on various flowers. Each flower is pictured in embroidery and accompanied with a description. Lorna explains the best colors and stitches and technique to create each flower.
In addition to learning how to embroider various flowers, you will also learn how to embroider other garden items. Some of these items are baskets, trellises, insects, and watering cans.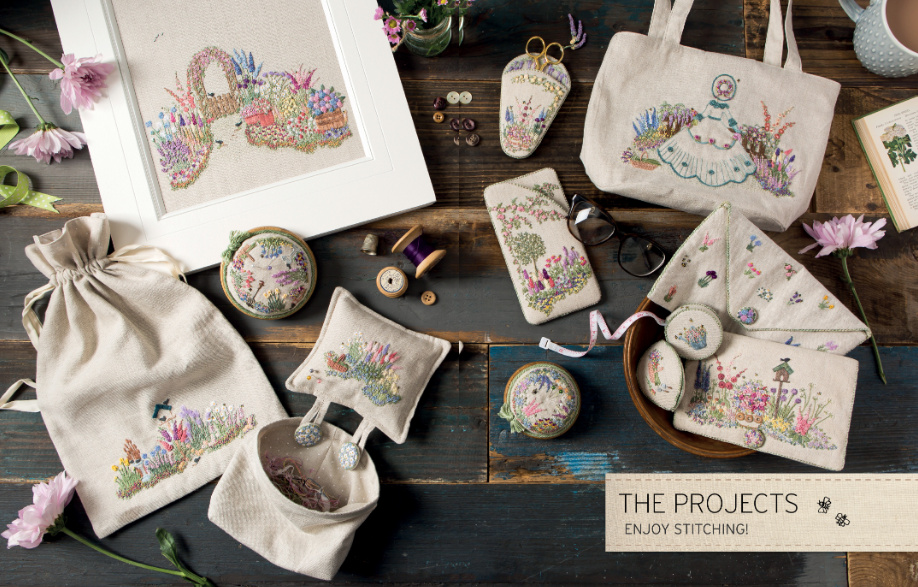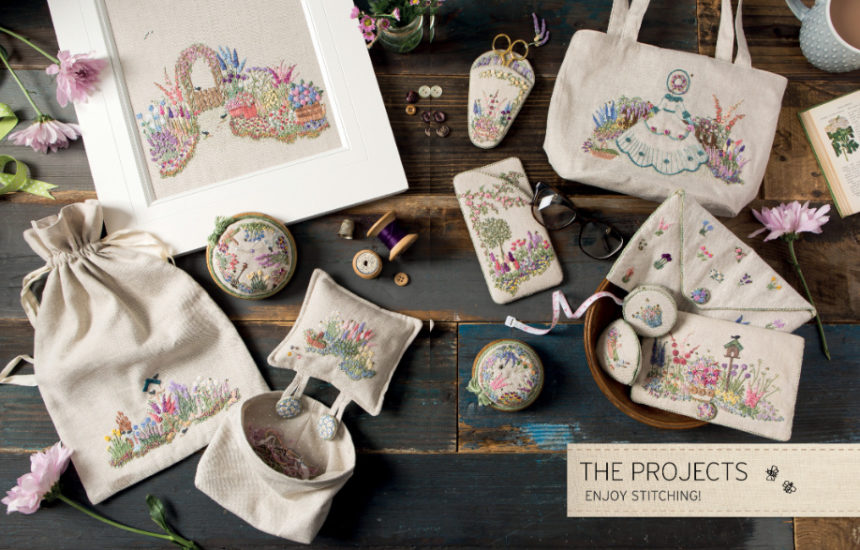 Now, just over half way through the book, there are patterns for 12 projects. As with everything else in the book, these projects are well explained and easy to follow. Plus, they are stunningly beautiful.
The project instructions in Embroidered Country Gardens will teach you not only the embroidery for each project, but also the sewing and finishing involved. Full templates to trace for each embroidery design are in the back. There is also a pocket on the inside of the back cover that holds the paper patterns for cutting out the fabric to sew the projects.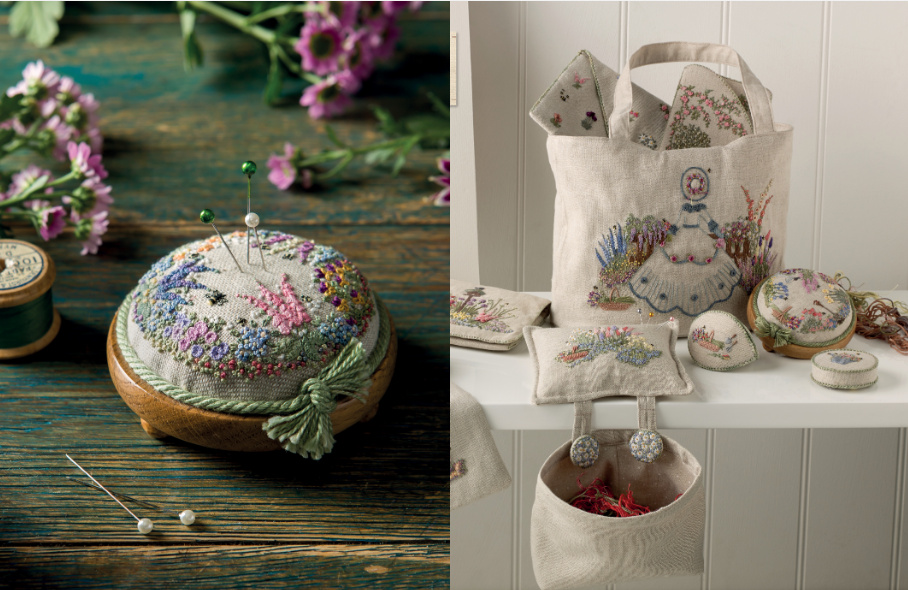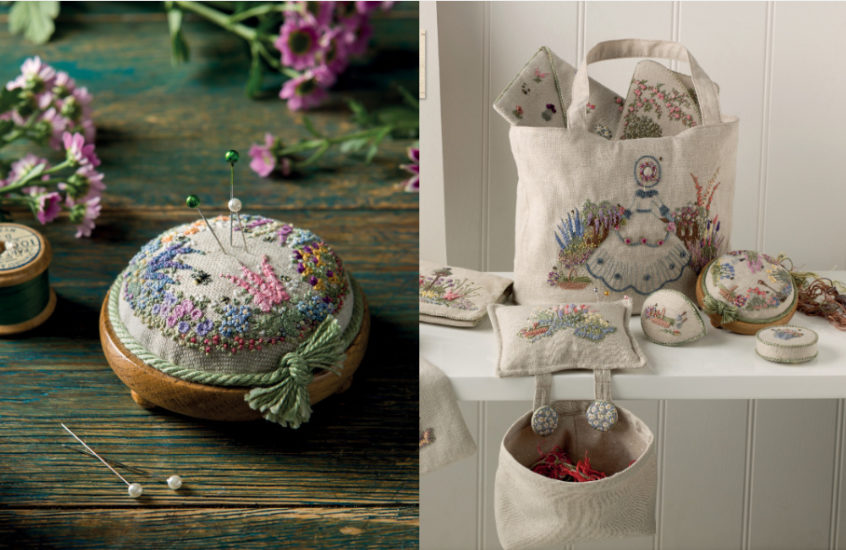 Embroidered Country Gardens is not just a great addition to your embroidery library, but it is a great source for handmade gift ideas, and the book itself makes and excellent gift for your creative friends!
[signature]
If you liked this review of Embroidered Country Gardens, then take a look at these.