Ficstitches Yarns kits say they combine two of your favorites – crochet and reading – but I say it's three; you can't forget getting pretties in the mail! After all, what could be more awesome then pretty crochet goodies and a good read in the mail? Maybe if they were delivered with chocolate and a hot beverage by a cute and fluffy dog. However, this is reality, so no delivery puppies.
Stick around 'til the end of this post for a chance to win a Spring 2020 kit – Giveaway ends February 9, 2020.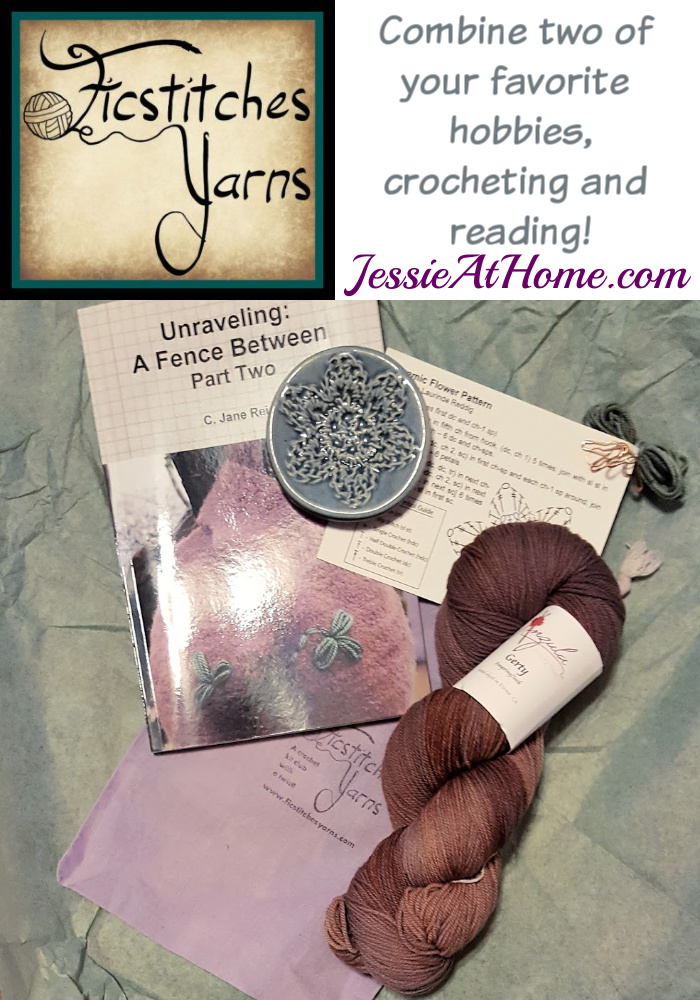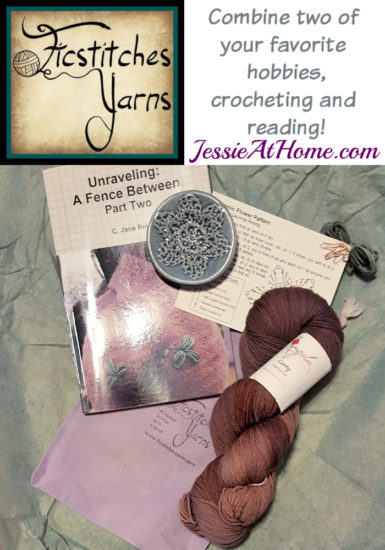 I recently received a kit and it was lovely. You can see the contents in the photo above. The yarn in this kit, along with the other kits I've seen or received, is beautiful and high quality. It's the kind of yarn you just love working with.
The fun little gift in this kit was a small dish with a crochet flower releaf that's perfect for holding stitch markers or other small items. It hasn't left my work station since I unwrapped it. The kit included the pattern for the flower in the dish. Oh, and there were also some stitch markers to put in the dish.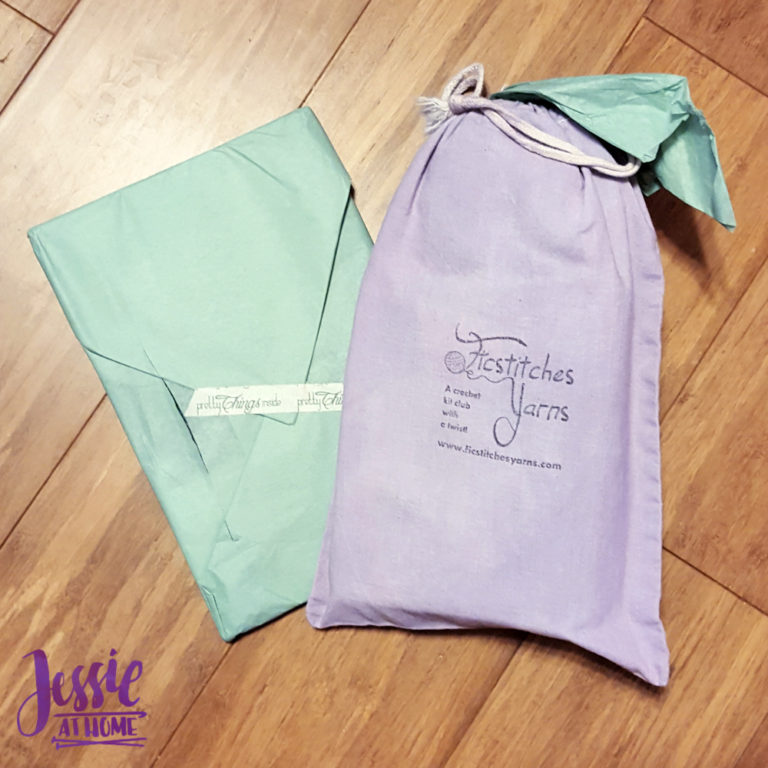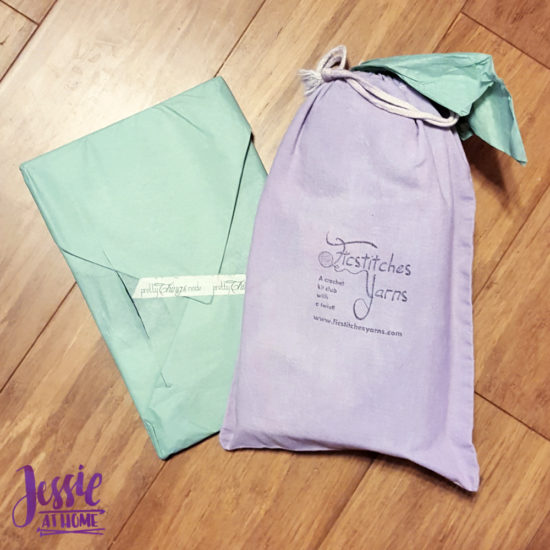 Each Quarterly Crochet Kit Includes:
New Crochet Pattern from designer Laurinda Reddig of ReCrochetions, inspired by the story. A printed copy of the pattern which will be advanced beginner in difficulty, including clearly written and tech edited instructions as well as stitch diagrams and/or tutorials as needed.
Original Fictional Story from author C. Jane Reid – Part One of a brand new 2-part Novel, tying the kit together.
Handmade Gift and/or Tool to use with the kit project.
Hand-Dyed Yarn from various indie dyers, exploring different yarn weights and luxury fibers with enough yarn to complete the kit project.
Muslin Project Bag, hand-stamped and hand-dyed, filled with all these kit goodies.
An Invitation to join the Ficstitches Yarns Secret Society, an exclusive online community for Kit Club Book Discussions, Crochet-Alongs and more.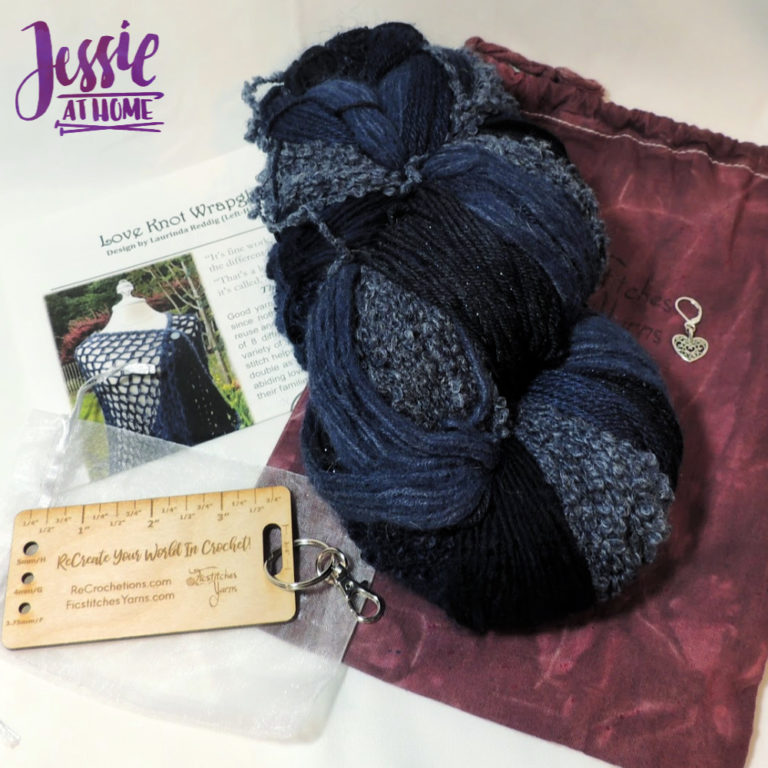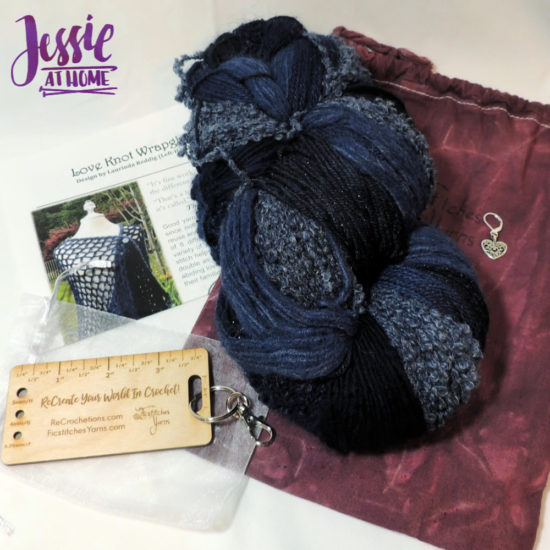 Of course, the kits all include a part of a C. Jane Reid novel. I have loved all that I have read so far. You can actually find some reviews of her previous novels that I've read, HERE and HERE. I love her writing style, and the way she seamlessly weaves in the crochet theme without making the story feel clunky or forced.
You can order your own crochet pretties in the mail from the preorder for the Spring 2020 kit is now open through January 31, 2020 on the Ficstitches Yarns Site. Of course, that is also where you will be able to order future kits. There's a Ficstitches Yarns Facebook page you can check out. To learn more about C. Jane Reid, you can find her site HERE and you can also find her books on Amazon.
You can also enter to win a giveaway for one of the Spring 2020 kits below.
To enter the Spring 2020 Ficstitches Yarns Kit Giveaway you must be at least 18 years of age and have a valid shipping address in the USA. The giveaway ends at the end of day eastern time on February 9, 2020. Winner will be contacted by email and will have one week to reply with a valid shipping address or a new winner will be chosen. Void where prohibited.
a Rafflecopter giveaway
[signature]
If you liked this post, then take a look at these.