Ice Duo is a two game set that is a new addition to the Looney Labs Pyramid Arcade series. Both games are for 2 players and ages 8 & up.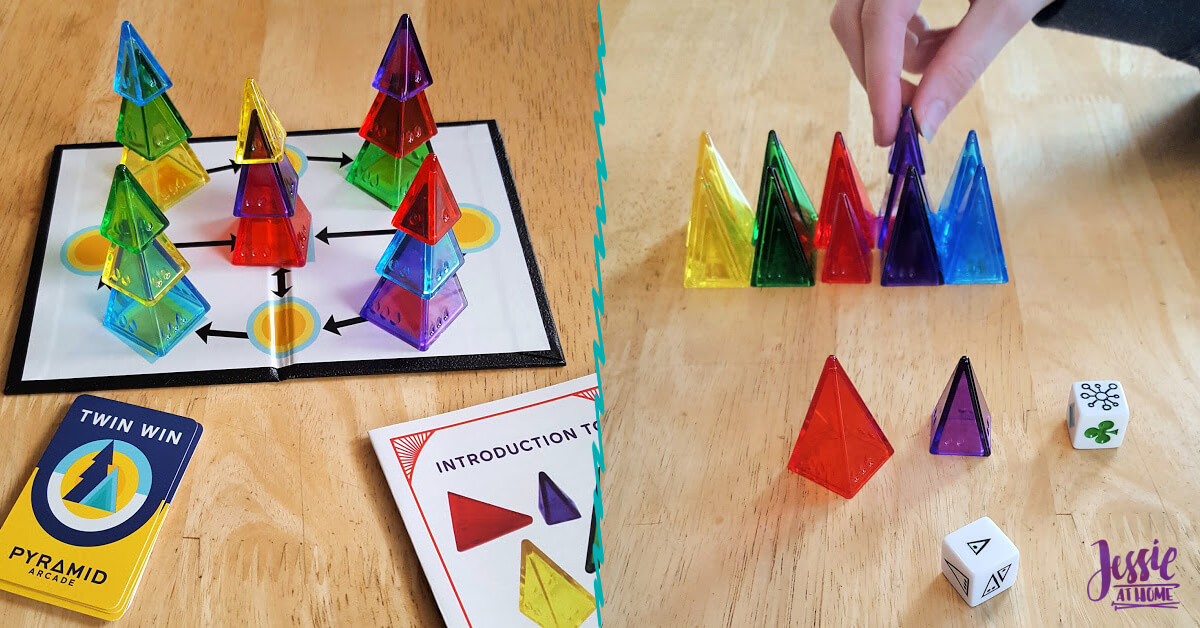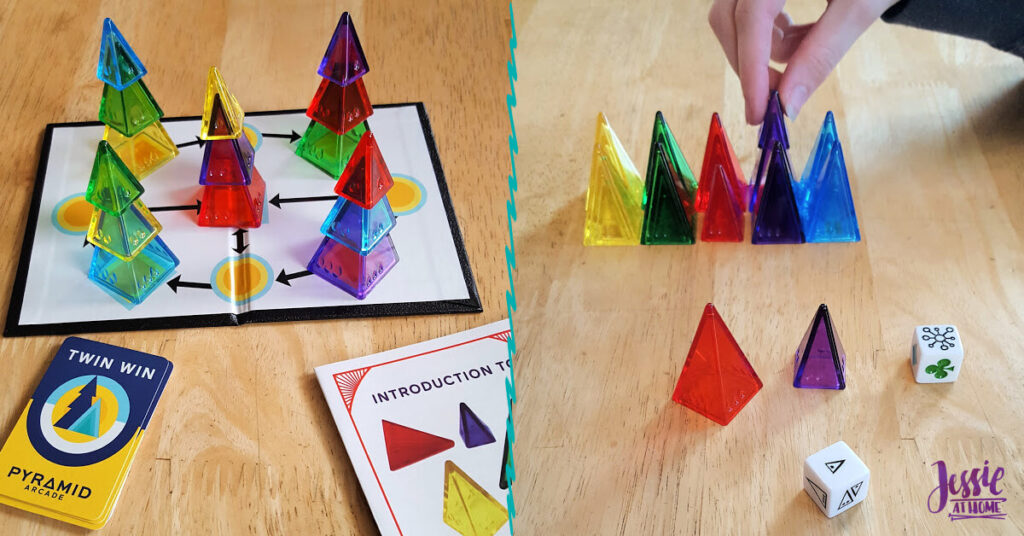 The game reviewed in this post was provided by Looney Labs. All opinions are my own.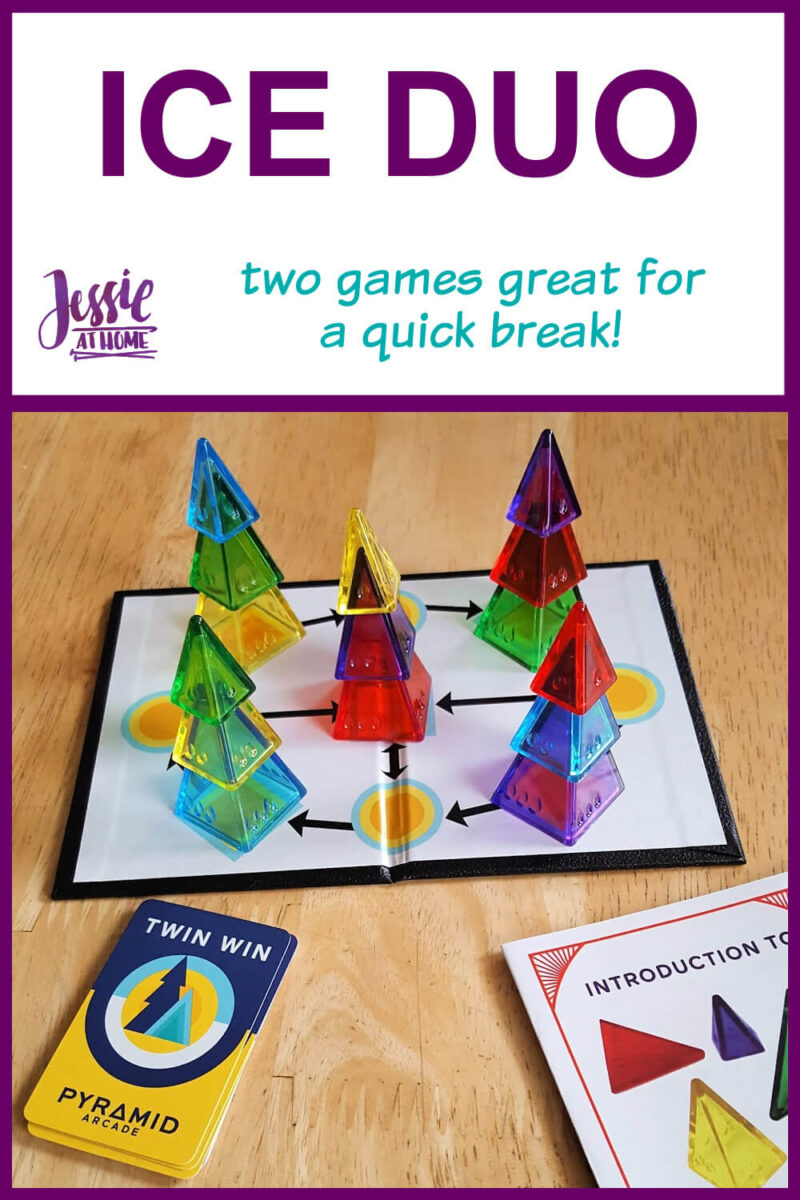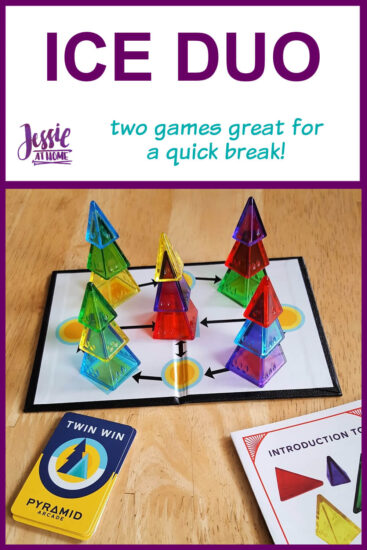 Occasionally Vada asks me to play a game, and no one else wants to. I love playing games, and will usually say yes, unless I just don't have the time. Until recently, our two-player games seem to be longer games.
Well, Vada and I were super stoked when we tried the two Ice Duo games and found they were not only fun, but also fairly quick. We can easily sit for an hour or longer and play quite a few games, but we can also just play one or two for a quick game break. This is awesome for when Vada wants to play a game and I don't have tons of time.
Twin Win is one of the two Ice Duo games. It has a tiny board and tiny cards. You also need one set of each of the 5 pyramid colors included in the game. Both players get two cards which each show a possible way to win. Then players take turns making two moves at a time until someone wins.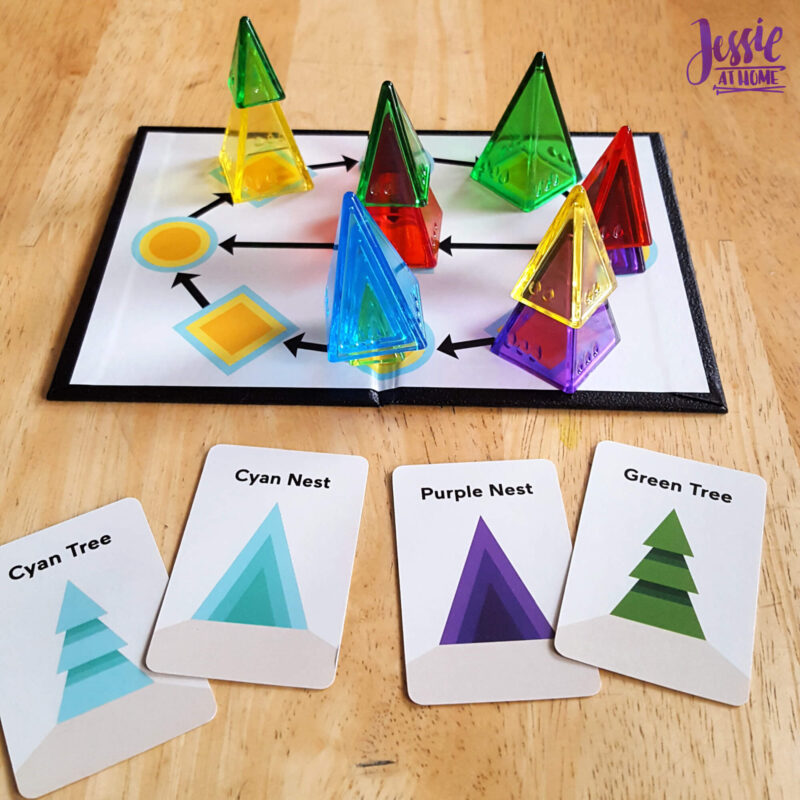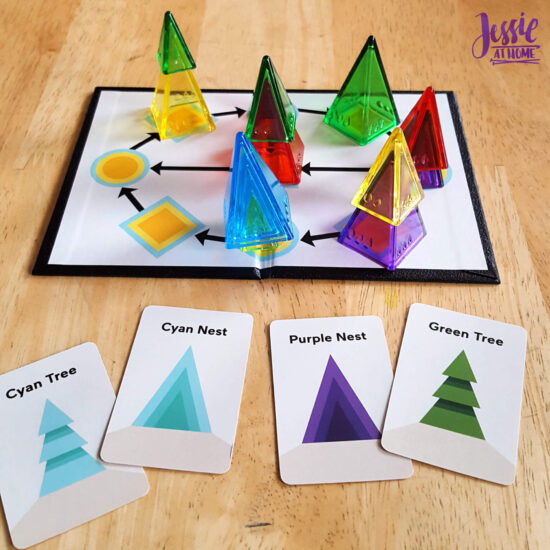 Lots of twos, I guess that's where the name comes from. Of course, twins get to go first, so I'll never get to go first in this house. But if anyone else wants to play with me, I get "going first" points for being the mom of twins!
Twin Win is a strategy game. You have to make one of your stacks without giving away what you're trying to make. At the same time, you need to try to figure out what your opponent is trying to make and stop them from finishing first.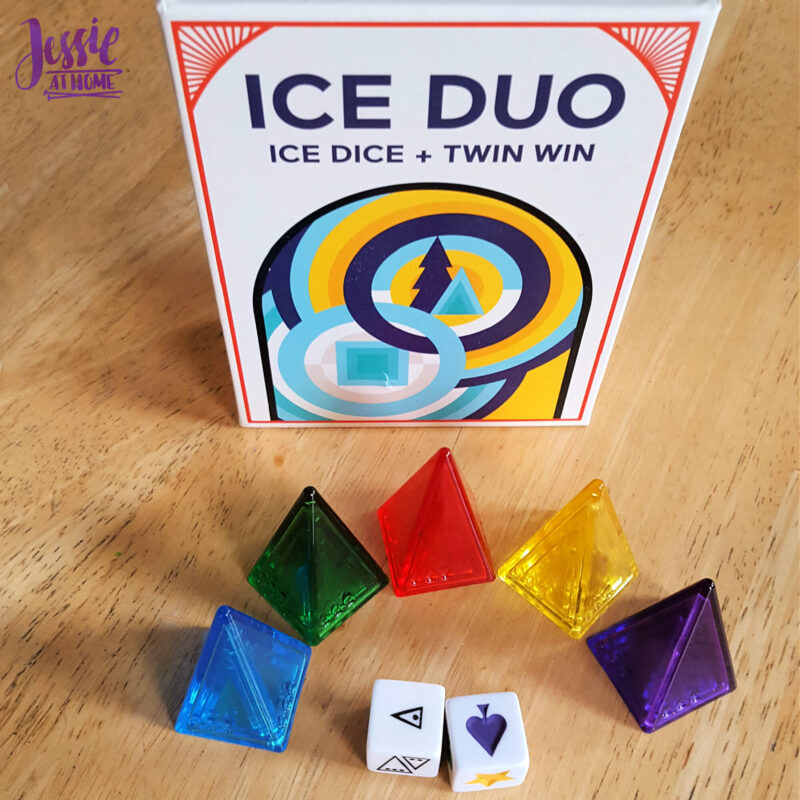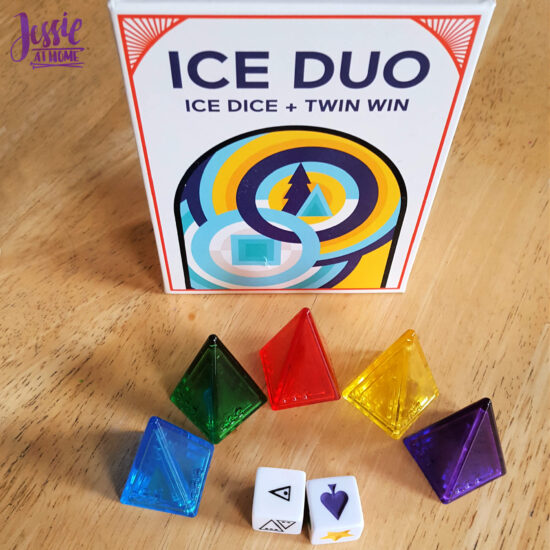 The other game in Ice Duo is Ice Dice. This game uses all the pyramids in the box – 2 sets of each of 5 colors, and the two dice. You roll the dice to determine what pyramid you get to put in the center.
You can keep rolling and pulling pyramids until you decide to stop and keep all the pyramids you moved to the center, or until you roll a pyramid you already have in the center, and then you have to put all the pyramids in the center back. Then it's the next player's turn.
The goal is to get 3 sets monochromatic pyramids, with one of each of the 3 sizes. We all really enjoy the combination of luck and strategy in Ice Dice.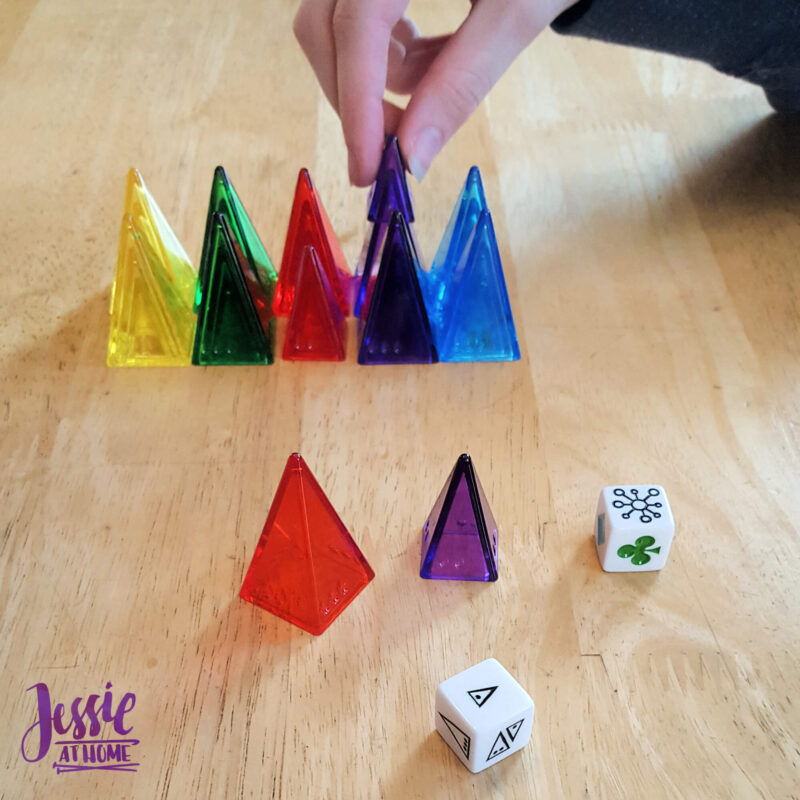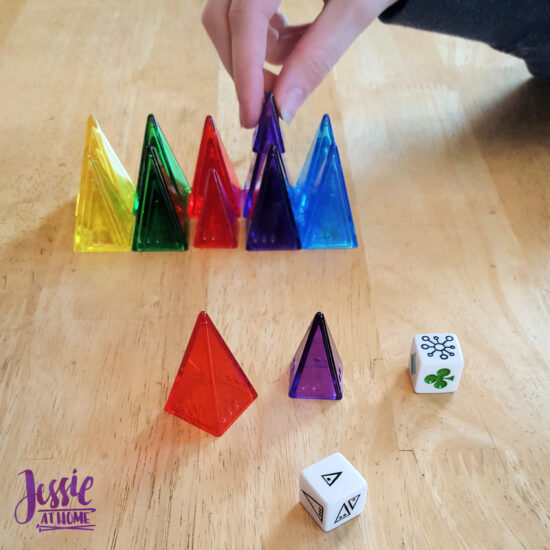 Kyla, Vada, and I all played this together by simply taking turns. First Vada and I played, than Kyla and I, then Vada and Kyla, and so on. Each game was fast and entertaining enough that the person not playing didn't get bored.
Ice Duo is now one of our go-to games for a quick game break. Once all these ridiculous cooties (COVID) are gone, and it's safe to travel again, it will certainly be included with our travel games.
You can purchase Ice Duo on Amazon HERE. You can find lots of other awesome Looney Labs games on Amazon HERE.
Did you enjoy what you found here at Jessie At Home? Then sign up for my newsletter and like my Facebook page, so you'll get all the updates on new tutorials, other posts, sales, and coming events.
If you have any questions, want to share pictures of your work, or just want to chat with Jessie and other crafty individuals, than join my Facebook group.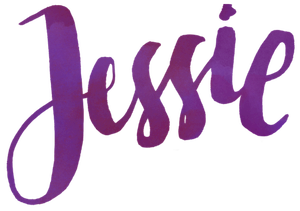 © Copyright 2020 Jessie Rayot / Jessie At Home All my videos, patterns, charts, photos and posts are my own work, so you may not copy them in any way. If you want to share this information with someone, then share the link to this post. If you want to share on your own blog / website, then you may use the first photo in this post and link back to this post. Also, you may not give away printed copies of this post.
If you liked this post, then take a look at these.