It's Janet's Garden Wrap Up time! I'm going to share the story of how this blanket got its name, and then share some of your finished gardens. At the end there will even be a chance to win all the yarn needed to make next year's blanket CAL!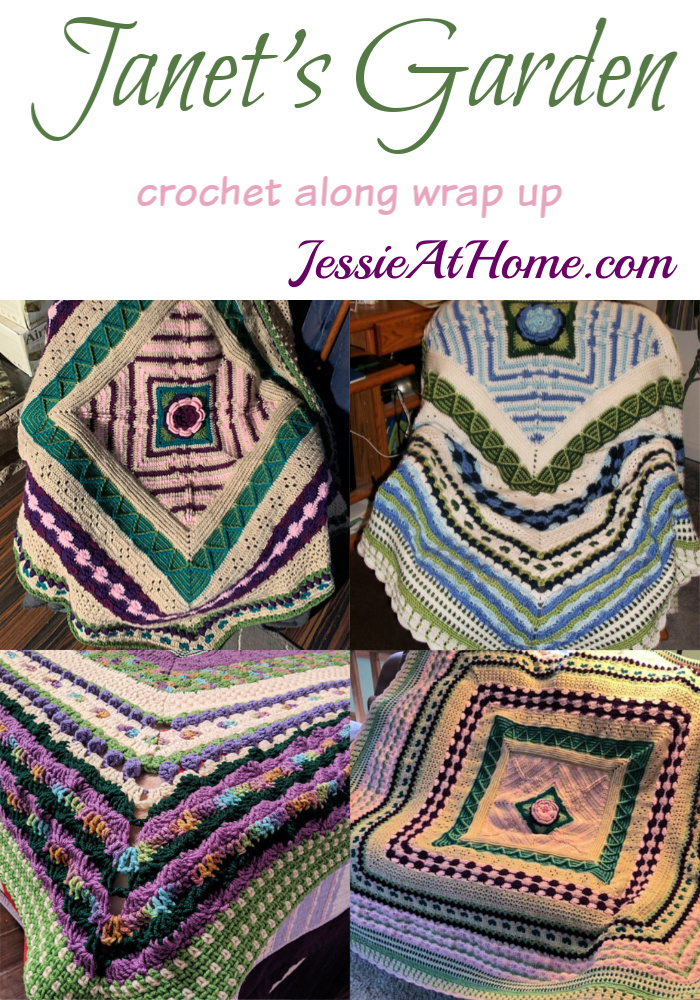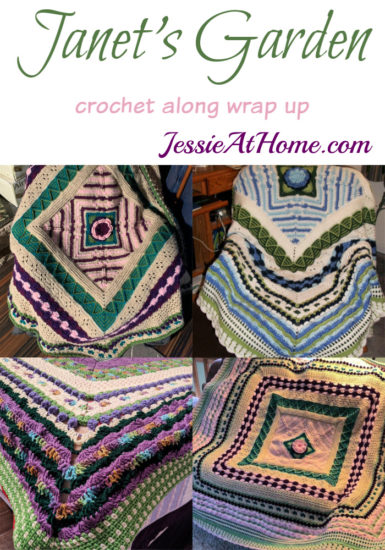 The yarn for this design was provided by Kraemer. All opinions are my own.
Find all the details and additional links about Janet's CAL HERE.
Yarn support for the Janet's Garden CAL was provided by Kraemer Yarns. You can find Kraemer's at the following links: Website, Twitter, Facebook, Pinterest, YouTube, and Instagram. I also highly recommend signing up for their newsletter so you can stay on top of what's new at Kraemer and be entered in the monthly drawing for a $100 yarn jackpot. You can also find a coupon code for Kraemer Yarn on the January Janet's CAL Post HERE.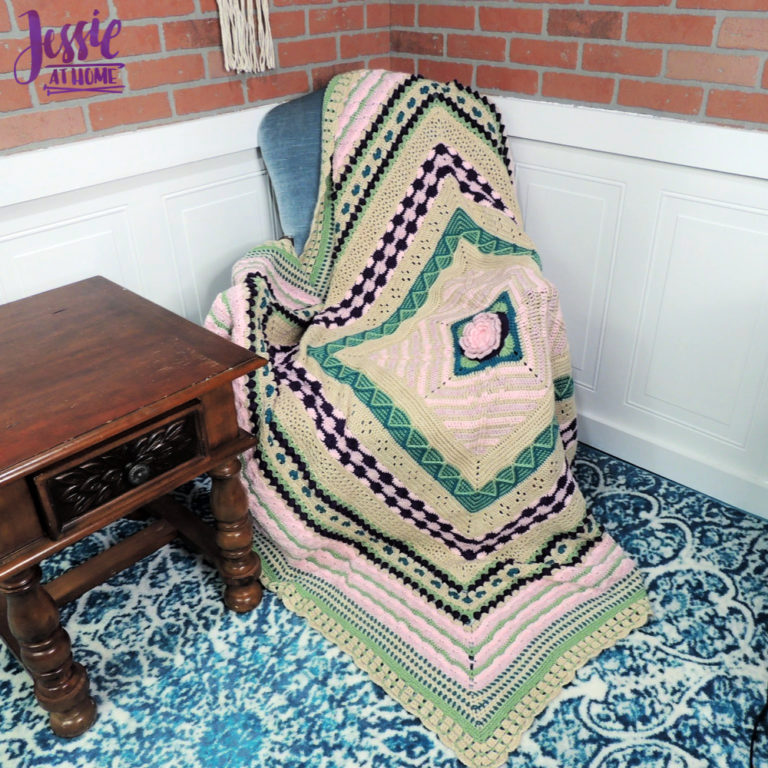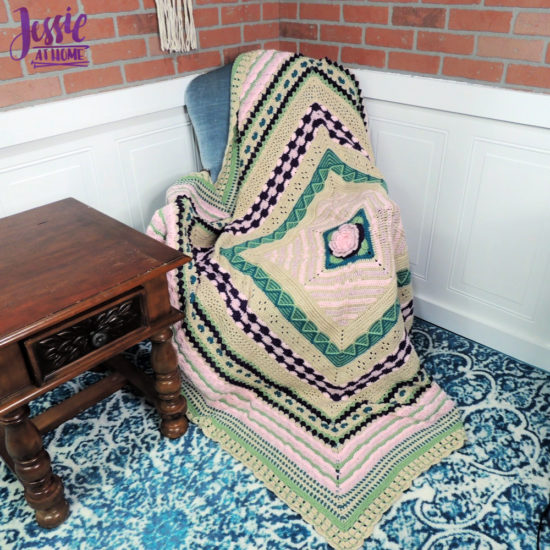 As I was designing this blanket, just over a year ago, I put a lot of thought into the name. This CAL was running for a year, so I wanted to be happy with it.
On my 27th birthday I graduated with my Master's in Studio Art, and that completed 21 years of school for me. That's a lot of teachers. Of all those teachers, there was one who stood out as my favorite.
Janet taught all my costume technology classes (along with some others) when I got my BFA in Costume Design. Nearly every week day of my undergrad education included Janet in some way, and I couldn't be happier about that.
Not only did Janet teach me uncountable skills which I use to this day, but she was a great human. Janet wanted each student to do their absolute best, and would settle for nothing less. My freshman year, when we learned the proper way to sew in a fly zipper, Janet ripped mine out and made me re-do it at least 7 times until it was just right. No one in my life had ever told me anything I sewed was less then perfect up until then.
I loved her for this. All the money my parents and I were investing was going to be worth it. I knew that I was going to LEARN. I knew that Janet wanted us to go out into the world and succeed. And today I know I owe a lot of my success to Janet.
I was faster then the other students in my class, so I was often done with a project well before them. I would sit at Janet's cutting table with her and she would teach me skills that weren't on the curriculum. Other teachers or professors may have told me to work on something else, or just let me go early. Janet kept teaching. It was glorious.
Now, in addition to being my favorite teacher in 21 years of school, Janet was also quite the gardener. She actually still is, as I've seen on her Facebook profile. So, when I started designing this blanket that had a garden theme and really challenged my skills, there was really only one possible name.
Janet, thank you. I love you so much, and I appreciate all you have taught me and all you have done for me. I could write for days and still not say all I would like to say, so "thank you" will have to do.
OK, now that I've shared about Janet and myself, how would you like to see a few of the blankets YOU have created over 2019?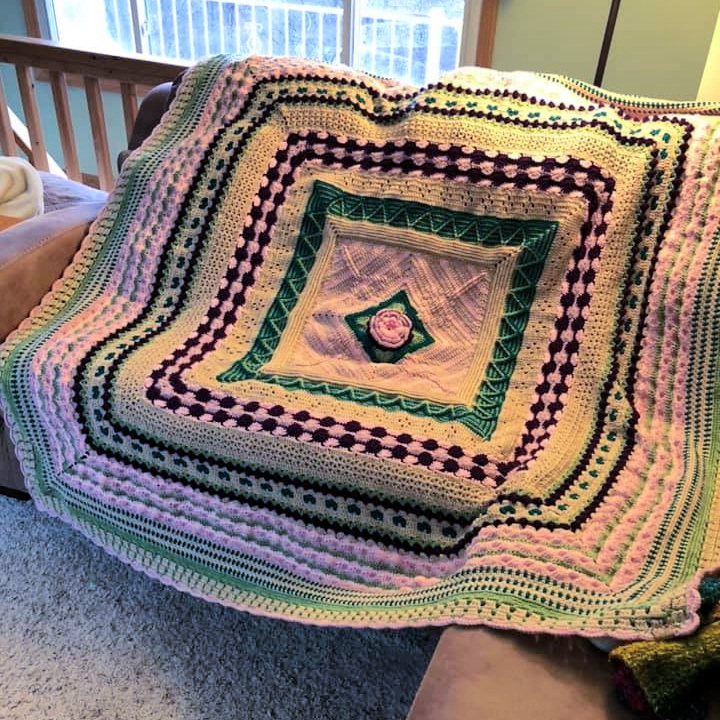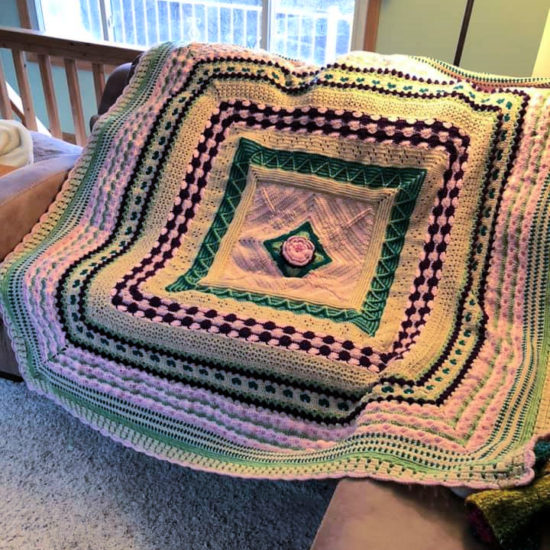 This is GrandmaWingard's Garden. She used the same yarn and colors as the original. You can see her project on Ravelry, HERE, where she has included several process photos.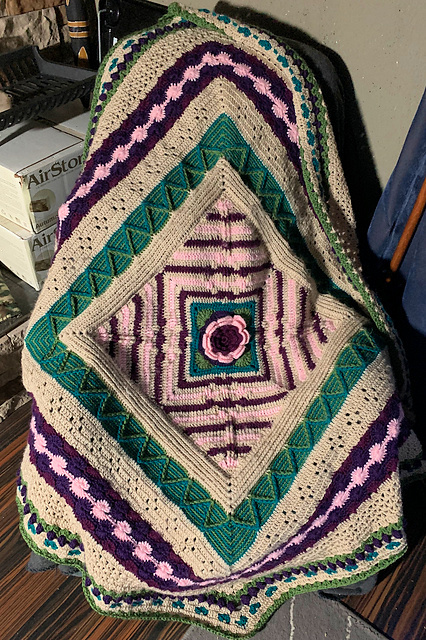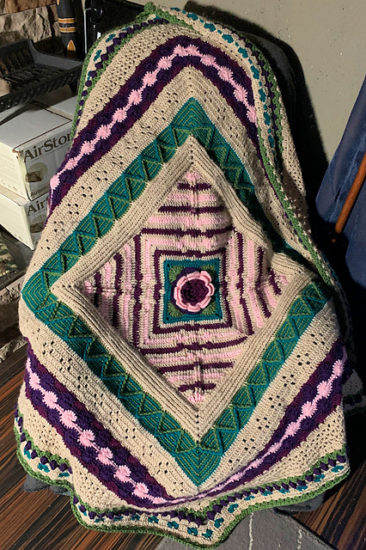 Amacaddict has also included some great process photos on her Ravelry project HERE. It looks like she used similar colors as the original, but she switched up where they were used a bit. I love the colors in center flower.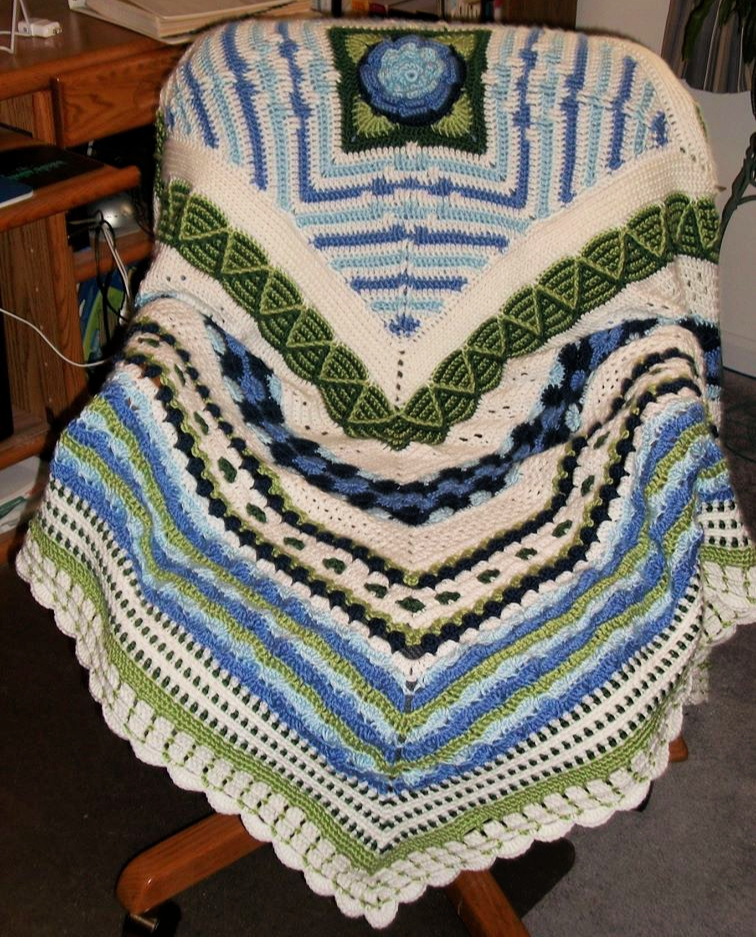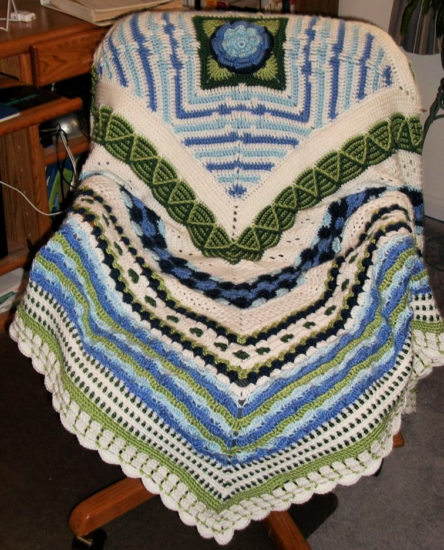 Psgeesin320 used blues and greens with a cream, and the results are lovely. It makes me so happy when people put their own spin on my designs. Check out her Ravelry project HERE.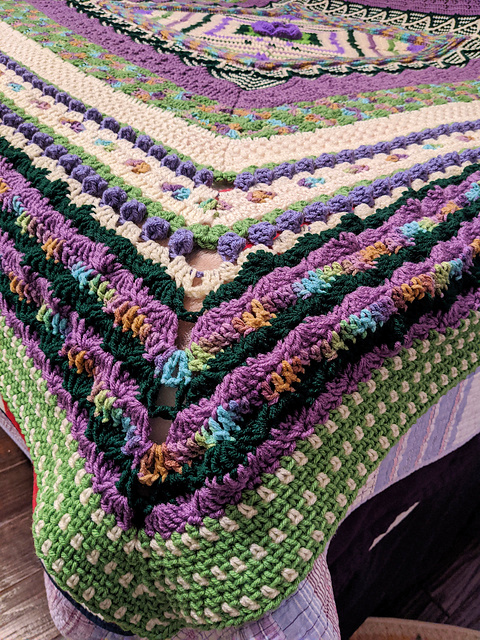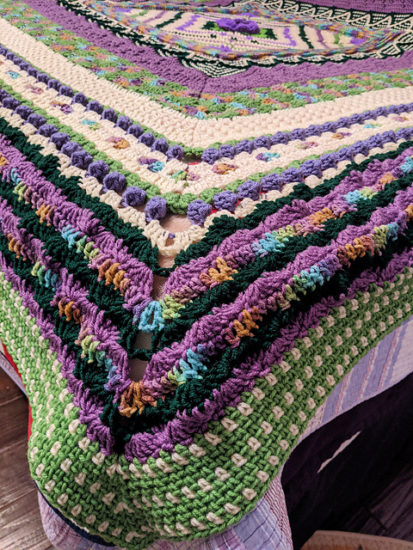 Speaking of changing colors, take a look at Jeanielee17's Ravelry project HERE. She changed nearly all the colors and used some variegated yarn as well. The result is super cool!
Do you want to know what 2020 has in store? I made a blanket from a well-known vintage book years ago and I loved the way it came together. Ever since I've wanted to design on that used a similar layout, but with my own designs inside.
Kraemer will once again be sponsoring the 2020 Blanket CAL. As before, the CAL will be posted on the 3rd Thurday of every month. January will be the supply list and December will be the wrap up with your pictures. That way if you want to give the blanket as a gift for the winter holidays, you can have it done in time. Plus it's a thrill for me to be able to share your finished creations!
Kraemer is giving one lucky maker all the yarn needed to make the 2020 Blanket CAL. You can enter below. Happy crafting, my friends!
To enter the 2020 Blanket CAL Yarn Giveaway you must be at least 18 years of age and have a valid shipping address in the USA. The giveaway ends at the end of day eastern time on January 15, 2020. Winner will be contacted by email and will have one week to reply with a valid shipping address or a new winner will be chosen. Void where prohibited.
a Rafflecopter giveaway


If you are going to make this crochet creation, then get some supplies from these affiliate links.
[signature]
If you liked this Janet's Garden Wrap Up, then take a look at these!