I am focusing on the good right now. So let's start with this. Kyla and Vada have made their Red Heart debut! They both helped me with some kid craft patterns Red Heart hired me to create for them, and we had so much fun. I took so many pictures that I was asked to use them for 2 guest posts on Red Heart's blog. Pretty nifty.
Vada helped me with the tassel necklace made with Red Heart Sizzle. Here is the blog post with the rest of the photos.
Kyla helped out with the pom pom bookmark made from Red Heart Super Saver. Here is that blog post as well!
I also made a wide braid headband for the craft line.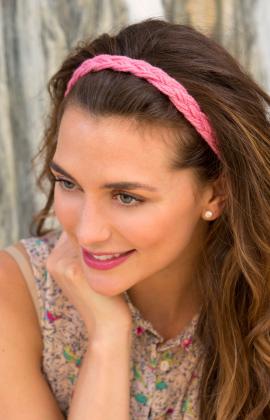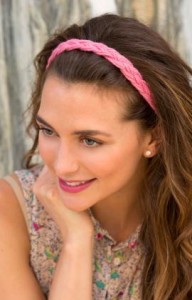 So there is lots of good. It always makes me happy to have good associated with Red Heart. Coats & Clark has always been a part of my life. It makes me happy to work with them, and to know how awesome a company they truly are. Really, tons o' great people there!
On a non~yarn note. I took the girls with me to Trader Joe's last week. Normally grocery shopping is "me time", but not last week. We found a bag of multi~colored carrots. Vada wanted those. Then Kyla insisted I buy 2 packs of Parisian cucumbers (normally I only buy 1 pack). So for 3 dinners last week, this was our side dish. The girls were in Heaven. OK, so was I!
Before Trader Joe's, we had to make a quick stop at AC Moore, because I needed one more skein of yarn to finish a pillow cover I was making for Kyla's room.
See, look, there it is. The one thing I needed at AC Moore.
But these knee high socks I have been eyeing were on sale. Do you see them? They are such pretty knee high socks!!
And then the girls saw these skirt and scarf sets. They were on sale too!
I'm not sure what this is. I just know it is mine.
Oh, and there is no leaving AC Moore without masks. That is entirely unacceptable.
Kim Guzman has recently started a group on Facebook where she will be hosting Crochet Alongs with her patterns. I have joined the first one, and here is my progress so far. I am having fun with this! It is drop stitch (Tunisian) crochet, and it goes really fast!!
The pattern can be found here:
http://www.crochetkim.com/patterns/dropstitchscarf.html
Right-Handed Video here:
http://youtu.be/abKFFlY3Pbk
Left-Handed Video here:
http://youtu.be/2aJqRXGZqYM
OK, remember to focus on the good. Maybe in a week or so I will tell you the crazy that is going on right now. But for now I need to release it, so, focus on the good. There is a lot of good!
©Copyright 2014 Jessie Rayot / Jessie At Home All my videos, patterns and posts are my own work. Do not copy them in any way. If you want to share this information with someone, share the link to this post. If you want to share on your own blog / website, then you may use the first photo in this post and link back to this post. You may not give away printed copies of this post. Thank you.
This post may contain affiliate links/ads. If you purchase something from a link in this post, I may be compensated.