I wanted to make you a messenger bag sewing tutorial, but I wanted it to be a little…extra. So I added a Diamond Art creation! I'm so happy with the finished creation. You can choose any Diamond Art piece that is 8 1/2″ square or smaller, and any fabric that makes you happy for your bag.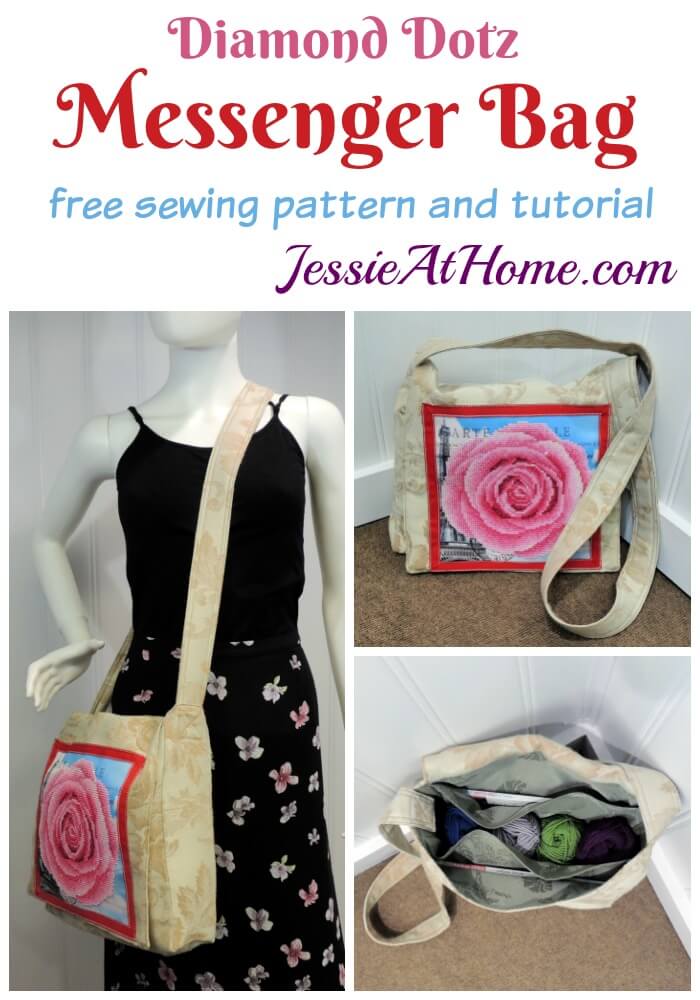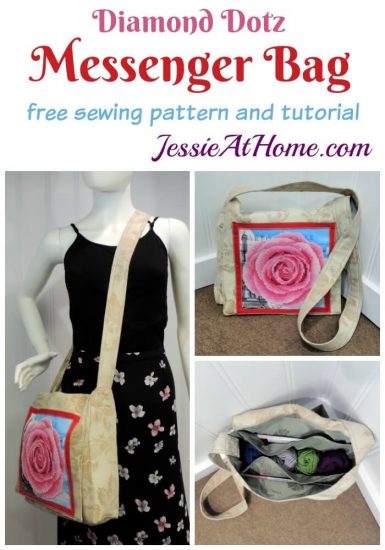 Some products used in this tutorial were provided by Leisure Arts and Clover. All opinions are my own.
This messenger bag sewing tutorial uses all rectangular pieces of fabric, so there is no pattern to cut out, just a list of the rectangles to cut out. I highly recommend using, tailor's chalk, a 90° ruler and a long ruler for drawing out your rectangles in order to make them square and true to size.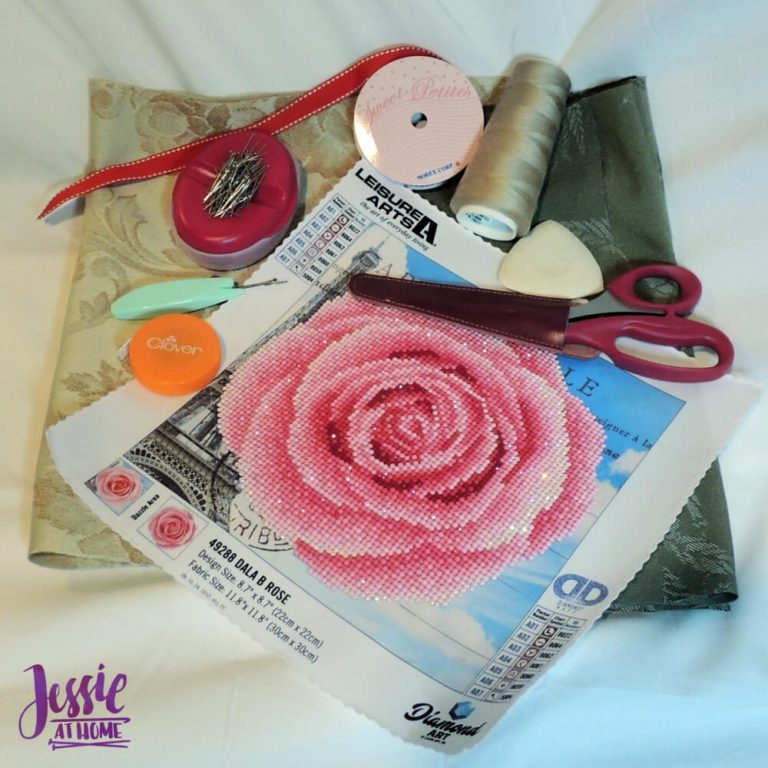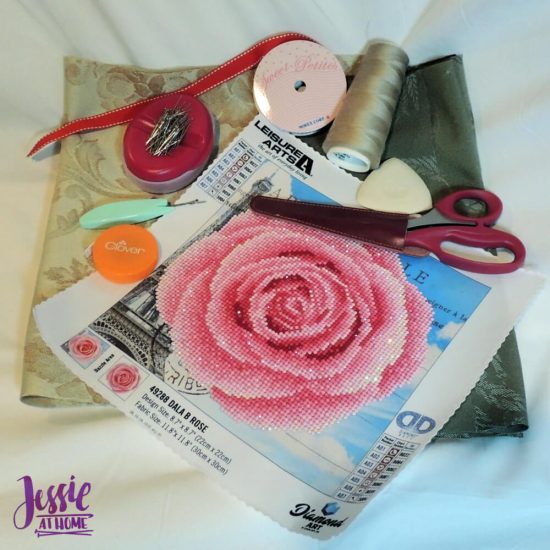 Cut List
Bag Fabric:
(1) 41″ x 13″ for main bag section
(1) 14″ x 13″ for flap lining
(2) 13″ x 4″ for sides

Lining Fabric:
(1) 28″ x 13″ for bag lining
(2) 13″ x 4″ for side linings
(2) 13″ x 13″ for pockets
Other Supplies
Strapping 1 1/2 – 2″ x 50″ (or make with 6-8″ x 50″ of main fabric)
Thread
Diamond Dotz completed image
1 yard 1/2 – 3/4″ wide ribbon
Messenger Bag Sewing Tutorial
All seam allowances are 1/2″.
Right side means the side of the fabric that faces out, not the opposite of left side.
Cut around Diamond Art image leaving 1/4″ past the printed area.
Place Diamond Art image on the right side of the main bag section, centering it from right to left, with the bottom of the image 1 1/2″ from the top edge of the main bag section.
Carefully baste down the Diamond Art image 1/8″ from edge.
Pin ribbon around Diamond Art image, covering up the 1/4″ extra past the printed area.
Sew down ribbon on both edges, making sure the corners are neat and the white around the image does not show.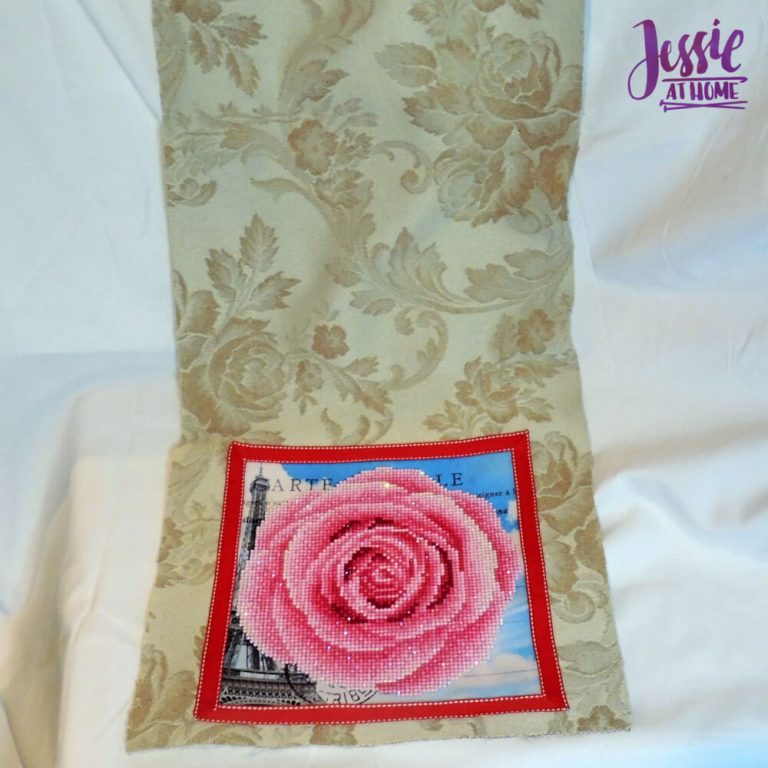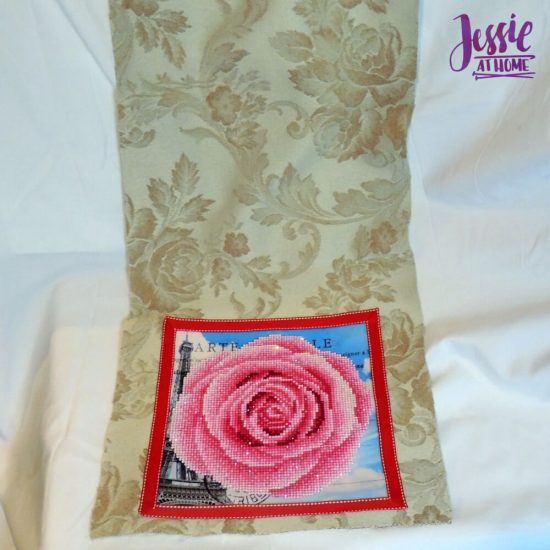 Fold and press opposite sides of each pocket down 1/4″, then fold and press them down 1/2″.
Top stitch the folds close to edge of fold.
Place each pocket 1″ from each end of bag lining , then baste seam allowances together at 1/4″.
Top stitch pockets down along bottoms of pockets (sides opposite of the ends of the lining) close to edge and then again 1/4″ in from edge.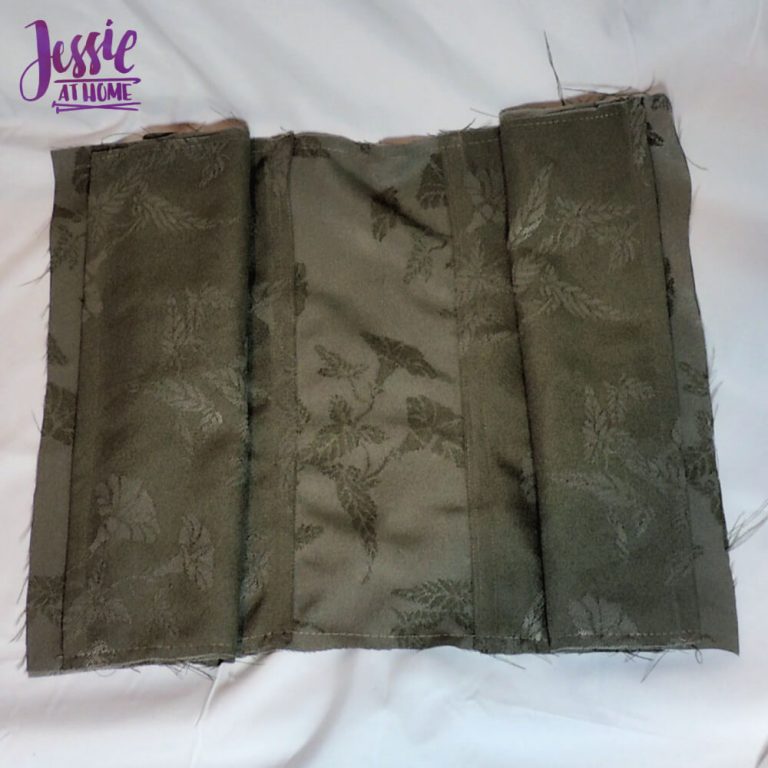 Sew bag lining to flap lining along 13″ sides, leaving the seam allowance unsewn.
Starting at the opposite end of the flap, mark long sides of bag lining at 12 1/2″, then 3″ from previous mark, then 12 1/2″ from previous mark (this mark should be at the seam of the flap lining.
Mark main bag section in the same manner, starting from the opposite end of the Diamond Art.


Sew the side sections of the lining to the bag lining, starting at the opposite end of the flap.
First pin and sew the 12 1/2″ seam, then fold the bag lining and continue sewing the 3″ seam, then fold the bag lining again and sew up the other 12 1/2″ seam, stopping 1/2″ before end (so just 12″).
Repeat above process to sew sides to main bag.
Press all seams away from the sides, take care not to iron the Diamond Art.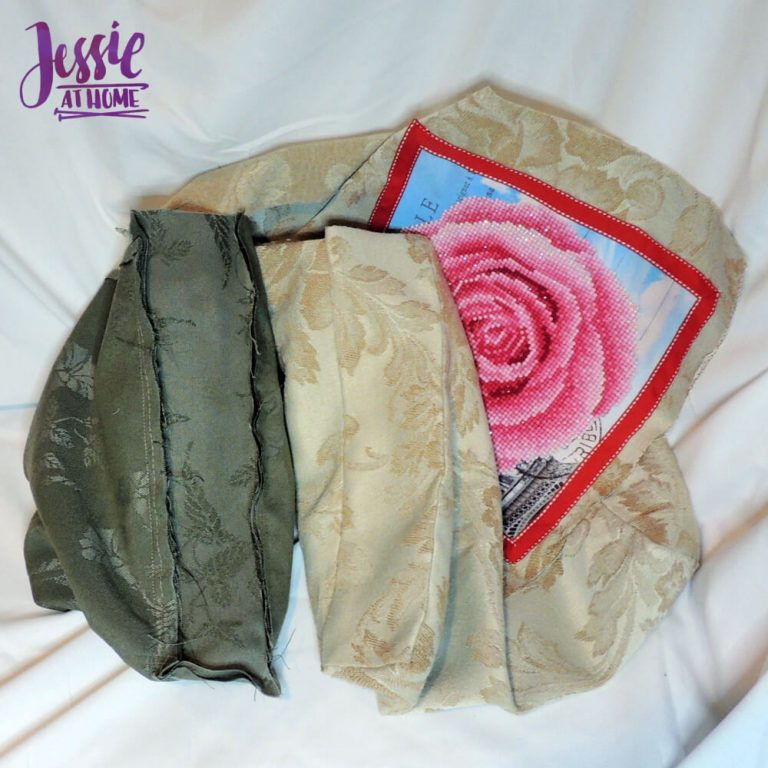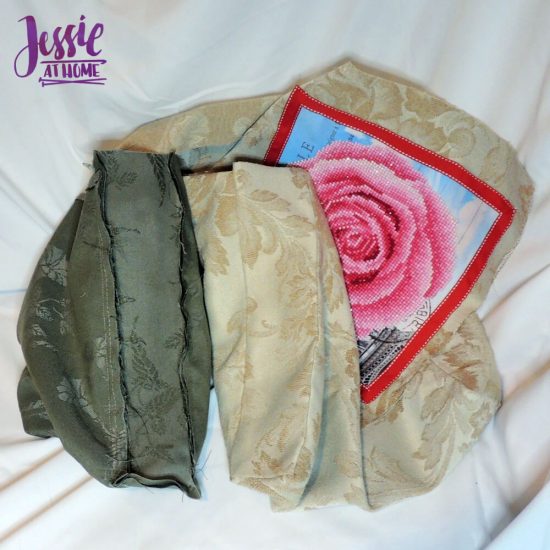 Turn main bag inside out and place it inside the lining, so the right sides are facing.
Pin lining and main fabric together along the top of the sides and around the flap.
Sew across the top of one side, around the flap, and then across the top of the other side. Leave the top front of the bag open so you can turn the bag.
Turn bag and press.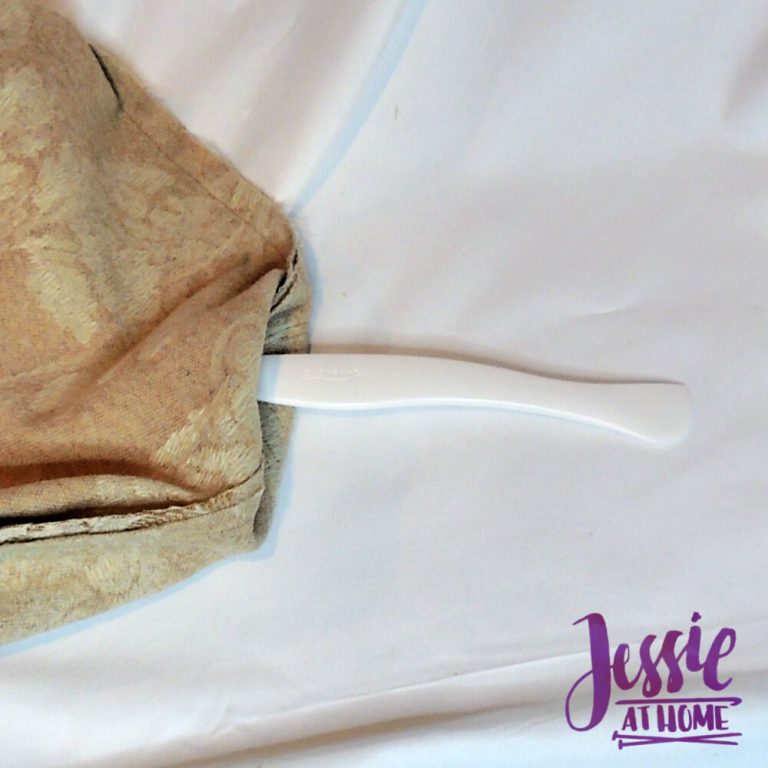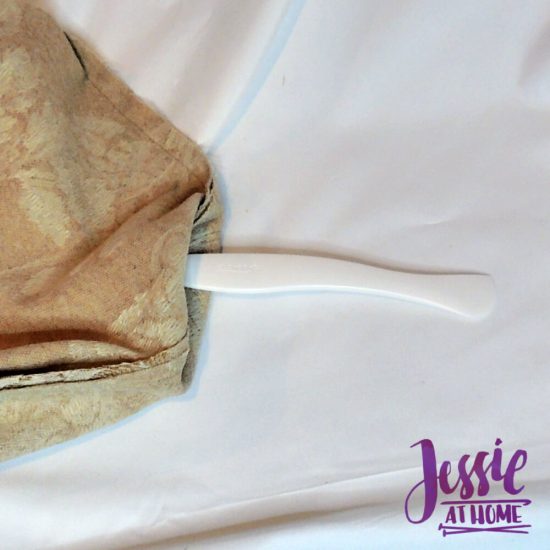 While making this messenger bag sewing tutorial I used many sewing supplies from Clover, including THIS point turner, as seen above.
Press top front seams inside, then top stitch close to edge.
Top stitch around top of bag and flap again 1/4″ from edge.
Center end 1 1/2″ of bag strap on sides of bag and top stitch them down in a box with an X in the middle, check length before sewing down second end. – To make strap with 6-8″ x 50″ of main fabric, fold both sides in to center, press, fold in half, press, sew close to both long edges, then sew again 1/4″ in from both long edges.
Press flap at top of bag and again 3″ from there, once again taking care not to iron the Diamond Art image and you're done!!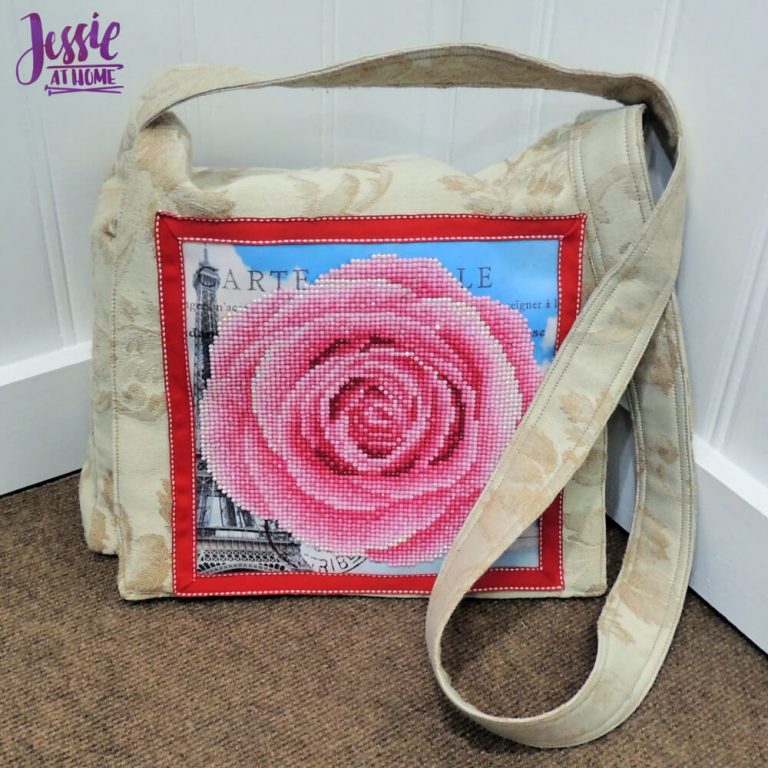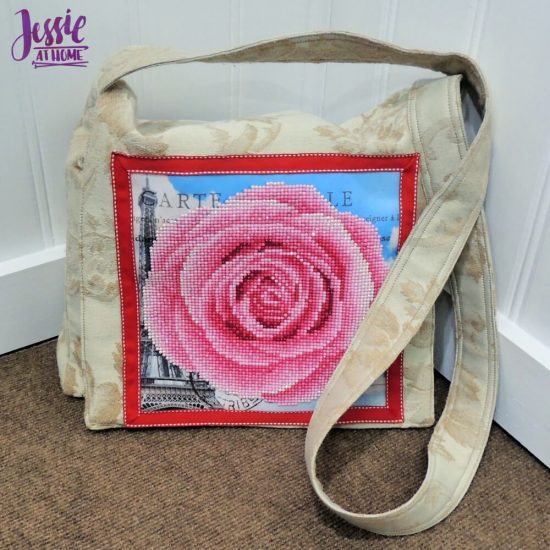 Now use or give and enjoy.
If you enjoy this free sewing pattern, please consider buying some of your supplies from one of these affiliate links. Thank you.
Did you enjoy what you found here at Jessie At Home? Then sign up for my newsletter and like my Facebook page, so you'll get all the updates on new tutorials, other posts, sales, and coming events.
If you have any questions, want to share pictures of your work, or just want to chat with Jessie and other crafty individuals, than join my Facebook group.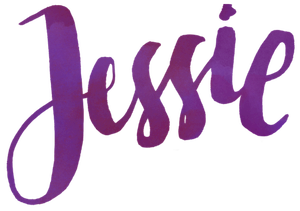 © Copyright 2019 Jessie Rayot / Jessie At Home All my videos, patterns, charts, photos and posts are my own work, so you may not copy them in any way. If you want to share this information with someone, then share the link to this post. If you want to share on your own blog / website, then you may use the first photo in this post and link back to this post. Also, you may not give away printed copies of this post.
If you liked this tutorial, try one of these.