Hello there! A few weekends ago I attended the 2015 Stitch 'N' Pitch at a NY Mets game. The Stitch 'N' Pitch is an event that happens at various pro baseball games around the country in association with TNNA (The National Needlearts Association). The Stitch 'N' Pitch that I attended was also sponsored by Lion Brand Yarn. They gave all the attendees a goodie bag with some yarn so that everyone could make some afghan squares for Warm Up America, a wonderful organization that makes and collects hand made blankets for those in need.
It was tons of fun! I went with Amy of Stitchin' Mommy. We met there, as she lives in Queens, and I live in NJ. I miss living in Queens, it was so much easier to go play in Manhattan, and to go to fun events without having to drive and park.
Anyway, I drove to the game. The bus from here only runs every 2 hours on the weekend, and would require a transfer to the subway as well. By the time all the tickets are purchased, it is pretty much the same cost as tolls and parking, so I decided I would rather drive. Public transit is not as affordable or convenient coming from NJ. I got in at noon for a 1:10 game, and I still ended up parking pretty far away. I snapped a photo of where I was parked so I would be able to find Thor again after the game.
Once I got to the gate, I met up with Amy and we went in. As we arrived, we stumbled upon a Star Wars costume contest. It seems we managed to be there during a Star Wars theme day! I tried getting a few snaps of some of the cute little ones in the contest, but all the photos came out fuzzy or with people blocking the little ones. I did get some snaps of the judges.
We made our way up and back to our seats. We were rather far away, but we were in the front row on the aisle our section, so we could still see very well.
Amy and I took a moment to take a selfie! It was so much fun to finally meet Amy in person. I have known her online for years, but this was our first time meeting in person.
Amy told me that the 3 seats next to us were going to be occupied by Marie of Underground Crafter and 2 of her friends. I was very excited! Marie is another amazing lady I have known online for quite some time but never met in person. She was just as awesome as I knew she would be. While we were watching the game, she created this square.
At the top of the 6th, the rain started! We all had to go back to the covered section for a while as it poured down on the field. Eventually the rain moved on, the cover came off the field, and the game continued.
There were a few fun little breaks during the game. One of them was when the tee shirt cannons came out, along with the Star Wars characters who were judging the costume contest.
At some point during the game, Shira Blumenthal came over to us and managed to get Marie, Amy, and me to sing on camera. That is actually the reason I waited to long to share about the game with you, I was hoping our goofiness would be up on YouTube so I could share it with you, but, alas, it is still not up. I will let you know when Shira posts it.
Towards the end of the evening, Marie, Amy and I got a selfie with the 3 of us. Amy took this photo and was kind enough to allow Marie and I to use it as well. 🙂 You can read what Amy had to say about the day here, and what Marie had to say about the game here.
Between the rain delay and the traffic, it was rather late when I got home. I did manage to snap a few photos of what I got done during the game, and of the goodies I received. The grey is a square I just started, the tan is a square I managed to finish in the little leaves stitch (I'll have to teach you that stitch, I really like it), and the bottom photo is the goodie bag with it's contents, along with a new color of Landscapes that was my reward for signing for Shira.
That's about it for the Stitch and Pitch details. It has inspired an idea for a CAl/KAL for a donation blanket made from Heartland yarn. But that will most likely be around the end of this year or beginning of next before it starts, I have the current one to finish up, and another one already in the works for after that.
I'm going to take a minute here to share some of the shenanigans from my kiddos. They found a large box and decided to make a van. They labeled who sits where, and Vada made a huge AC unit on the side. They even added in pedals.
Once they got in, Vada pulled out some cardboard headphones and listened to the radio ~ which was Kyla belting out "Let It Go." It was pretty awesome. I love their creativity.
That's all for now my friends. We'll chat again soon.
If you enjoy Jessie At Home, please consider buying some of your supplies from one of these affiliate links. Just click the images to get to the sites. Thank you.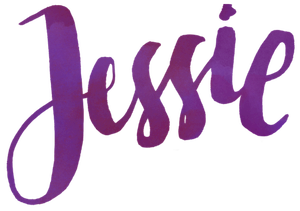 ©Copyright 2015 Jessie Rayot / Jessie At Home All my videos, patterns and posts are my own work. Do not copy them in any way. If you want to share this information with someone, share the link to this post. If you want to share on your own blog / website, then you may use the first photo in this post and link back to this post. You may not give away printed copies of this post. Thank you.
This post may contain affiliate links/ads. If you purchase something from a link in this post, I may be compensated.