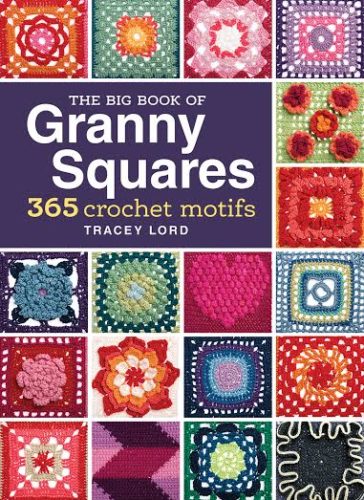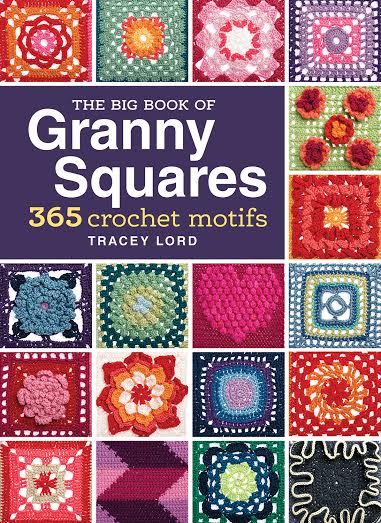 The Big Book of Granny Squares by Tracey Lord has squares for everyone! There is a huge variety in styles and skill levels, making it useful for the newbie to the most experienced crocheter. The designs are beautiful and range from traditional to trendy. Tracey certainly has her finger on the pulse of what is current in crochet.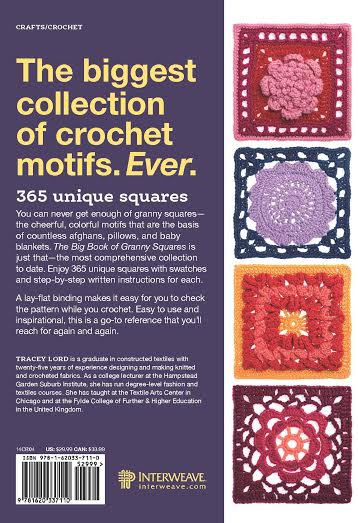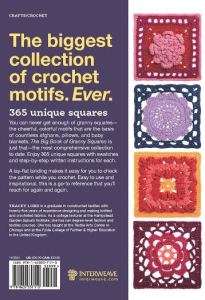 There are two things that I REALLY loved about this book:
It's a rainbow!! Really, it is! At the beginning of the book there are several pages of crochet basics and special stitches with those how~to images we are so familiar with. The color of the images changes shade by shade as you flip through this section, creating a rainbow. The squares themselves are organized in the book in rainbow order as well, with the main color on the side of the page so you can flip through to just the color you want. Of course, you can always make the squares in whatever color you like, but Tracey does have a great eye for color!
The variety! Variety really does describe this book in every way. There are squares worked in the round, top to bottom, and corner to corner. There are solid squares and lace squares. Nature inspired squares, art inspired squares, floral squares, geometric squares. There are squares using traditional stitches and squares using the newest and trendiest stitches. There are squares for everyone. To be precise, there are 365 squares in this book. So, if you are feeling a certain kind of crazy, you could make one every day of the year! Unless it's leap year. 😉
After flipping through this book, I thought it would be fun to make a few of the squares and make a bag out of them. It was a lot of fun. Here is my bag!
I used some leftover yarn I had in my stash, so I did not stick to Tracey's colors. The squares I used were Waterlily on page 330, Isabell on page 335, and Sweet Granny on page 361.
Below are the images of the 3 squares I used as they are seen in the book, with Tracey's color choices. I love her color choices!! Her colors give the squares a more current look. The colors I used gave my bag a very retro look, which I thought was great, and is why I just HAD to add the tassels. It's kind of 70's awesome!


I wanted to try 3 really different squares, so I went with one floral, one worked in rows, and one more traditional. I also read through several more to see how they were written. I think it gave me a feel for the different patterns in the book. I do have a few notes about the actual patterns. There are no row/round stitch counts, so you really have to pay attention to the starting chains and if they are counting as a certain stitch (such as a double crochet). Sometimes I had to do a count of my own on the more advanced patterns just for safety's sake. I also found the lower skill level patterns were easy to understand, but some of the more advanced patterns did require a bit of "interpretation" in order to be able to create the finished square. However, I was able to create the squares I chose, so even though I would have liked the patterns to be a bit clearer, they are still workable.
I really do like this book. Every time I look at it I see something new. It is so much fun to see the traditional stitches and the "hot right now" stitches all together in one place. Tracey's designs are very lovely, as is her color sense.
Oh!! I almost forgot, I also love that the book is spiral bound with a cover over it. This way the pages turn easily, and it stays open to the page you want, but the spirals don't snag your yarn. Smart.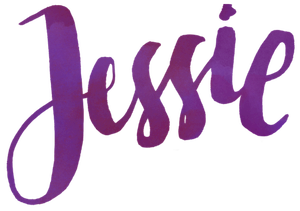 ©Copyright 2014 Jessie Rayot / Jessie At Home All my videos, patterns and posts are my own work. Do not copy them in any way. If you want to share this information with someone, share the link to this post. If you want to share on your own blog / website, then you may use the first photo in this post and link back to this post. You may not give away printed copies of this post. Thank you.
This post may contain affiliate links/ads. If you purchase something from a link in this post, I may be compensated.