Custom Ties are easier than you think with the May 2021 Artesprix Sublimation Blank of the Month and Sublimation Markers!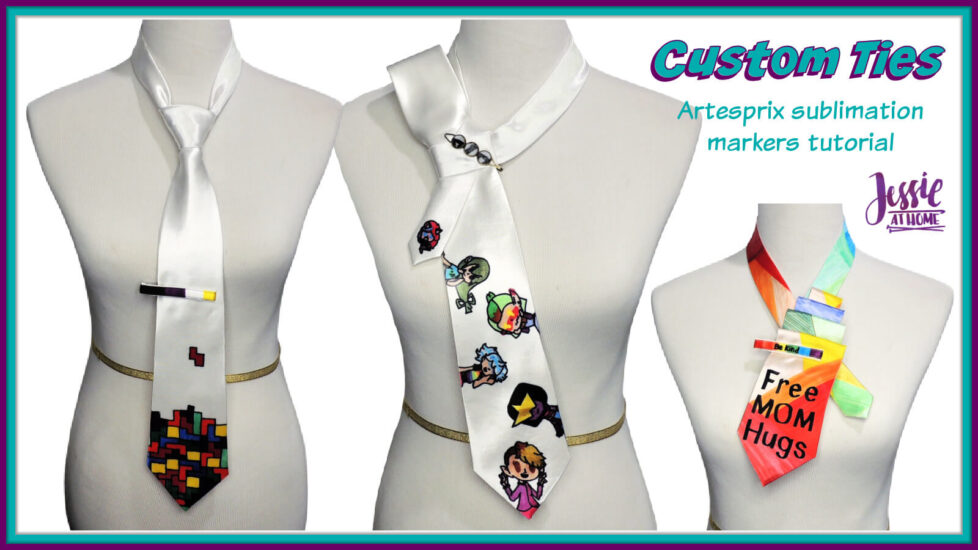 Some products in this tutorial were provided by Artesprix. All opinions are my own.
The twins and I really enjoyed coming up with our designs for the May 2021 Blank of the Month: Poly Necktie; use code Jessie10 to get 10% off. In addition to making our own custom ties, we also made some tie clips. You can find a tutorial for those HERE. I also made some video tutorials on creative and unique ways to wear neck ties on which you can find HERE.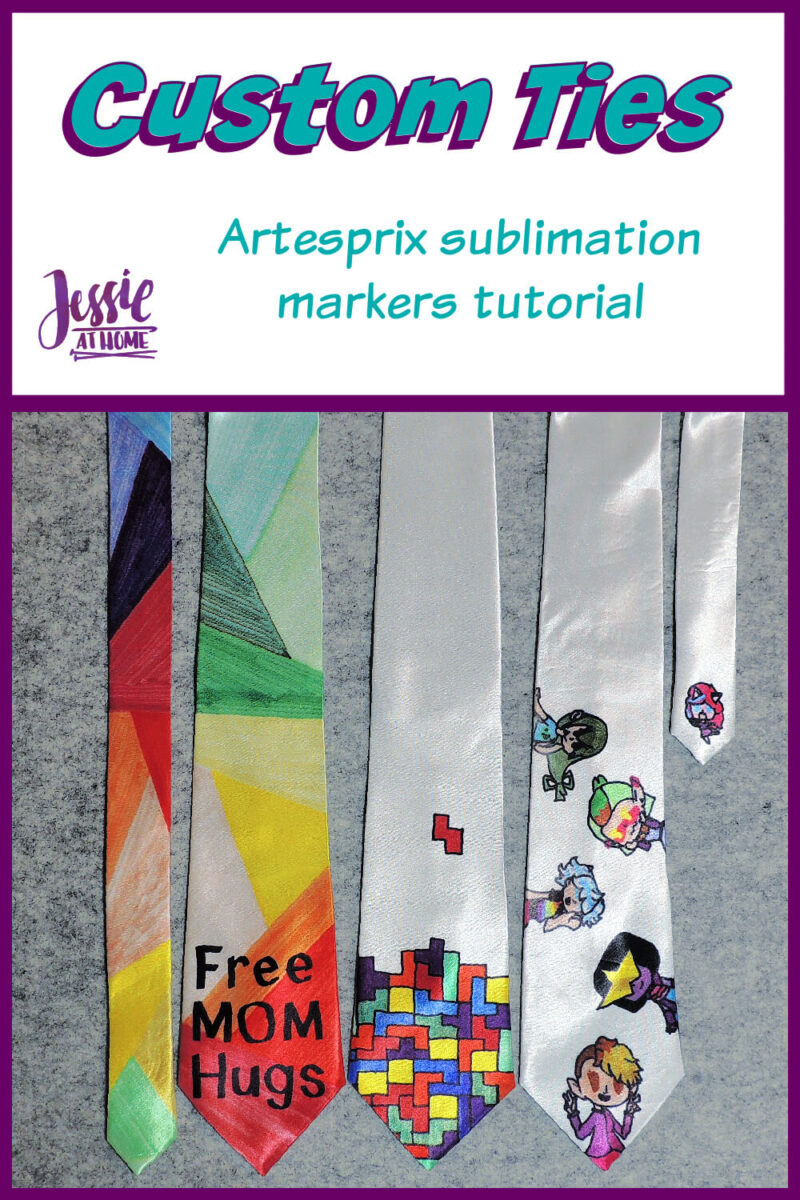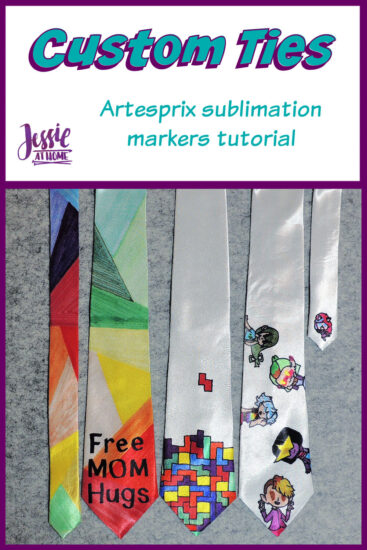 Custom Tie Supplies
Use code Jessie10 to get 10% off your Artesprix order – not valid on the Heat Press or sale items.
Here's a fun little video showing the process of all 3 ties.
Vada's Tetris Neck Tie
After a bit of thought, Vada decided they wanted a Tetris theme. The creation of the design looked very Zen to me. First Vada traced the tie end and then drew a grid over it. Had I noticed before the coloring started I would have given them a piece of graph paper to use. Graph paper is still paper, and therefor works just fine to color onto with the Artesprix sublimation markers.
Once the grid was in place, Vada pulled up a Tetris image on their laptop and used it to lay out the blocks on the grid. Next they chose colors and colored in the blocks. I love the one falling block, it's one of those details that just makes it so much better!
Now it was sublimation time! I layed the paper color side up, then placed the tie right side down on top of it. Next I taped the tie onto the paper. It's important to remember that the heat tape will block some of the heat. By taping it in this manner, there were no worries that the tape would mess up the sublimation.
The whole thing was then flipped over and layed on top of a sheet of protective paper. Then another sheet was layed on top. So the layers were as follows: heat-safe surface, protective paper, tie face up, colored paper face down (tie and paper taped together), protective paper.
While setting this all up, I was preheating my Cricut EasyPress. Always check the heating time and temp for each blank. For this one we needed 400° for 60 seconds.
Vada's Tetris custom tie is pretty awesome!! Tomorrow is "Throwback Thursday" at school, and this tie will be making an appearance.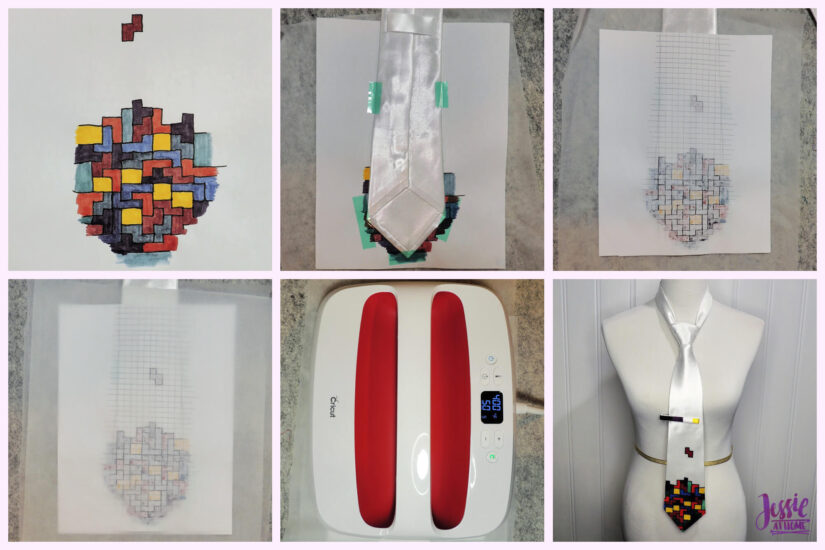 Free Mom Hugs Tie
I've been wanting something to identify me as a Free Mom Hugs mom other than a shirt, so this was perfect. Plus, I can't resist the opportunity to rainbow!
First I traced the tie over 6 piece of paper and then drew in angled lines to make rainbow shards. Next I choose a selection of my Artesprix sublimation markers to make a rainbow and started coloring in the shards. I dealt with the breaks from one piece of paper to the next by putting them each inside one shard and tearing the seams after they were colored.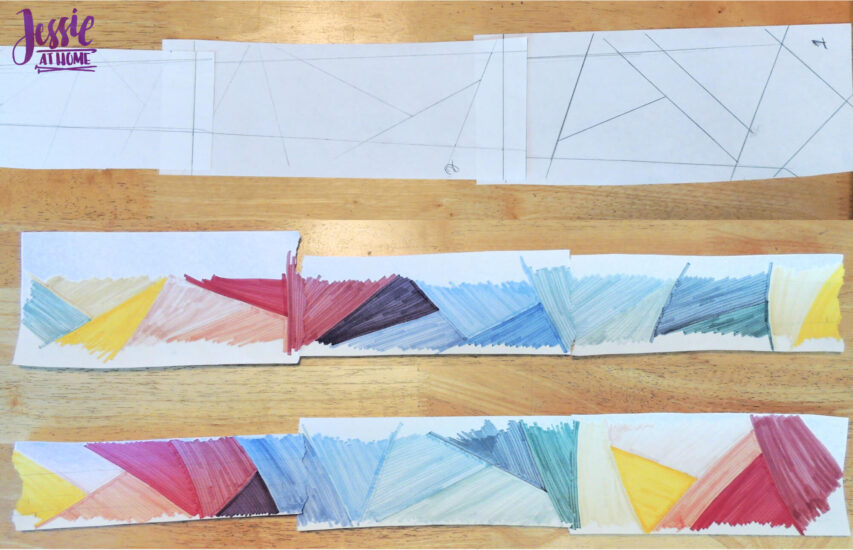 Below you can see how it all looked as I sublimated each section. I layered it all the same way as I did with Vada's. The tie was placed on top of the paper with the right sides together and then the tape was placed from the back of the tie to the paper. Finally it was flipped over for the actual sublimation.
I wasn't thrilled with the look of the seams. I think the next time I do something like this I will put the seam from one piece of paper to the next on the seam between colors. Then when I do the sublimation, I can just overlap the seam by the tiniest amount and it will blend into the color change.
I realized I forgot the words just as I was about to tape the tie down. I quickly printed them out mirror imaged on my printer then placed them behind the already colored paper. Then I traced them over the colored image so that the letters were backwards.
Another solution would have been to first sublimate the rainbow, then add the words after with sublimation. The black works on top of the other colors with no problem. Of course, I could have not forgotten about them in the first place and just had them as part of the original design.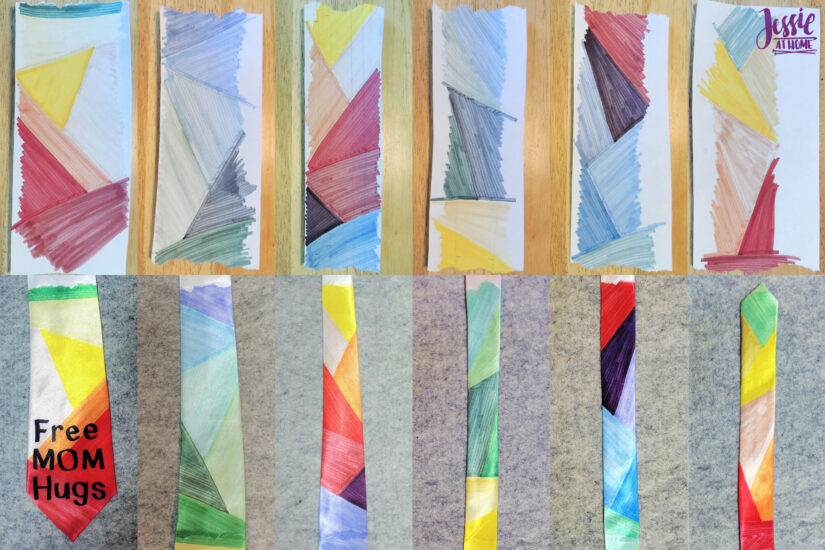 Kyla's Fan Girl Tie
The excitement about this one is awesome. Kyla gets very into some show worlds and also into her drawing. So she decided to choose one drawing style and make character from various shows on her custom tie. Here's the cheat-sheet from the left to right of the photo.
Kyla Rayot – Kyla's self portraid
Garnet – from Steven Universe.
Umi Suiiki – Kyla's original character in the My Hero Academia world.
Amity – from the Owl House
Tsuyu Asui – from My Hero Academia.
Pinkie Pie – from My Little Pony Friendship is Magic.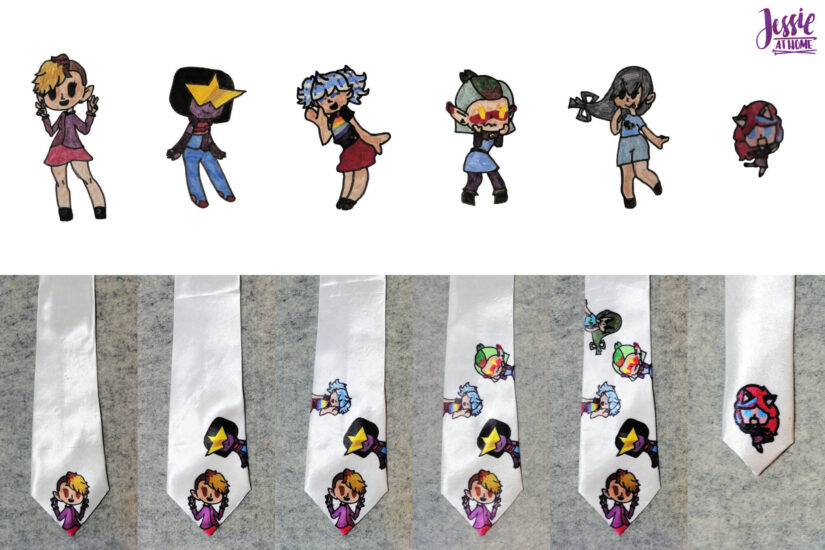 We all are massively in love with our custom ties. I have a feeling they'll get worn A LOT. Of course, you could make a tie for your father, as Father's Day is coming. You could also make multiple ties. Why not one for you AND one for Dad?
Don't forget to use code Jessie10 to get 10% off your Artesprix order – not valid on the Heat Press or sale items.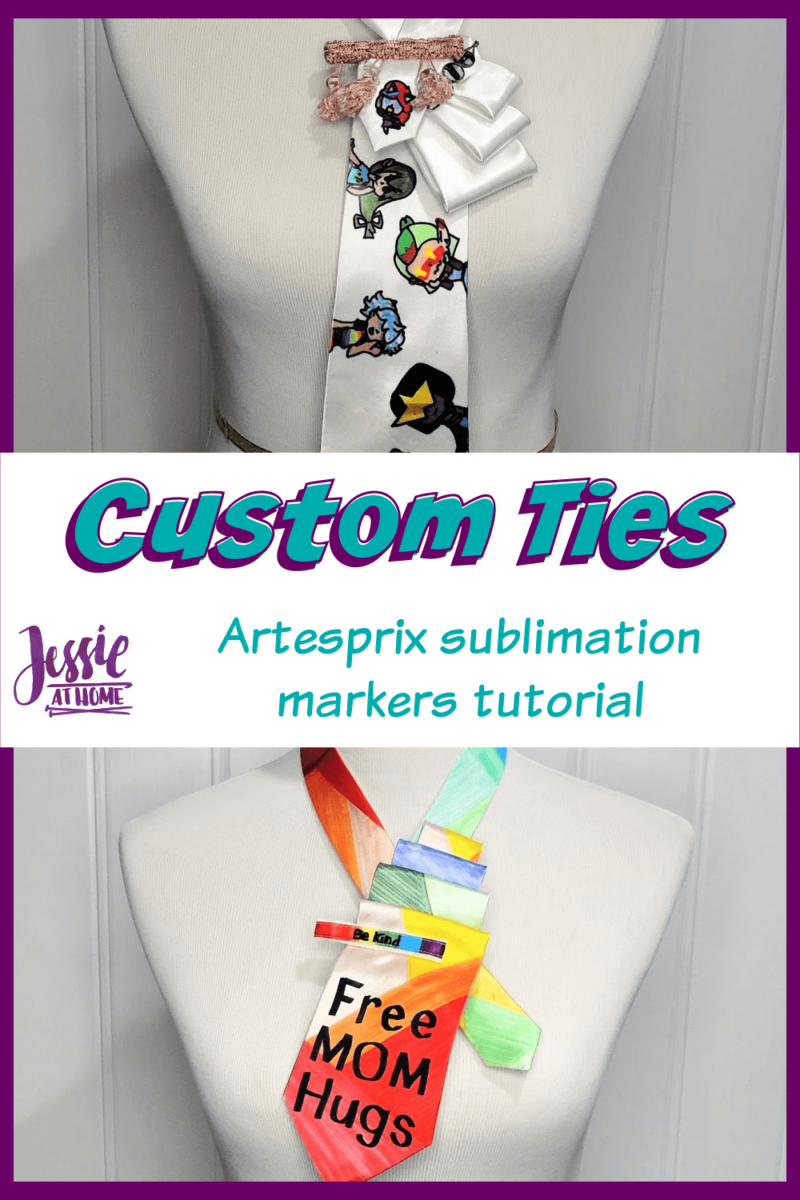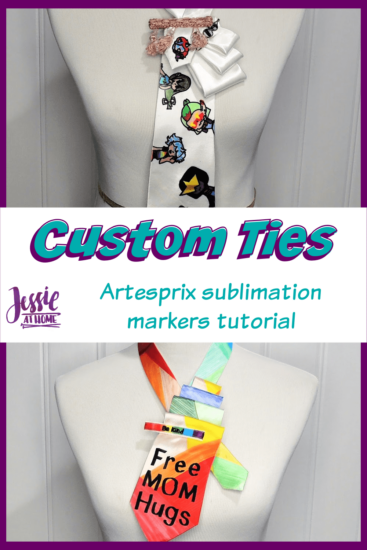 Happy sublimating my crafty friends!
Did you enjoy what you found here at Jessie At Home? Then sign up for my newsletter and like my Facebook page, so you'll get all the updates on new tutorials, other posts, sales, and coming events.
If you have any questions, want to share pictures of your work, or just want to chat with Jessie and other crafty individuals, than join my Facebook group.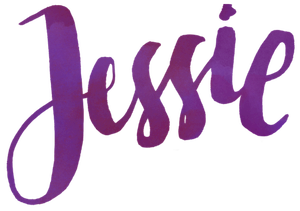 © Copyright 2021 Jessie Rayot / Jessie At Home All my videos, patterns, charts, photos and posts are my own work, so you may not copy them in any way. If you want to share this information with someone, then share the link to this post. If you want to share on your own blog / website, then you may use the first photo in this post and link back to this post. Also, you may not give away printed copies of this post.
If you liked this custom tie post, then take a look at these.