Perfect Parent Presents can be hard to find, so why not make your own! Let's DIY tie clips and hair clips for our parental units.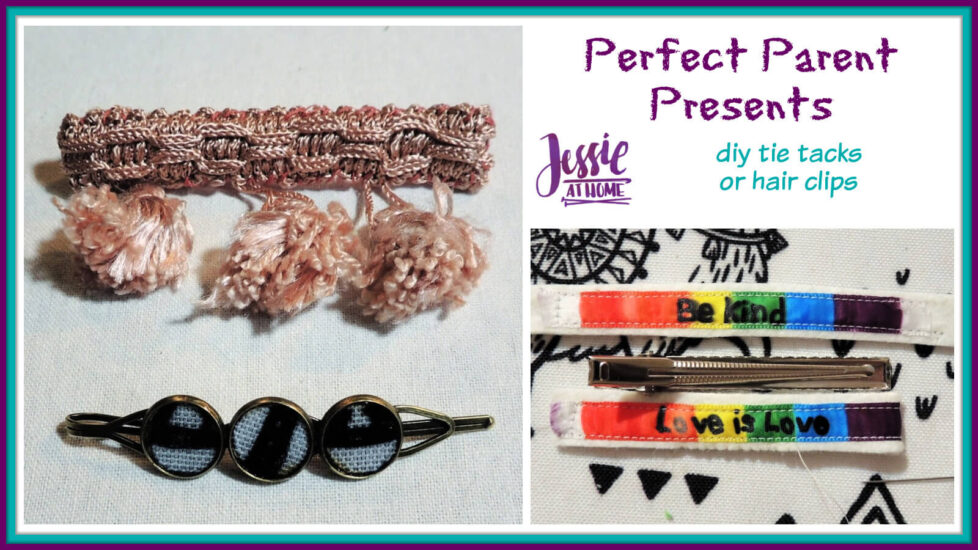 Some products in this tutorial were provided by Artesprix. All opinions are my own.
The May 2021 Artesprix Blank of the Month is a Neck Tie, so our coordinating crafts are DIY Tie Clips and neck tie tying tutorials. You can find some tying tutorials HERE. The kiddos and I ended up making hair clips along with the tie clips. We thought you'd enjoy them both for your parent present needs.
You can find the Neck Tie sublimation tutorial HERE.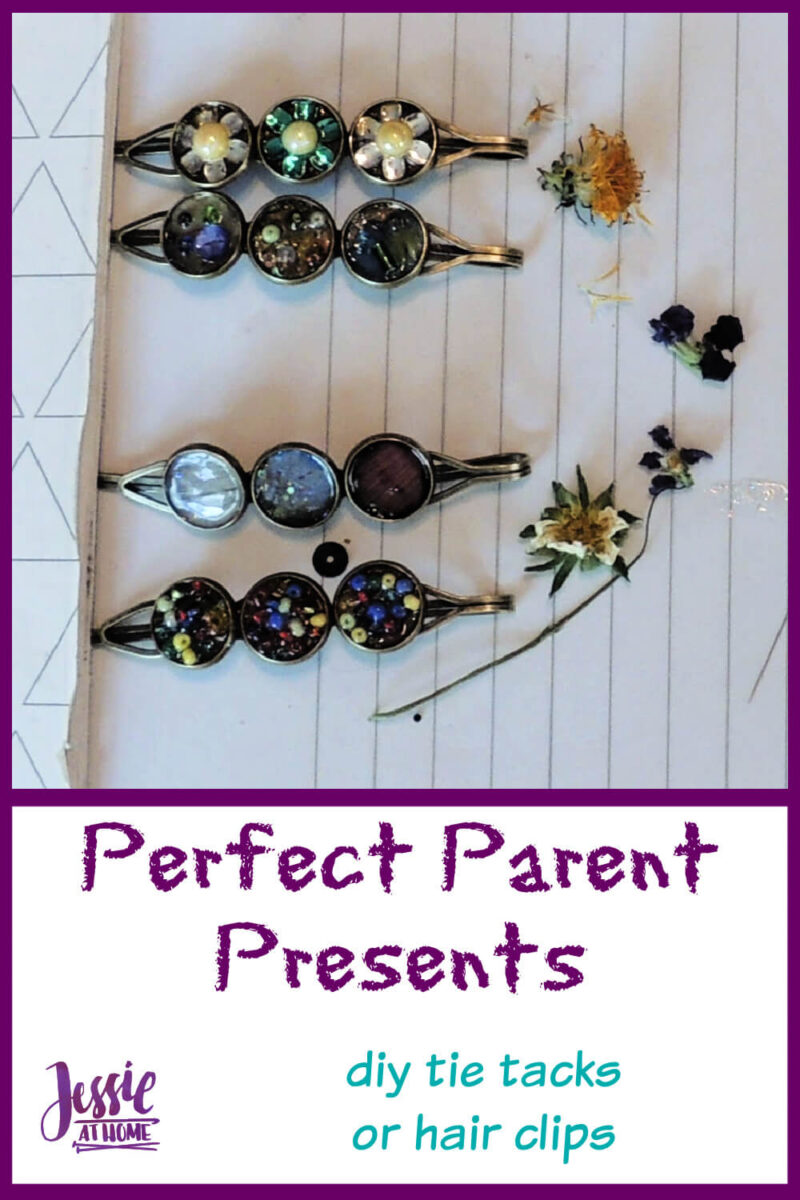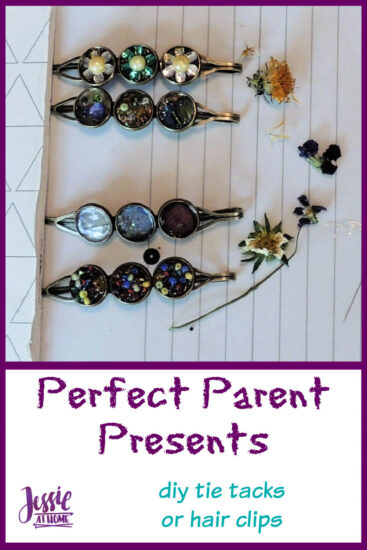 Tie Clip and Hair Clip Supplies
Use code Jessie10 to get 10% off your Artesprix order – not valid on the Heat Press or sale items.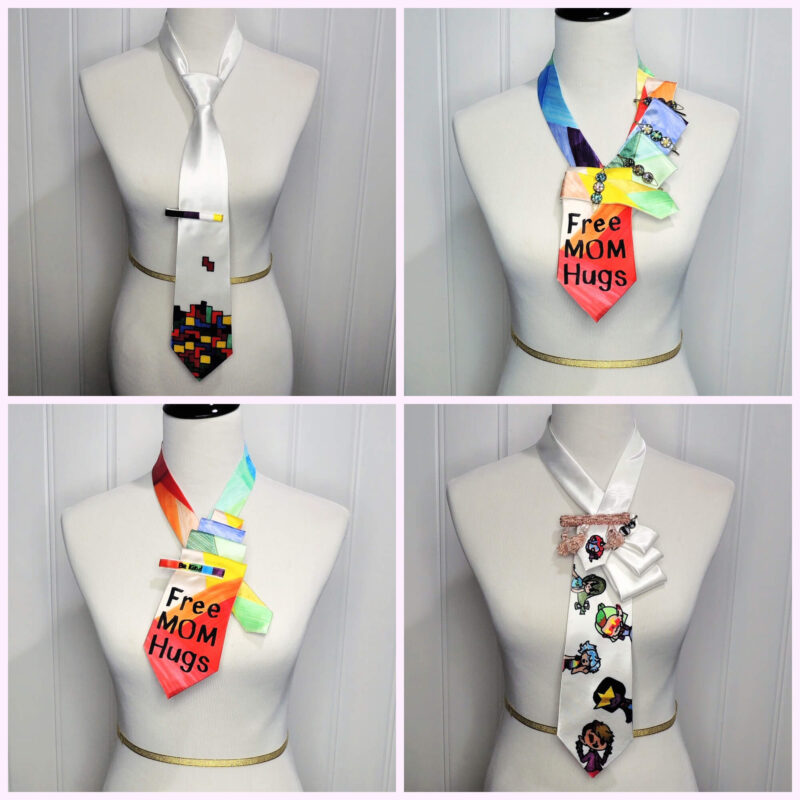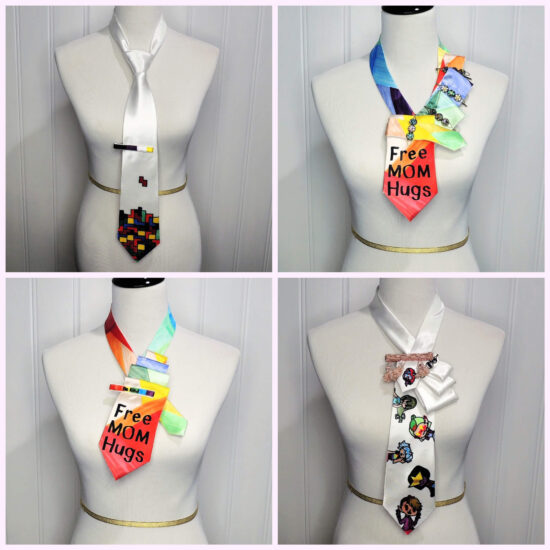 Triple Dot Clips
These clips with the circles in them are great for adding little bits of anything! We used hair clips that had a bit of a curve in them, but I have since found some tie clip blanks with a single circle that would be awesome HERE. Honestly, the blanks I got for this project are both much better for hair then tie clips. Thankfully I've found some tie clip blanks now so I gave you those links.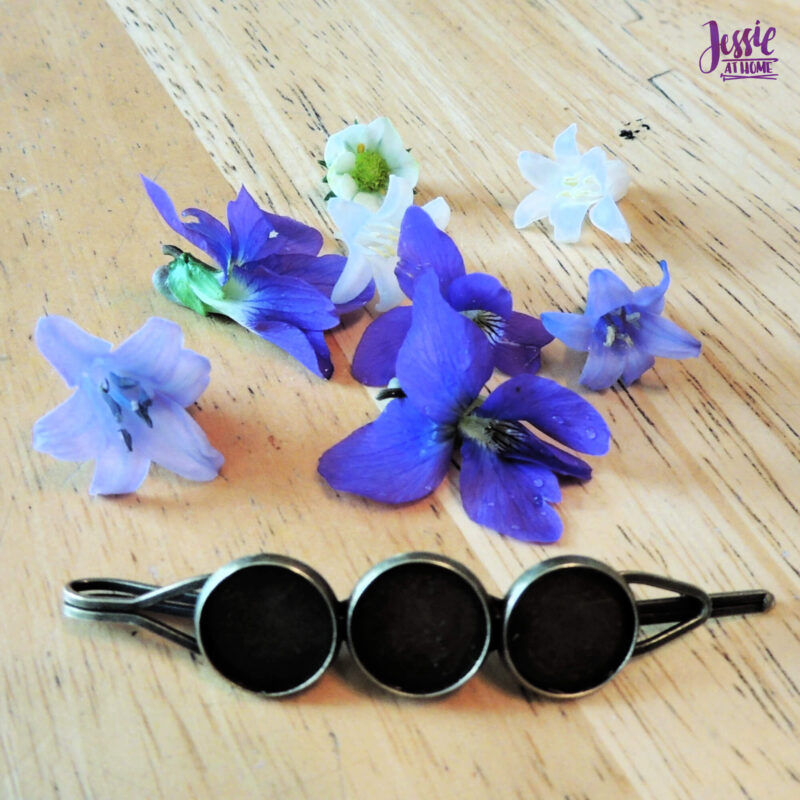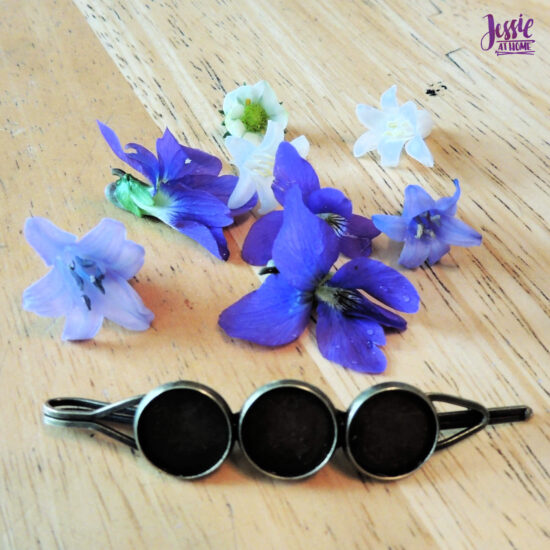 For the first round of dot clips I used Gloss Mod Podge first, then stuck in all the decorations. I let that dry for most of the day and then filled in the dot with Mod Podge Sparkle.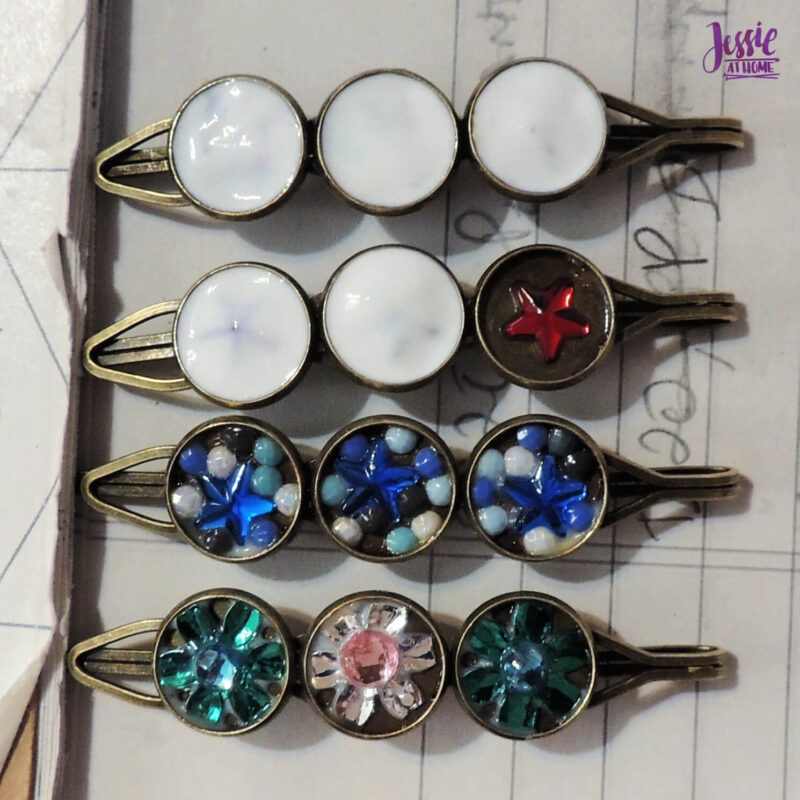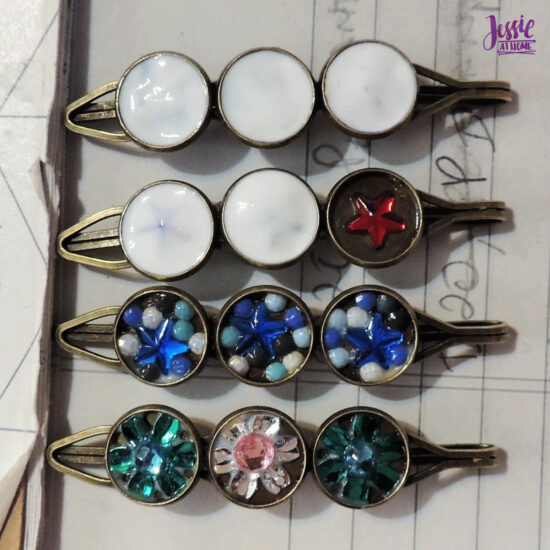 As you'll see in the finished photo, it was a LOT of sparkle. So the next day I tried again using the sparkle first, then the bits of flowers and such, and covered it with gloss.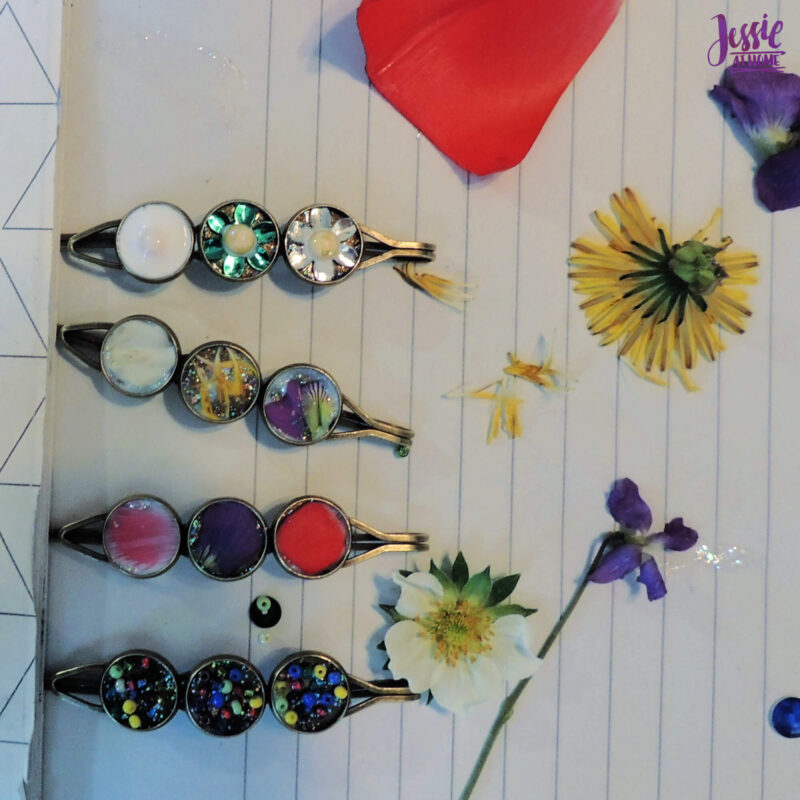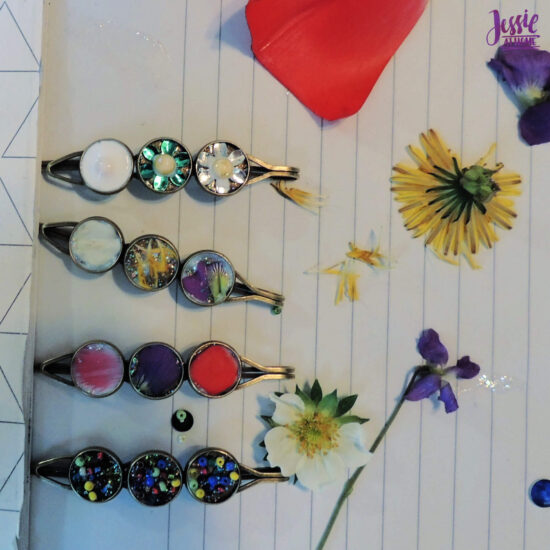 After two days of drying, I was actually pretty happy with both sets. The first set with the sparkle on top is on the right. The set on the left has the sparkle on the bottom and the gloss on the top. It took over a day to dry completely because I puddled it so thick in the dots.
Plaid Crafts JUST came out with Mod Podge Resin. I think it would be a better choice for something like this as the flowers faded with the Mod Podge glues. They don't tend to do that in resin.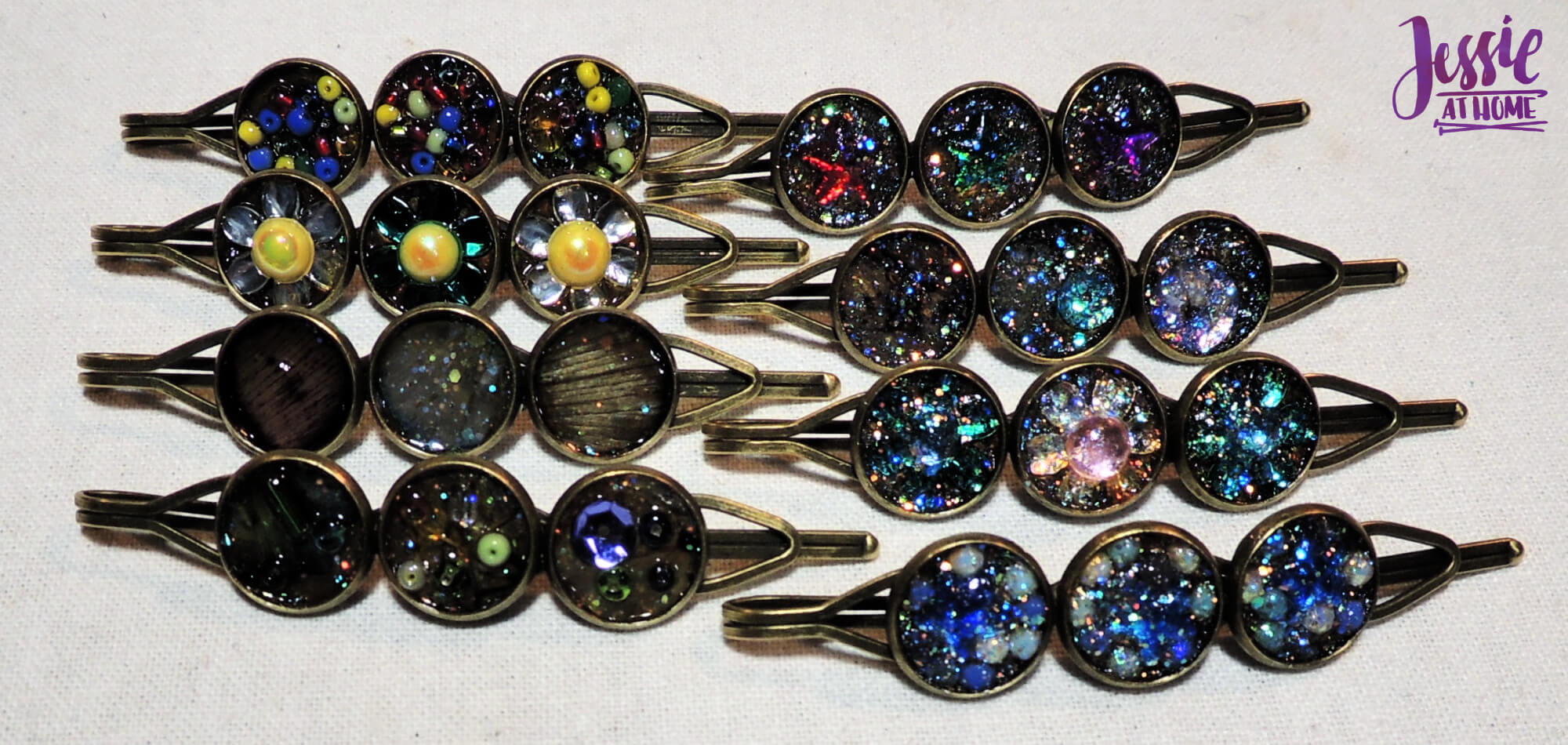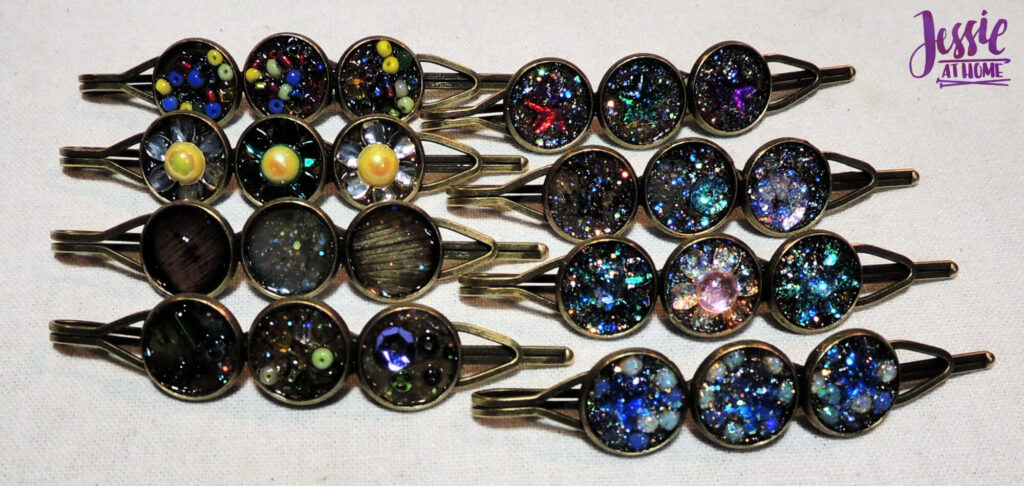 Flat Clips
If you want to use flat clips for your parent presents, then here's what you can do. The flat clips we used were hair clips so they didn't slide all the way onto the ties. I'd go with the tie clip blanks over hair clip blanks if you want them to work on ties.
One technique for decorating flat clips is to cover them with ribbon. We found some polyester 3/8″ ribbon and decided to try sublimation with it.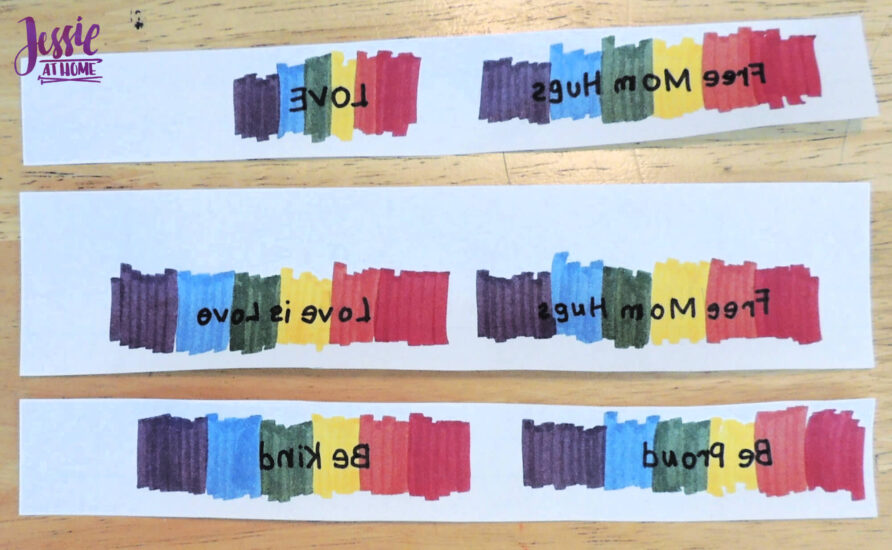 I colored in some rainbows with my Artesprix markers and added some words. Then I layered everything up and hit it with the EasyPress. It turns out not everything polyester is great for sublimation. This rainbow parts worked great, but the lettering on some ran too much. I'm pretty sure that's an issue with not using an actual sublimation ribbon, not with the markers. In the many, many times I've used these markers they've never run before.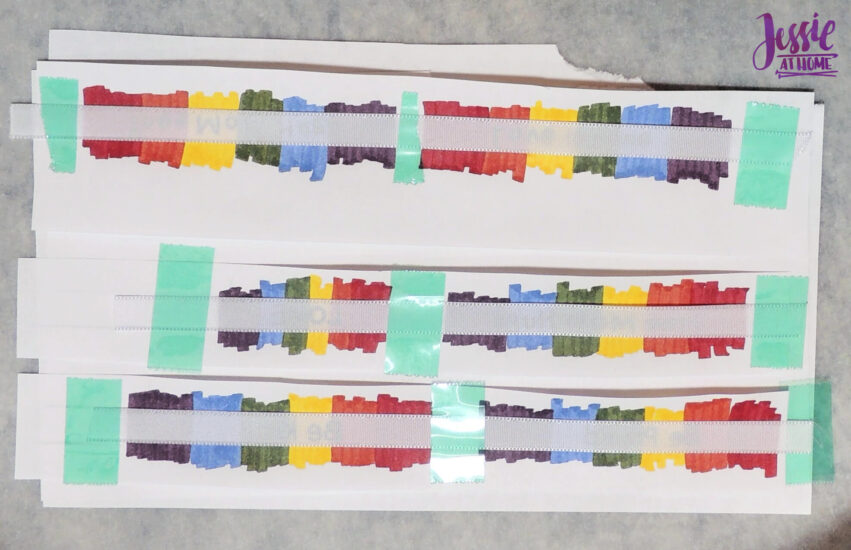 I was able to use some of the ribbons I made, and Vada successfully made a non-binary flag. I'll use the ribbon for sublimation again, just not with anything with details like letters.
To get the ribbon onto the clips, I cut some 1/2″ felt strips. Then I sewed the ribbons onto the strips with about 1/2″ hanging off the left side and a few inches hanging off the right. Next I wrapped the right side around the top of the long section of the clip and hand sewed the sides together.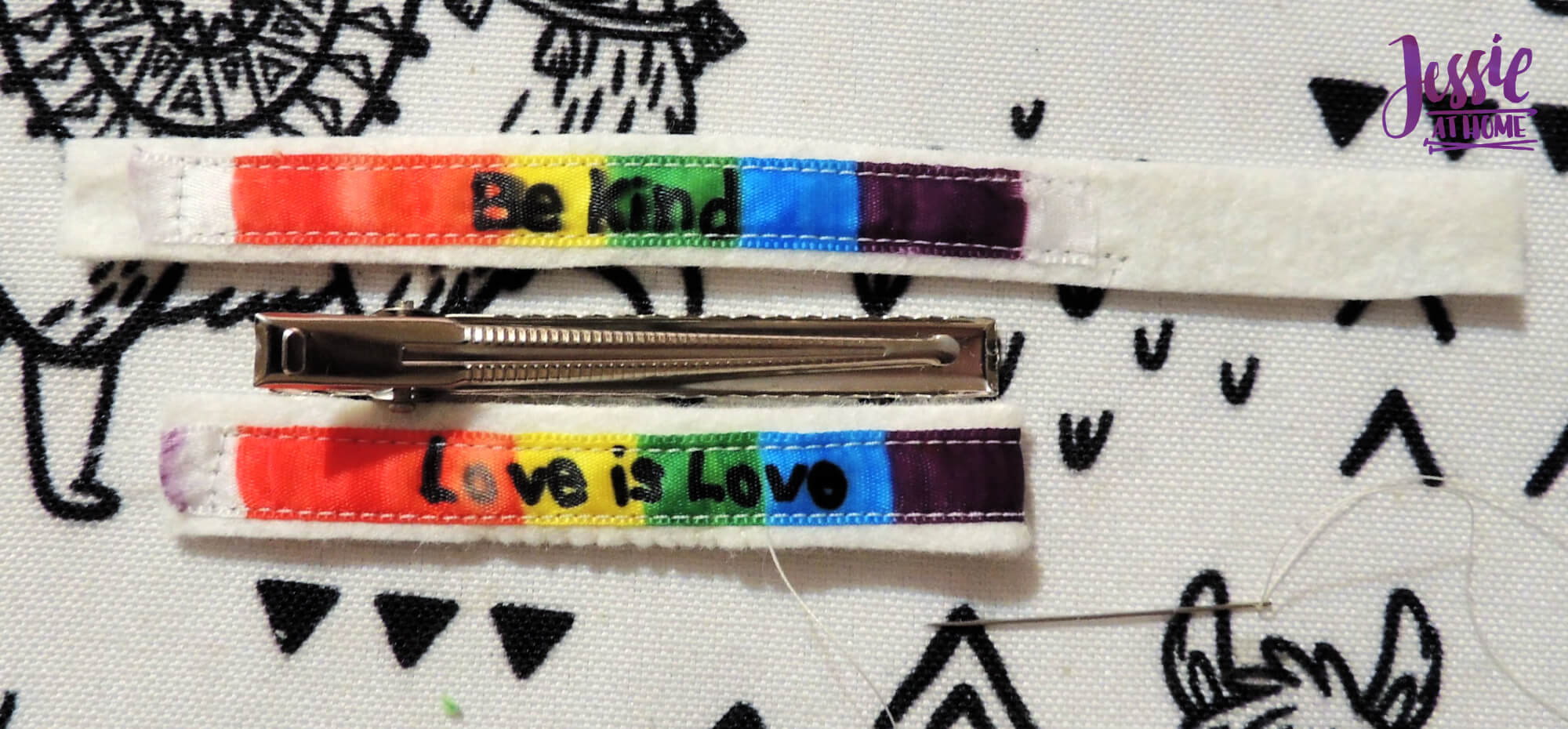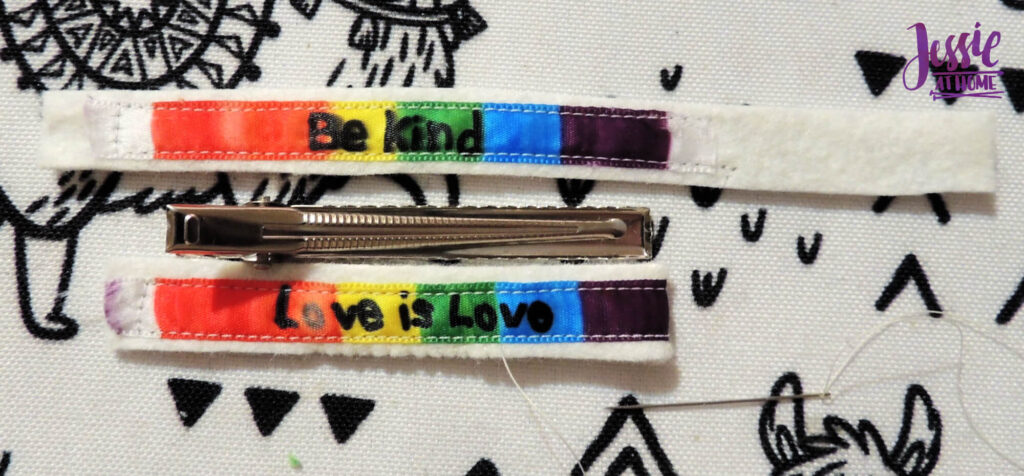 Finally I folded the shorter end over and sewed those sides together. If you use a tie clip blank, you could do this same idea, but simply make a single pocket section. You don't need the second wrap around as there isn't a side clip part.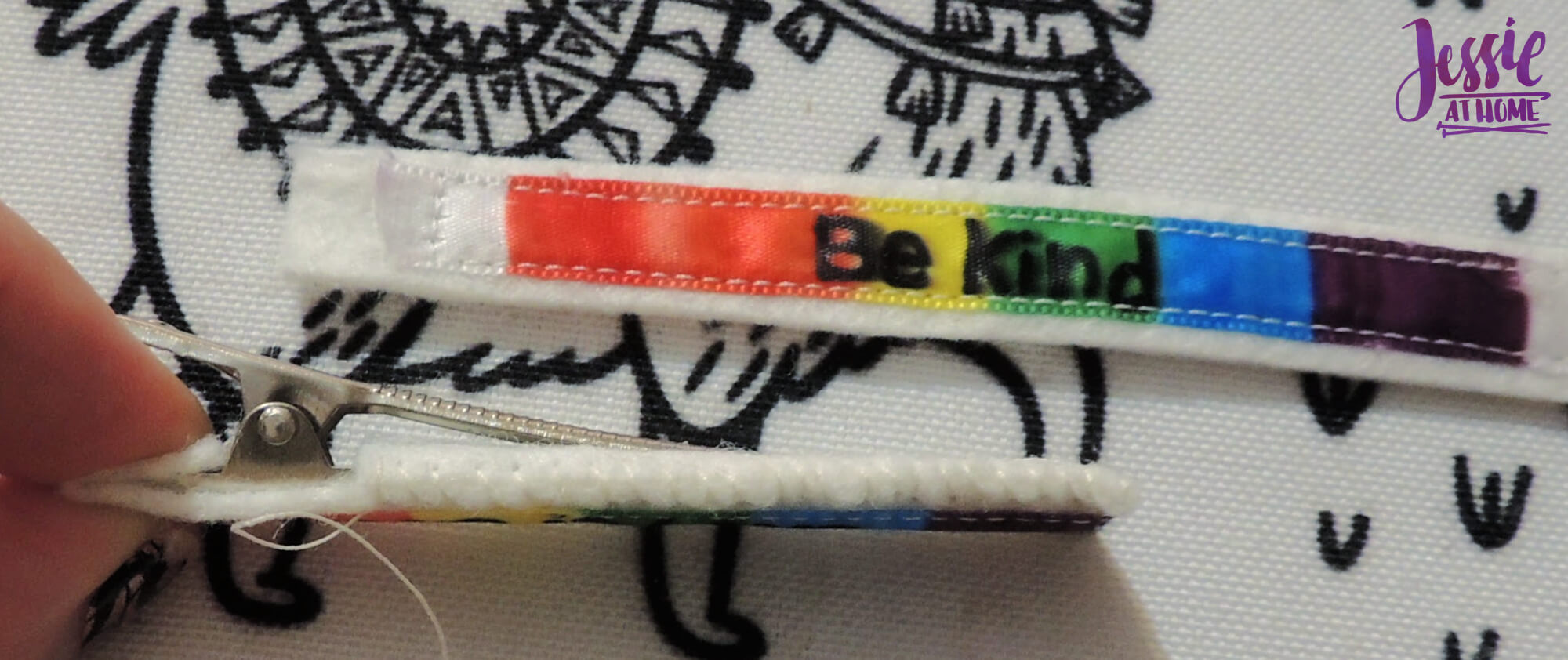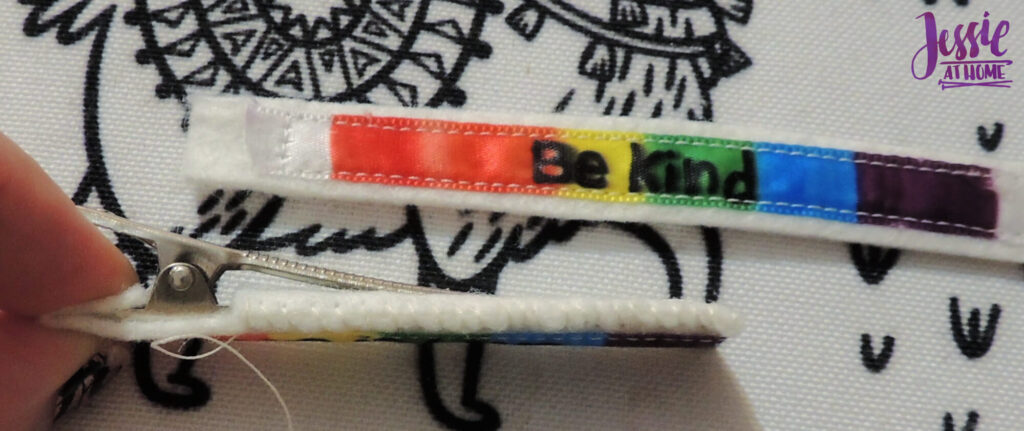 Wrapping Up
Vada made just one flat clip, with the non-binary flag.


Kyla found some fun tassel trim for her flat clip. Then she made a dot clip with One One – a character from Infinity Train.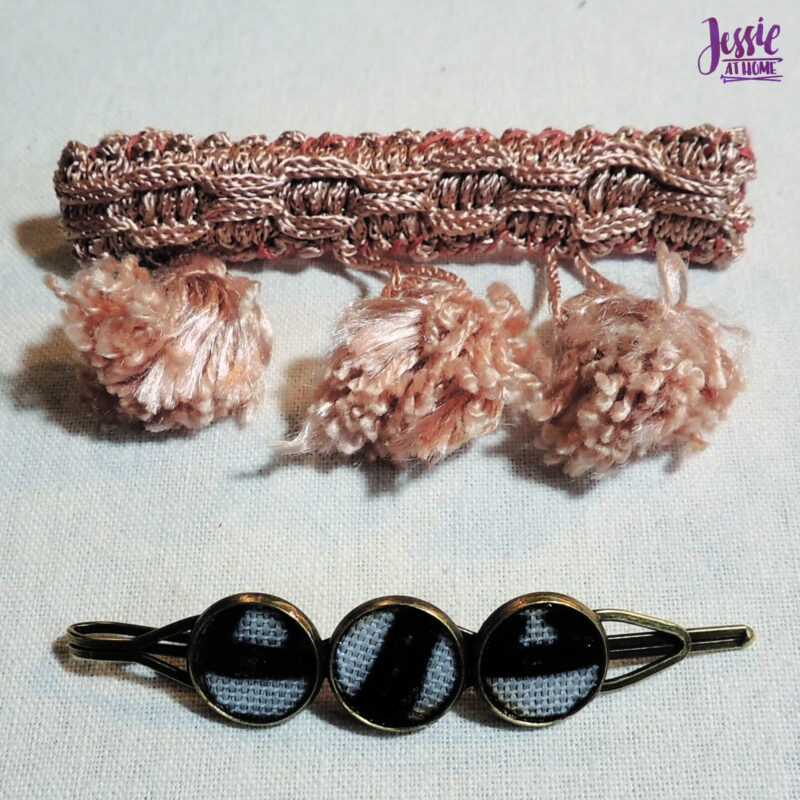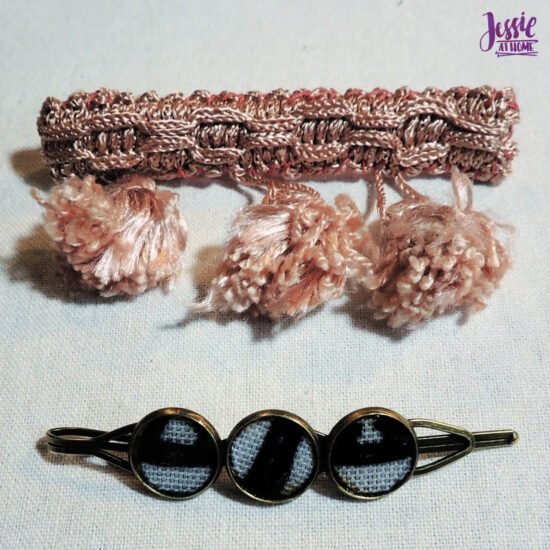 I made the 8 dot clips I showed you earlier. In additions I made 3 flat Pride clips and 2 flat clips with some trim I found. None of ours are parent presents, but they sure could be!
We all had fun coming up with our clip ideas. In hindsight, they really are better for hair clips because of the blanks. Luckily for you, I linked some better tie clip blanks in the supplies!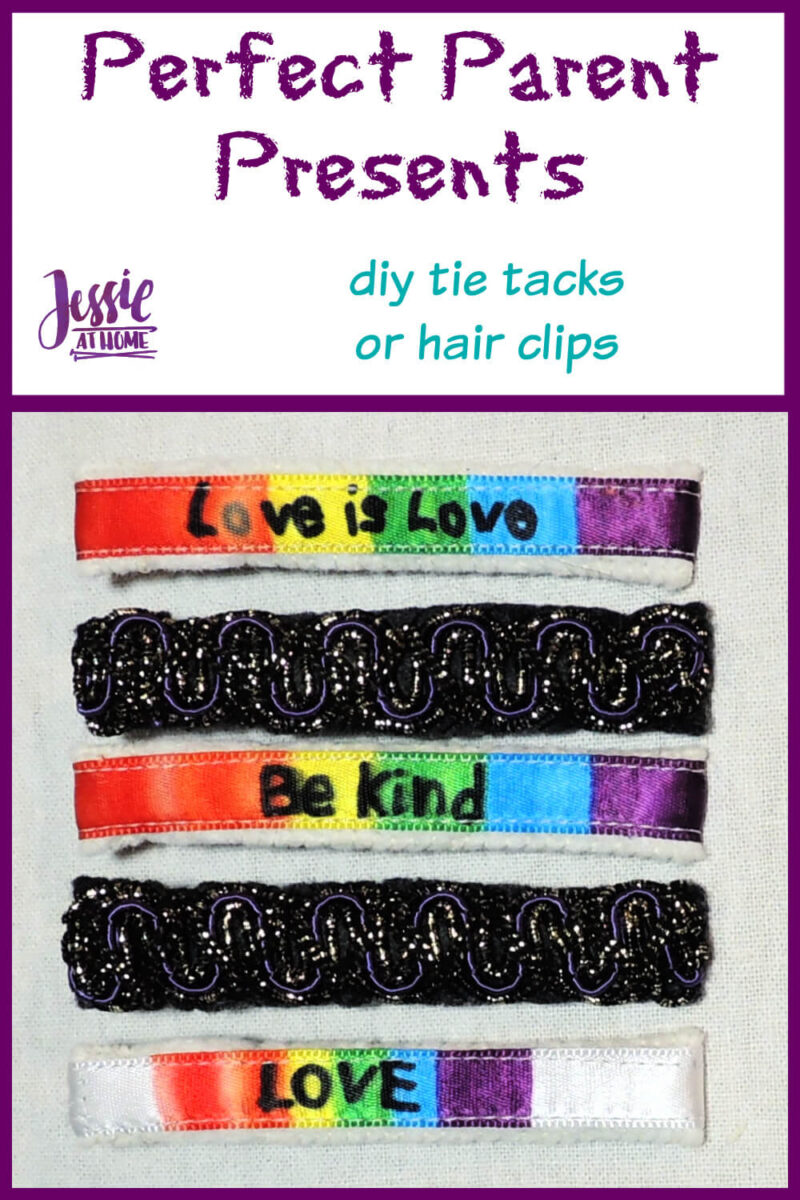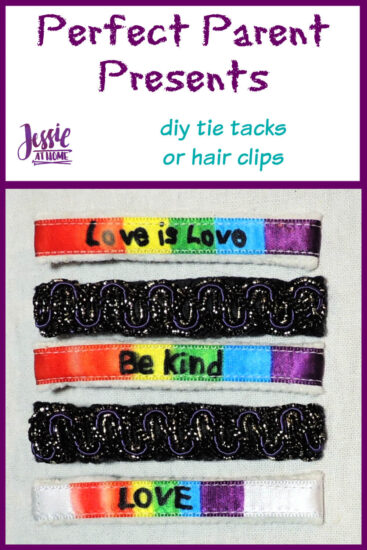 Happy crafting my friends!
Here are some useful supplies!
Did you enjoy what you found here at Jessie At Home? Then sign up for my newsletter and like my Facebook page, so you'll get all the updates on new tutorials, other posts, sales, and coming events.
If you have any questions, want to share pictures of your work, or just want to chat with Jessie and other crafty individuals, than join my Facebook group.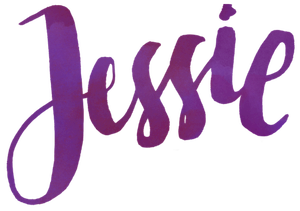 © Copyright 2021 Jessie Rayot / Jessie At Home All my videos, patterns, charts, photos and posts are my own work, so you may not copy them in any way. If you want to share this information with someone, then share the link to this post. If you want to share on your own blog / website, then you may use the first photo in this post and link back to this post. Also, you may not give away printed copies of this post.
If you liked this parent present tutorial, then take a look at these.