In our second installation of Adventures in Yarn Dying with Jessie At Home, we're learning about dyeing yarn with acid dyes and protein fibers. In addition, I also experimented with hombre dyeing and dyeing with food coloring. I had a few fails and a lot of awesomeness!
This post is sponsored by WeCrochet. All opinions are my own.
You can find all the details about Adventures in Yarn Dying with Jessie At Home in the intro post HERE. You'll find dates and links to the other posts in this series.
Supplies from WeCrochet
Find other useful supplies in the intro post.
Before dyeing your yarn, you'll need your yarn to be in a hank. All the yarn I used in this post came in twisted hanks, so all I had to do was untwist them. Do not untie the ties, or you'll end up with mess. I have another note on that later…
To start the yarn dyeing process, you need to soak the bare (undyed) yarn. I used a plastic tub and filled it with about 6 inches of cool water. Then gently placed the yarn in the tub, taking care not to tangle it. Push the yarn down in the water and let the bubbles all come out. If you don't push and get all the air bubbles out, there may be parts of the yarn that don't fully absorb the water and they will not take the dye as well.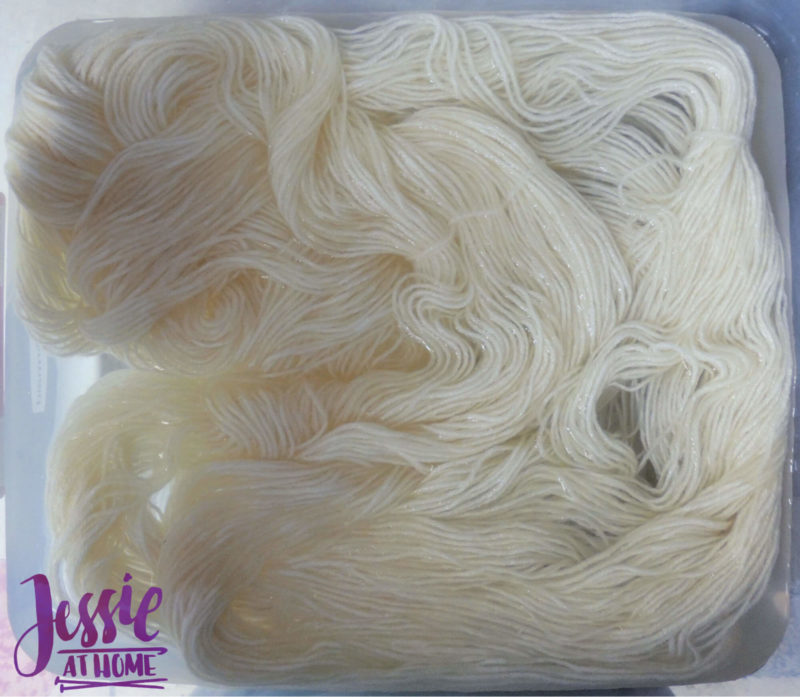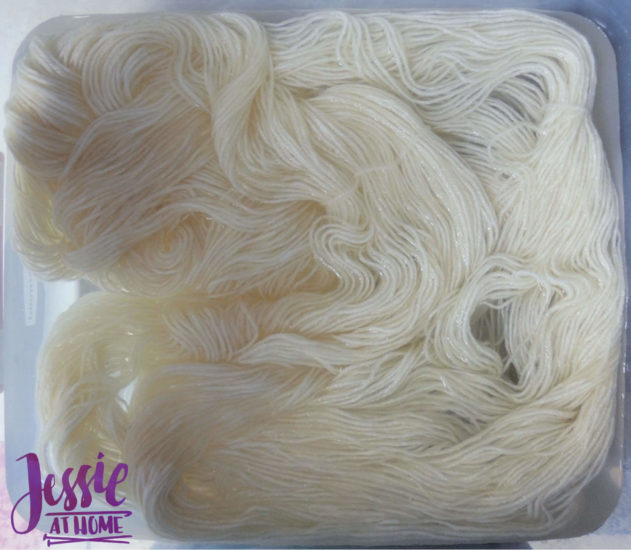 Now it's dyeing yarn time! These instructions are for the Jacquard Acid Dyes that are available from WeCrochet. This dye is NOT food safe, so any items that come in contact with the dye will not be food safe. I had an old pot that I never used and has no lid anymore. It's now my crafty pot.
Fill the pot with enough water to completely cover your yarn, I used about 4 inches. Keep the yarn soaking where it was, do NOT place it in the pot yet. Bring the water in the pot up to a simmer. For every 100 grams of yarn, pour in 3 Tablespoons of distilled white vinegar and 1 teaspoon of dye. Mix well (I used a 12″ dowel rod).
Confession: With the pandemic, everyone is buying all the distilled white vinegar and I only had enough for 3 hanks of yarn. I was only able to find white wine vinegar, and it seems to have worked. It was 5% acidic.
Now remove the yarn from the cool water, let the water mostly drip out of it and then submerge it in the dye. Let it simmer for 30 minutes or as long as it takes for the dye to absorb into the yarn and the water to turn clear. Gently push the yarn down into the dye every once and a while to get a more even color, or just leave it be for more variations. DO NOT stir, you will felt your yarn.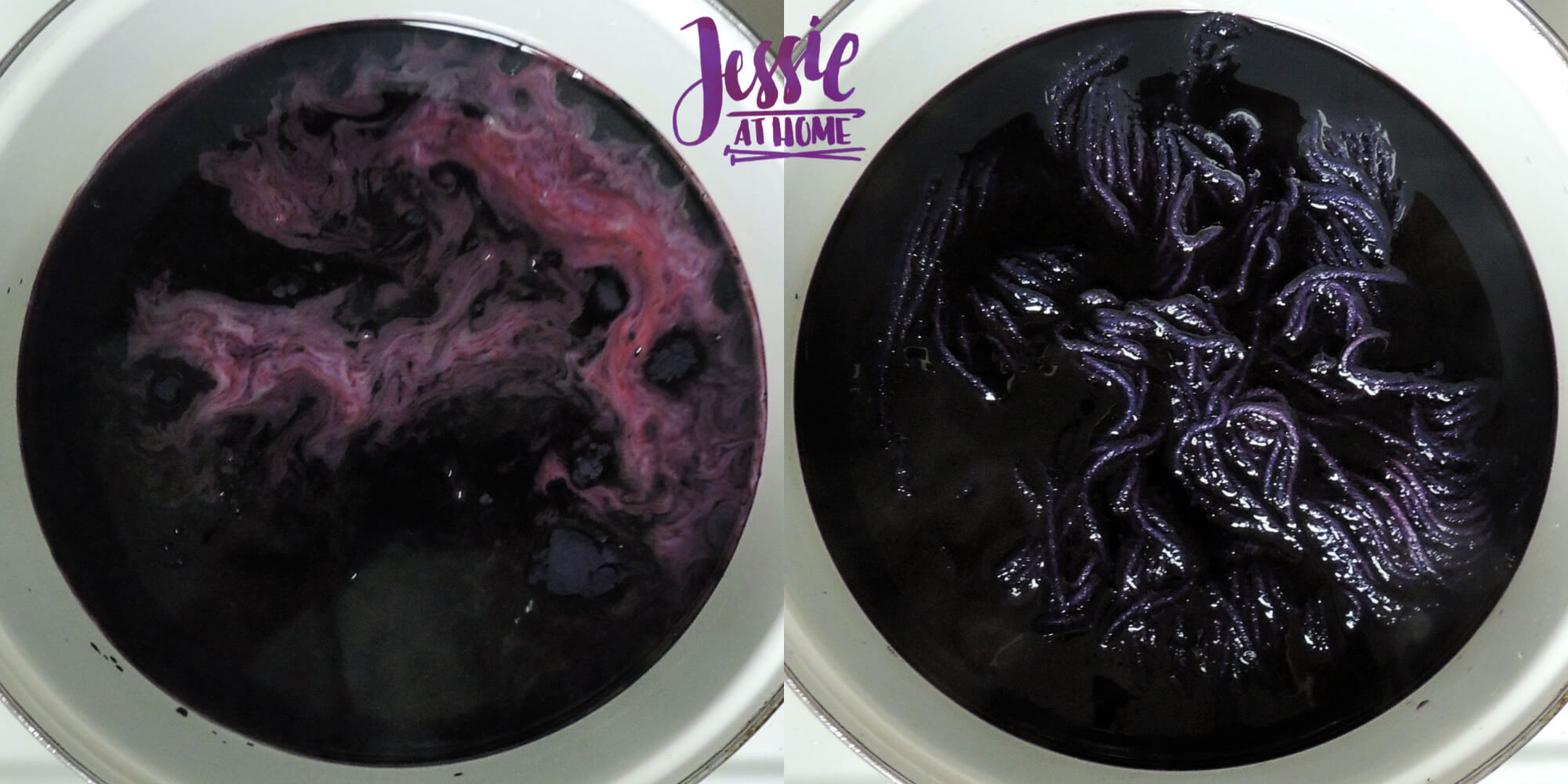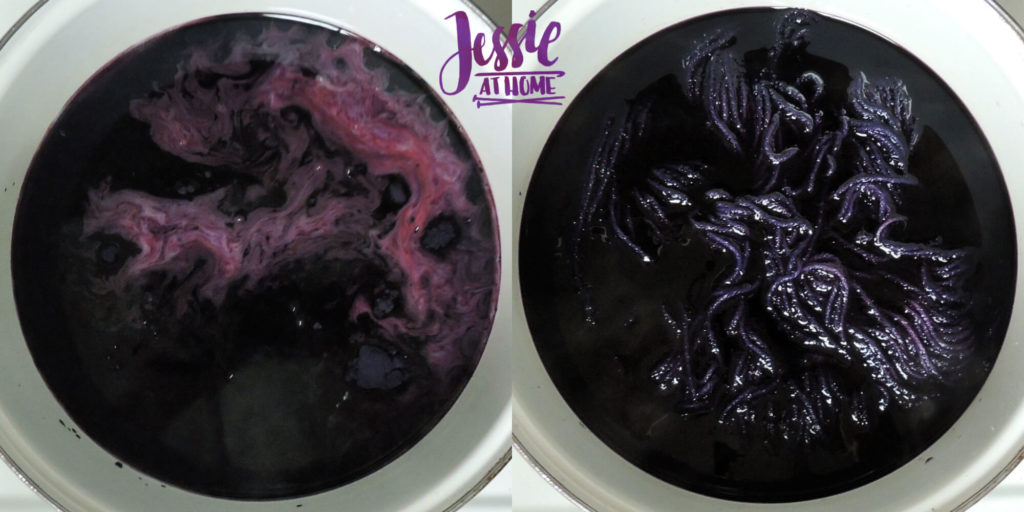 After the 30 minutes, remove the yarn from the dye and drape it over something to drip dry. I used a wood drying rack. Be careful about where those dye-drips are dripping! I placed a trash bag on the ground, then covered it with a towel, then put my drying rack on top of that. When I put a new hank of yarn over the rack to dry, I place a plastic bucket under it to catch the drips. By the time I had another hank ready to dry, I could move the bucket over.
This is the first yarn I dyed. It's Wool of the Andies, 100% Wool dyed with Purple Jacquard Acid Dye. First try and it rocked!!


Next I tried dyeing a hank of Galileo 50% wool and 50% bamboo with Fire Red dye. The Jacquard acid dye is made for protein (animal) fibers, and bamboo is a plant fiber. This was a risk, but risks are fun! Sometimes.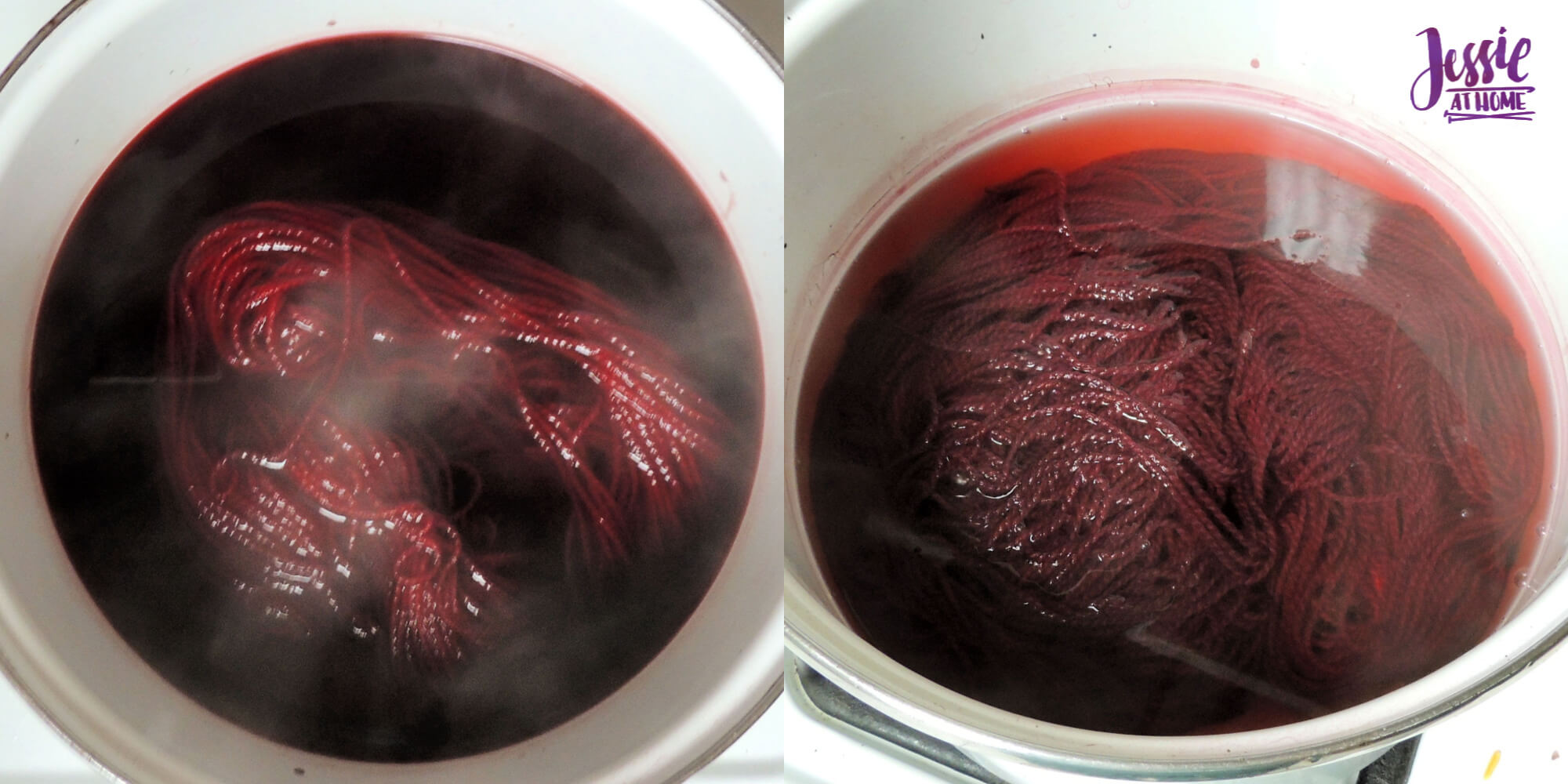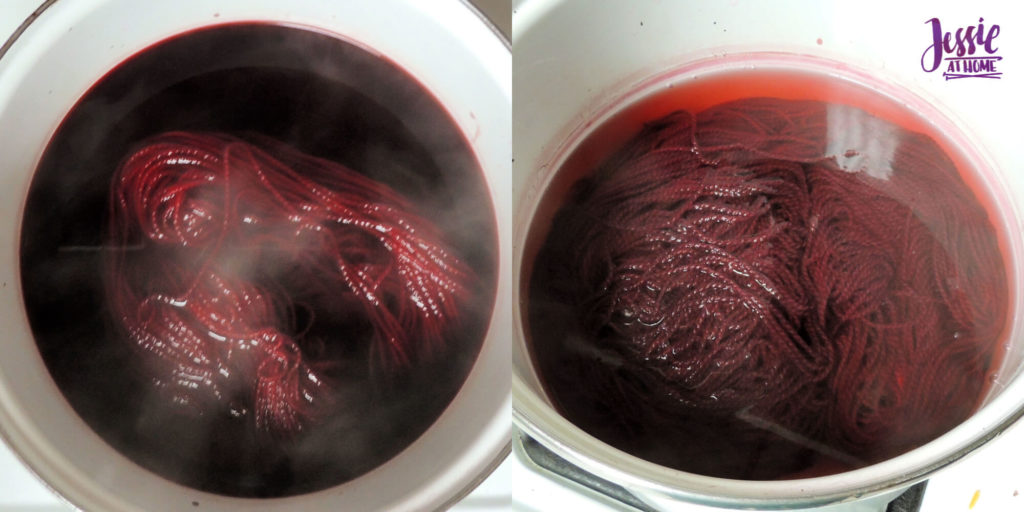 Well, I said it was a risk. Not only did it not turn red, but even after drying, rinsing, and drying again, it's still not truly color-fast. Not only that, but there was a tangle issue.
So…the Galileo hank was self-tied. A hank is a big loop of yarn that has been tied in 2-4 spots around the loop to keep it from tangling. Most of the time the ties are separate pieces of yarn, often not even the same yarn. Sometimes the two ends of the yarn are used to tie the hank. Normally this is fine, but when you're dyeing, not so much.
It turns out that the self tied hank sort of…readjusted itself. Between dyeing, drying, rinsing, and drying again, the ties loosened and the hank got tangled. See picture below. My takeaway from all this was that the ties need to be separate pieces of yarn and they need to be a little loose, but not TOO loose.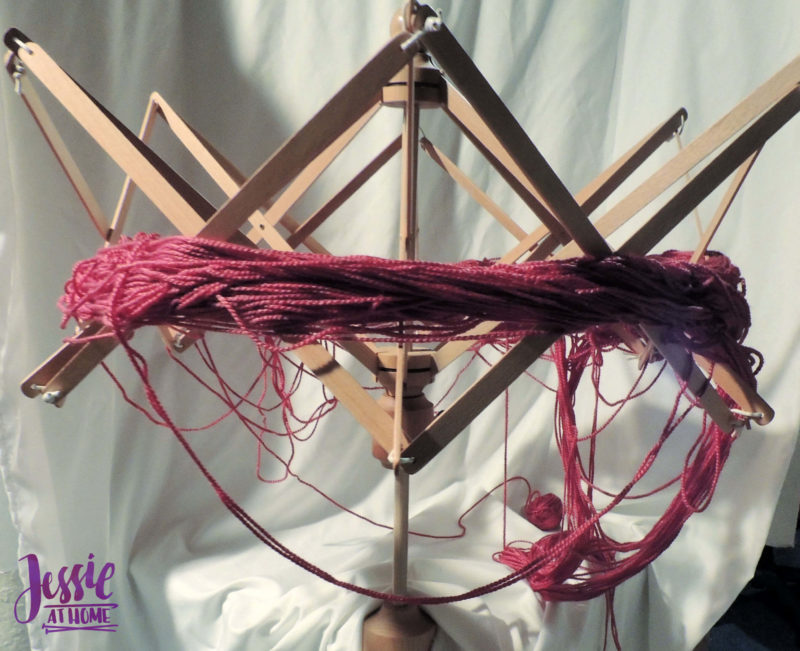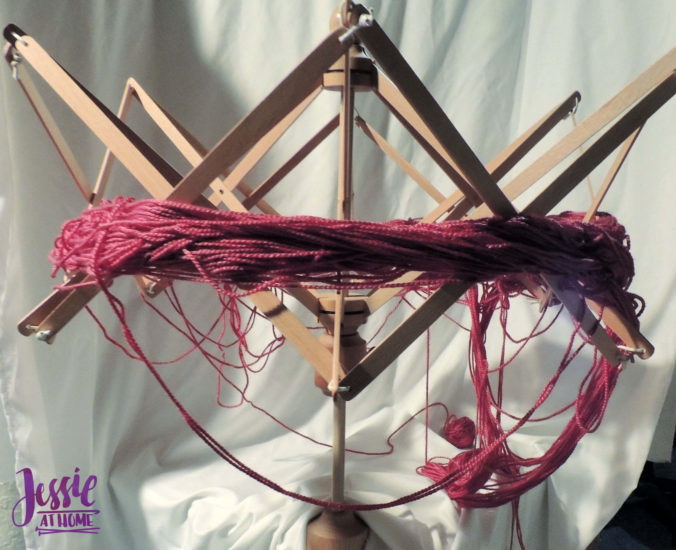 It took several hours to get this mess untangled and then re-hanked. But after all that it turned out quite pretty. Not fire red, but still pretty.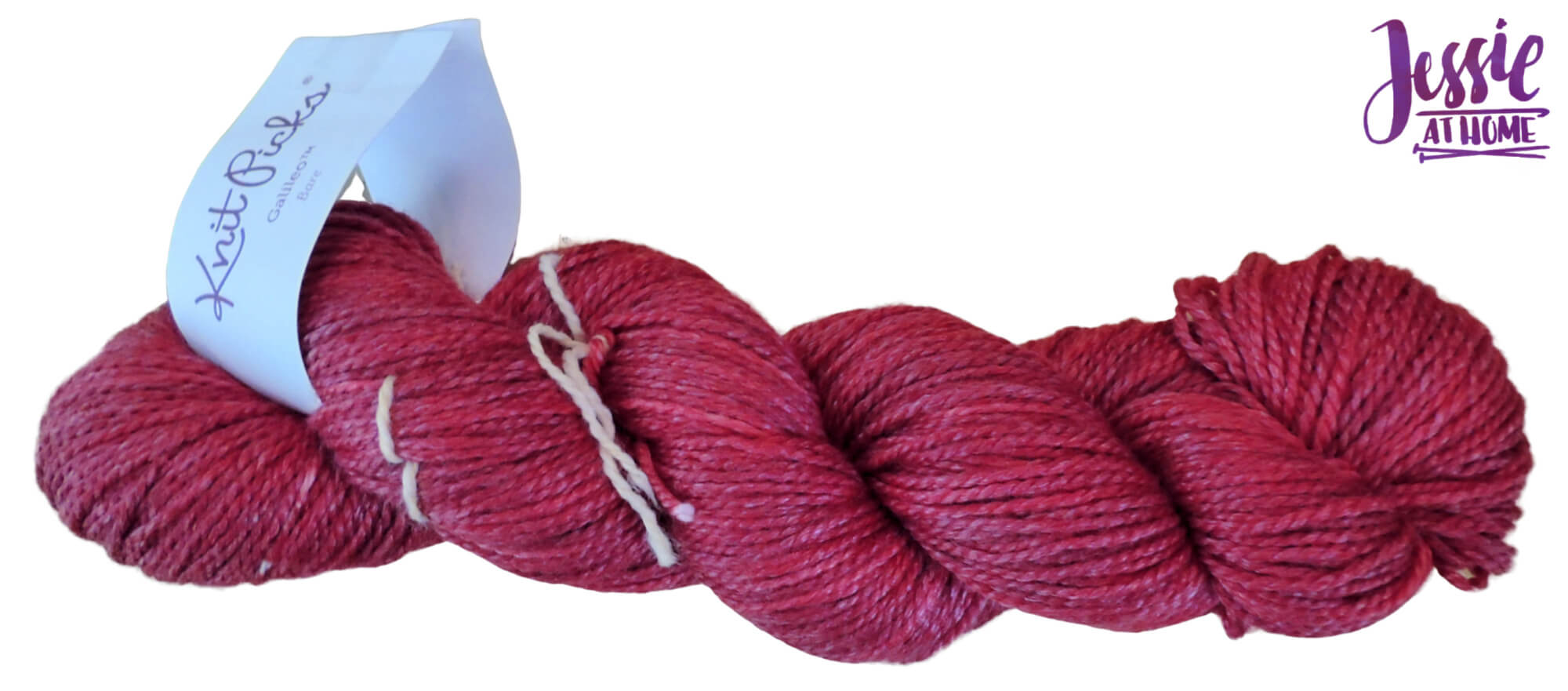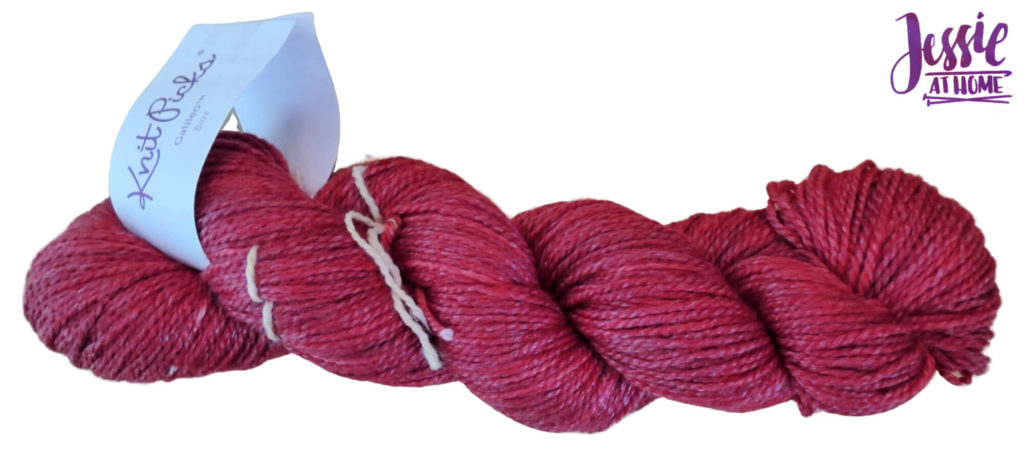 As for this rinsing that I keep speaking of, let me give you a quick run-down. After dyeing the yarn I let it dry on the rack for 24 hours. Then I filled my plastic bin about half full of lukewarm water and added 1 squirt of Unicorn Clean Fibre Rinse for each hank of yarn I was rinsing. I mixed it up and then gently twirled each hank of yarn into a little pile and pressed them into the water.
Next I put 4-6 in at a time, making sure they were similar colors. I let them sit for about half an hour, then pulled them out and gently squeezed (do not wring) out the water. Then I hung them to dry for another 24 hours.
I dyed 2 more hanks of yarn a solid color. Below is Muse Worsted, 100% wool, dyed with a 50/50 mix of Purple and Fire Red dye. Farther down this post you will also see a Swish DK 100% wool dyed a solid Fire Red (and this one is RED!). It's pictured with another hank of Swish DK that I dyed in an ombre technique.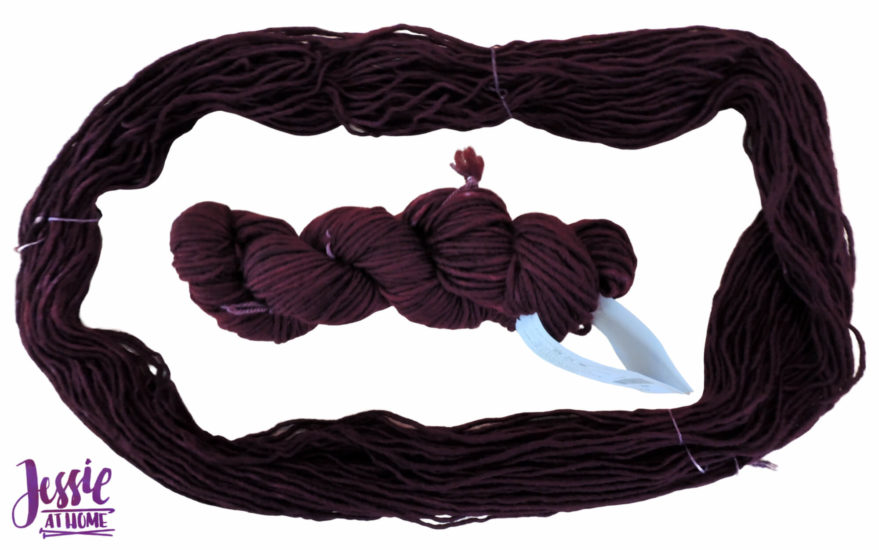 Speaking of ombre, I had quite the adventure figuring out a way to do this. My first attempt was with Merino Style 100% wool and vermilion dye. Everything starts the same way as the solid dyeing until it's time to put the yarn into the dye.
The idea is to start the half hour of dyeing time with just a small amount of the yarn in the dye, and to then slowly lower the rest of the yarn into the dye as the half hour progresses. The part of the yarn that's in the dye for the full half hour will be the darkest, and it will get lighter as the time it's in the dye shortens.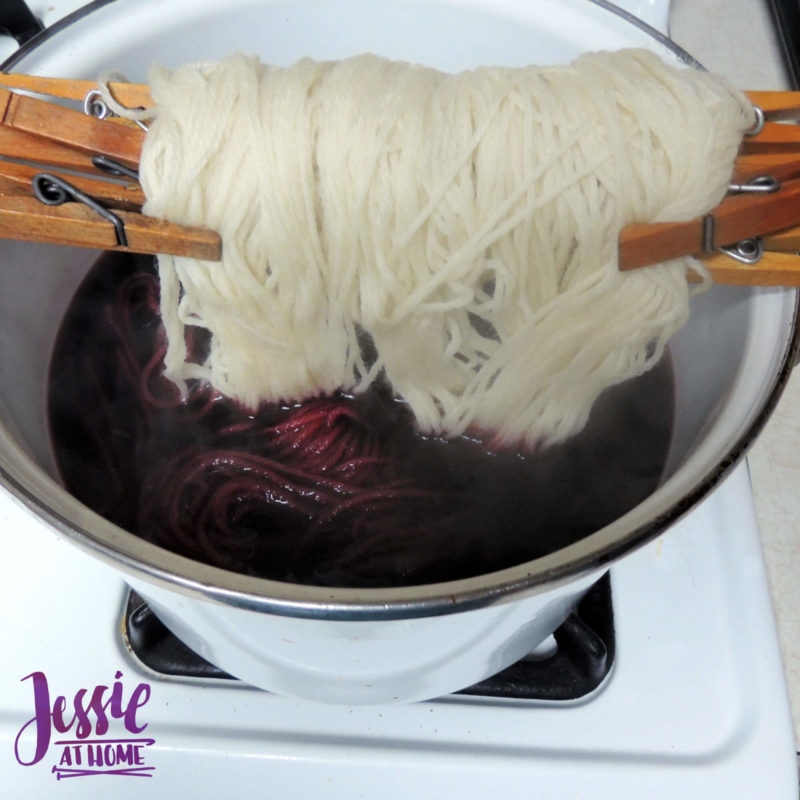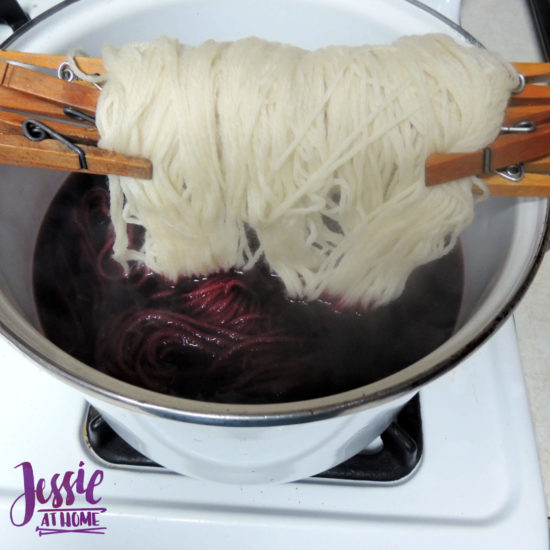 My first attempt used a dowel and a whole lot of clothes pins. It was NOT convenient, though it did work. As you can see below, it looks good, but I knew their had to be a better way.


Next I tried an ombre with another hank of the Swish DK 100% wool with 75% sun yellow and 25% vermilion dye. This time I cut 5 long pieces of yarn and tied a little loop at the center of each piece. I then tied one around the hank, folded the hank at that point (far right of picture below), and tied it again in 4 more places, leaving the last section a little longer.


I then slipped each loop around a dowel in order and soaked the yarn to get it ready to dye. When it came time to dye, I balanced the dowel over the pot, but found my pot was not really tall enough. So, I had to used clothes pins to pull each of the tied sections up as high as possible so they weren't in the dye.
Every 5 minutes I cut one of the ties strings and let a little more yarn fall into the dye. If my pot had been taller, this method would have been great. However, I knew there had to be a way to make it work better with the pot I had.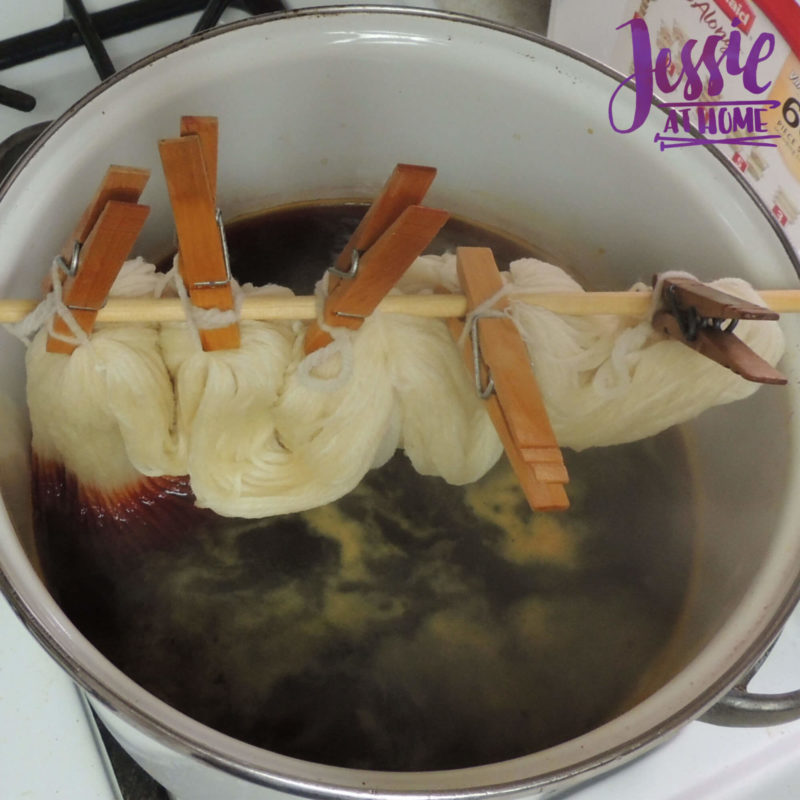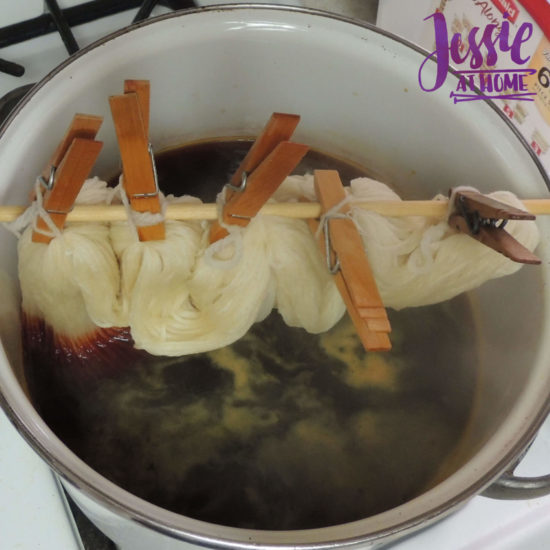 As you can see below, it did work, and it's a super pretty color. It looks awesome with the solid red hank I had dyed earlier.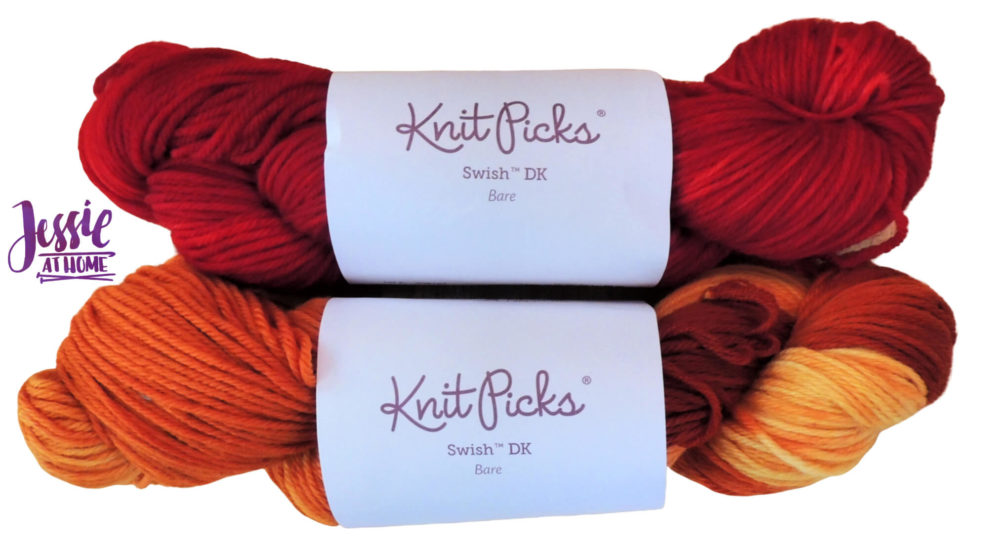 OK, one more go at finding a great hombre technique. This time I used Hawthorn DK 80% wool 20% polymide and black dye. Once again I cut 5 pieces of yarn and divided the hank in the same sections. This time however, I tied each tie (one at the far right, then 4 more equal distances apart leaving a little more at the left end) directly to the dowel.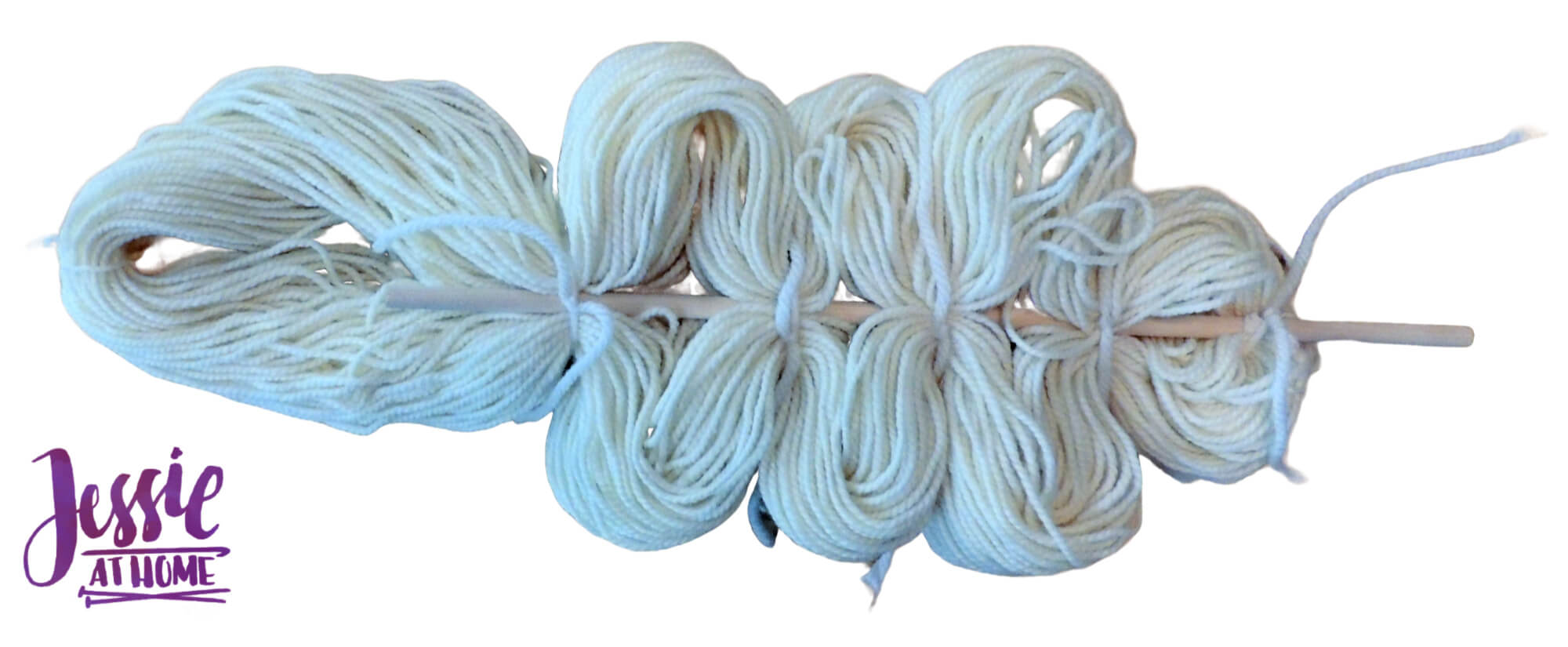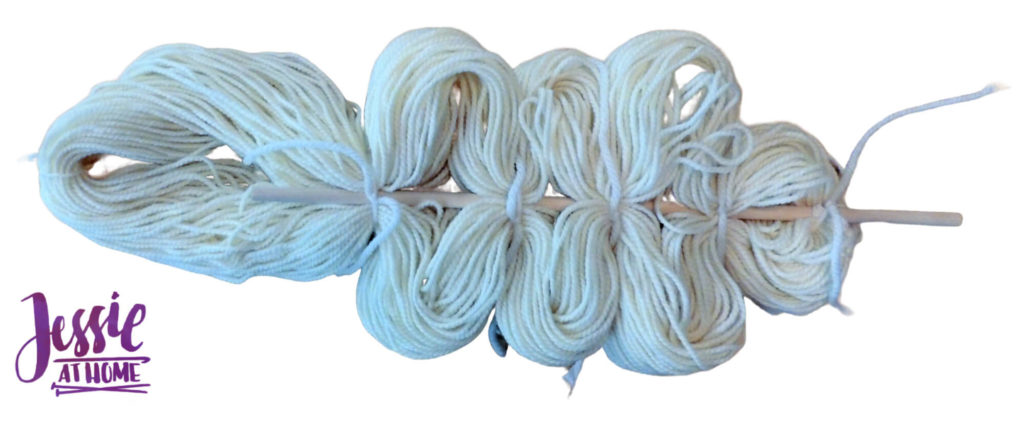 THIS worked so much better. It held the yarn up higher so the parts I didn't want in the dye, weren't in the dye. I did have to pull up one tie a bit because it wasn't tight enough, but otherwise all was well. I would say you want to be sure your tie strings are a contrasting yarn to the yarn you are dying so it's easy to know what you're cutting every 5 minutes.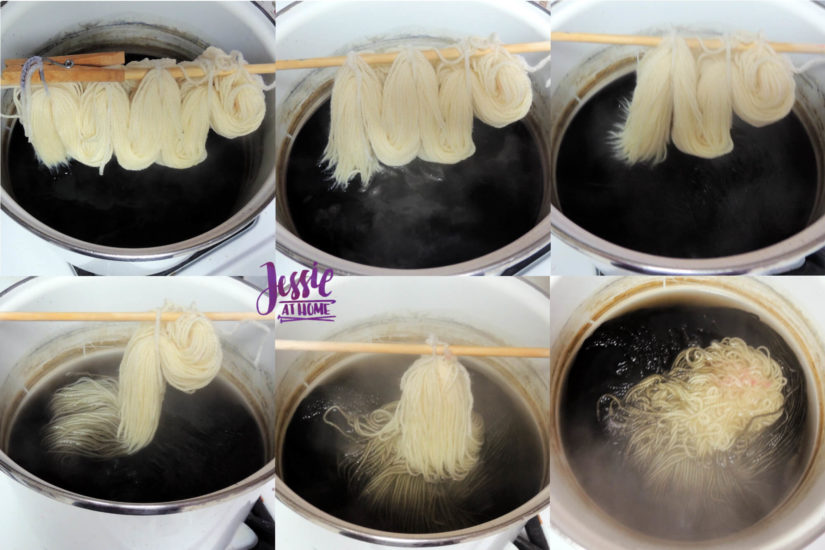 Ta-da!! Black hombre that was relatively easy to dye. Yea!!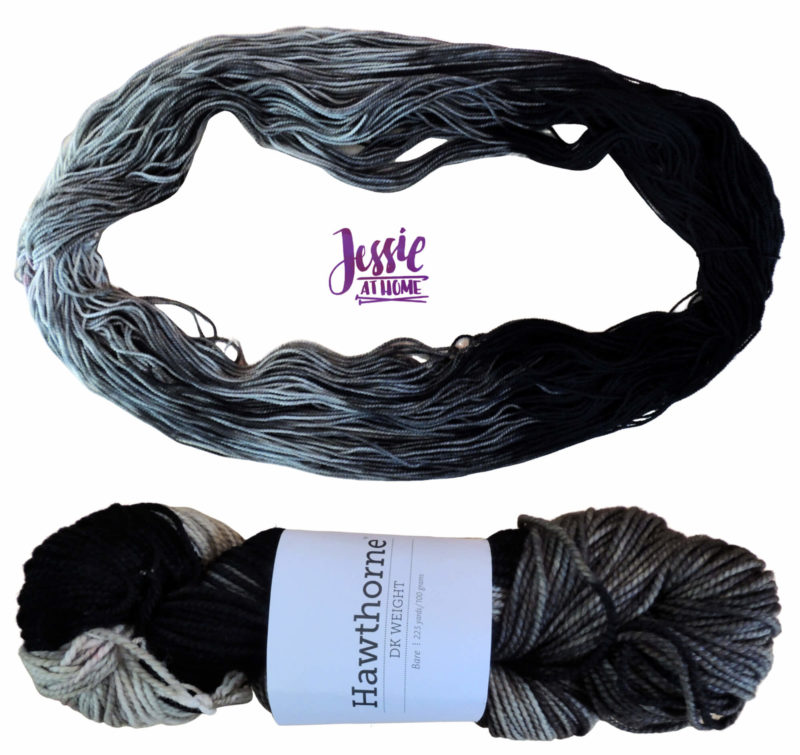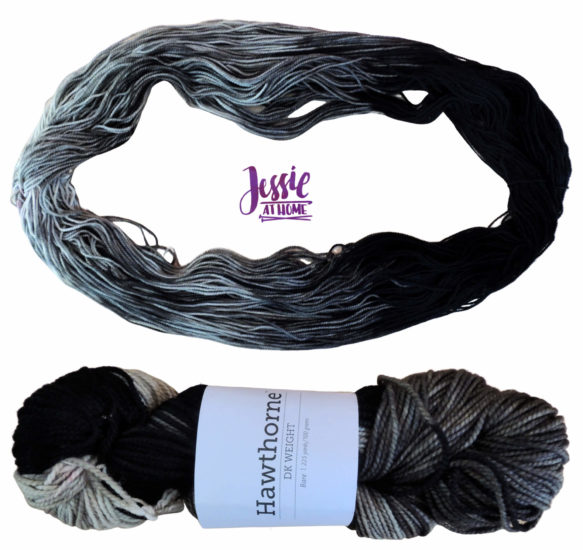 So, now I got a little brave. Or maybe a little odd. I took some Stroll Fingering 75% wool 25% nylon and divided it into 3 sections. I realized that the two sections that would need to be held out of the dye were a little big, so I tied them once more in the middle so wouldn't droop into the dye.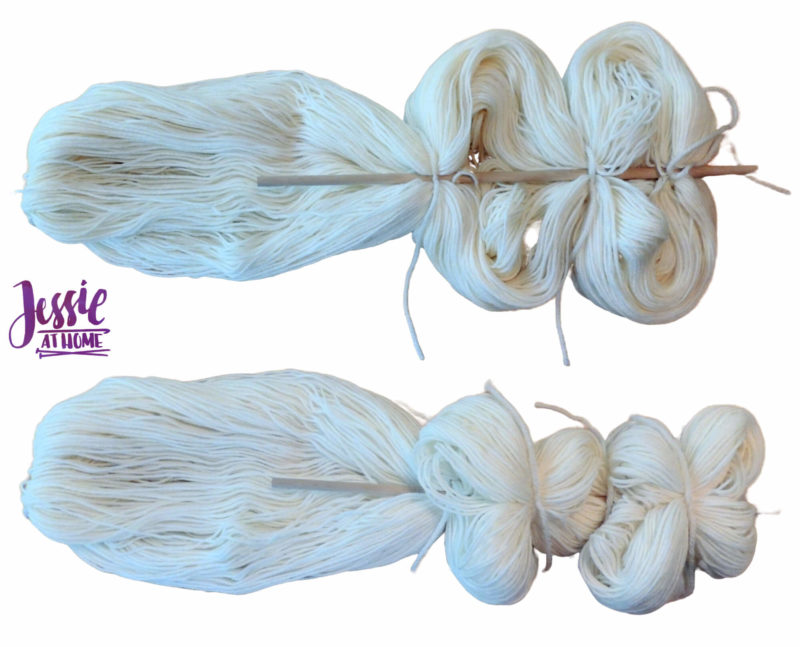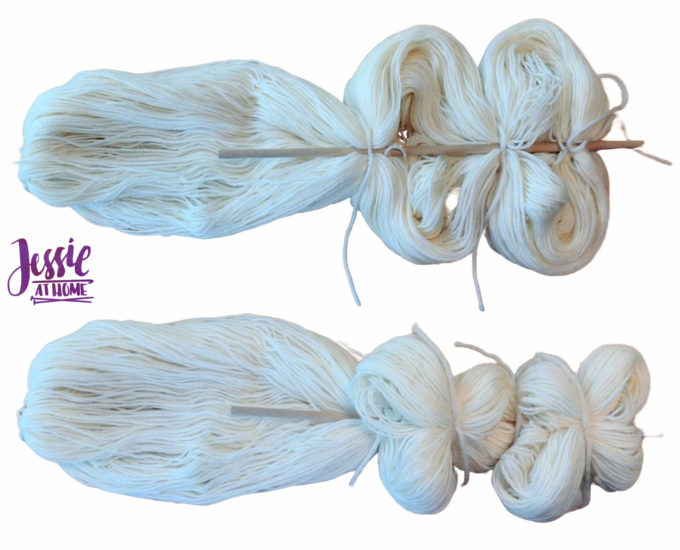 This is where I got rather creative. When it was time to add the vinegar and dye, I put in just 2 Tablespoons of vinegar and 1/2 teaspoon of turquoise dye. I let the left section of yarn hang in the dye for 10 minutes.
Then I mixed 1/4 teaspoon of vermilion dye in about 1/4 cup of hot water and then added in 1 Tablespoon of vinegar (I used a heat safe paper cup for this). I used a dowel to push the yarn in the dye to one side of the pot and poured the new dye into the other. Then I cut 2 tie strings and let that dye for 10 more minutes.
Next I repeated the vermilion step and cut 2 more ties so only the very end of the hank of yarn was still attached to the dowel (I seem to have missed this photo). Then I repeated that once more with the rest of the yarn.


It's so cool!! I think it would have worked even better with just 1/4 turquoise dye to begin with. Kyla has dubbed this "Galaxy Yarn!"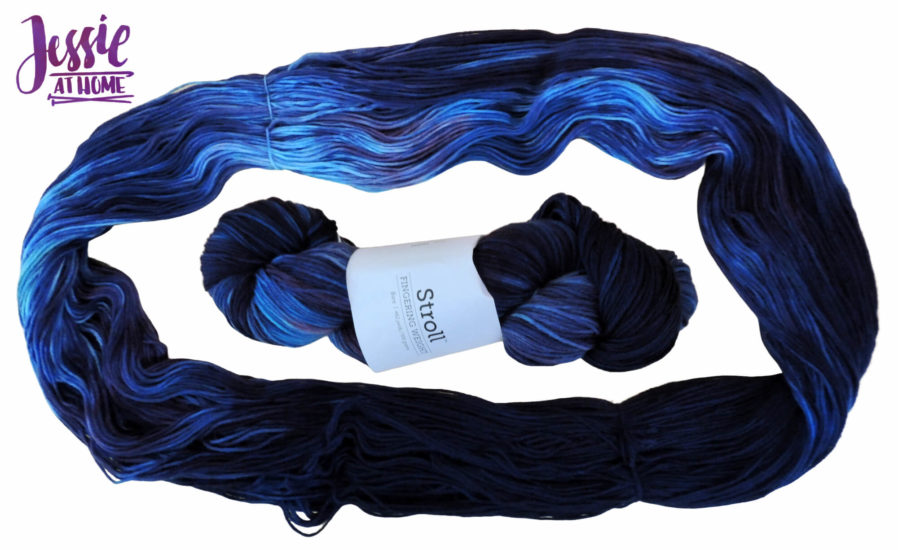 That was all the WeCrochet / Knit Picks yarn I had for this part of the dyeing series. However, I still had 4 hanks of Whims Merino 50% wool 50% nylon from Furls that I wanted to dye for another project.
I stacked the hanks in 2 sets of 2, and then tied them to dowel the same way as I did with the Hawthorn DK.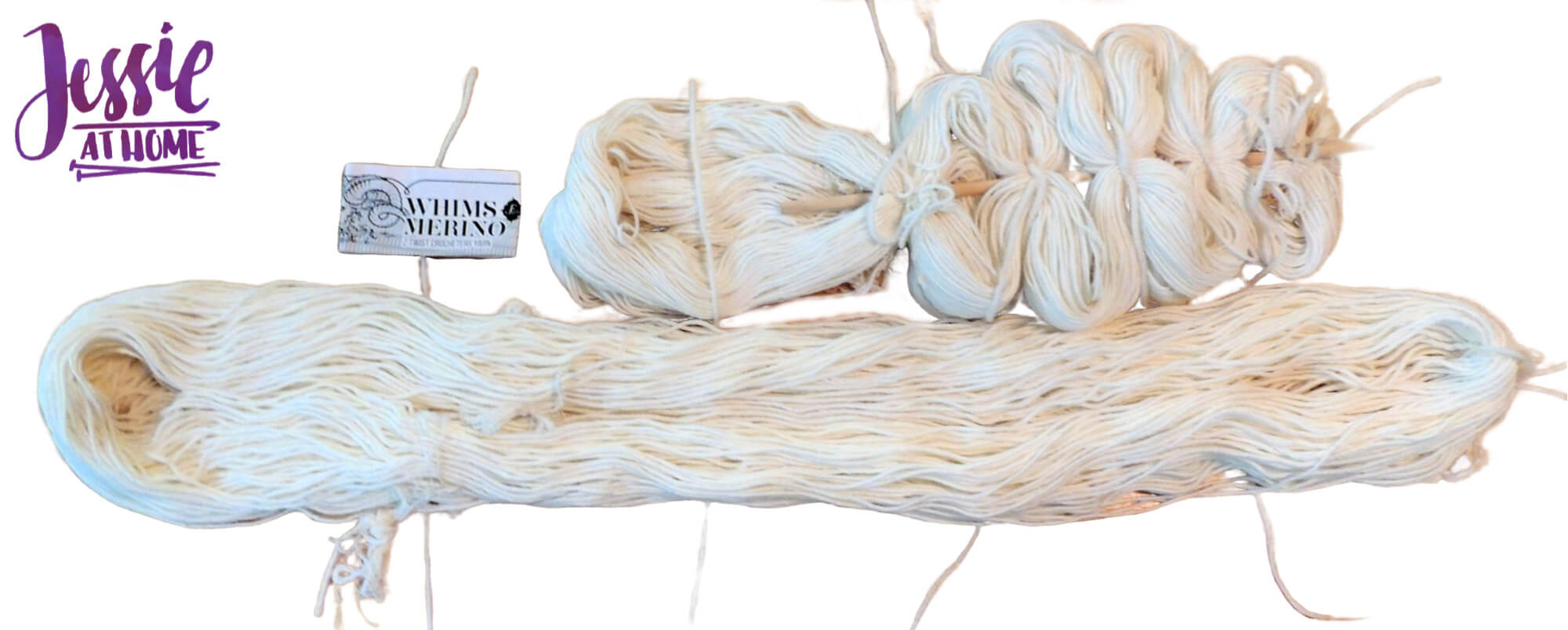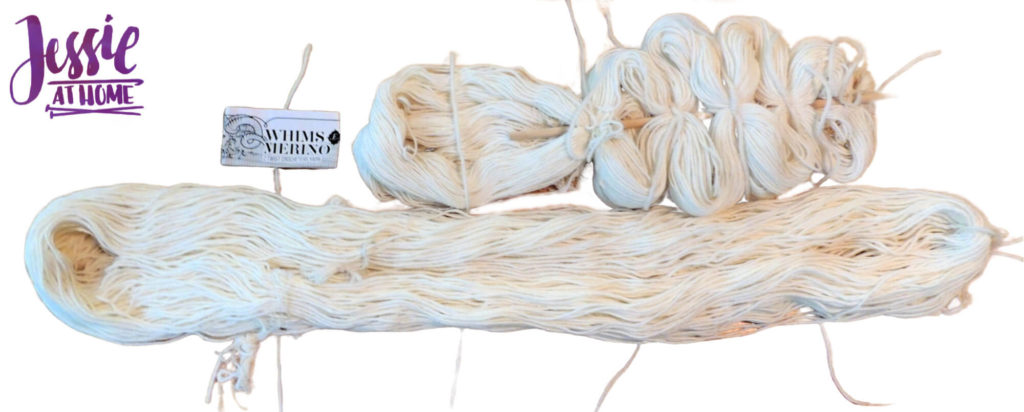 One set of hanks I dyed an hombre of sun yellow dye, and the other set I dyed an hombre of turquoise yarn. I actually remember to take ALL the photos for this one, so you can see how the yarn looks every 5 minutes. Look at how the water gets clearer and clearer in each photo!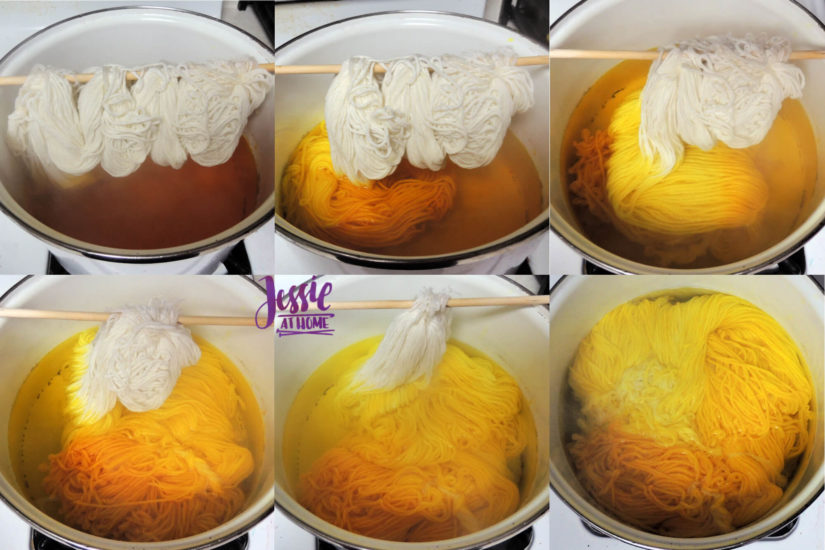 Oh, my! So pretty!! I can't wait to make something with this! All my other hanks I twisted into twisted hanks to store until I make something with them. The Whims yarn I wound using my cake winder because I'm going to use this yarn soon.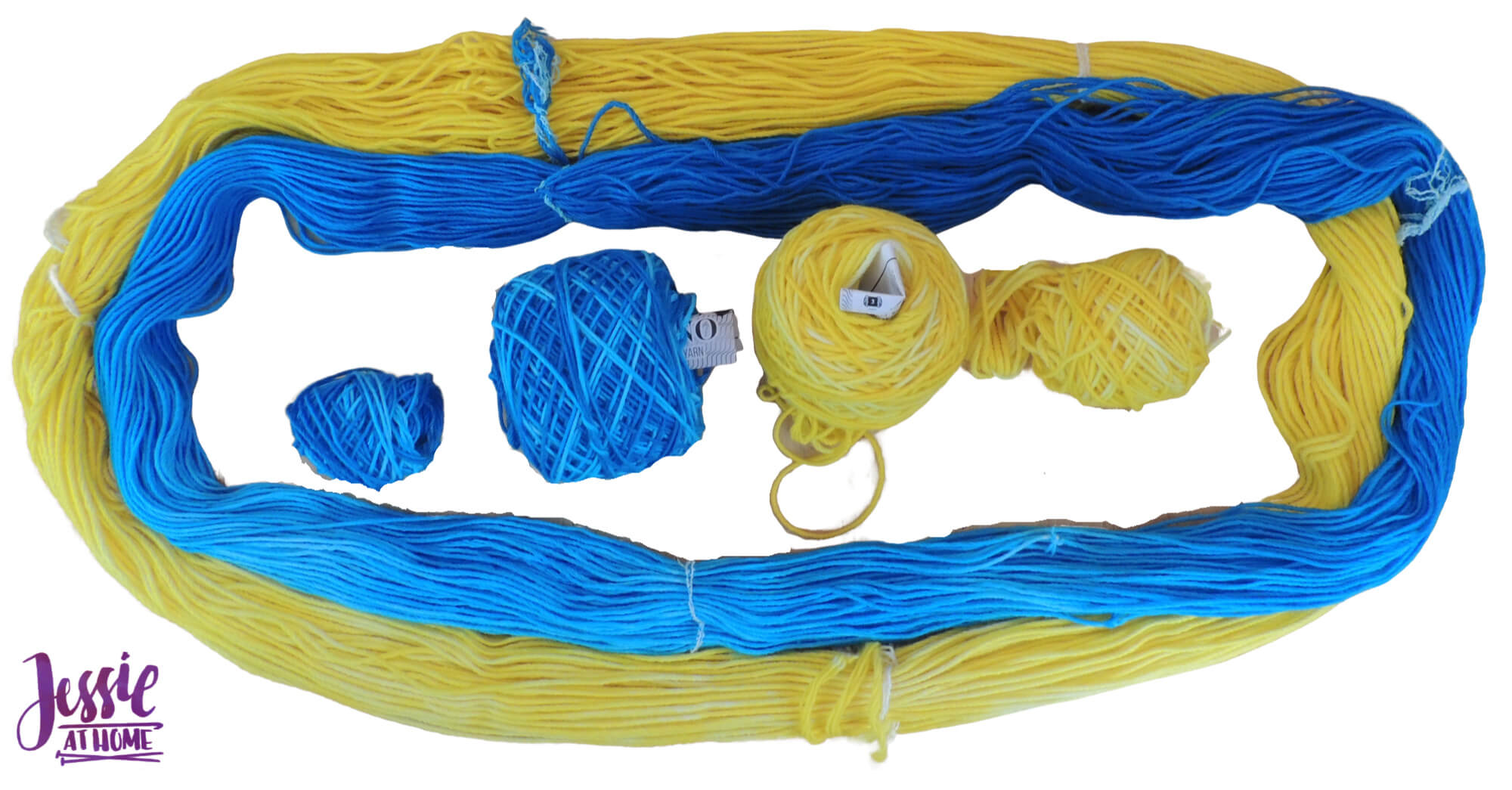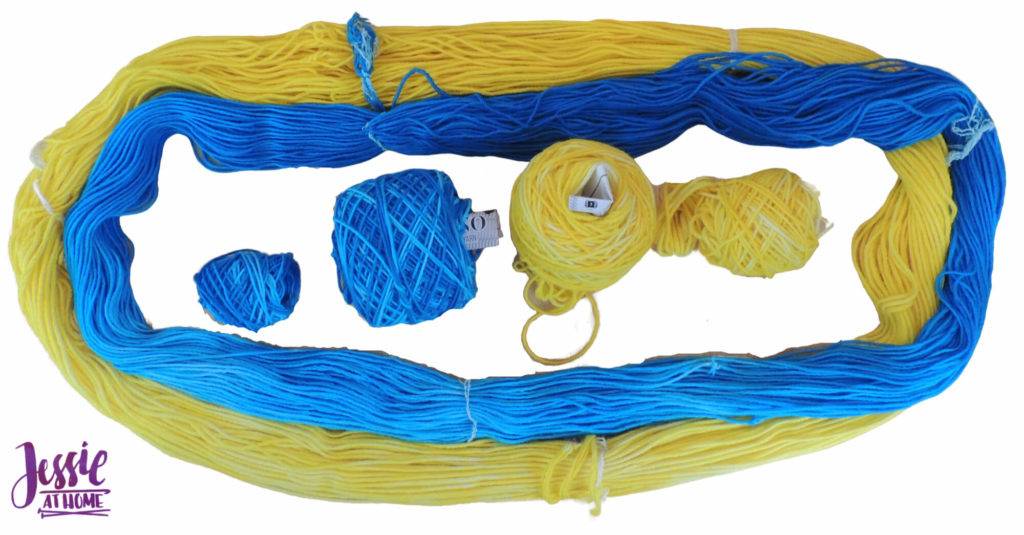 I lied, there was more yarn, I almost forgot!
I also dyed 2 hanks of Gloss DK 70% wool 30% silk using food coloring and my microwave!! How cool is that?
First I soaked both hanks of yarn in a mix of 1 part vinegar and 4 parts cool water for an hour (longer is fine, even overnight). I filled 2 glass bowls that would both fit in my microwave at the same time half way full with water. I squeezed about 1/2 Tablespoon of liquid food coloring in each bowl.
For the first hank I used black in one bowl and half blue half red in the other. I then place half the hank in each bowl. I zapped it for 3 minutes, let it sit with the door closed for 5 minutes, and then repeated. When I looked (top photo below) I saw the dye was not wicking up the yarn as much as I hoped. So I shuffled half the white bit into the red bowl, repeated the 3:5, then shuffled the hank back towards the black bowl to get the other half of the white bit into the black and repeated the 3:5 again. I did the 3:5 once more to get the colors a bit darker, then finished the same as for the other yarns (dry, rinse, dry).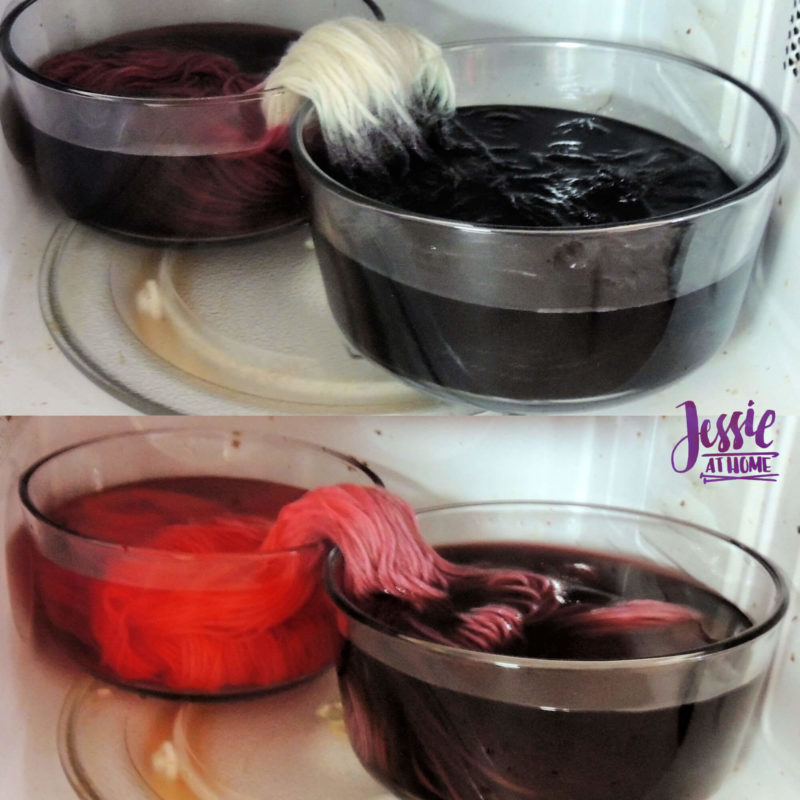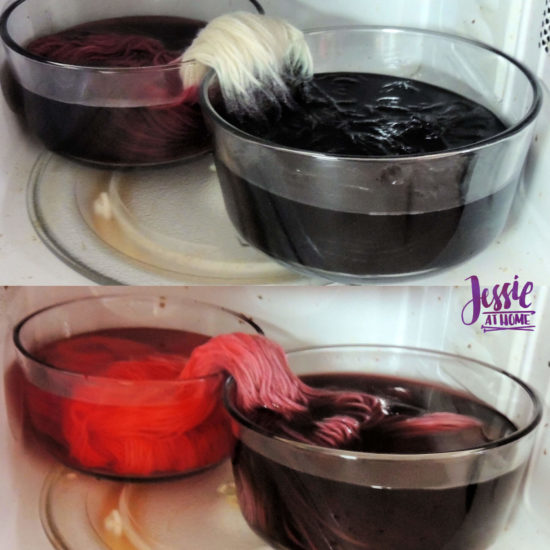 The second hank of yarn was dyed with the purple mix in one bowl, and solid red in the other. I did the 3:5 five times again, but this time I shuffled the hank back and forth every time so the color change worked better.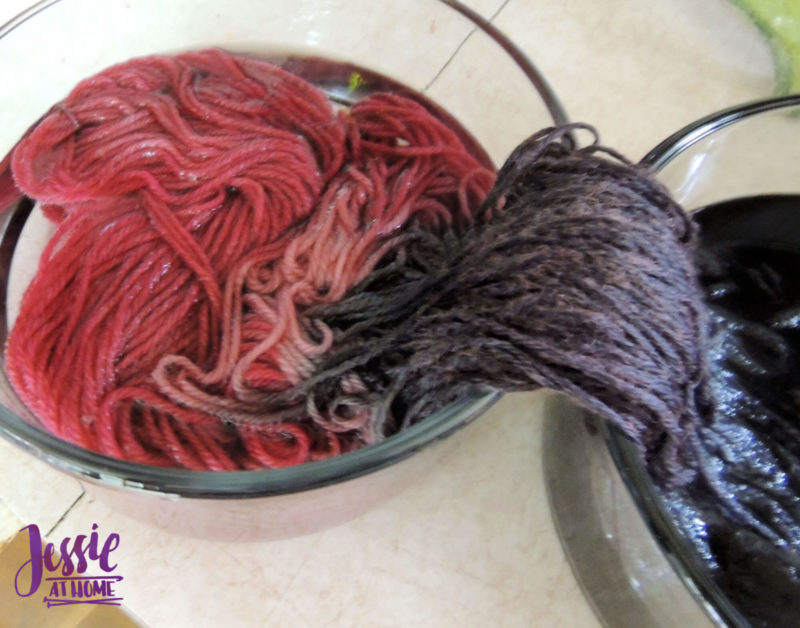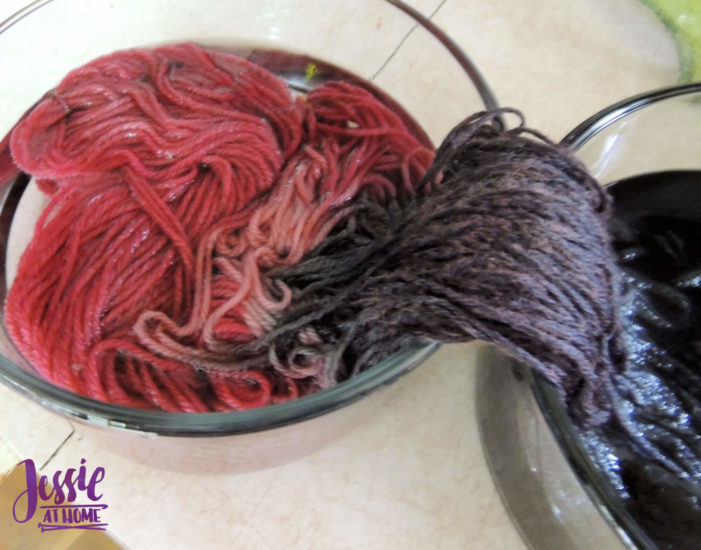 I think the food coloring worked pretty well. It's also set really nicely. The colors aren't as deep, but who knows what might happen with more experimenting.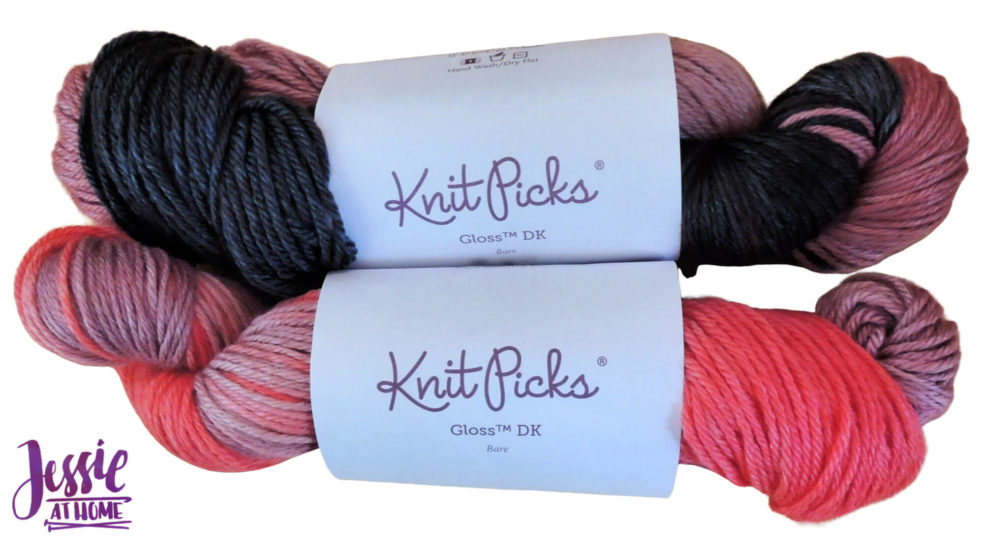 I love this picture. Look at all the pretty colors!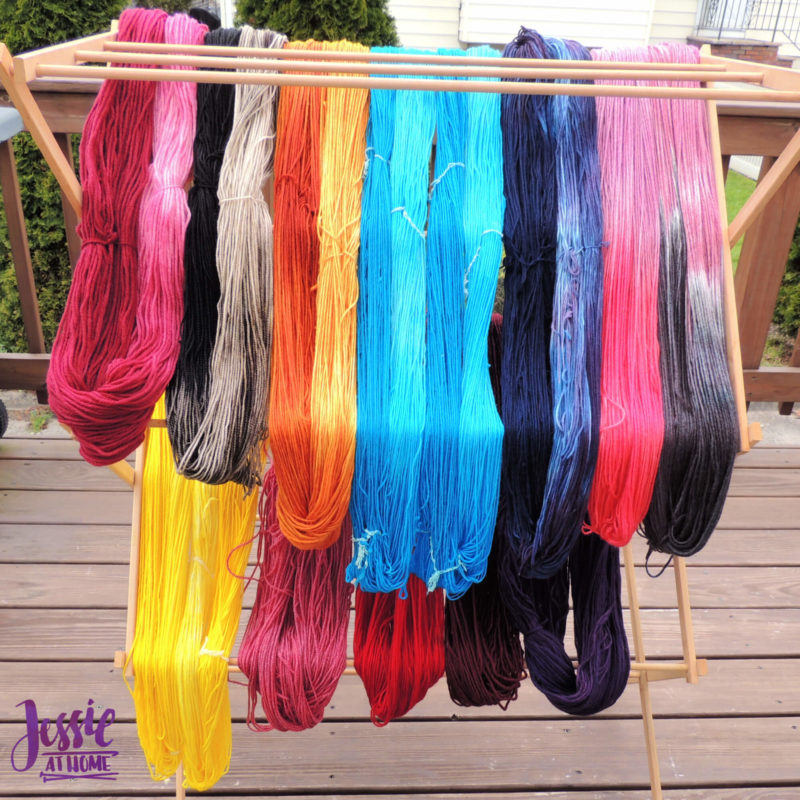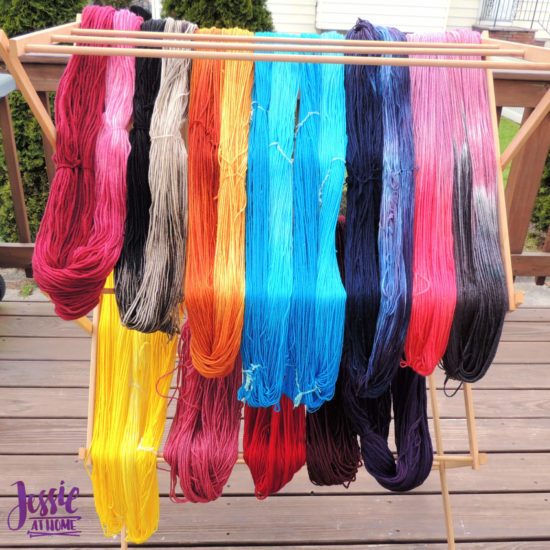 Here they are, all twisted or caked! Now they're ready to use or go in my yarn cubbies. I'm so proud of myself, and so excited about how awesome they are!!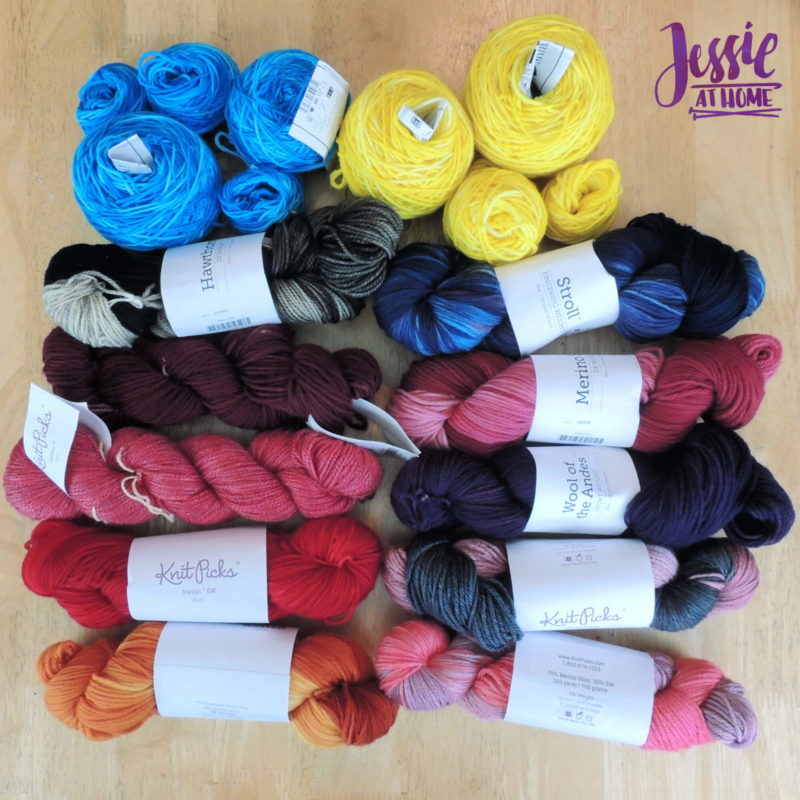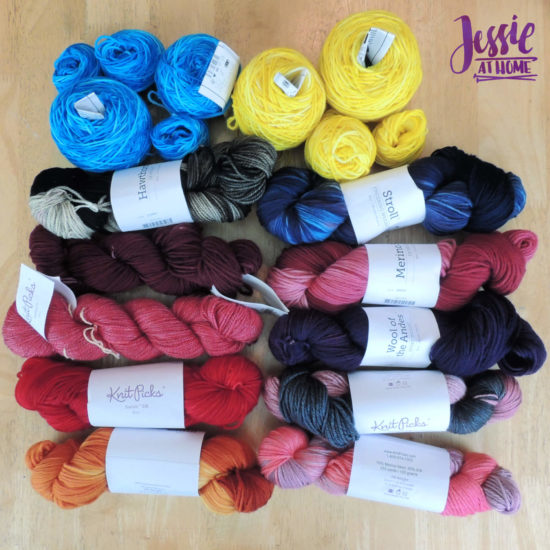 That's all my friends. Stay crafty and come back for the rest of the series to see what else we can learn!
[signature]
If you liked this yarn dyeing post, then take a look at these.