So….times are…interesting right now. We're all about to spend quite a bit of time isolated. Some of us will be isolated with a few others, some, not so much. There is so much to worry about, we need something to keep us occupied. Thankfully, if you are reading this, you most likely know how to knit or crochet. So, I've put together some free patterns and a list of yarn and supply delivery for you.
I know that there are a lot of people experiencing financial issues due to the times, so I thought free patterns would be helpful, along with some of the more affordable options for yarn and supplies.
First, I want to remind you to contact your local yarn shop if it's in your means. They are loosing so much money right now. My awesome LYS – Yarnia – is amazing!!! They are open for phone, internet, and live video orders. In other words, you can video call with them and they will walk you around the store and shop for you. You can then pick up your order and they will walk out and pop it in your trunk, or you can have it deliver. ANYWHERE in the USA!! So you don't have to be local. If your LYS isn't doing social distancing shopping, then you can shop Yarnia!! Orders over $100 get free shipping!
When you're home all day, you want to be comfy. So here we have the Mossy Oaks Rug, Giant Crochet Cable Pillow, and Amir the Elephant.

Would you like to learn something new? The Glitter and Gleam Scarf is a great into to Tunisian crochet, try some lace with the Fall Sparkles Shawl, and here's a fun vintage-inspired Vintage Crochet Apron.

Want a crochet project that will take some time? How about a blanket? The Dancing Mushroom Blanket has a corner 2 corner center with a thick border, I'm a Square uses the join as you go technique, and even though this year's blanket CAL (not pictured) has only just begun, but the 2019 Janet's Garden CAL is done and super fun!

Do you live in an area that's cold? Or maybe you just want to prepare for the next cold snap. Pointedly is easy yet unique, the Harvest Poncho just makes me happy, I think it's so classy, the Neapolitan Scratch N Sniff Poncho is so soft and comforting!

Here are three patterns I've made in both crochet and knit. The top row is crochet: Dragon Wing Scarf, Fall Cowgirl, and Skylark in Wonderland. The bottom row is knit: Dragon Wing Scarf, Spring Cowgirl, and Skylark Through the Looking Glass.


Here's a few cozy knit patterns. The Giant Cable Rug is made with a few yarns held together, so it's a great stashbuster! The Chunky Chevron Fast Knit Baby Blanket uses giant yarn and doesn't take long, so you can make a few. The Giant Cabled Knit Pillow is great for floor time.

Let's finish up with a few pretty knits. The Woodland Wrap is an easy pattern that does awesome things with three colors of yarn. The Fall Houses Shawl is full of fun details and will teach you some new skills. Got a colorful cake yarn laying around? Try the Striped Cake Scarf!

Here are some sites that will ship you your yarn and supplies. Yeah!!!
Of course, I think we are all aware of Amazon. So CLICK HERE to go straight to the Knit & Crochet awesomeness on Amazon. Free delivery with Prime!!
Leisure Arts has tons of books, kits, and awesome ideas and supplies to keep the whole family happy and busy. Plus coloring books and supplies!!
Many of you already know my love for WeCrochet & KnitPicks. They have awesome prices for wonderful yarn and plenty of supplies!

Did you enjoy what you found here at Jessie At Home? Then sign up for my newsletter and like my Facebook page, so you'll get all the updates on new tutorials, other posts, sales, and coming events.
If you have any questions, want to share pictures of your work, or just want to chat with Jessie and other crafty individuals, than join my Facebook group.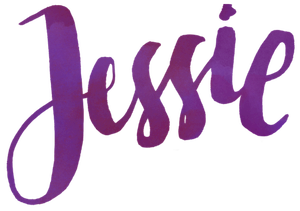 © Copyright 2020 Jessie Rayot / Jessie At Home All my videos, patterns, charts, photos and posts are my own work, so you may not copy them in any way. If you want to share this information with someone, then share the link to this post. If you want to share on your own blog / website, then you may use the first photo in this post and link back to this post. Also, you may not give away printed copies of this post.
If you liked this Crochet & Knit post, then take a look at these.