Stand with small!! We may be smack in the thick of social distancing, but we are all joining together in so many digital ways. Now more than ever people are supporting small businesses with online options. Etsy provides a way for artists to sell their creations without any physical interaction. I've picked out some Etsy products that I think you will love. So take a look and support the little guy!
This post is sponsored by Etsy. All opinions are my own.

Some of my favorite Etsy creations to #StandWithSmall!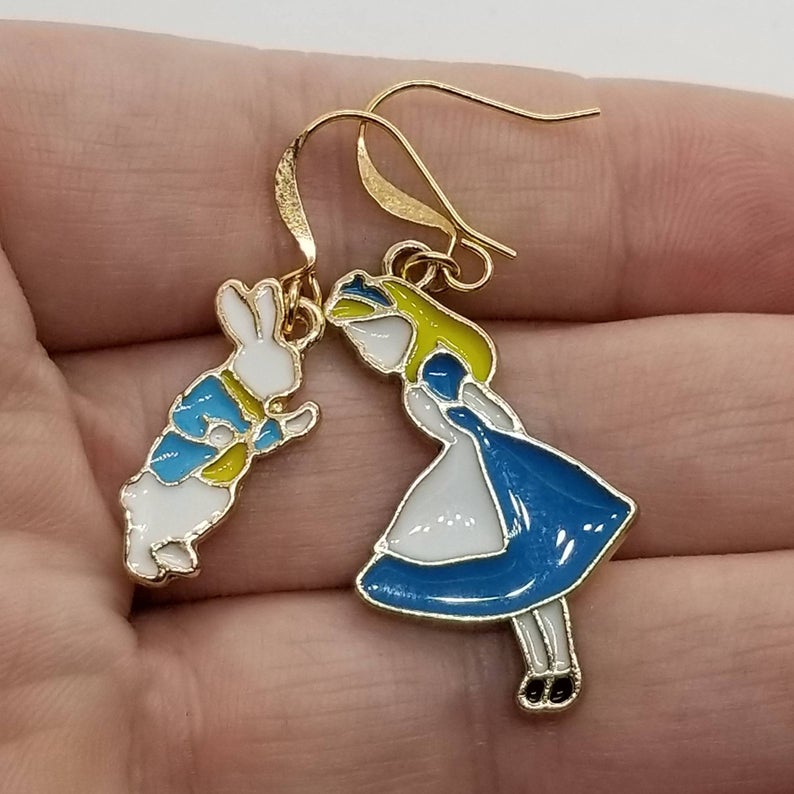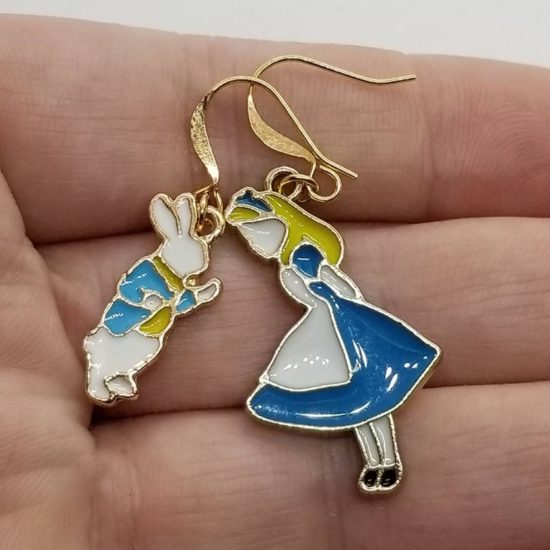 Alice in Wonderland Earrings by The Untamed Boutique
I bought an Alice in Wonderland key chain from this shop last year, and now I want everything else in the shop! It's all so fun and perfect for geeks like me.
As You Wish Wine Glass by Misty Mountain Made NC
Speaking of geeky, this shop is just full of geeky! There are some glasses made for social distancing days, and you can even have your kiddo's artwork etched on a glass. These wine glasses are so nifty!
Heart-shaped Potholder Sewing Pattern by LY Patterns
I love the sewing patterns in this shop. Sewing is such a great way to spend your time at home, and the patterns in this shop are useful and pretty!
Helga the Skull Brooch by Pinderella
So much awesomeness for such affordable prices in this shop!! There are lots of pins, some earrings, some hair accessories, and even more pins. All the designs have that "crafty" vibe in their style, and I mean that in a good way! If you are looking for some Jewish themed items, there are some great creations in this shop.
Hooded Sea Turtle Blanket Crochet Pattern by MJs Off The Hook Designs
Crocheting is another wonderful way to spend time at home. The patterns in this shop will help you create awesome goodies for kids, and awesome goodies for yourself as well.
Here are some #StandWithSmall Editors Picks that I love.
Air plant stand by Fuxigold
Air plants are just about the only kind of plant that I don't kill. Well, there was that one that I put on top of the radiator…
This stand is a shiny art piece that will hold your sturdy air plant in style!
White Birch Forest Shelf by Urban Plus Forest
Oh. My. Goodness. You need to check out everything in this shop!! I want it all. With all the time we're spending at home right now, it's super nice to have some nature indoors.
Starter Needle Felting Kit by Bear Creek Felting
You can get just the felt, the starter kit, or a deluxe kit, all at this listing. Plus, so much more felting awesomeness from this shop. Needle felting is fun and a great way to create your own art – just don't felt your fingers!
Handmade Rainbow Pom pom Standing Basket by Made of Weaves
You can get this basket in small, medium, or large. It's so happy and festive while still being simple and classy. I wonder if they make one big enough to store my kids?
Printable Origami House to COLOR by Amy J Kids
This shop is FULL of printables that your kiddos (or you) will love to color. And once you buy the PDF, you can keep printing them out, so even if you have a few kids or if someone makes a mistake and declares it "ruined!", just print out more. Print on cardstock for a more sturdy finished product.
OK my friends, time to get decorating and creating! Don't forget to #StandWithSmall!
[signature]
If you liked this round up, then take a look at these!