Stitchopedia Tutorial
The Knit Jacob's Ladder is my take on the popular crochet stitch. I first tried it in 2015, and now I have a tutorial to help you perfect this technique.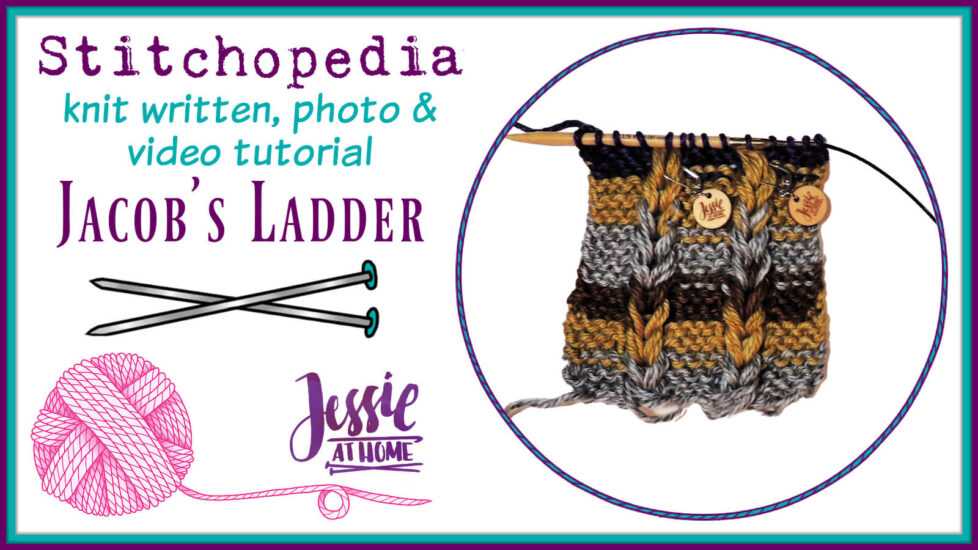 Knit Jacob's Ladder Video Tutorial

If you can't see the video above, try watching it on YouTube HERE.
Written instructions with photos
Start off with a swatch, this one is 18 stitches by 4 inches in garter stitch, using Lion Brand Heartland yarn and 5.0 mm (US 8) knitting needles. Use a long tail cast on.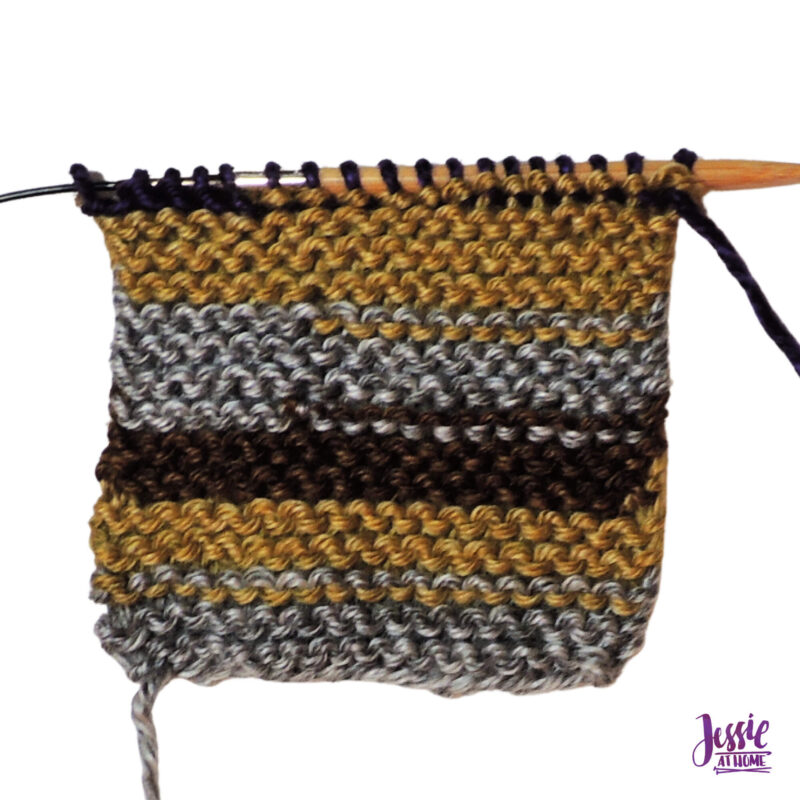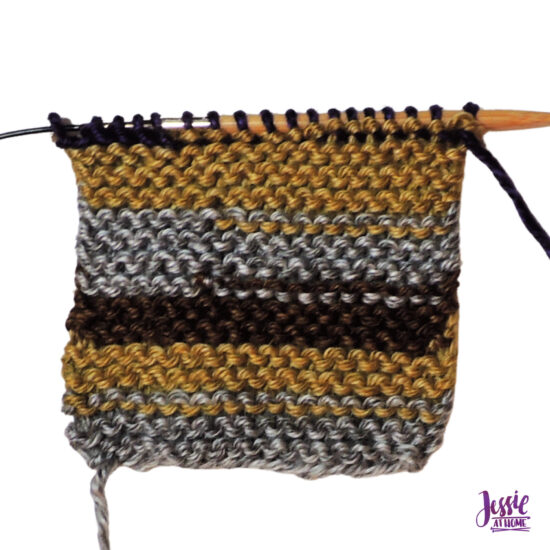 Now it's time to drop and run some stitches. Knit 4 stitches, then drop 3 stitches, knit 4, drop 3, and knit 4. Now pull those dropped stitches so they run all the way down, including through the cast on.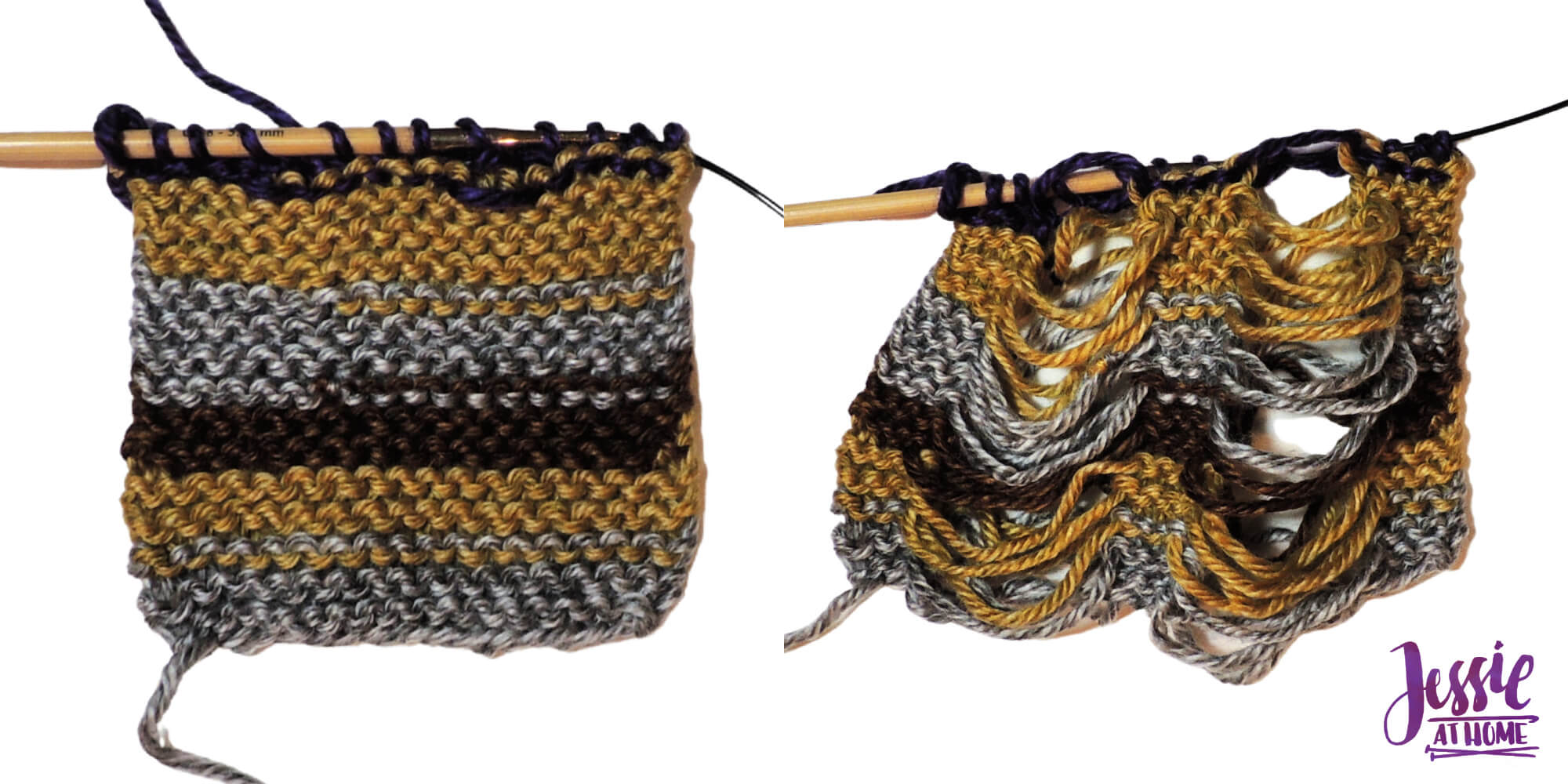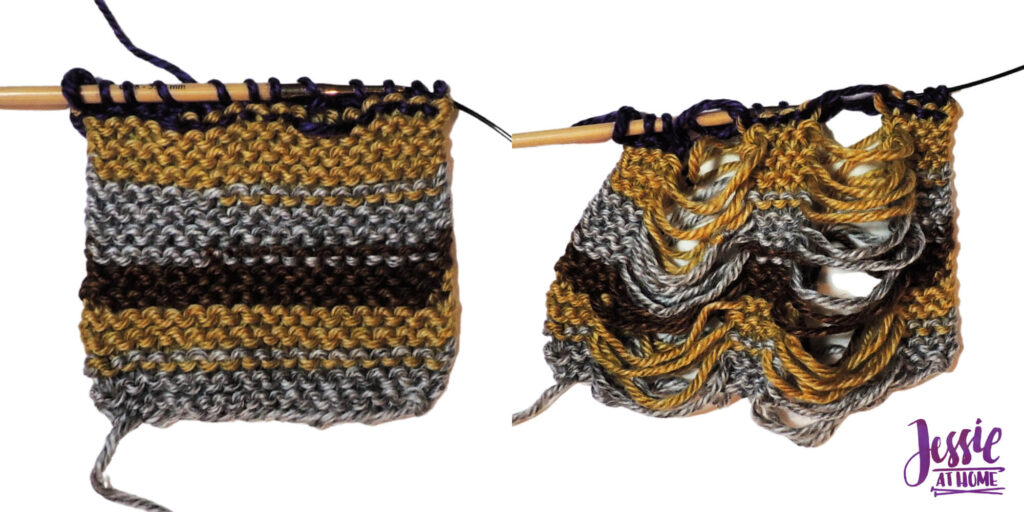 Pick up the bottom 3 pieces of dropped yarn on one of the runs. Twist it to form a loop. Insert a crochet hook in the loop – you can use your fingers for this, but I find a crochet hook quicker and easier.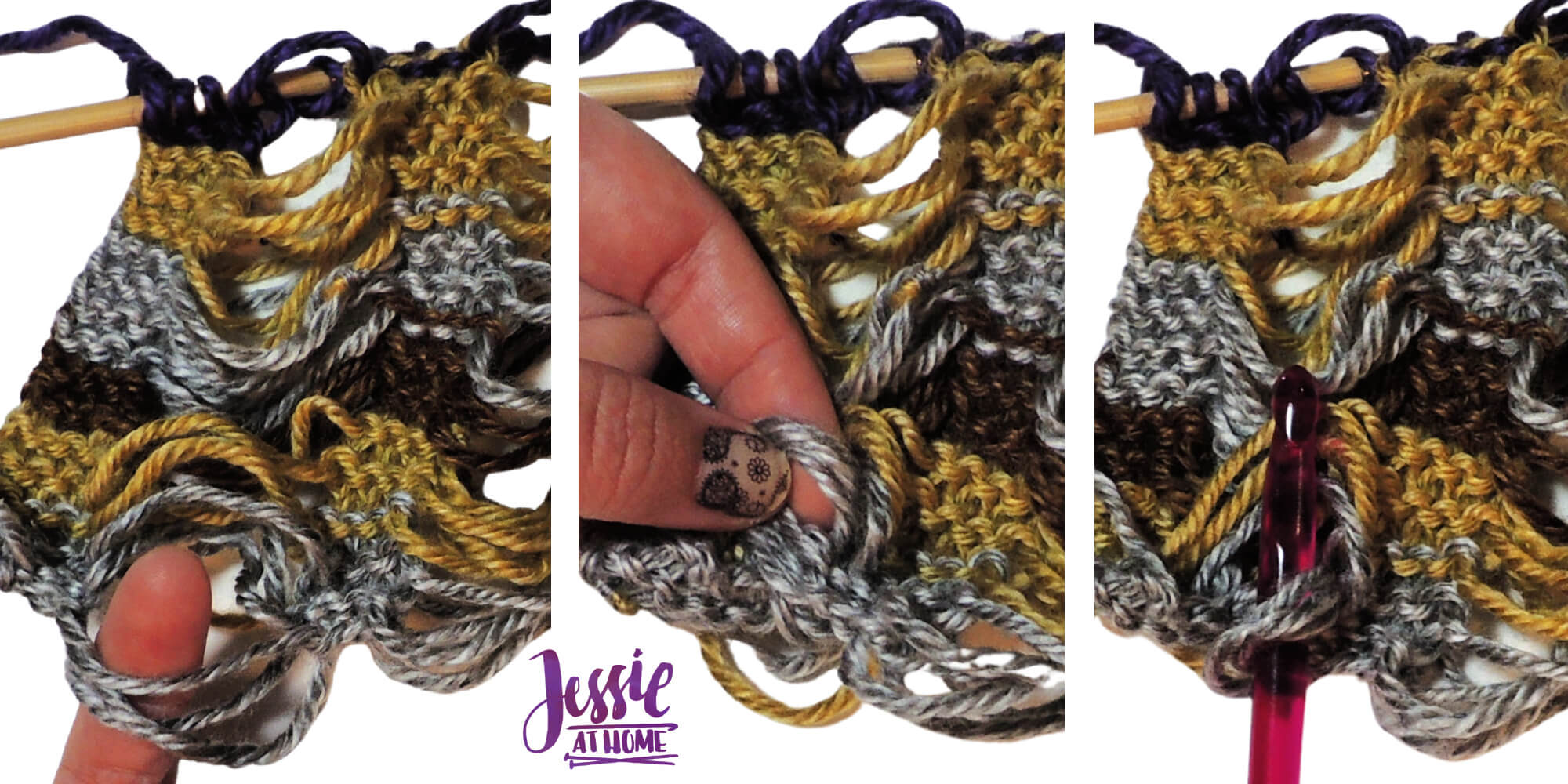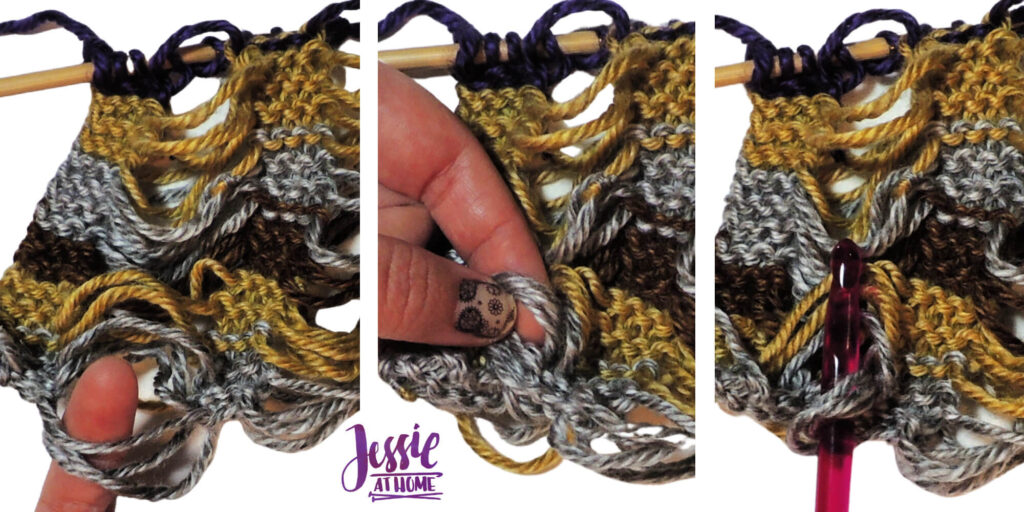 After the first set of 3 dropped stitches you will not need to twist anymore. Pick up the next 3 dropped stitches and pull them through the previous 3. Keep doing this, 3 dropped stitches at a time, to the top of the piece.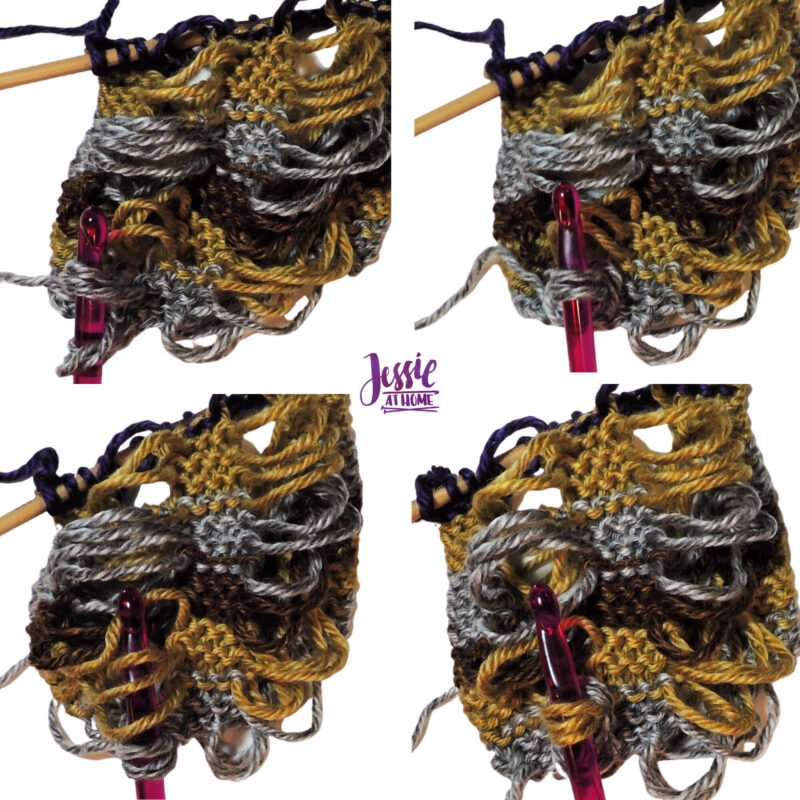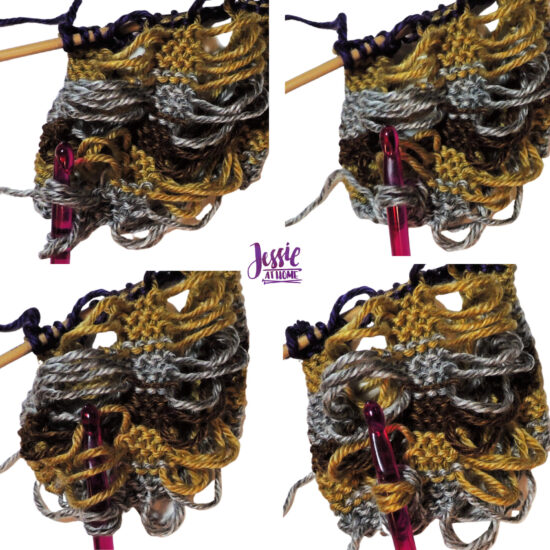 When you get to the top there may not be exactly 3 stitches left for the final pull-through. If there's only 1, add it to the set before to make 4, if there's 2, they just use them as thwir own set.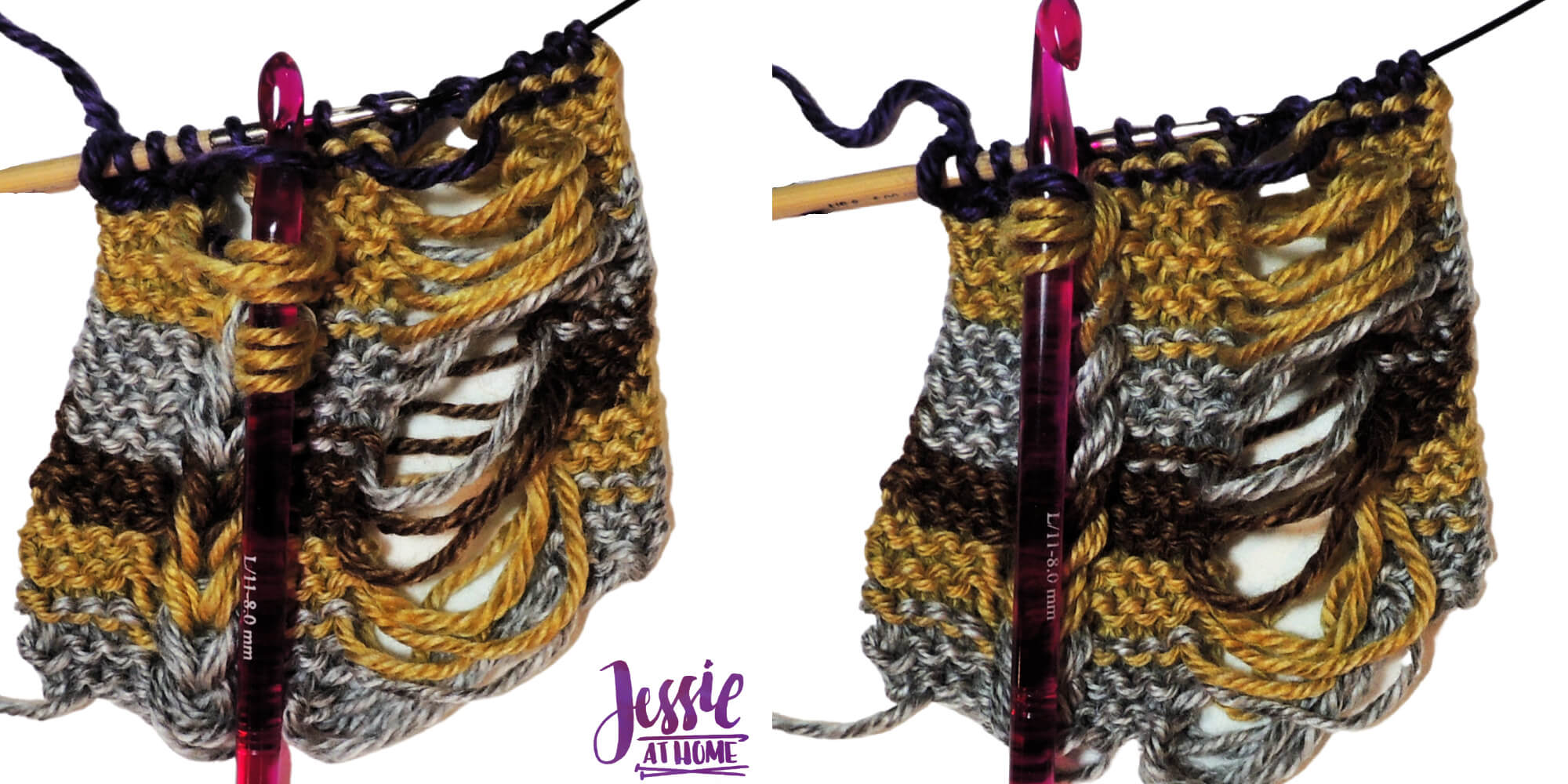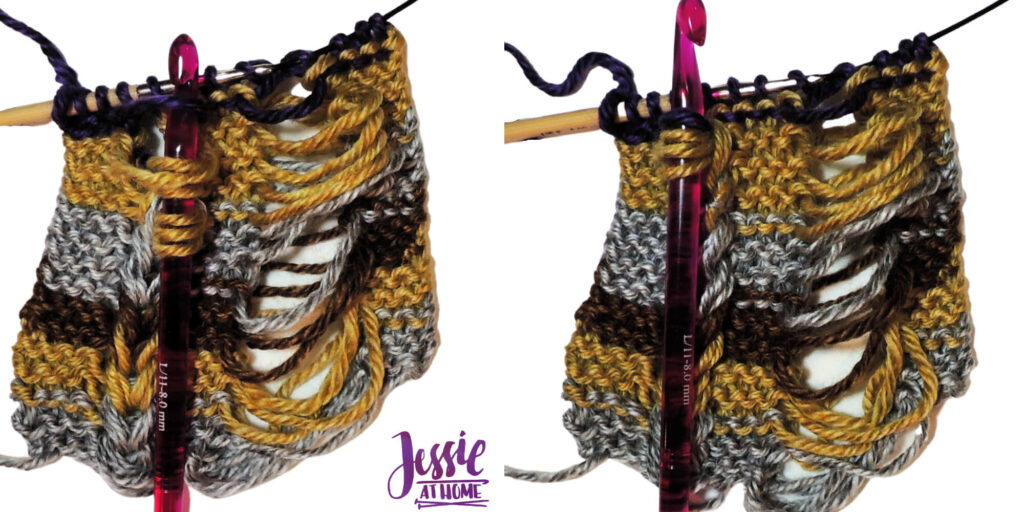 Once all the dropped stitches in one run are looped, use a safety pin or removable stitch marker to hold the loops to the needle so they don't run again. Repeat looping process with each run.
If you find that the looped stitches are gathering your work, then you may need to either drop more stitches in each set (so drop 4 instead of 3), or loop less in the looping process (so loop 2 sets of dropped stitches at a time instead of 3).
If you find you can still see the dropped run on the sides of your looped stitches, or if they just look looped and messy, then you may need to either drop less stitches in each set (so drop 2 instead of 3), or loop more in the looping process (so loop 4 sets of dropped stitches at a time instead of 3).
I find dropping 3 and picking up either 3 or 4 works well with garter stitch. If you pick up 4 you will want to block your work.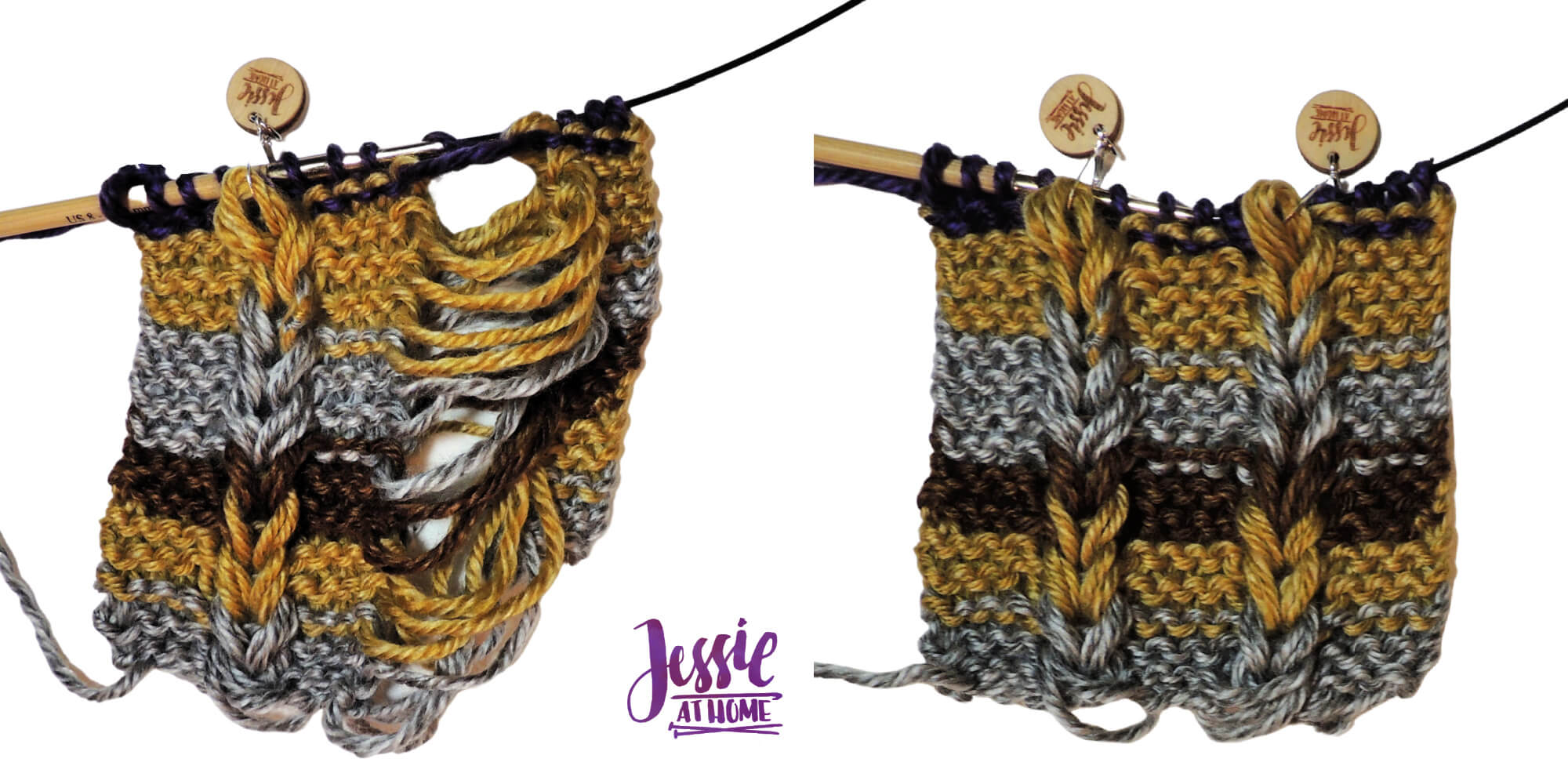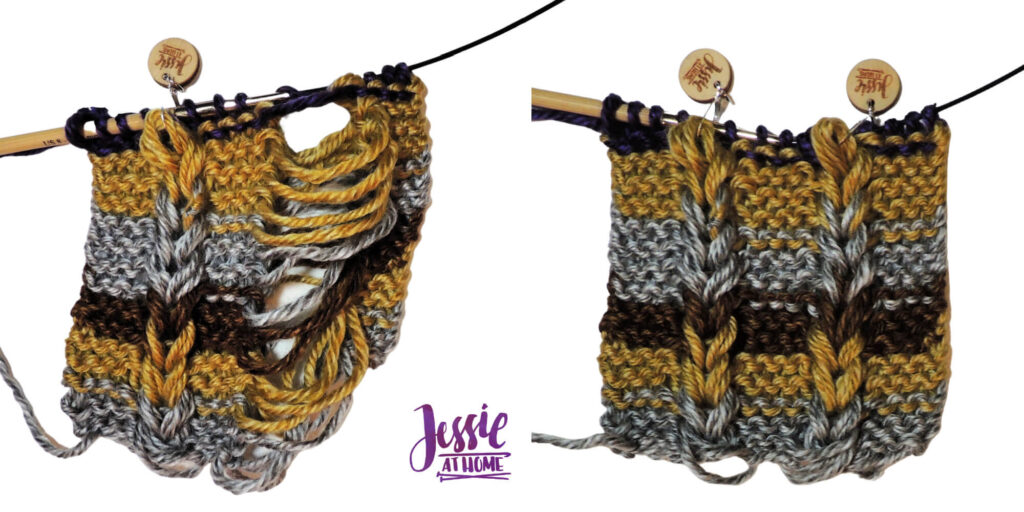 Now lets finish of the knit Jacob's ladder sections. Knit to the first marker, hold the yarn on the back side of the work (so yarn in front on a wrong side row, or yarn in back on a right side row), then slip the bundle of loops that are on the stitch marker, repeat this process across, knitting all the "regular" stitches, and slipping all the bundles while holding the yarn on the wrong side of the work.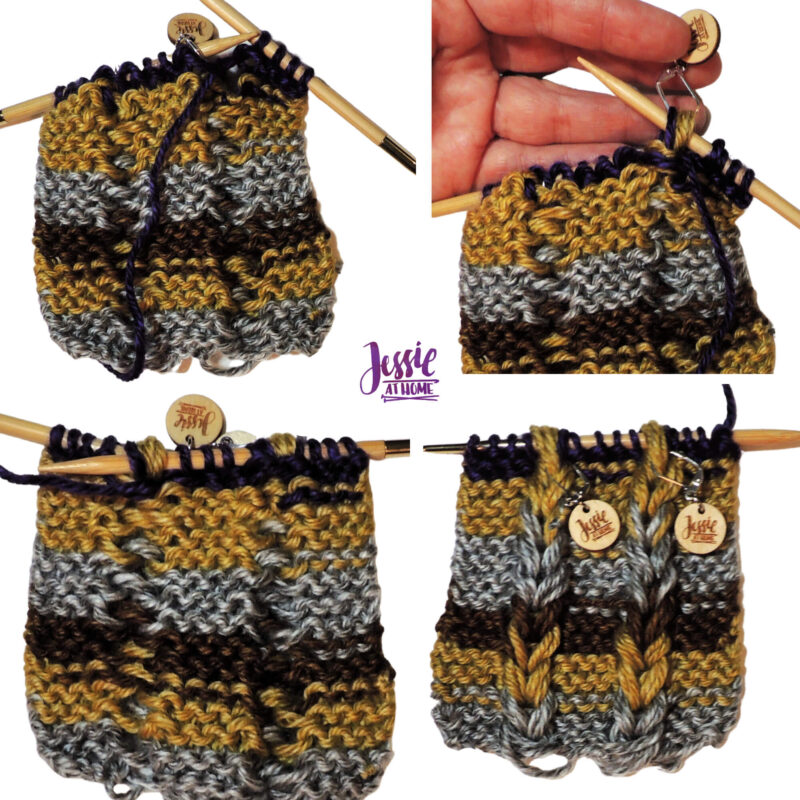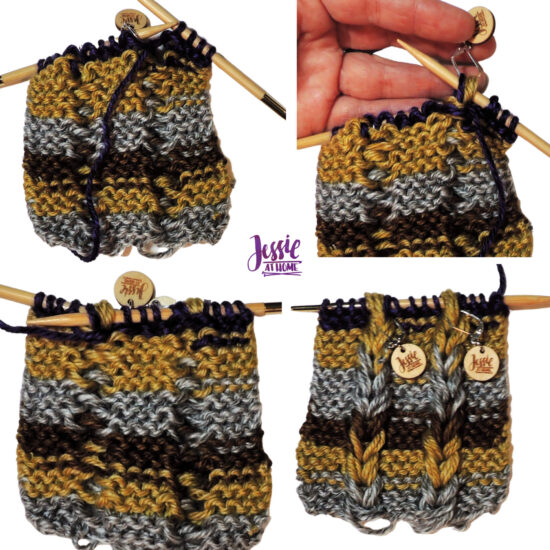 Knit the next row.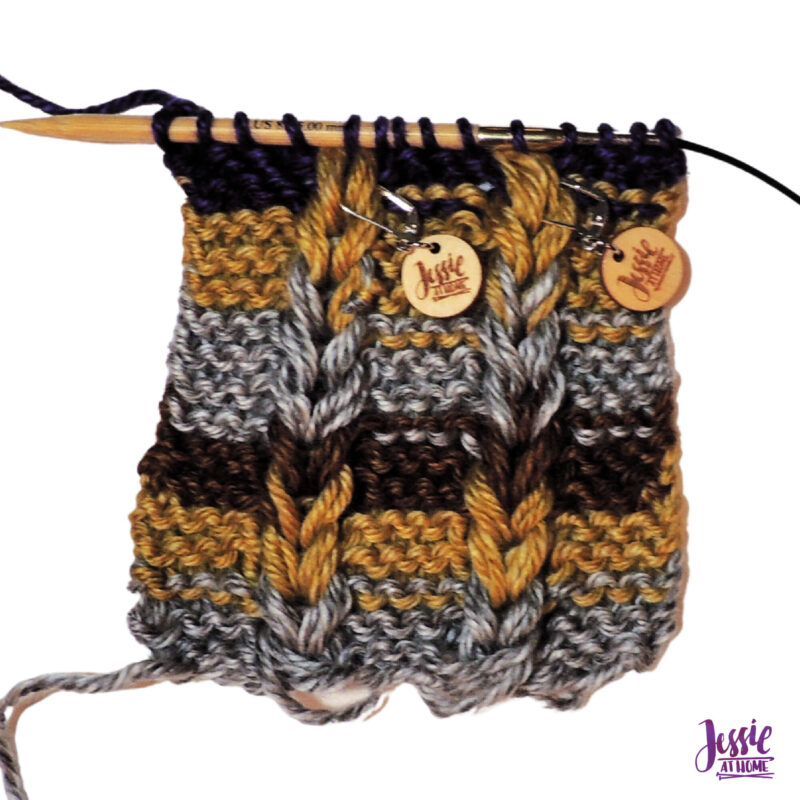 Bind off and your done!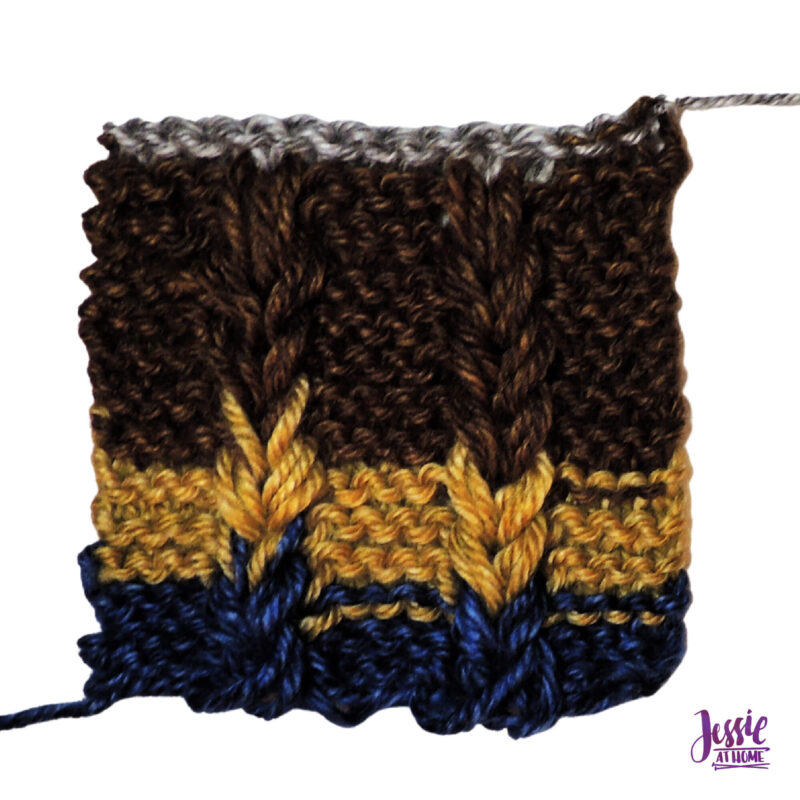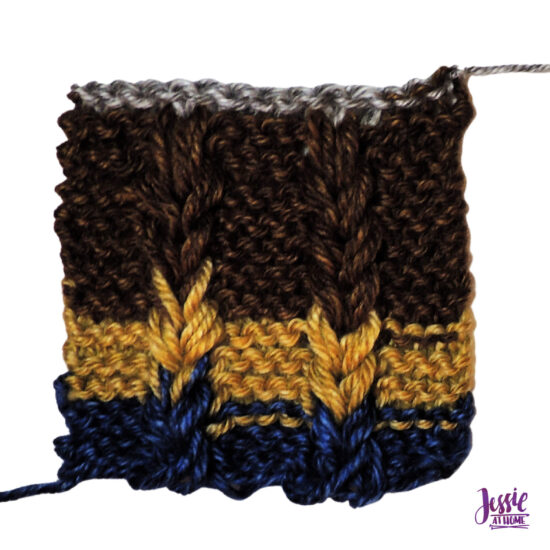 Here are some supplies you may find useful.
Happy stitching my friends.
Did you enjoy what you found here at Jessie At Home? Then sign up for my newsletter and like my Facebook page, so you'll get all the updates on new tutorials, other posts, sales, and coming events.
If you have any questions, want to share pictures of your work, or just want to chat with Jessie and other crafty individuals, than join my Facebook group.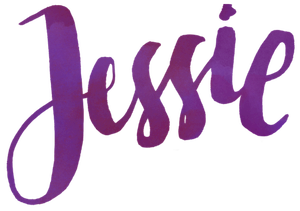 © Copyright 2021 Jessie Rayot / Jessie At Home All my videos, patterns, charts, photos and posts are my own work, so you may not copy them in any way. If you want to share this information with someone, then share the link to this post. If you want to share on your own blog / website, then you may use the first photo in this post and link back to this post. Also, you may not give away printed copies of this post.
Now that you know how to create the Knit Jacob's Ladder, try one of these.